Diet Another Day: New Orleans Must Eats in the French Quarter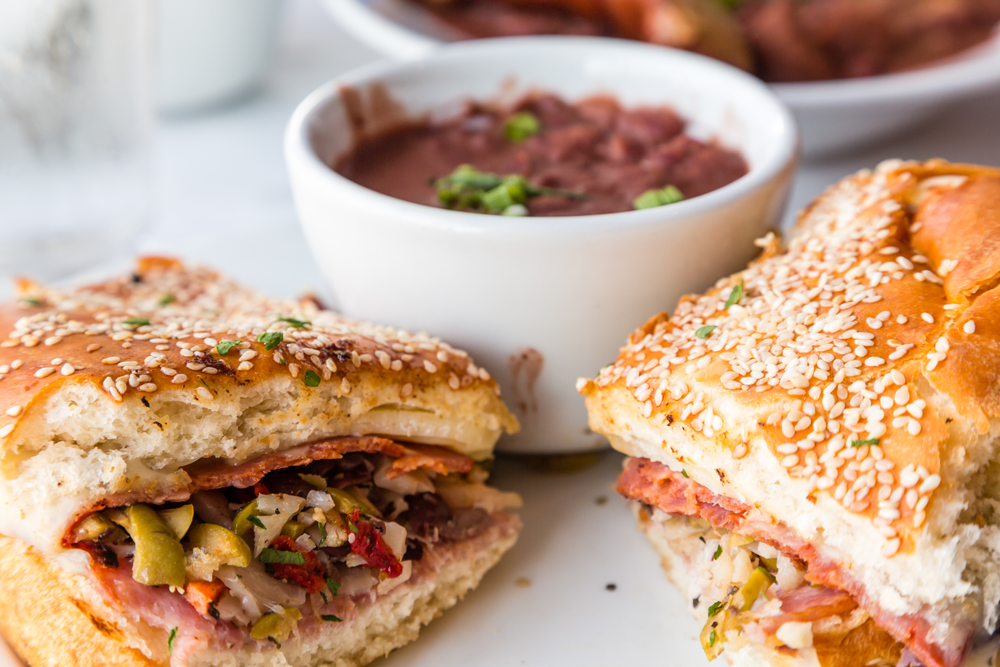 New Orleans talks its own language when it comes to food, and it talks often. But it's easy enough for visitors to join the conversation once they've tried a few of the classics. Below, we explain some of the "must eats" that are essential to the New Orleans food experience and introduce some great French Quarter establishments serving them.
Gumbo and Jambalaya
Gumbo is one of Louisiana's most famous dishes, but there's no single recipe to prepare it. Appropriately enough, the French Quarter restaurant that includes the dish in its name is a great place to try several of its varieties. Gumbo Shop (630 St. Peter St., 504-525-1486) serves a seafood and okra gumbo that is thick with shrimp and crabmeat, a smoky chicken and andouille sausage gumbo and even gumbo z'herbes, a rarely-seen vegetarian gumbo made with greens. Cup-sized portions are available for easy sampling.
Jambalaya is right up there with gumbo for international fame, but this flavorful rice-based dish is cooked much more often at home than at restaurants. You can find a great version, however, at Coop's Place (1109 Decatur St., 504-525-9053), a local watering hole that serves excellent food until quite late at night. Their rabbit and sausage jambalaya can be upgraded to "supreme" by adding shrimp and tasso, a spicy Cajun ham smoked on premises. Because Coop's offers video poker, children under 18 are not allowed inside. To sample jambalaya in a more upscale setting, try the version cooked up at the Pelican Club (312 Exchange Pl., 504-523-1504), which adds clams, mussels and crawfish to the traditional ingredients of sausage, chicken and shrimp.
Don't Call It a Sandwich
Po-boys – the French-bread sandwich that is to New Orleans as the cheese steak is to Philadelphia – come in as many versions as there are ingredients to stuff inside a loaf. But one of the classic favorites is the fried oyster po-boy, which takes advantage of Louisiana's abundance of bivalves and indigenous local skill in frying anything. Johnny's Po-Boy Restaurant (511 St. Louis St., 504-524-8129) has been dishing them out since 1950 and, in addition to a first class sandwich, the popular lunch spot offers a glimpse of a truly down-home po-boy joint packed with character and characters. Ask for your po-boy "dressed" and it comes with chopped lettuce, tomato, pickles and plenty of mayonnaise.
If you want to depart from the traditional po-boy and sex things up a little, pop into Killer PoBoys (219 Dauphine St; 504-462-2731) They play around with the ingredients here – the black beer beef debris, served with pickled peppers and green beans, is to die for, while the sweet potato sandwich with pecan spread is great for herbivores  – and the results would make a purist's mouth water. Killer PoBoys has another branch in the back of the excellent Erin Rose bar (811 Conti St). Or venture to the very edge of the Quarter, into the orange bomb shelter that is the Rampart Food Store (1700 N Rampart St; 504-944-7777). This neighborhood convenience store has all the atmosphere of the moon, but the fried shrimp po-boy (and pretty much just the fried shrimp po-boy) is the stuff of culinary legend.
New Orleans' other famous sandwich is the muffaletta, the Italian answer to the po-boy: a round, seeded Italian loaf crammed full of cold cuts and cheeses and a big oily pile of the indispensable olive salad. The definitive version has been made since 1906 at Central Grocery (923 Decatur St., 504-523-1620), where the only menu choices are a whole or a half muffaletta (half is plenty for most appetites). When the weather is nice, many people take their muffaletta and a Barq's root beer to the nearby riverfront or Jackson Square.
Looking Forward to Mondays
Back in the old days, Monday was laundry day in New Orleans, and while the clothing was soaking so were the kidney beans for traditional red beans and rice. Laundry schedules may have changed, but a plate of red beans and rice with sausage is still the Monday special at diners and finer restaurants around town. A nice version is served every day at Remoulade (309 Bourbon St., 504-523-0377), the casual-dining offshoot of the fabled Arnaud's Restaurant next door. Like all good renditions of this classic dish, the red beans are cooked down to utter softness and seasoned for big flavor.
Finales Fatales
You can usually tell when someone has visited Café du Monde (800 Decatur St., 504-525-4544) by the traces of powdered sugar that inevitably sprinkle their clothing. This means they've indulged in the bite-sized New Orleans tradition called beignets (pronounced "ben-yea's"), square donuts covered liberally in powdered sugar and served piping hot. At Café du Monde, a true New Orleans fixture in the French Market that closes only for Christmas and hurricanes, the automatic accompaniment to a plate of beignets is a strong cup of café au lait.
Most visitors to New Orleans have heard of du Monde and its beignets, but fewer know about an equally sinful sweet treat: the buttermilk drop. Effectively a giant donut hole made with sugar, batter, and roughly a ton of butter, these 'drops' are a dense, rich sweet that is beloved by many locals of greater New Orleans. Pick up a dozen at Wink's World Famous Bakery & Bistro (1218 Decatur St; 504-309-2481) just across the street from Coop's.
With all the po-boys in this town, there's bound to be some leftover French bread. Happily, this is the main ingredient in the Creole dessert called bread pudding. At the elegant and picturesque Court of Two Sisters (613 Royal St., 504-522-7261), the bread pudding is served traditionally, spiked up with a hot whiskey sauce over the top, while the Palace Café (605 Canal St., 504-523-1661) serves an excellent modern take on the dish with white chocolate baked inside. Either way, the dish makes a pleasing end to a rich dinner and an absolutely decadent finale to a courtyard brunch.
Recent Articles
Bayou Boogaloo
Photo courtesy of Bayou Boogaloo - thebayouboogaloo.comOne of the standouts in the seemingly...
Read More