Book A French Quarter Hotel
New Orleans' Po-Boy Is A Rich Food Tradition
By: Ian McNulty
The name for New Orleans' most famous sandwich, the po-boy, harkens back to its humble, scrappy origins. That heritage must have given the po-boy some special resilience because, as New Orleans rebuilt from Hurricane Katrina, po-boys were one of the most prevalent local culinary traditions to make it back to the restaurant scene.
Visitors to the French Quarter will find a wide variety of po-boys purveyors serving these classic French bread sandwiches, but first, a short history lesson will set the scene.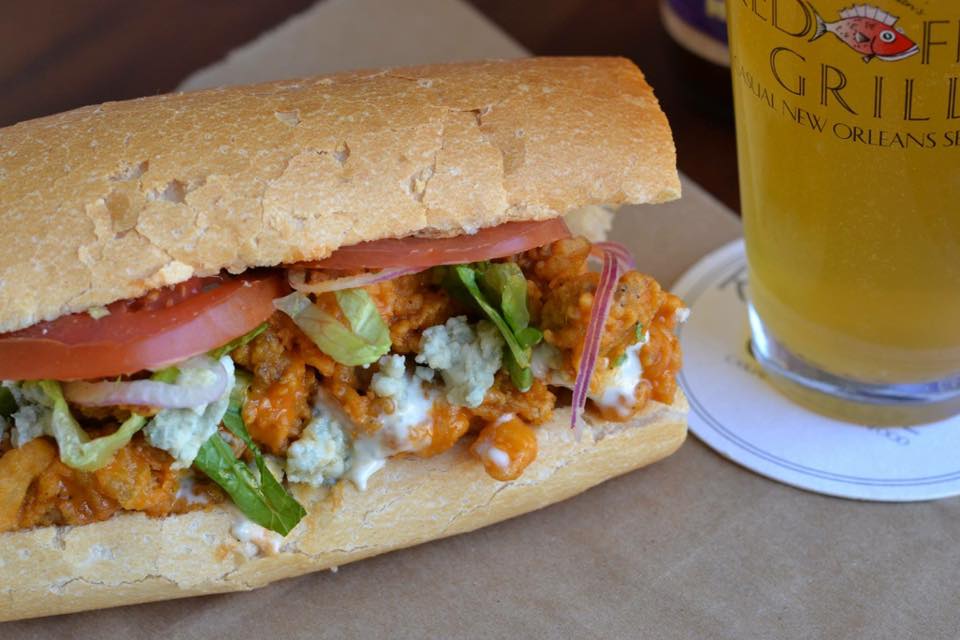 Signature BBQ oyster po-boy from Red Fish Grill via Facebook
History of the Po-Boy
As with most elements of New Orleans history, the origin of the po-boy has competing versions flavored over the years by creative storytellers and self-appointed authorities of dubious veracity. But the most widely accepted story holds that the sandwich was invented by Clovis and Benjamin Martin, brothers and former streetcar drivers who opened a restaurant on St. Claude Avenue in the 1920s.
When streetcar drivers went on strike in 1929, the brothers took up their cause and created an inexpensive sandwich of gravy and spare bits of roast beef on French bread they would serve the unemployed workers out of the rear of their restaurant.
When a worker came to get one, the cry would go up in the kitchen that "here comes another poor boy!," and the name was transferred to the sandwich, eventually becoming "po-boy" in common usage.
Types of Po-Boys
Hot roast beef po-boys dripping with gravy are the close relatives of these originals, but po-boys now come in any variety sandwich makers can dream up. Fried seafood is the most popular version, drawing on the abundant local resources of the Gulf and bayous, but hot or smoked sausage, ham and cheese, and hamburger are also common.
The most unusual is probably the French fry po-boy, which simply pairs French fries, gravy and condiments with the French bread loaf. These are always the most inexpensive sandwich at restaurants that serve them. With all po-boys, remember that "dressed" means a topping of shredded lettuce, tomatoes, mayonnaise, and pickles.
Where to Get a Po-Boy
The variety of po-boys is matched only by the wide variety of places to get one in New Orleans. In the French Quarter alone, options range from simple deli counters to dining rooms operated by some of the biggest names in the local culinary scene.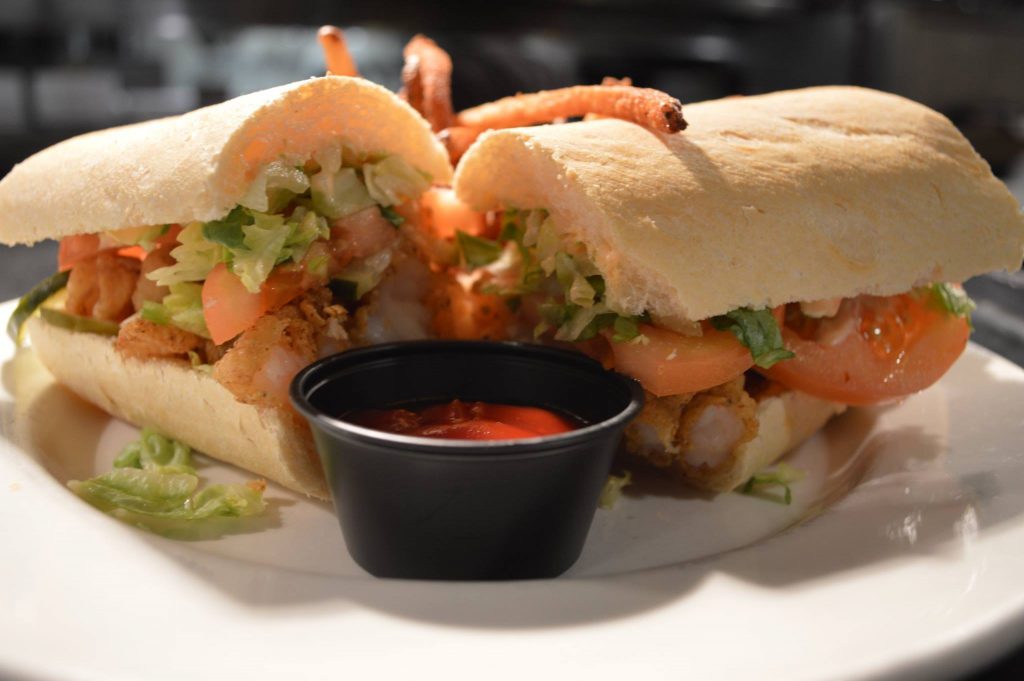 Fried shrimp po-boy from Dickie Brennan's Bourbon House via Facebook
Chief among the latter category are the Brennans. At Red Fish Grill (115 Bourbon St.), the upscale seafood restaurant serves distinctive BBQ oyster po-boys on its weekend brunch menu. The seafood on these is not barbecued at all, but rather fried and tossed with a spicy, buttery sauce known only in New Orleans as BBQ style.
Directly across Bourbon Street, Ralph's cousin Dickie Brennan serves shrimp, catfish, and BBQ shrimp po-boys at his Bourbon House (144 Bourbon St.) restaurant.
A less refined and more traditional atmosphere for po-boys is found at Johnny's Po-Boys (511 St. Louis St.), a busy, crammed lunch counter that has been slinging po-boys since 1950. The po-boys here are quite large, and so is the menu.
Even when Johnny's first reopened after Katrina, it had the largest selection of po-boys then available, from the traditional seafood versions to the meat overload of the Judge Bossetta Special with two types of sausage and ground beef.
Johnny's has seating available, but when the weather is nice it's a better idea to get a po-boy to go and eat it in Jackson Square or on a bench facing the nearby Mississippi River.
Perfectly perched on Iberville Street, Felix's Restaurant & Oyster Bar (739 Iberville St.) serves up a generous selection of po-boys including shrimp, oyster, roast beef, soft-shell crab, crawfish, and hot sausage sandwiches. Add a side of french fries, sweet fries, sauteed veggies, and coleslaw to create a meal guaranteed to satiate your appetite.
There's also good variety at Mena's Palace (200 Chartres St.), a diner that serves sandwiches and plate lunches in a true down-home atmosphere. Po-boys are also served in the attractive dining room at the immensely popular Gumbo Shop (630 St. Peter St.), including a lighter-tasting sauteed shrimp po-boy.
You can get a po-boy with a slice of music history from the deli at Matassa's Market (1001 Dauphine St.). The tight-packed corner market was started by Cosimo Matassa, the legendary New Orleans record producer who worked with the biggest names in R&B — from Fats Domino and Little Richard to Ray Charles and Aaron Neville — beginning in the late 1940s at his family's nearby studio.
Next, there's Stanley (1031 Decatur St.), a casual breakfast and lunch place that had the honor of being the first new restaurant to open in New Orleans following Katrina. At Stanley, get the excellent fried shrimp and oyster po-boy (half and half). Diners can even start the day with a breakfast po-boy here, stuffed with poached eggs, smoked bacon and hollandaise.
In the mood for something a little off the beaten path? At Killer Poboys (219 Dauphine St.), you can tantalize your tastebuds with a glazed pork belly po-boy that features lime cabbage slaw and garlic aioli. Or, there's the Thai BBQ tofu po-boy, with spiced peanuts and coconut. Killer Poboys also has a location in Erin Rose Bar (811 Conti Street).
Are you planning to spend some time in New Orleans soon? To stay close to all the action, book a historic boutique hotel in the French Quarter at FrenchQuarter.com/hotels today!
---
Related Articles