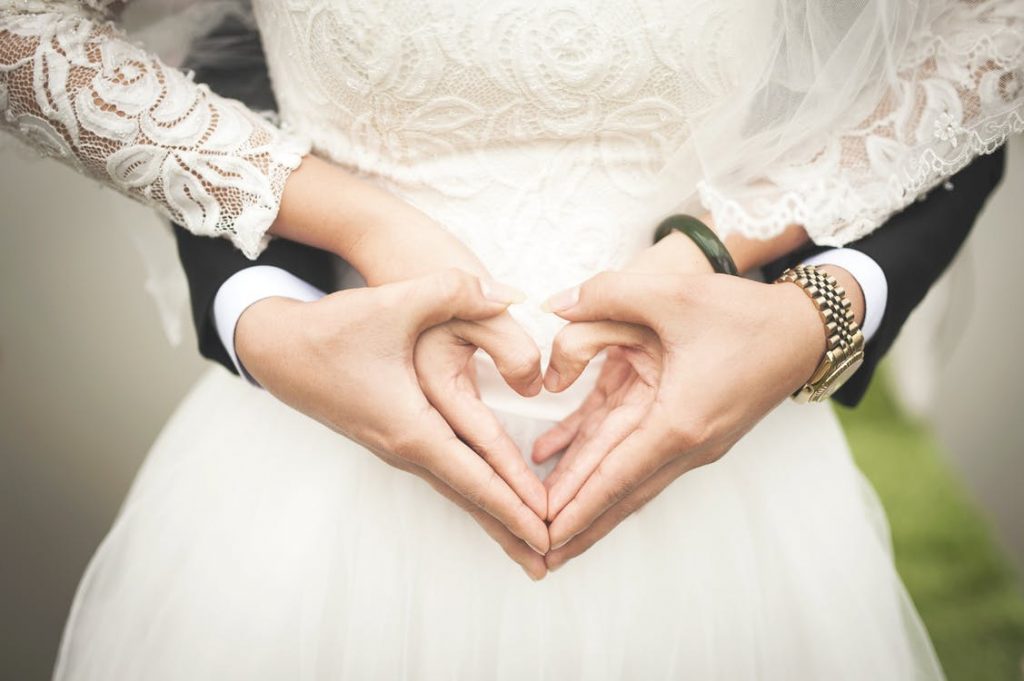 French Quarter Weddings
Your wedding day is one of the most important events in your life. Start your wedding checklist here with great ideas for New Orleans destination weddings. With exceptional French Quarter wedding reception venues near Bourbon Street attractions, historic Jackson Square, fine dining and one-of-a-kind shopping, your New Orleans wedding will be an experience of a lifetime.
The French Quarter offers many unique wedding reception halls to make your special day unforgettable. You'll also find the top wedding photographers to capture your big day and create memories that will last forever. Steeped in rich history, unique Creole culture and jazz traditions, there is no place in the world like New Orleans.  Whether you are searching for an elegant outdoor wedding or planning a wedding on a budget, New Orleans boasts some of the most idyllic and romantic wedding sites. No matter what your wedding theme, your guests will be captivated by the Southern charm and mystique of Louisiana's renowned French Quarter
Our Guide to Throwing a Wedding, New Orleans Style
Few cities in the U.S., if not worldwide, are better suited to host a wedding than New Orleans. The history, the romance, the food and the music, the weather (nine months out of the year, at least) — we don't need to tell you that New Orleans makes a perfect backdrop for your special event. Not to mention, the city is well versed in hospitality and knows how to throw the best party safely and efficiently.
Here's our guide to how to make your wedding day the most memorable and fun, with our recommendations for where to have the ceremony, the reception and the rehearsal dinner; where to shop and pamper yourself; and how to book a second line. Please note that while there are many more amazing venues that we could include, like the bridal shops in Metairie and some great spots to get married at in the City Park or Uptown, for this article we'll mostly stick to the French Quarter, Marigny, CDB, and, for one venue, the lower Garden District areas.
Wedding Ceremony & Reception
---
The Historic Elegance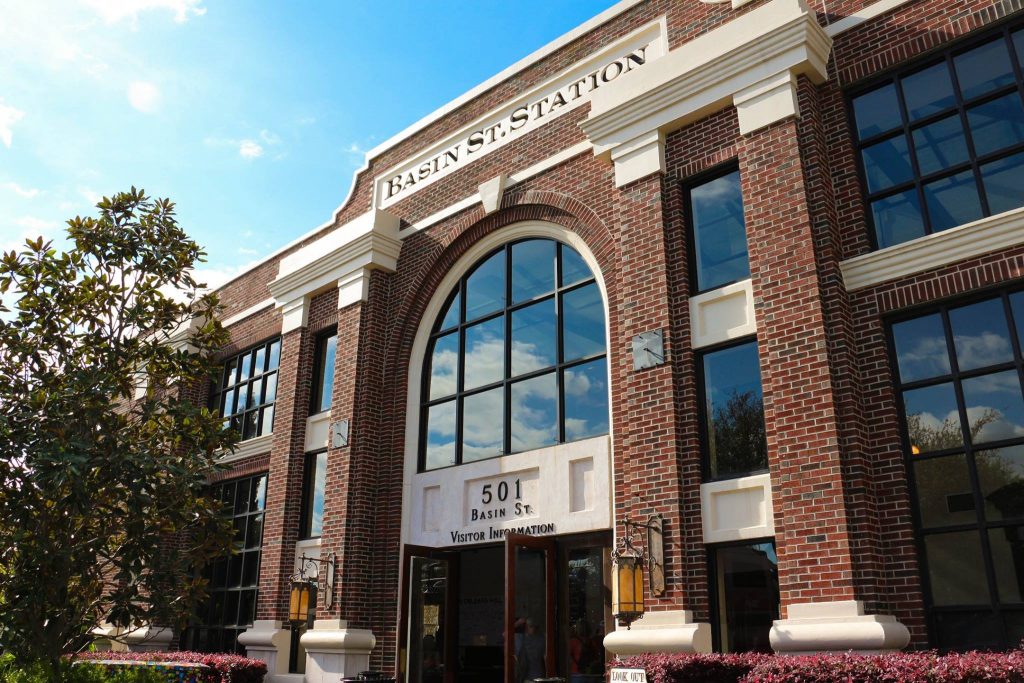 Photo courtesy of Basin St. Station on Facebook
Where: 501 Basin St.
Capacity: 200 for indoor reception and ceremony, 80 for outdoor ceremony
Special features: Located less than a half of a mile from Bourbon Street and the French Quarter, The Rooftop on Basin features panoramic views of the New Orleans city skyline. Perched atop the historic Basin St. Station, The Rooftop on Basin offers endless options and formats for special events.  The first floor of Basin St. Station is home to the New Orleans Museum.  The second and third floors are home to New Orleans' most exciting new boutique hotel, The Brakeman Hotel.
What you get: Exclusively catered by award-winning Messina's Catering & events, all events include security, & free parking. Open bar, & food packages are catered to your specific taste. Bride & groom are treated with a private sweetheart dinner after the ceremony, and special attendant throughout their memorable evening.
Average cost: $2,000 to $4,000 room rental depending on day of the week. Food & bar package starting at $80 per guest. Plus tax & service fees. *Prices vary depending on package.
How to book: Lydia Casler, Sales & Events Manager.  504-544-0440.
Lydia@messinascatering.com, www.therooftoponbasin.com
Additional information: Ceremony available on balcony for additional fee for up to 80 guests. All tables, chairs, linen, security, & parking included in pricing. Contact Lydia Casler for more information.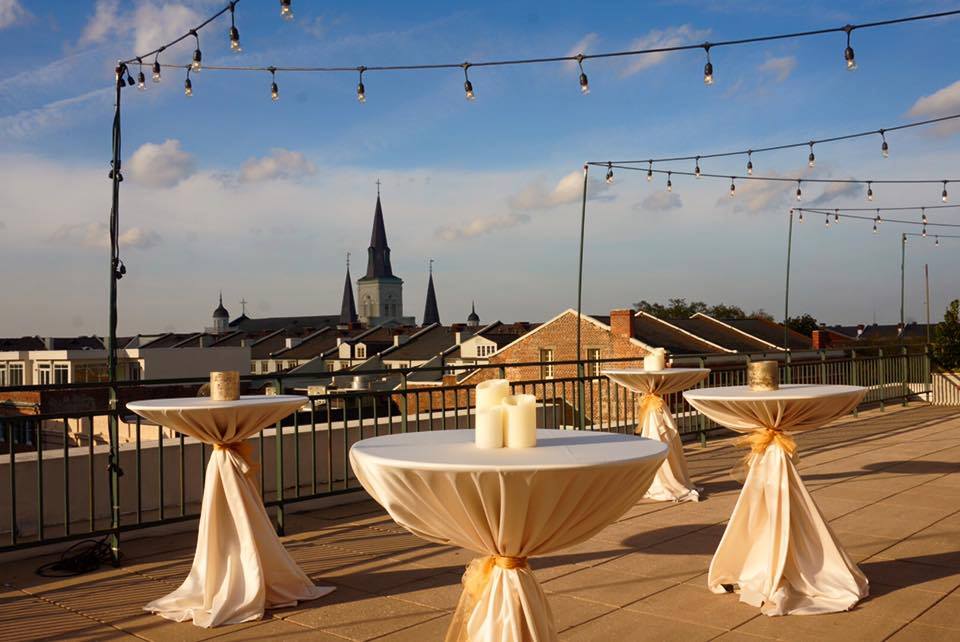 Photo courtesy of Riverview Room on Facebook
Where: Jackson Brewery Millhouse, 600 Decatur St., 4th Fl.
Capacity: 300+
Special features: 6,000 sq. feet; a ballroom with floor-to-ceiling windows, five covered and open terraces with views of the Mississippi river and the French Quarter.
What you get: A standard package includes a 3-hour reception with open bar, full-service catering: passed hors d'oeuvres and food stations for a seated dinner; champagne for the bridal party; private dressing rooms and a wedding coordinator for bride and groom; centerpieces, a personal attendant to assist the parents, and more.
Average cost: Contact the venue for a quote
How to book: (504) 525-3000; sales@riverviewroom.com; Elizabeth Leighton, Elizabeth@nosoc.com
Additional information: Customized packages are available. Outside catering is also allowed, insurance required.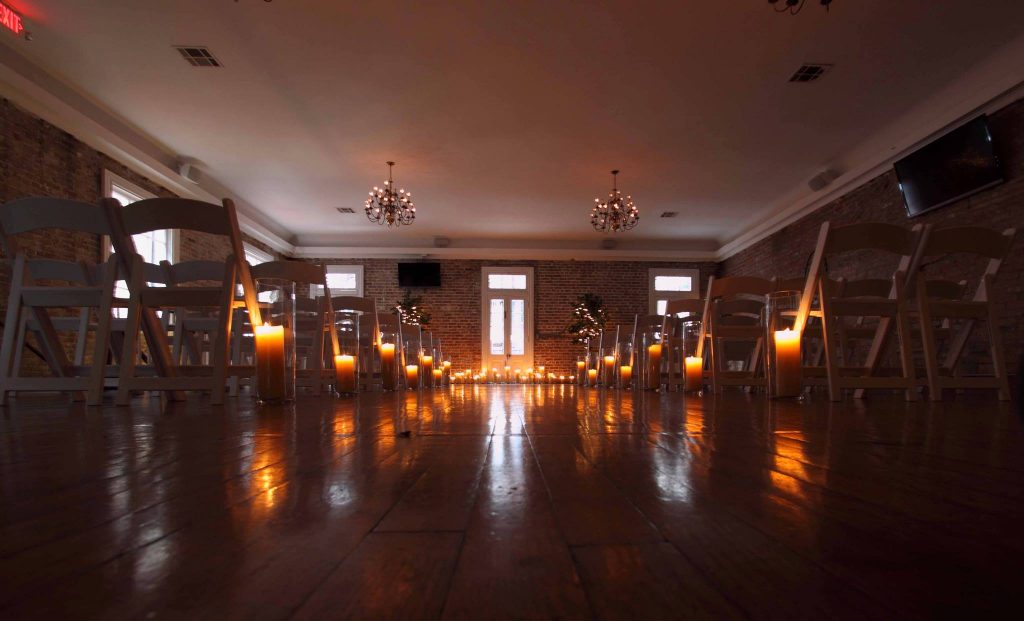 Photo courtesy of Petite Bourbon on Facebook
Where: 530 Bourbon St.
Capacity: 150 (Ballroom or courtyard)
Special features: Historic space with brass chandeliers and exposed brick. The balcony overlooks Bourbon Street — enough said.
What you get: 1,250 sq. ft. ballroom with a 40 ft. balcony and courtyard
Average cost: $2,500-$3,500 for 3 hours depending on the day of the week, $750 for each additional hour, $500 for ceremony. Special rates for off-season and holidays apply, contact the venue for a quote.
How to book: Online form
Additional information: Ceremony fee includes all setup and time for the ceremony. Catering available by Pigeon Caterers. Courtyard can be also rented separately.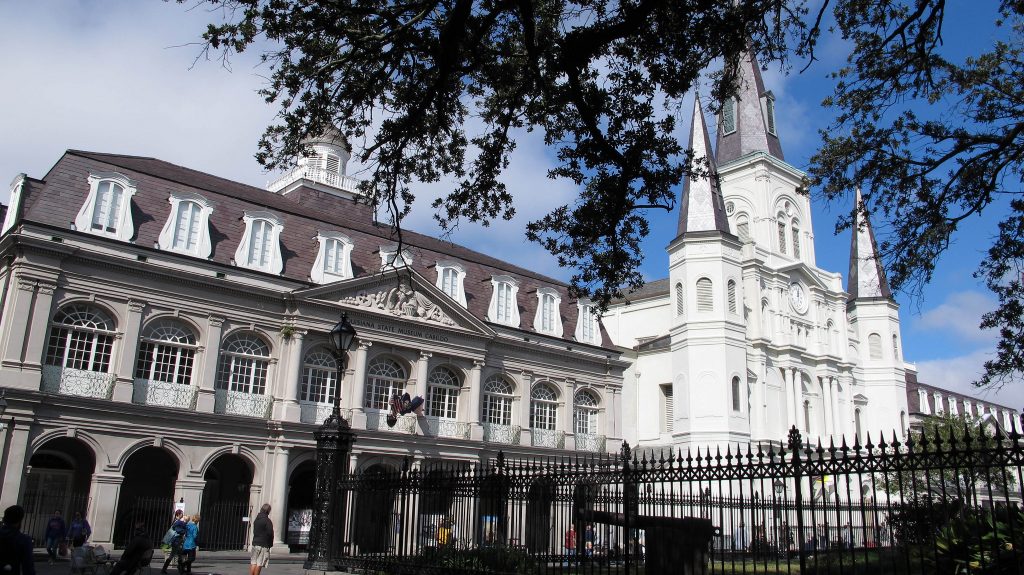 Louisiana State Museum – The Cabildo by Ed Bierman on Flickr
Where: 701 Chartres St.
Capacity: 500 cocktail reception, 100 seated dinner
Special features: The Cabildo is run by the Louisiana State Museum and is available for rent along with the two other Museum-run historic properties, the Old U.S. Mint and the Presbytere. This landmark, built in 1799 as the seat of the Spanish government, overlooks Jackson Square, and the gallery on the second floor is filled with huge windows, so the view is magnificent. And, the Louisiana Purchase was signed on the second floor in 1803! The exhibits at the Cabildo will also serve as a backdrop to your party: Imagine having a cocktail under the watchful gaze of Marie Laveau, whose portrait is one of the museum's most popular attractions, along with Napoleon's 1821 death mask.
What you get: The whole museum!
Average cost: The tax-deductible donation is required: $3,000 for 3 hours, $1,000 each additional hour. Early building closure $250 p/h, cleanup and repair fee $200-$300 depending on the time of day; building usage fee (after public hours only): $600-$800 depending on number of guests.
How to book: 504-568-6968; Rental inquiry form
Additional information: See the website for a list of available caterers, including Dickie Brennan's Tableau and Galatoire's. Some decorations are welcome (flowers and ribbons, for example), but because this is a museum anything that could cause damage, like rose petals on the floor and red wine, is not allowed.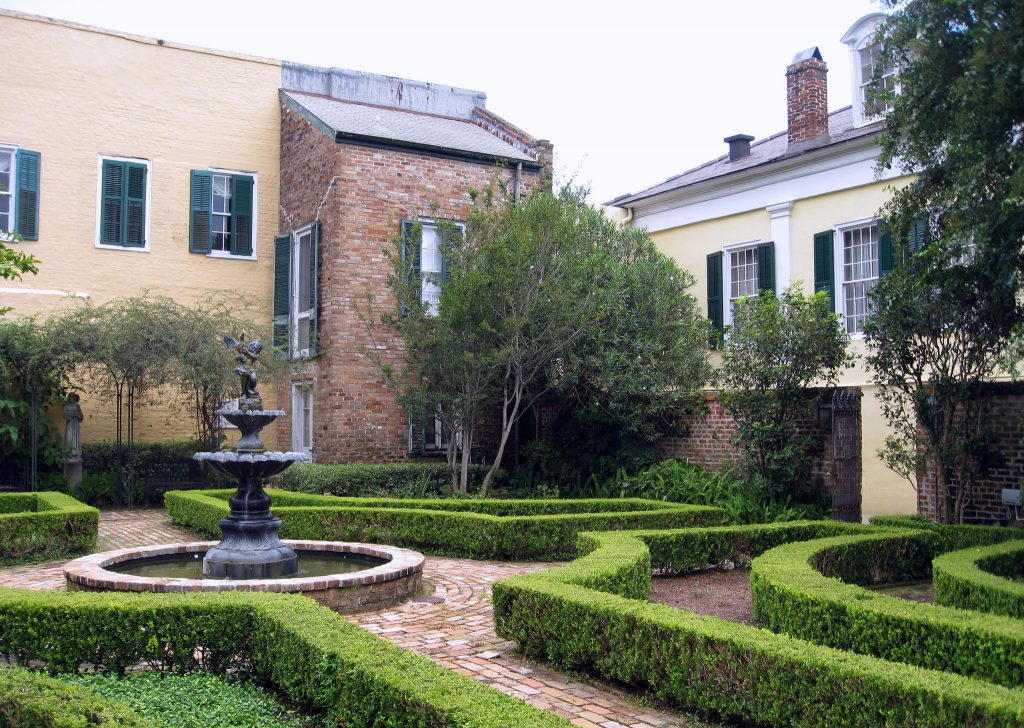 Beauregard Keyes House and Garden Museum by Jared on Flickr
The Beauregard Keyes House and Garden Museum
Where: 1113 Chartres St.
Capacity: 200 reception, 100 seated dinner
Special features: A historic residence, now a museum, was designed by François Correjolles and built in 1826. Combines the Creole cottage and Greek Revival features.
What you get: Access to the parlor, ballroom, library, loggia, grand center hall, front and rear galleries, courtyard, and parterre garden. You're only renting the venue, however, so catering, decorations, furniture, etc., must be supplied from the outside. The package includes a security guard, plus three hours for setup and one hour for clean-up before and after the event.
Average cost: $3,000 for two hours (minimum rental); $500 for each additional hour; $500 coordination fee if you don't have a planner present during the event
How to book: 504-523-7257; Online form
Additional information: Floor plan with measurements available on the venue website.
The Quirky Twist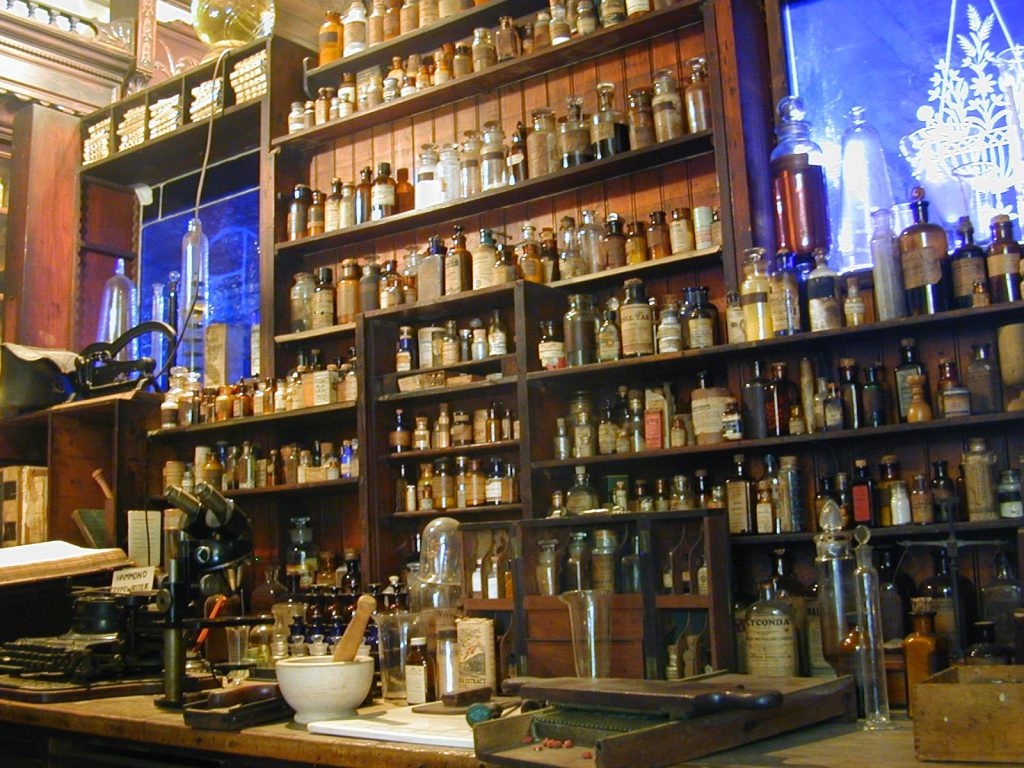 Photo courtesy of New Orleans Pharmacy Museum on Facebook
Where: 514 Chartres St.
Capacity: 150 cocktail reception, 130 seated ceremony, 70 seated dinner
Special features: Located on a busy block of Chartres Street, the museum occupies a two-story historic building. It was the site of the apothecary shop of Louis Joseph Dufilho, Jr., who was America's first licensed pharmacist. The museum features a collection of 19th-century surgical instruments, books and patent medicines. There are a sick room and physician's study on the second floor.
What you get: Access to the museum and the 2,200 sq. ft. tropical courtyard
Average cost: Contact the venue for a quote; rental fees are tax-deductible
How to book: 504-565-8028; nopharmsm@att.net; online form
Additional information: Venue available daily, 4-10 p.m. Lagniappe: Holding the ceremony at the Pharmacy Museum and relocating across the street to the historic Napoleon House or the reception is a popular combo.
Musical Venues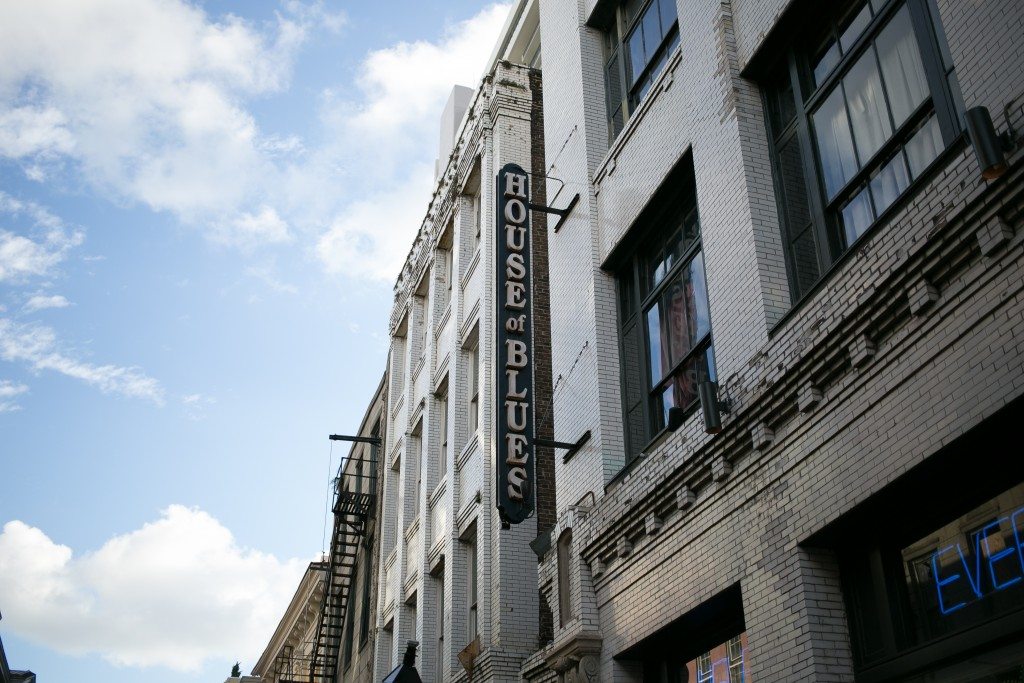 HOB photo by Trevor Mark
Where: 225 Decatur St.
Capacity: 2,000
Special features: State-of-the-art lighting and sound. The music hall can fit up to 800 people for the reception.
What you get: A choice of six private event spaces at the established performance space, including the Parish Room, Foundation Room and the music hall. Catering and beverage service.
Average cost: Rental fee range: $350-$4,000.
How to book: 504-310-4990; hobnolaevents@livenation.com
Additional information: Dinner packages start at $60 per person. Bar packages start at $30 per person.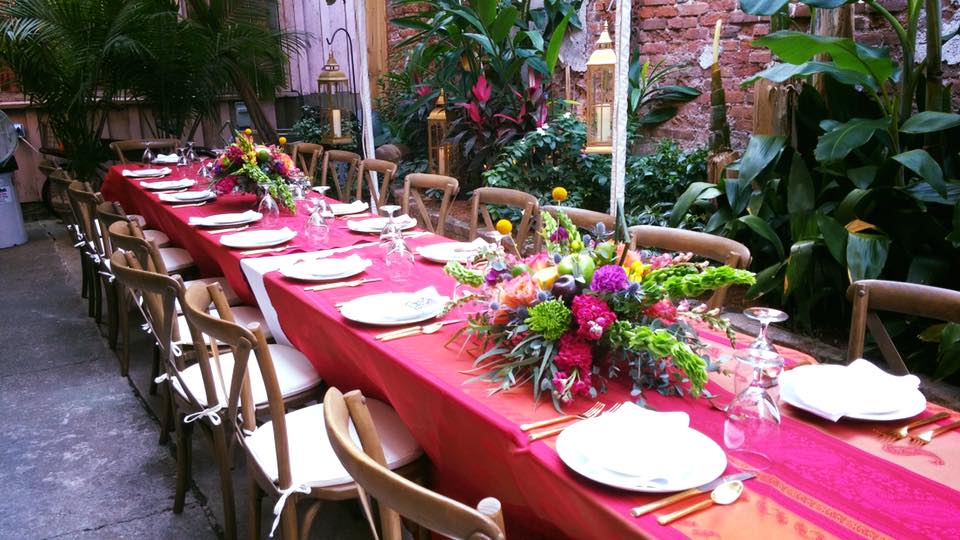 Photo courtesy of Preservation Hall on Facebook
Where: 726 St. Peter St.
Capacity: 100
Special features: A historic Creole mansion built in the 1817, now a legendary music venue that has changed seemingly little over the centuries. Perfect for a smaller, intimate wedding.
What you get: Performance space, carriageway and courtyard
Average cost: Contact the venue for a quote
How to book: Debbie Guidry: 504-338-5892, debbie@preservationhall.com
Additional information: Contact the venue for preferred caterer list and second line parade options.
Bohemian Romance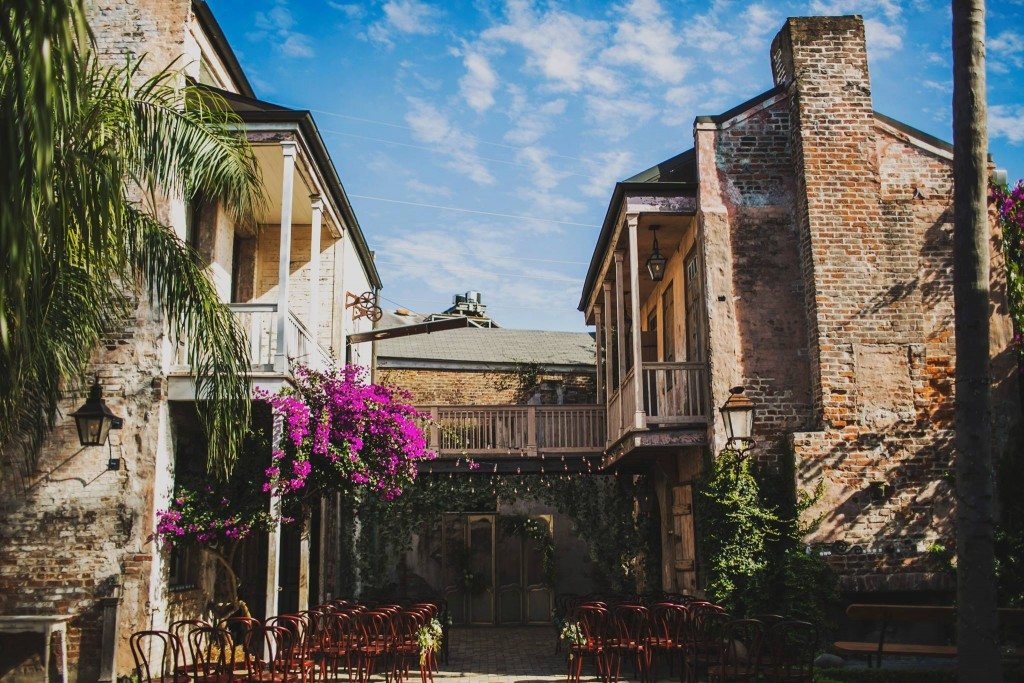 Photo courtesy of Race and Religious on Facebook
Where: 510 Race St.
Capacity: 275
Special features: This lower Garden District water-front property is a wedding favorite because of its blend of the uniquely New Orleans funky and romantic features like a fireplace, gas lanterns, a pool, and a fountain.
What you get: Unlimited access to the 1830s property consisting of a two-story Creole cottage, slave quarters, and a three-story rowhouse with two brick courtyards, with combined four bedrooms, two kitchens and five bathrooms. (Bedrooms are available for getting ready before the event.)
Average cost: $10,000 rental fee
How to book: info@raceandreligious.com; online form
Additional information: Booking a tour to view the venue is recommended. The rental is property only — all catering, bar, etc. must be supplied separately. Ceremony space available for no additional fee.
Quick and Easy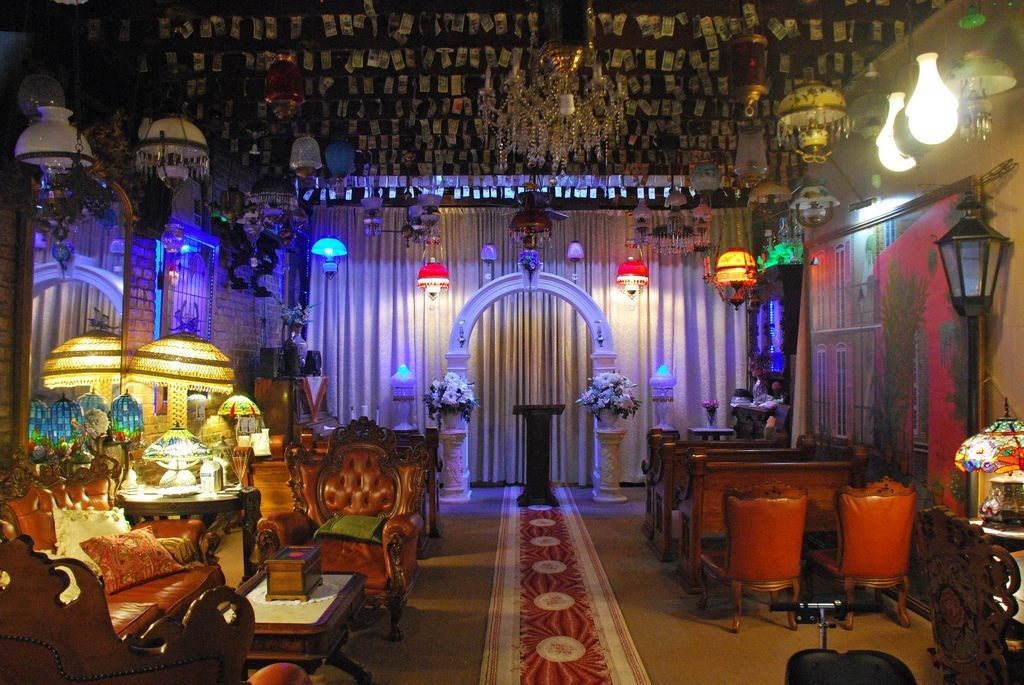 Photo courtesy of French Quarter Wedding Chapel
Where: 333 Burgundy St.
Capacity: 55
Special features: The only wedding chapel in Louisiana. Open 24/7.
What you get: Officiants will travel to the location of your choice. Full-service in-house events can include everything from the venue to catering, transportation, photography and decorations (see pricing lists on the website).
Average cost: From $200 for a 20-minute "Short, Sweet and Hitched" package to $4,700 for a 3-hour second line wedding.
How to book: 504-598-6808; info@frenchquarterweddingchapel.com; online form
Additional information: Packages include second line and carriage ride options and themes. "Specialty reverends" available upon request: Elvis, Vampire, Wicca, and Voodoo.
On the Move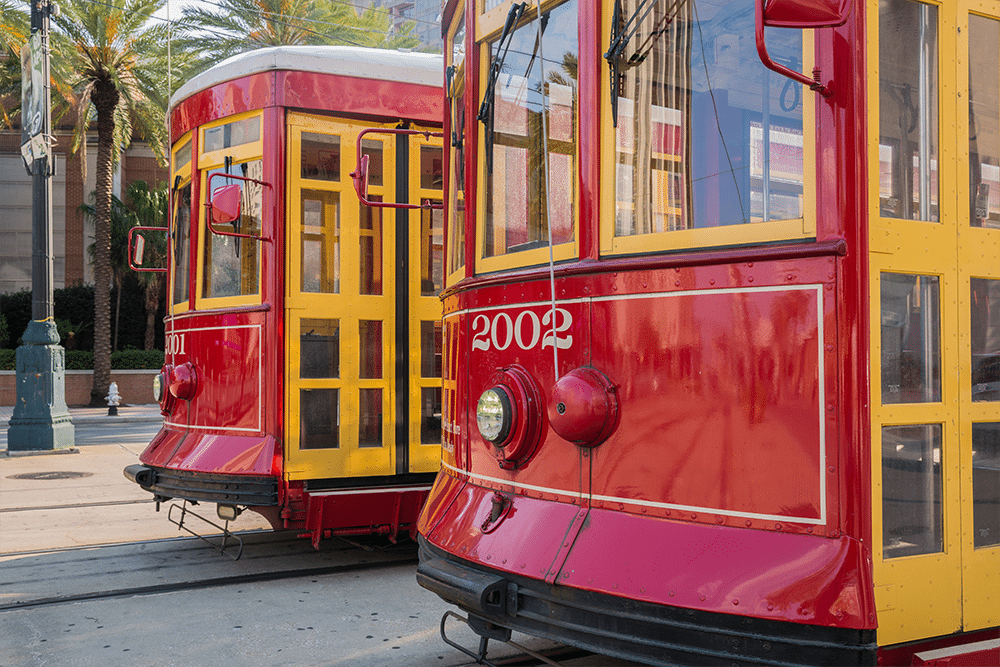 Where: Varies, includes all Regional Transit Authority streetcar lines
Capacity: 75 standing
Special features: Yes, you can get married on the streetcar, or use it to get places during your wedding.
What you get: All streetcar lines are available for charter. You can customize drop-off points (hotel to the ceremony venue, for example). Two-hour tours of St. Charles Avenue also available starting at the Carrollton Station barn.
Average cost: Starts at $1,000 per charter depending on the route
How to book: 504-827-8374; streetcar charter request form
Additional information: Food, non-alcoholic beverages and some decoration are permitted. No glass containers. Each time a streetcar leaves the station counts as an individual charter, so, for example, if you have a pickup later in the day it would count as a separate charter.
Reception & Rehearsal Dinner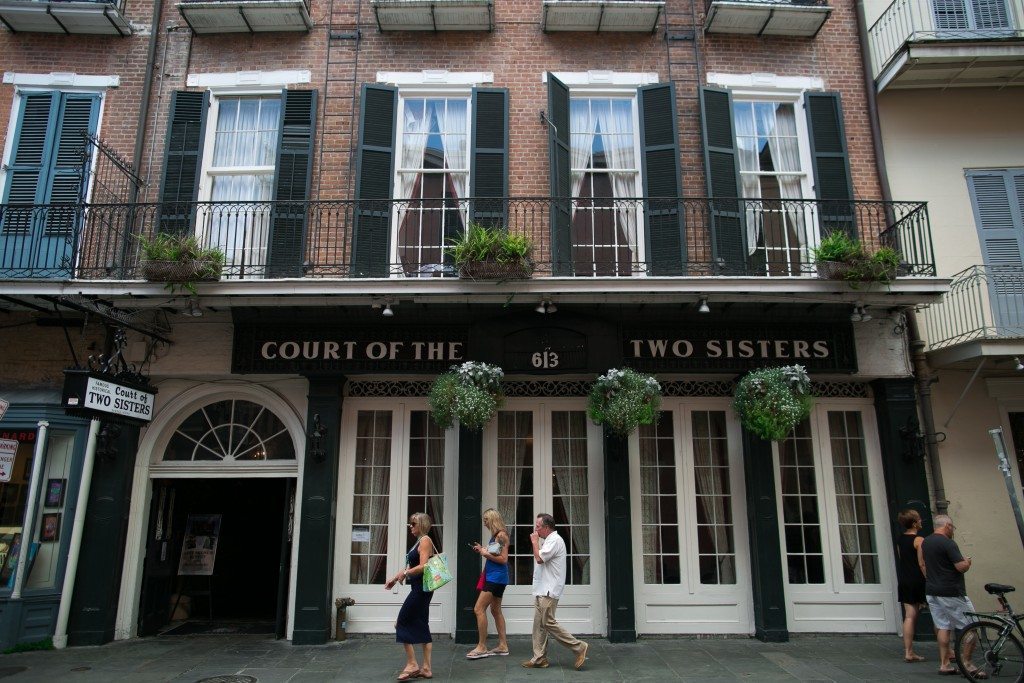 Photo by Trevor Mark
Where: 613 Royal St.
Capacity: 225 seated ceremony, 400 reception
Special features: A third-generation, locally owned and operated restaurant, specializes in Creole cuisine. Entrances on both Royal and Bourbon streets, the space stretches for the whole city block. Legend has it the "charm" gates at the 613 Royal St. entrance were wrought in Spain especially for The Court of Two Sisters and were blessed by Queen Isabella of Spain. The courtyard, which is connected to an indoor terrace along the entire length, is the largest outdoor dining courtyard in the French Quarter, with a fountain, wishing well and wrought iron arbor.
What you get: Three-hour reception package includes hors d'oeuvres and food stations as well as a full open-call brand bar (menu available online). Cake cutting (but not the cake) and bridal champagne also included.
Average cost: $87 per person plus tax and gratuity; $3,750 rental fee is waived with a minimum of 175 guests
How to book: 504-522-7261; court2si@courtoftwosisters.com, online form
Additional information: An additional $1,000 setup fee applies for ceremonies.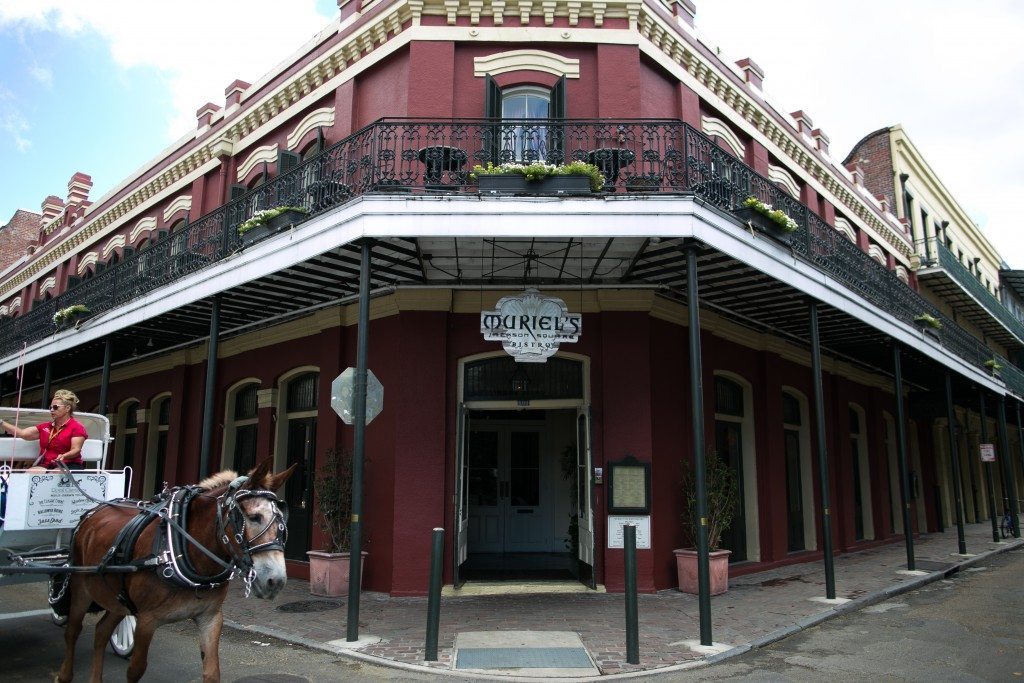 Photo by Trevor Mark
Where: 801 Chartres St.
Capacity: 138 seated, 300 buffet
Special features: This elegant property has been changing hands since the 1800s, undergoing major renovations after the fire of 1788 and in the late 1990s. The royal treasurer of the French colonies Jean Baptiste Destrehan owned it at some point, as well as Julien Poydras, who was the President of the Louisiana State Senate and a Director of the Louisiana Bank, among other city notables. The property was a bar, a pasta factory, and several other restaurants before Muriel's opened in 2001. The extensively restored space faces Jackson Square and retains its old-world charm. One of its former owners, Pierre Antoine Lepardi Jourdan, who committed suicide after a gambling loss in 1814, is said to haunt the second floor.
What you get: Superb location and expertly executed classic Creole fare. Several dining room options available.
Average cost: $100 for dinner, $75 for lunch (includes food and beverage, including alcohol, for a 3-hour event)
How to book: 504-568-1995; event request form
Additional information: Deposit is returned if you cancel within 90 working days of the event. Menu options available online.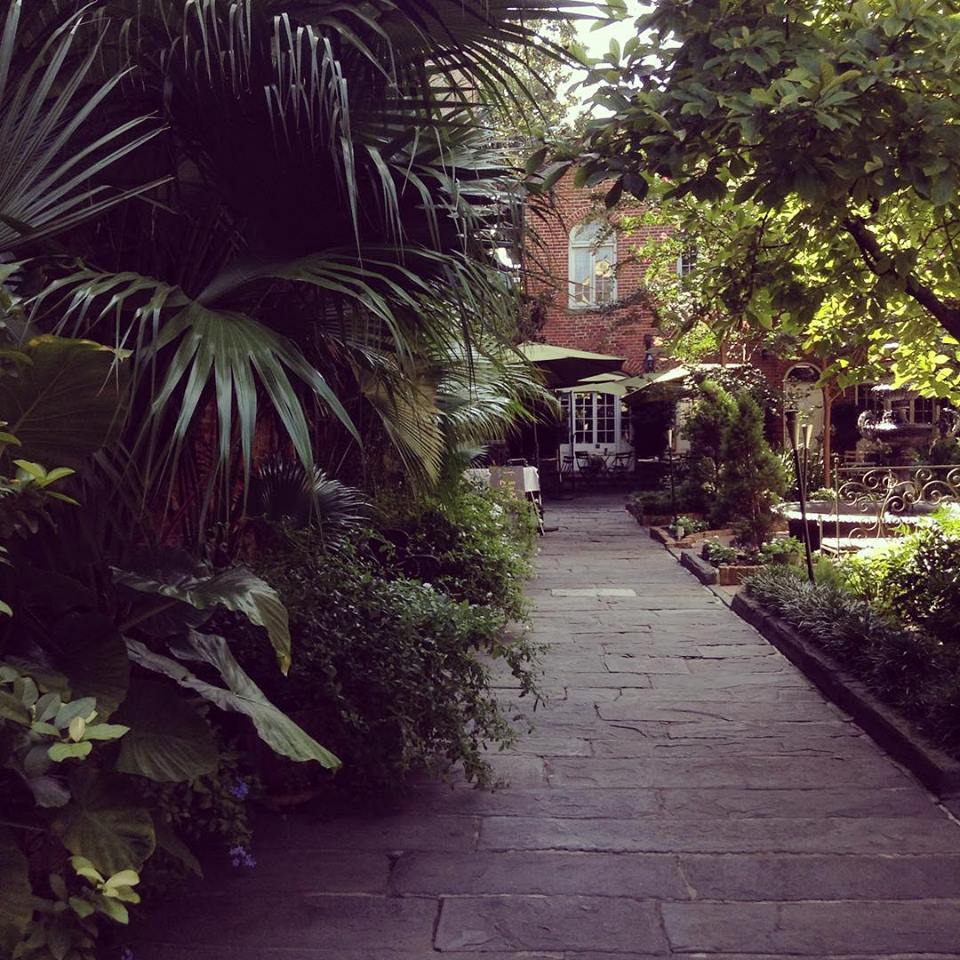 Photo courtesy of Cafe Amelie on Facebook
Where: 912 Royal St.
Capacity: 150
Special features: Great location on the wrought-iron haven of a busy block of Royal Street in the heart of the Quarter. The food is contemporary Louisiana fare, with excellent takes on cochon de lait or crab cakes, for instance. The main draw is a romantic, lush courtyard with a fountain.
What you get: A big, 150-year-old courtyard and an elegant brick carriage house with French doors.
Average cost: $4,500 for 4 hours. All food, beverages, cake cutting, live music, tent are extra.
How to book: 504-412-8965; info@cafeamelie.com
Additional information: 100 guests minimum. A great option for a reception or an after-wedding brunch too, but not available for the ceremony only. Sample proposals for services and pricing for 100, 125 and 150 people available online.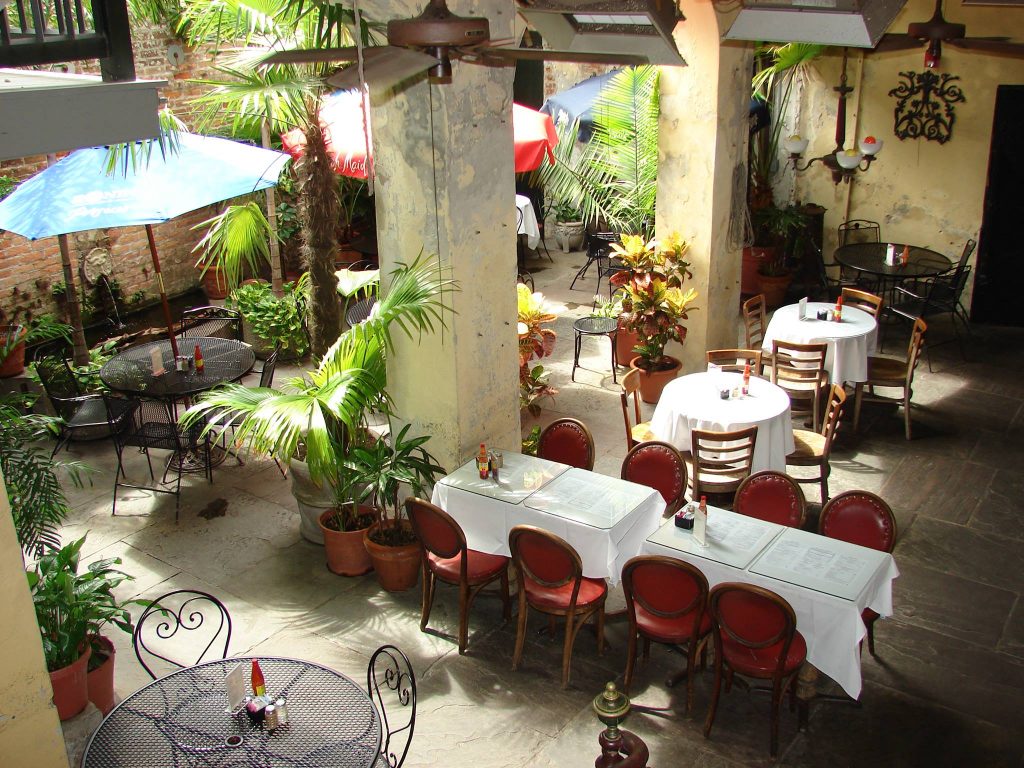 Photo courtesy of Napoleon House on Facebook
Where: 500 Chartres St.
Capacity: Rosa Room: 40 reception, 30 seated; Pietro Room: 135 reception, 70 seated; Emperor Room: 40 reception, 45 seated; courtyard: 70 reception; entire restaurant: 250 reception
Special features: A historic landmark dating back to 1700s with the unique ambiance of the old-world New Orleans. The original owner, Nicholas Girod, Mayor of New Orleans from 1812 to 1815, hoped to provide refuge for the exiled Napoleon Bonaparte there, but, as we all know, it didn't happen. Unique interior with the lush courtyard, traditional Pimm's Cup, and classic Creole menu.
What you get: A choice of suite of rooms upstairs, 2,300 sq. ft. total, that would have been Napoleon's apartments, the courtyard, or the entire restaurant. The second-floor rooms are fit for the emperor indeed, with custom chandeliers, cypress wood mantles, silk tapestry drapes, and balcony access.
Average cost: Rental fees vary depending on what rooms you're renting. See dinner, reception and bar menus with prices online.
How to book: 504-934-4704; bsigur@neworleans-food.com
Additional information: How about having your ceremony at the Pharmacy Museum across the street?
Shopping
---
There's no shortage of bridal shops in New Orleans, many of which are located Uptown or in Metairie. Instead, we suggest checking out these places in the French Quarter and the Marigny, where you can score some great local and vintage shoes and accessories — for the wedding couple, the bridesmaids, or any guest looking to spiff up her or his outfit with a fascinator or some sequins.
Vintage and Retro
537 Royal St. (also Trashy Diva Lingerie Boutique, 712 Royal St.)
The two French Quarter locations — one dedicated to lingerie and the other for clothing — are both on Royal Street, not far from each other. Although not strictly vintage, Trashy Diva's boutiques deserve a mention because they carry well-made, flattering vintage-inspired pieces in the styles from the 1920s through the 1950s, in sizes ranging from 0 to 24, plus pinup-worthy accessories, at reasonable prices. The clothing boutique also carries shoes.
216 Decatur St.
Not unlike Trashy Diva, this funky boutique sells vintage-inspired clothing, shoes and accessories. You can't miss its eye candy of a storefront full of sparkly jewelry, parasols and retro-inspired shoes.
Bambi Deville's Vintage Clothing
818 Royal St.
Not always easy to spot from the street because it's tucked away on a second floor above a sprawling art and frame shop, Bambi Deville's Vintage Clothing is well worth a visit if you're looking for a great pair of 1940s heels, a glam headpiece, or a Victorian dress stunner for a wedding guest. The costume jewelry collection is well preserved and lovingly displayed.
High-End Baubles
630 Royal St.
Hands down one of the best antique stores in the country, M.S. Rau Antiques has been in business since 1912 and remains a favorite among serious antique collectors and novices alike. The stunning 25,000 sq. ft. showroom and gallery houses rare antiques and jewelry by Chanel, van Cleef & Arpels, and Tiffany & Co.
623 Royal St.
Similarly, Antiques de Provence carries vintage jewelry, specializing in Chanel in particular.
Or Just Walk Down Chartres Street…
These five boutiques will be easy to hit at once because they're located on Chartres Street not far from one another. Hemline carries a well-curated shoe and women's fashion collection from local and national brands. For shoes, check out the recently opened John Fluevog Shoes. The tiny, well-hidden United Apparel Liquidators is unsurpassed for hunting name brands with deep discounts if you are on the last-minute hunt for a couture dress or off-the-runway pair of shoes. Lucy Rose has lots of quirky bohemian jewelry, and Lost and Found offers locally made accessories, jewelry, hats, and women's clothing in sizes small to 3x. Finally, still on Chartres but farther down in the Marigny, Blue Dream Vintage Boutique is a great for earthy, unique florals and leather.
Makeup, Hair, Nails, Spa Treatments
---
The sprawling Sephora location on N. Peters Street that opened last March will probably serve all of your makeup needs. Fifi Mahony's carries some lesser-known makeup brands plus glittery accessories and a wide range of wigs, so it would be fun to visit with your bachelorettes for some burlesque flair and costuming ideas.
Salon D Nola (301 Burgundy St. location for hair, skincare and waxing and 317 for hair and makeup) specializes in wedding day services. Riverside Day Spa across from Canal Place on Iberville St. also has spa, hair and nail packages for bachelorettes. April Spa Nails in CBD has group discounts, and the bustling Salon Diversions offers wedding-day hair and makeup, plus fun ambiance and lots of people watching through its big windows on a foot-traffic heavy block on Royal St. in the French Quarter. The high-end Spa Atlantis, with two locations six blocks apart, one downtown and one in the French Quarter, offers packages under $200 and under one hour that include massage, facial, makeup, and blowout combos.
And How About a Second Line?
---
 One of the only-in-New-Orleans extras you could indulge yourself in is adding a second line parade to your wedding. You'll get a once-in-a-lifetime experience —  and wouldn't it be more fun than hiring a bus to move your party from the ceremony to reception?
Organizing a second line parade does require some planning in advance, including obtaining the parade permit and securing police escort from the City of New Orleans (not optional), hiring a band, and purchasing and personalizing the extras like handkerchiefs and parasols. It is possible to do it yourself, but it may be best to leave the planning to the local pros, especially if you have to plan and coordinate remotely.
Jazzman Entertainment has been organizing second line parades for over 15 years, including ones for weddings and bachelor/bachelorette parties. A standard package ($1,550) includes a five-piece band for up to an hour (the company has several, and Jaywalkers is the second line band). You will also get a grand marshal (not to just dance-lead the parade but coordinate the whole event), a parade permit, and police escort for 45 minutes — on motorcycle, with one squad car riding last to close the parade. You can add more musicians, stilt walkers, costumed revelers, and other extras for additional cost.
The French Quarter Wedding Chapel, mentioned above, offers a second line parade in one of its more elaborate packages ($4,700 for three hours including the ceremony; $2,700 parade only). This will come with the permits, the five-piece brass band with a grand marshal, the parasols, the beads, and the hankies.
The local Kinfolk brass band specializes in second lines and offers full services, including all the above. They'll rent the parasols for you and will deliver customized parade accessories in case, say, you want to have your names and the dates embroidered on the handkerchiefs. You can also add a grand marshal, dancers and even Mardi Gras Indians to your parade.
Bachelorette Parties in the French Quarter
---
If you're planning a Bachelorette Party in The Big Easy, be sure to check out our Guide to an Exciting New Orleans Bachelorette Party.