Book A French Quarter Hotel
French Quarter Food Delivery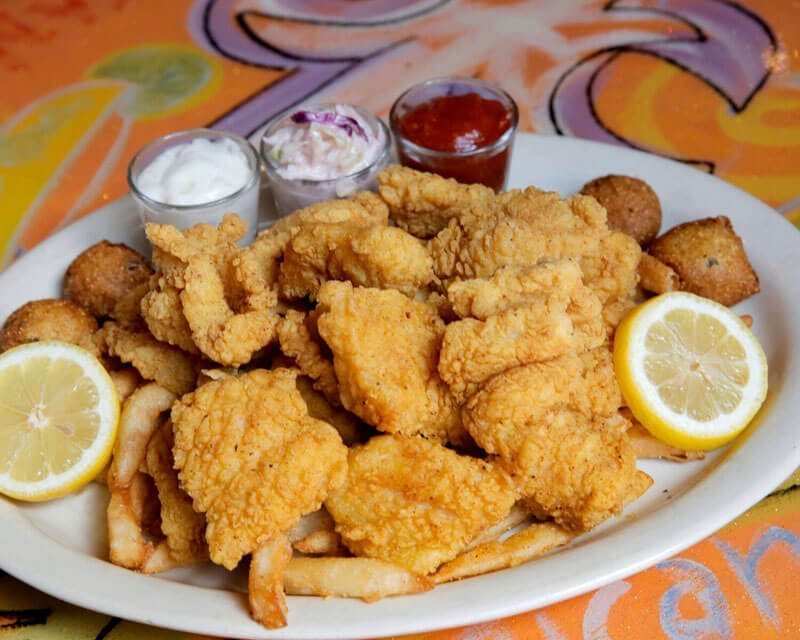 Photo courtesy of Oceana Grill on Facebook
After a long day of New Orleans sightseeing – or after a long night out listening to music/downing cocktails/sampling beer at local breweries – it's nice to have your food come to you, rather than the other way around. To that end, you need to know who is delivering food in the French Quarter. This is an especially relevant question given that many historic hotels may not possess refrigerator, microwave, or other food preparation facilities en suite.
To that end, don't forget our recommended hotels allow for front desk food delivery, and that online platforms like UberEats, Grubhub, Couchster and NOLA Food Delivery are all available within New Orleans. If you use one of those apps/websites, a ton of restaurants that aren't listed here come into food delivery range, although you'll generally have to pay more of a delivery fee if the food is coming from further away.
Verti Marte —  504-525-4767
This tiny counter stand/convenience store is famous for cranking out some of the best po boys in town, including the gloriously sloppy All That Jazz (grilled ham, turkey, shrimp, cheese, mushrooms, tomatoes, sauce, amazing). They also sling a full menu of hot dishes (brisket, lasagna, etc); there are even a few vegetarian options, including the wonderful Mushroom Mountain (basically a lot of mushroom and a lot of cheese).
Mona's Cafe —  504-949-4115
Located on Frenchmen St, Mona's is a New Orleans institution that dishes up delicious Middle Eastern specialities, including spinach pie, hummus, fried haloumi, falafel plates, schwarma and a great array of kebabs. They have kids plates available as well if you're traveling with little ones.
Oceana Grill —  504-525-6002
Need some seafood delivered to your doorstep? Give the folks at Oceana a call (or order online). The menu, which includes a kids menu, has crabmeat in a crawfish and mushroom cream sauce, barbeque shrimp, grilled tuna, and other seafood specialties (plus ribs and pasta dishes) that you may not normally associate with delivery cuisine.
Vieux Carre Pizza —  504-529-1999
Sometimes, you need a pizza. Sometimes, a pizza is the only thing that will do. If it's late at night and some hot cheese, tomato sauce and a good crust is what you're in the mood for, give a call to Vieux Carre Pizza, and let them do the rest of the work.
Meals from the Heart —  504-525-1953
This delivery service is a beloved French Quarter source of mobile calories. You can order on the phone or online. Take a look at that menu – it's one of the healthier ones in the Quarter, and includes raw avocado beet salad and vegan blueberry pancakes. If that's not your style, no worries – there's po'boys (whole wheat or gluten free), salmon, eggs and grits for breakfast, and gumbo to scratch that New Orleans food itch.
Gotta love that this place is cranking 24 hours, which is a surprising rarity in a party town like New Orleans. They have a few locations around town, but the above link gets you to their delivery page (or you can call 504-522-2233). Don't expect a light meal – they crank out burgers, chili cheese fries, po'boys and a bunch of variations on fried seafood platters; breakfast and a few pizza options round out the menu.
Kebab  —  (504) 383-4328
Although it's technically located in Faubourg Marigny, along St Claude Avenue, Kebab is still a 10-minute walk from Esplanade Ave, on the edge of the Quarter. That said, you're not interested in walking there (although they do take-out) – you want delivery, and Kebab delivers from Canal St to Poland Ave. What exactly do they deliver? Some good stuff: true pita wrapped kebabs, the sort you can get in Europe after a night out, but of much higher quality. You can pick from chicken doner kebabs, gyros made from local pork, fantastic falafel, roasted portabello mushrooms, and some of the best hand cut fries in the city.
---
Related Articles