Book A French Quarter Hotel
French Quarter Food Delivery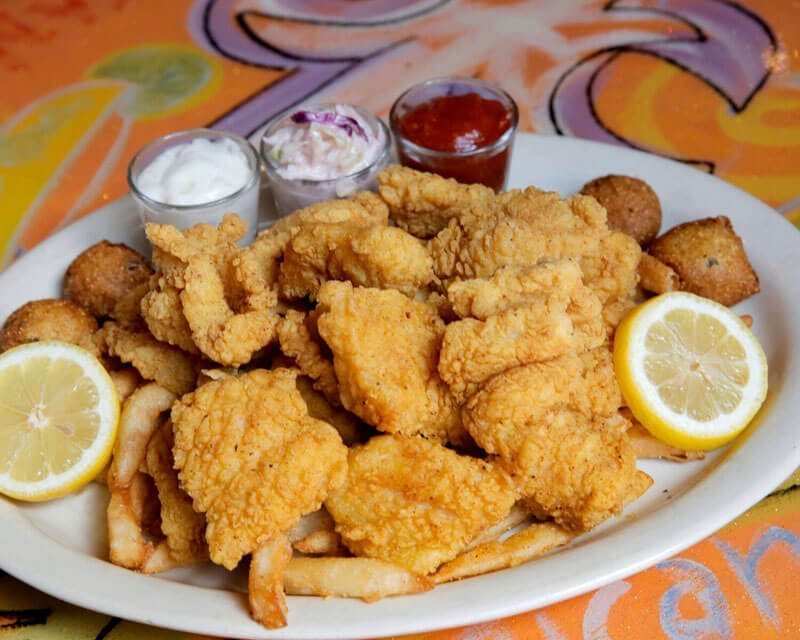 Photo courtesy of Oceana Grill on Facebook
After a long day of New Orleans sightseeing — or after a long night out listening to music, downing cocktails, and sampling beer at local breweries — it's nice to have your food come to you rather than the other way around. To that end, you need to know who is delivering food in the French Quarter. This is especially relevant given that many historic hotels may not possess a refrigerator, a microwave, or other food preparation facilities en suite.
To that end, don't forget that our recommended hotels allow for front desk food delivery, and that online platforms like UberEats, Grubhub, DoorDash, and Postmates are all available within New Orleans. If you use one of those apps/websites, a ton of restaurants that aren't listed here come into the food delivery range, although you'll generally have to pay more of a delivery fee if the food is coming from further away.
121 Chartres St., 504-561-5171
Daisy Dukes has several locations in New Orleans, including one in the French Quarter. Don't expect a light meal — they crank out burgers, chili cheese fries, po-boys, and a bunch of variations on fried seafood platters; a full breakfast rounds out the menu. Delivery in the French Quarter and the CBD.
1001 Dauphine St., 504-412-8700
It's an iconic destination for French Quarter locals and tourists alike: a family-owned market where you can grab everything from a sausage po-boy and a six-pack to paper towels and bananas. Plus, they deliver. Is it any wonder Matassa's business has been booming for decades?
1100 N. Peters St. #13, 504-525-1953
This is a beloved French Quarter source of mobile calories located at the French Market. You can order on the phone or online. Take a look at that menu — it's one of the healthier ones in the Quarter, and includes a ton of salads, vegan crab cakes, vegan beignets, and vegan blueberry pancakes. If that's not your style, no worries — there are po-boys, loaded scrambled eggs for breakfast, and gumbo to scratch that New Orleans food itch.
739 Conti St., 504-525-6002
Need some seafood delivered to your doorstep? Give the folks at Oceana a call (or order online). The menu, which includes a kids menu, has crabmeat in a crawfish and mushroom cream sauce, barbeque shrimp, grilled tuna, and other seafood specialties (plus ribs and pasta dishes) that you may not normally associate with delivery cuisine.
1201 Royal St., 504-525-4767
This tiny counter stand/convenience store is famous for cranking out some of the best po-boys in town, including the gloriously sloppy All That Jazz (grilled ham, turkey, shrimp, cheese, mushrooms, tomatoes, sauce, amazing). They also sling a full menu of hot dishes (brisket, lasagna, etc); there are even a few vegetarian options, including the wonderful Mushroom Mountain (basically a lot of mushrooms and a lot of cheese). Verti Marte offers free delivery to the French Quarter, the Marigny and the CBD.
733 St. Louis St., 504-529-1999
Sometimes, a pizza is the only thing that will do. If it's late at night and some hot cheese, tomato sauce and a good crust is what you're in the mood for, give a call to Vieux Carre Pizza, and let them do the rest of the work. Open till 4:40 a.m. on Saturdays and till 3 a.m. the rest of the week.
Are you planning to spend some time in New Orleans soon? To stay close to all the action, book a historic boutique hotel in the French Quarter at FrenchQuarter.com/hotels today!
---
Related Articles