Book A French Quarter Hotel
Suit Up for the Red Dress Run in New Orleans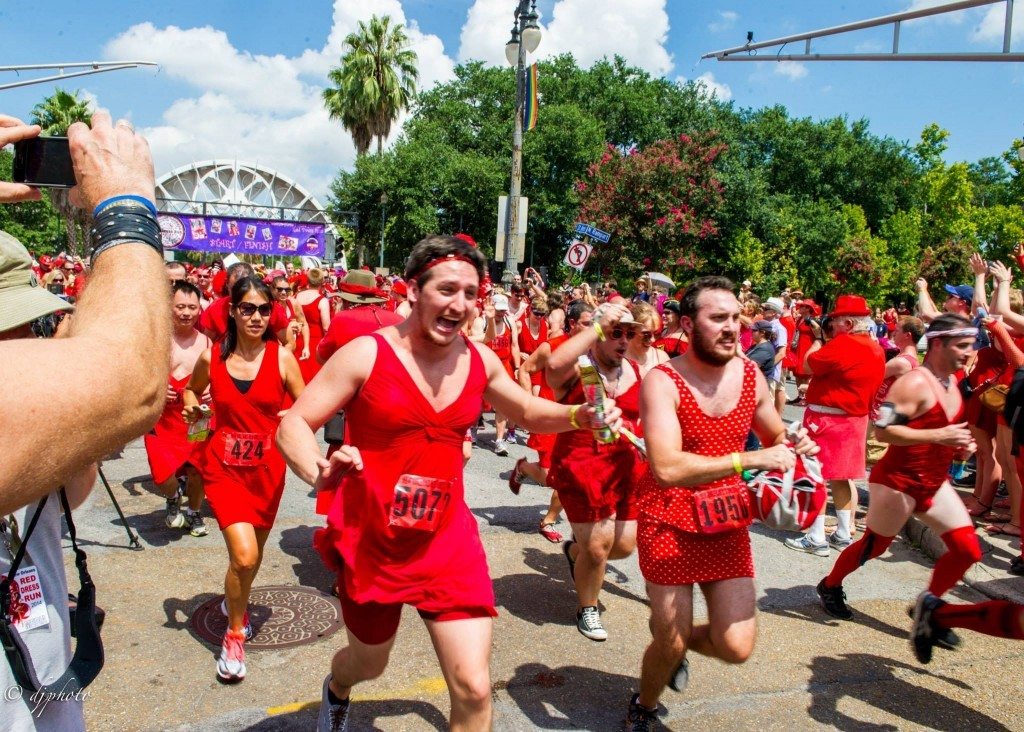 All photos provided by our friend and contributor David Fary
You'd be tempted to call thousands of sprinting women and men kitted out like a Chris de Burgh single ("Lady in Red") a drag race, but no. It's a dress run. On the second Saturday of August — this year, that's August 13 — the New Orleans Hash House Harriers (NOH3) are at it once again, hosting the annual New Orleans Red Dress Run. Still going strong after more than two decades, the race draws in thousands of men and women aged 21 and older, who take to the French Quarter to showcase the color red in all of its glory (and let's be honest, sometimes lack thereof).
This year, once again, the race assembles in Crescent Park around 9 a.m., with beer flowing and a DJ spinning. Late registration goes on until the start of the run (11:30 a.m.), which tends to finish in a crimson scrum of sweat and live music. The two-mile race route is a closely guarded secret, but expect runners to jog/stumble/sprint into the French Quarter and back to the Crescent Park.
The entire affair owes its existence to the remarkable efforts of the local chapter of Hash House Harriers, a club dedicated to running and drinking (many Hashers would flip those priorities). Local running guru Mark Berger, owner of Higher Power NOLA, is no stranger to showing some leg during this annual race and has some pro-tips for ladies and gents planning to hit the streets on what is guaranteed to be a hot day.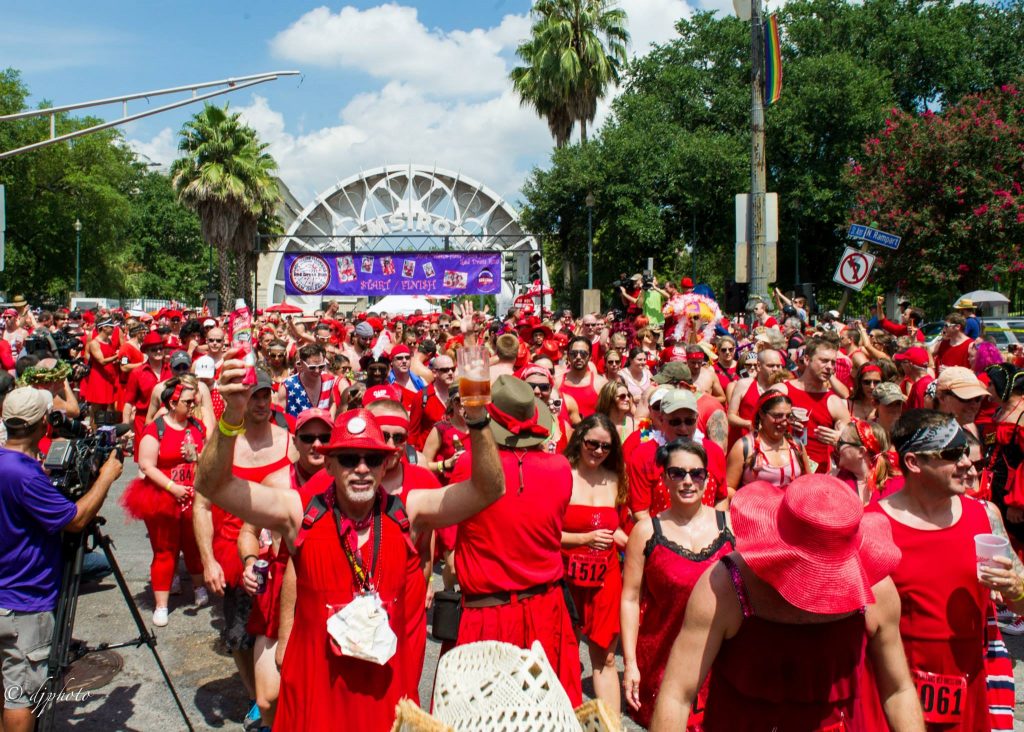 Tips for Red Dress Run
No one wants to be dragged down with a handbag, so consider investing in a fanny pack. Mark, our local running pro, also recommends wearing a dress that is tight up top so you can hold your phone, cash, card, and license secure in the breast area (yes, this goes for guys too).
"I want one hand with a drink," says Berger, "and as little bouncing up and down on my waist and back possible."
Seriously though, it will be hot, and a breathable pair of underwear is a good investment. For the guys, while you are out shopping for your little red dress, Berger recommends picking up a pair of Lululemon's short No Boxer Boxer — because there is "no chafing. It stays under the dress and is easy to run in all day."
Remember, this is an all-day party with food, beer and music. Avoid rough sequins under the arms, because arm abrasion will rain on your parade real fast. If you are unsure, dance around the house with some bold arm movements to see if you've got the right stuff on top.
Other must-haves on Berger's list: A Ziploc bag "wallet" for phone cards and cash. He also recommends headbands and sweatbands that are good to wipe off moisture that's your own and from others that are tipsy and bumping into you.
Some more race etiquette: "Tie your shoe! The last thing you want is someone stepping on your laces and you, or them, falling into French Quarter slosh in the cracks and edges of the streets," says Berger. If you are going slowly, no worries, although a koozie might be a good idea as your drink will get hot, quick.
"Faster people, you will never see them, they are few and far between," says Berger. "Faster drinkers, you will find everywhere… Others in the Quarter are really jealous that they are not with you. They probably want to take pictures with you and buy you a beer, so interact frequently."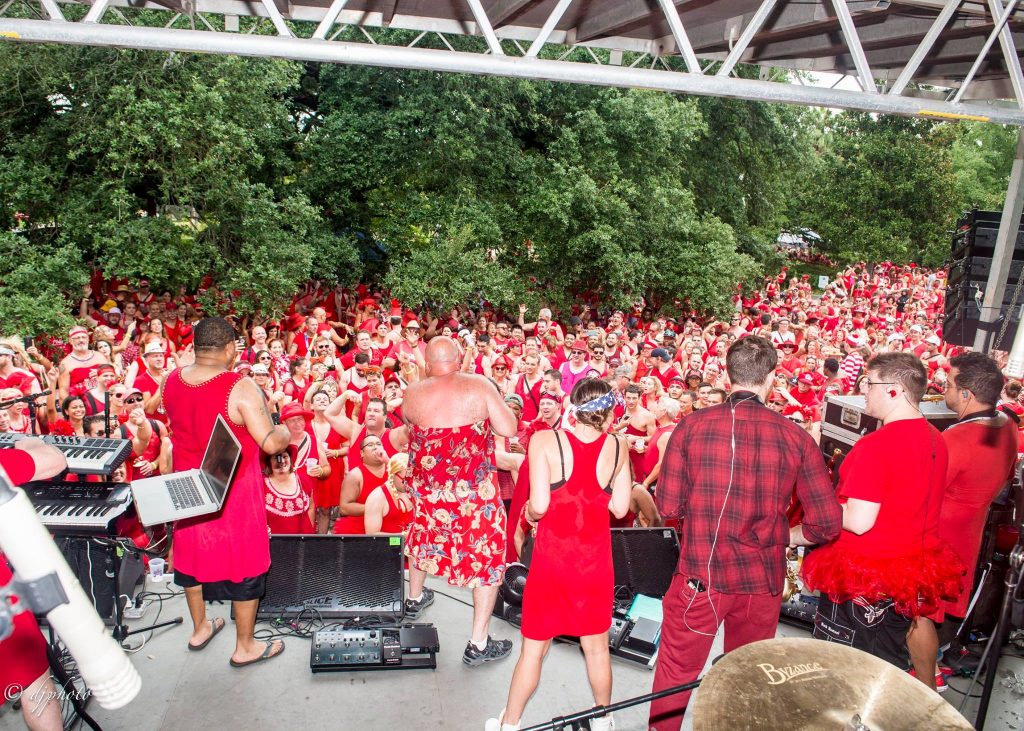 If you're really gung-ho, consider becoming a Hasher. They sing "down down" hymns when someone has to drink, such as "Here's to Brother/Sister Hasher" (to the tune of "Ach, Du Lieber Augustin." You know, the Oktoberfest song). The club — a "Drinking Club with a Running Problem" — is international, and you can find a Hash/Run event in almost every country in the world.
Suzanne Smith has been a hasher for over seven years and is part of the MisManagement group that puts together the New Orleans Red Dress Run. She is the "Haberdashery," the one who supplies the clothes and accessories (think t-shirts, visors, patches) with the NOH3 logo.
"I got started because I've always participated with local New Orleans running/walking events and am very fitness-minded," says Smith. "My running friends introduced me to the group and I met a wonderful social network of people that enjoy fitness and fun and a cold beer."
The calendar of runs is on the NOH3 website and membership is open to anyone over 21. All you need to do is show up. "Once you complete a Hash Run/Trail and Circle, you are then considered a Hasher."
Just remember, it takes more than putting on a red dress and tying off a few in the Quarter to be a part of this historic event. Don't be a red dress rip-off — register to enjoy unlimited beer, food and music.
As mentioned above, the race route is secret, so follow the event on Facebook. For spectators looking to watch the action, the race "track" has always traversed Bourbon and Royal Street in the past, with a handful of beer stops along the route.
---
Related Articles