Book A French Quarter Hotel
Suit Up for the Red Dress Run in New Orleans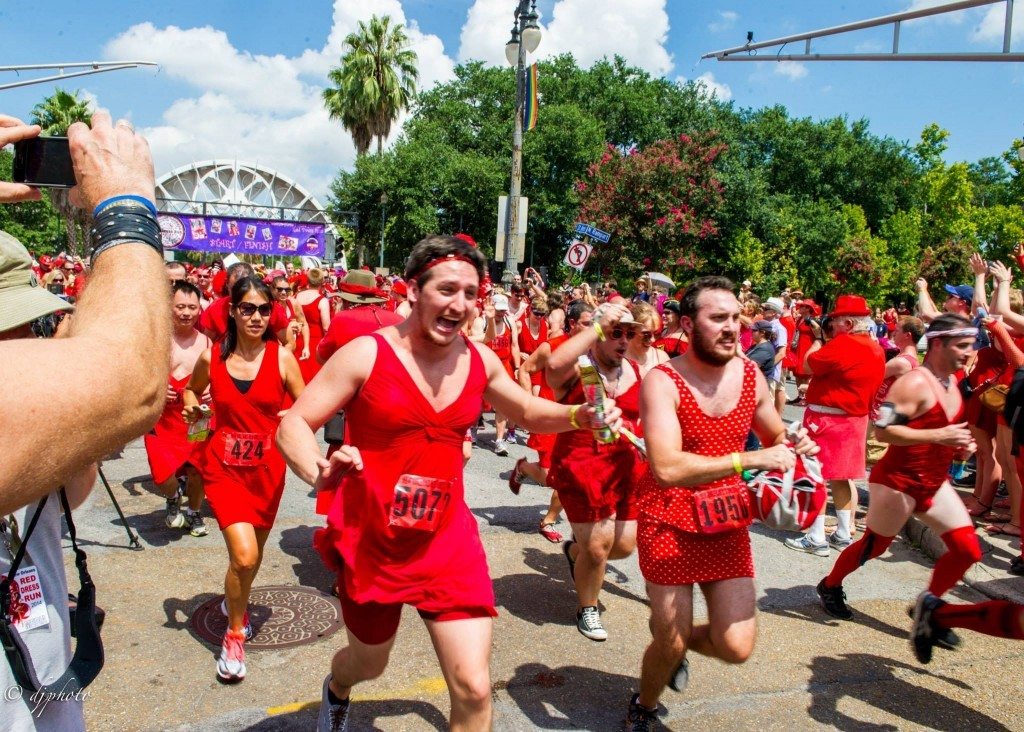 All photos are courtesy of David Fary
You'd be tempted to call thousands of sprinting women and men kitted out like a Chris de Burgh single ("Lady in Red") a drag race, but no. It's a dress run. On the second Saturday of August — this year, that's August 12, 2023 — the New Orleans Hash House Harriers (NOH3) are at it once again, hosting the annual New Orleans Red Dress Run.
The Event Details
Still going strong after more than two decades, the race draws in thousands of men and women aged 21 and older, who take to the French Quarter to showcase the color red in all of its glory (and let's be honest, sometimes lack thereof).
This year, once again, the race assembles in Crescent Park around 9 a.m., with beer flowing and a DJ spinning. Late registration goes on until the start of the run (10 a.m.), which tends to finish in a crimson scrum of sweat and live music. Please note the earlier start time as the organizers are trying to get everyone moving before the serious heat descends. Admission for this event is $65.  Day-of registration is cash only.
The two-mile race route is a closely guarded secret, but expect runners to jog/stumble/sprint through the Bywater and Marigny neighborhoods eventually making it into the French Quarter and back to the Crescent Park. Once the run is over at 11:30 a.m., lunch is served. The whole affair is over by 4 p.m.
Participants can pick up their event packets on the day of the event, but also on Thursday and Friday, from 4 to 8 p.m., at Deutsches Haus, 1700 Moss St. (Bayou St. John in Mid-City). Everyone needs to show ID and sign a liability waiver.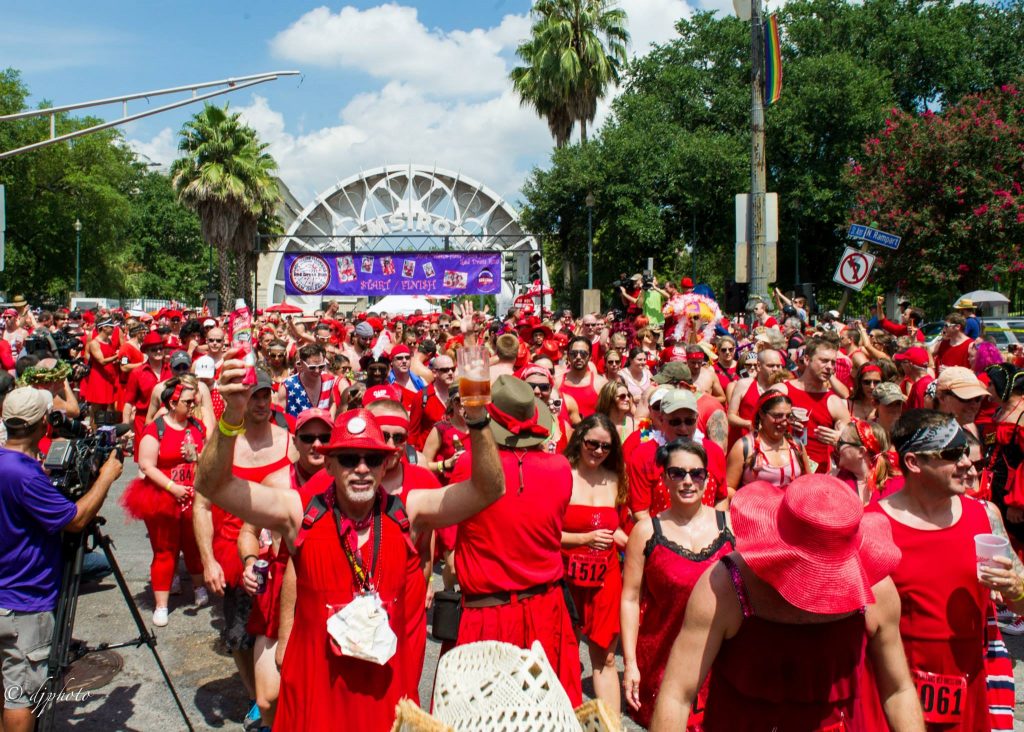 Tips for the Red Dress Run
Here are some pro tips we've collected over the years from repeat participants. New Orleans heat in August is no joke, so we hope you heed the advice to stay safe, hydrated, and have fun.
No one wants to be dragged down with a handbag, so consider investing in a fanny pack or a Ziploc bag "wallet" for phone cards and cash. Another option is to wear a dress that is tight up top so you can hold your phone, cash, card, and ID secure in the breast area (yes, this goes for guys too).
Just assume that it will be seriously hot, and a breathable pair of underwear is a good investment. We also recommend headbands and sweatbands that are good to wipe off moisture that's your own and from others that are tipsy and bumping into you.
Remember, this is a long party with food, beer and music. Avoid rough sequins under the arms, because arm abrasion will rain on your parade really fast. If you are unsure, dance around the house with some bold arm movements to see if you've got the right stuff on top.
Some more race etiquette: Tie your shoes. The last thing you want is someone stepping on your laces and you, or them, falling. If you are going slowly, no worries, although a koozie might be a good idea as your drink will get hot, quickly.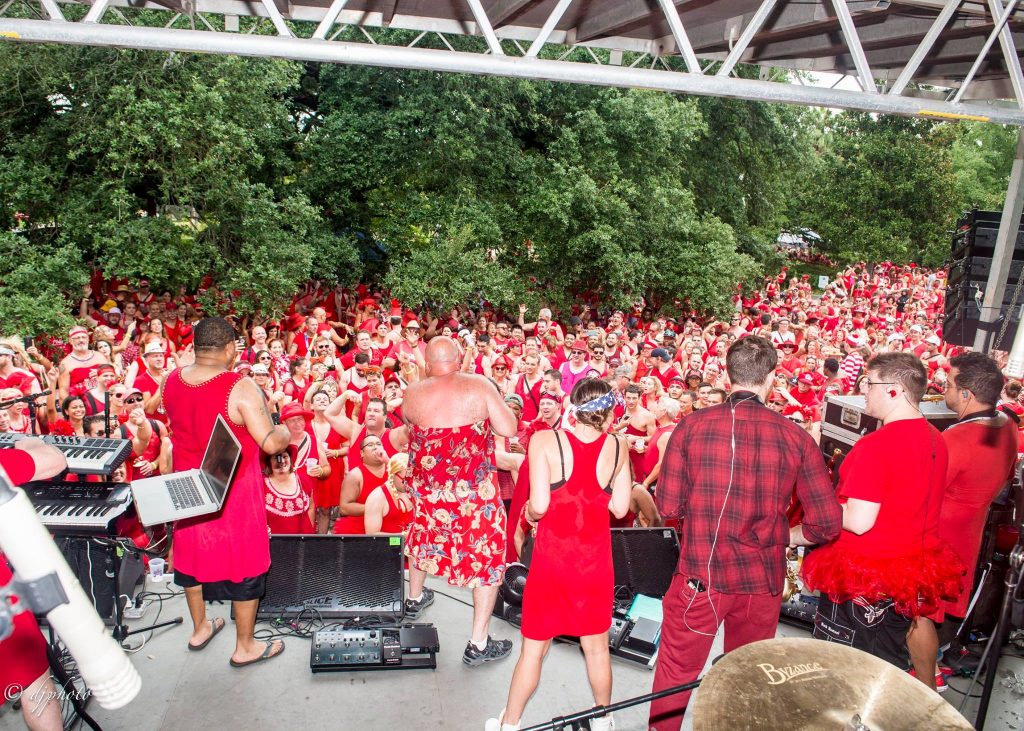 About the Red Dress Run
The entire affair owes its existence to the remarkable efforts of the local chapter of Hash House Harriers, a club dedicated to running and drinking (many Hashers would flip those priorities). The club — a "Drinking Club with a Running Problem" — is international, and you can find a Hash/Run event in almost every country in the world. Proceeds from the event benefit different charities.
The calendar of runs is on the NOH3 website and membership is open to anyone over 21. All you need to do is show up.
Just remember, it takes more than putting on a red dress and tying off a few in the Quarter to be a part of this historic event. Don't be a red dress rip-off — register to enjoy unlimited beer, food and music.
As mentioned above, the race route is secret, so follow the event on Facebook. For spectators looking to watch the action, the race "track" has always traversed Bourbon and Royal Street in the past, with a handful of beer stops along the route.
Need a hotel? To stay close to all the action, book a historic boutique hotel in the French Quarter at FrenchQuarter.com/hotels today!
---
Related Articles