Book A French Quarter Hotel
Best Kept Secrets for Eating Cheap and Eating Well in the French Quarter
New Orleans is known for its food, and the French Quarter, in particular, has long been home to many of the city's finest and most high-end eateries. You can experience quintessential New Orleans fare at places like Antoine's, Brennan's, Galatoire's and others, and every trip to the city should include visits to these emporiums of great dining. But when you just want a quick, inexpensive meal — maybe one with a little local color thrown in — ask the locals and follow the Quarter workers, the service industry folks, the bartenders and the servers, to places where good eating can be cheap eating.
Some spots are open 24 hours, some deliver. Some are at their best in the middle of the night. For our purposes, "cheap" is defined as breakfast for $10 or less, lunch or dinner for around $15 per person, or less.
You won't find haute cuisine or, for that matter, haute society either, at places like the Quartermaster Deli or Deja Vu. But you will find New Orleans culture out the wazoo, soulful and satisfying sustenance and a few more reasons, as if you needed any, to eat out in the Big Easy.
Bennachin
(1212 Royal St.)
At the small and cozy Bennachin, you can sample flavorful African dishes with origins from Gambia and Cameroon. The restaurant was also one of the first places in New Orleans to feature vegan items on its menu.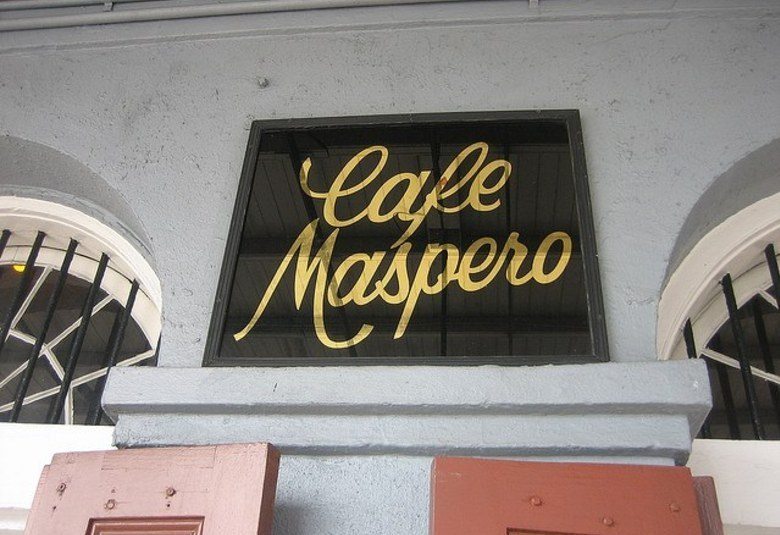 Cafe Maspero
(601 Decatur St.)
If it's classic New Orleans fare you are looking for with a price that won't blow your travel budget, this is the place for you. With a wide variety of seafood platters, crawfish (when in season), muffulettas, and traditional po-boys all tastes are sure to be satisfied. And did we mention its perfect location? Cafe Maspero is right in the middle of all of the French Quarter action, near the river and Jackson Square. The restaurant serves breakfast, lunch, and dinner every day in an open and friendly atmosphere.
Central Grocery
(923 Decatur St.)
A sprawling old-fashioned grocery store on a buzzing block of Decatur Street, Central Grocery is not called "Home of the Original Muffuletta" for nothing. Its founder, a Sicilian immigrant named Salvatore Lupo, is credited for creating the famous sandwich. The store is still lovingly run by the same family, and is packed full of imported Italian delicacies, including the famous olive salad by the jar. Central Grocery is worth a look for that reason alone, but it's the made-to-order muffulettas that have the visitors and the locals flocking there since 1906. You can eat in at one of the few tables in the back, or take your muffuletta to go.
Coop's Place
(1109 Decatur St.)
Tourists wander into Coop's but locals are the mainstay of this raucous bar/restaurant close to the French Market. Loud and lively, it's the kind of place you'd probably expect to offer a limited menu, maybe fried cheese sticks and out-of-a-freezer-bag of buffalo wings, because it could get away with that. Instead, expect appetizers like marinated lamb ribs and a delicious smoked duck quesadilla, a complex flavor surprise made even better with Coop's outstanding house-made salsa.
Coop's takes its food as seriously as its mixology. You'd be hard-pressed to find better fried chicken anywhere in town; served with the creamy, house-made coleslaw, it's a plate of pure plump-you-up pleasure. Regulars rave about the rabbit and sausage jambalaya, especially when made "Supreme" with the addition of spicy tasso ham and shrimp. Alert: You must be 21-and-over to enter only. Also, it gets crazy busy.
Croissant D'Or Patisserie
(617 Ursulines St.)
And please don't miss this Parisian-style patisserie, tucked away between Royal and Chartres on Ursulines. Steeped in old-world charm, Croissant D'Or some of the best baked goods in the city. The sweet and savory croissants, and everything else you'll find displayed in the gleaming glass case — the tarts and the tortes and the quiches — is delicious and served fresh daily from the bakery.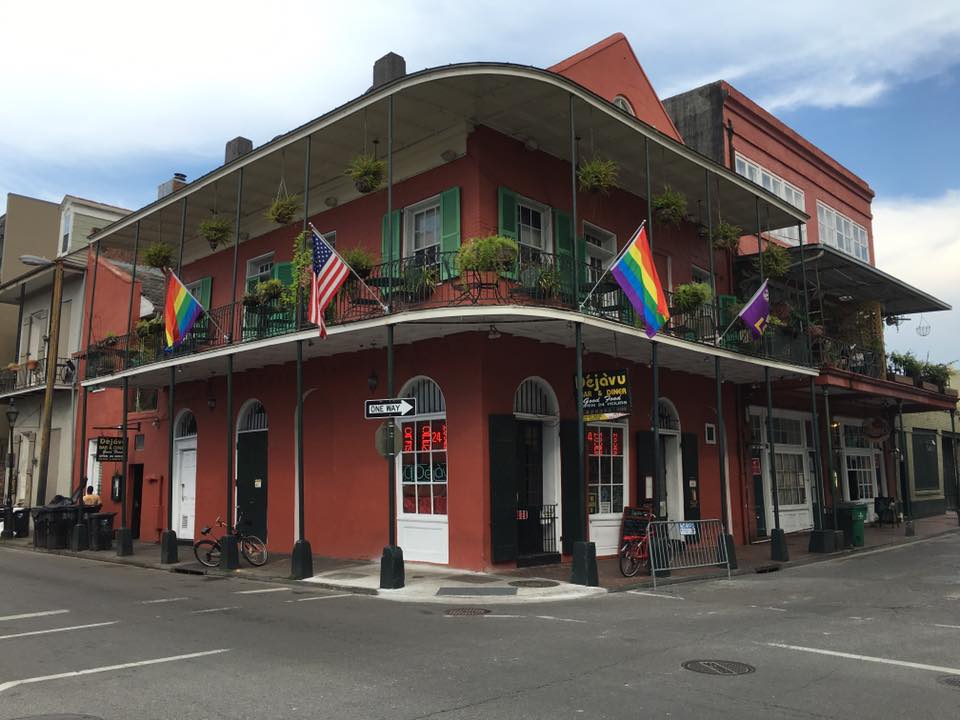 Deja Vu Bar & Grill
(400 Dauphine St.)
This 24-hour full-service restaurant and bar in the French Quarter is always available and ready to accommodate. You will find a wide variety of options on the menu ranging from traditional New Orleans fare to downhome comfort food, all under $20. Deja Vu serves breakfast, lunch and dinner all day long and is available for dine-in, carry out or delivery.
Envie Espresso Bar & Cafe
(1241 Decatur St.)
We also recommend this airy coffeehouse with comfortable sidewalk seating, popular with the locals. It has a full bar and a big breakfast menu, plus small plates. Its second location, 308 Decatur St., features a smaller menu of breakfast sandwiches and quiches, all of which will go easy on your budget.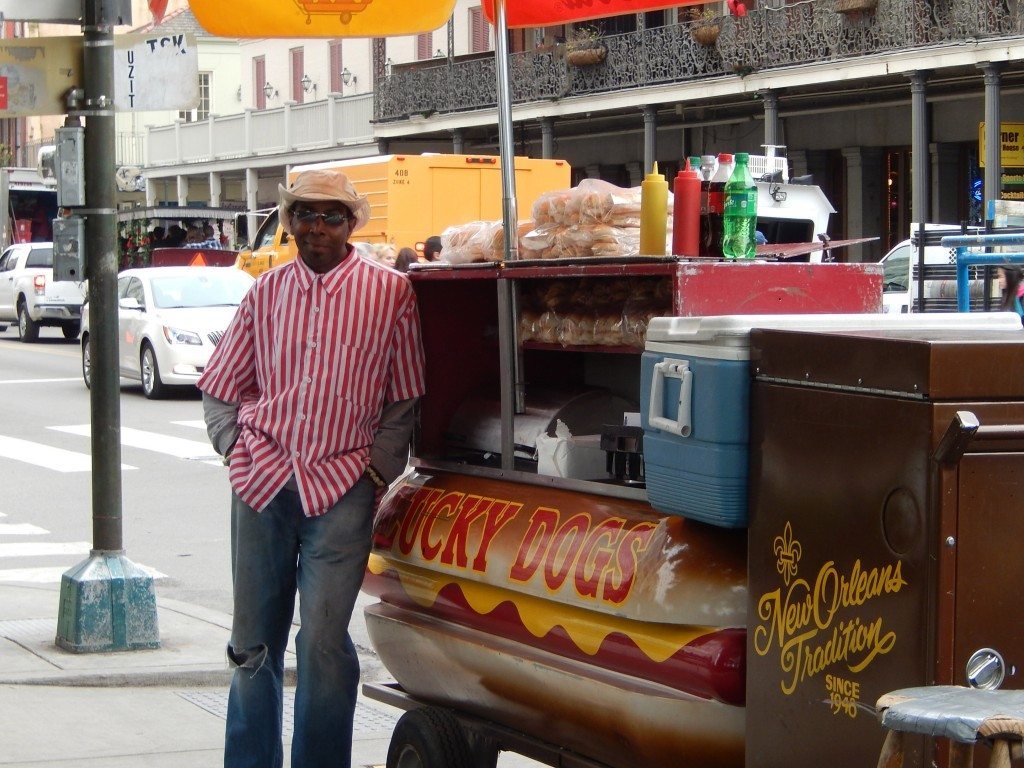 Lucky Dog
(Various street corners in the French Quarter)
The popular hot dogs and iconic weenie-in-bun-shaped carts have been part of the late-night Quarter scene for years; the company website claims over 21 million hot dogs have been sold in the past half-century. Lucky Dog makes a pretty good weenie, perfect for slowing your roll when you've had one too many Hurricanes at Pat O'Brien's.
Mona Lisa
(1212 Royal St.)
Right next to Bennachin is another comfy, cozy spot, the Mona Lisa, decked in the namesake's-centric art floor to ceiling, and serving some of the best (and most inexpensive) pizza in the Quarter.
Quartermaster Deli
(1100 Bourbon St.)
Also known as the Nellie Deli, this French Quarter institution is open 7 days a week, 24 hours. Space is cramped because so much is packed into a tiny footprint — groceries, liquor, sundries, and the focal point, the old-style deli case crammed with goodness — bowls and bowls of made-in-house sides, veggies and more. Don't expect to eat there — there are no tables and there's no room — but you can order at the deli case, or call your order in ahead of time for pickup. There's free delivery, too. You don't even have to leave your hotel room!
The Quartermaster cooks serve up breakfast, lunch and dinner, late-night munchies, and even offer two specials a day — which seem almost superfluous considering the comprehensive menu in this teensy space. Among the favorites: homemade mac-and-cheese, 1/2 pound choice burgers, over-stuffed po-boys (especially the roast beef and the hot sausage), entrees like barbecue chicken, New Orleans meatloaf, and hamburger steak. Good food, friendly staff, local color, and great prices. Alert: Quartermaster is cash only.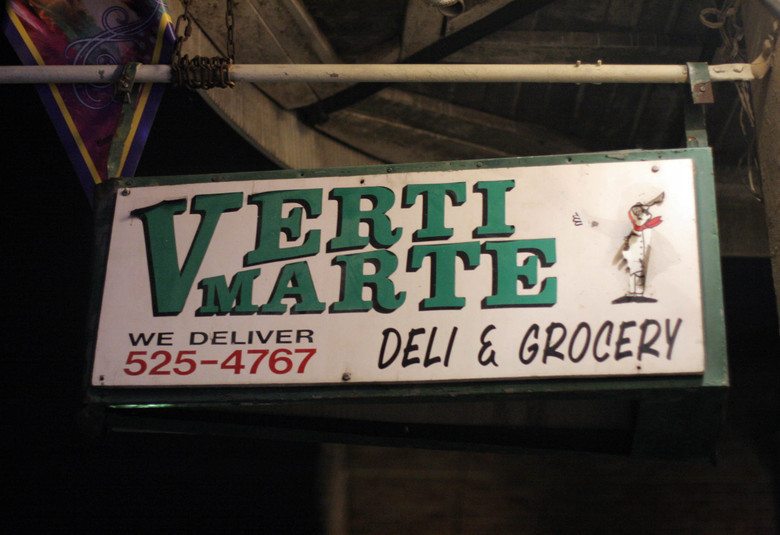 Verti Marte
(1201 Royal St.)
Verti Marte is open 7 days a week, 24 hours, and delivery is available. Like Quartermaster a couple blocks away, it's strictly a to-go operation, serving a heavily local clientele and offering a mind-bogglingly extensive menu of breakfast specialties, sandwiches and po-boys, entrees, and even desserts.
You'll see the Quarter workers stopping in for fried shrimp po-boys, BLTs, and Verti Marte's Philly Cheese Steak. You also can't go wrong with the other epic specialty sandwiches like the vegetarian Green Giant and the mountainous All That Jazz — with grilled ham, turkey and shrimp, plus two cheeses, grilled veggies, and the special "wow" sauce.
Lagniappe
In New Orleans, "lagniappe" (pronounced lan-yap) means "something extra," and that's what we're giving you. Here are a few more places to eat for less, in and outside the Quarter: Remoulade (309 Bourbon St.) is the casual outpost for the more upscale Arnaud's and a good place to sample Creole flavor; Ray's On The Ave (2005 N. Broad St.), features authentic Southern comfort food, and New Orleans Cake Café and Bakery (2440 Chartres St.) in the nearby Marigny, offers delicious, inventive breakfast and lunch fare featuring house-made breads, bagels and signature cupcakes.
Also in the Marigny, located on the music club-heavy Frenchmen Street, we recommend Mona's Cafe (Middle Eastern specialties like excellent falafel and kebabs in a super casual setting) and Dat Dog. Not only Dat Dog's dogs and sausages are pretty amazing but there's balcony seating overlooking Frenchmen, and the second floor filled with decorations culled from the Krewe of Chewbacchus (the city's science fiction/fantasy themed Mardi Gras krewe).
---
Related Articles