Book A French Quarter Hotel
Co-Working in the New Orleans French Quarter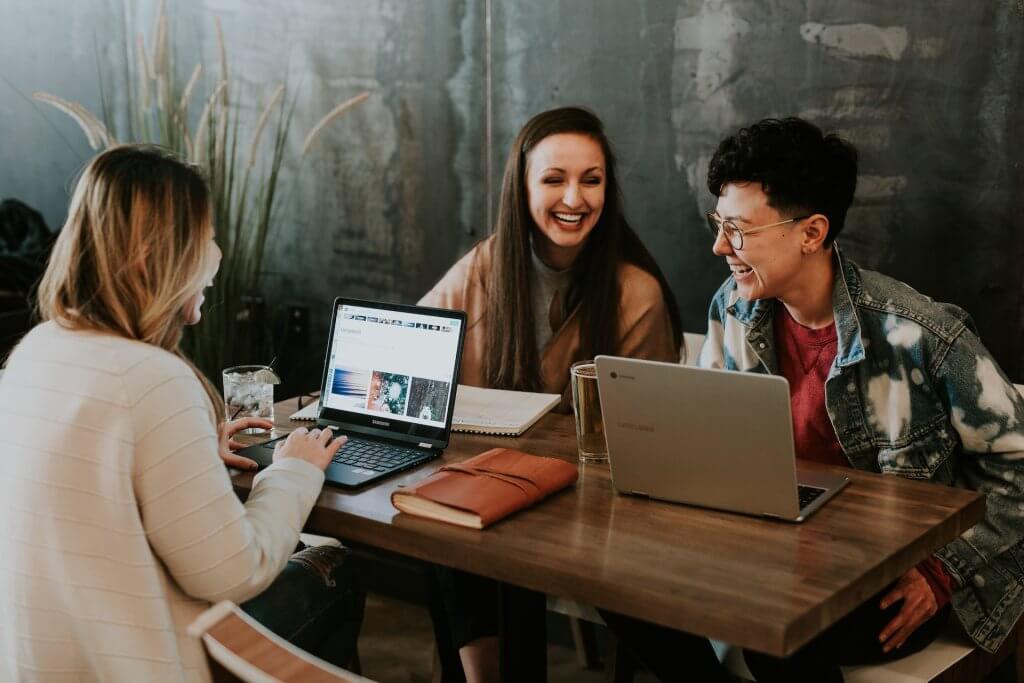 Photo by Brooke Cagle on Unsplash
If you are staying in the French Quarter during a business trip, you are in luck. The area is teeming with some of the best places to meet over coffee, have a business lunch or dinner, hit a happy hour with your co-workers, or just park somewhere, chill with your laptop, and put in a day's worth of work, uninterrupted, and, often, in a historic setting. Here are our recommendations if you must bring your work on the road.
Co-Working Spaces
While there are none located in the French Quarter, there are plenty of shared spaces to choose from nearby, in the Central Business District (CBD), Bywater, Uptown, etc. These few are closest to the French Quarter and are easily reachable by streetcar or car.
Located near Crescent Park in Bywater, The Warehouse is outfitted with exposed brick and shared and private offices. There's a weekly co-working option, indoor bike parking, and lots of cafes and restaurants within walking distance.
Located at the edge of Broadmoor, Propeller is known as an incubator for local startups, especially those focusing on social and environmental issues. The 10,000-square-foot building also provides collaborative working space.
The beautiful and contemporary workspace located on the third floor of the Contemporary Arts Center on Camp Street, The Shop features concrete floors and exposed brick walls.
Coffee Shops
Any number of coffee shops in the French Quarter is well suited for a business breakfast or a quick business meeting, or if you just want to sit somewhere with a non-alcoholic beverage and put in a few hours of work. Cafe Envie (1241 Decatur St.) is an airy coffeehouse with comfortable sidewalk seating, popular with the locals. It has a full bar and a big breakfast menu, plus small plates and excellent coffee.
Croissant D'Or, will make you feel like a kid in a candy store. The tiled old-world gem that is Croissant D'Or is a must for breakfast as well as a chill spot for a cafe au lait.
And if you want an only-in-New-Orleans experience (and beignets), head to Cafe Du Monde or Cafe Beignet (with four locations in the Quarter). Cafe du Monde is probably too hectic to linger at, but its beignets and cafe au lait are legendary. The Royal Street Cafe Beignet location is especially airy and roomy, with a lovely courtyard.
Business Lunch
There are so many excellent restaurants to choose from as your business lunch destination, at every price point, but few stand out for the quality of their food, a historic setting, great prix fixe lunch specials, and the ability to accommodate large groups. At the casual Cafe Maspero, the always-open enormous windows provide a great view of the busy corner, and the heaping seafood platters won't break the bank.
How about an upscale lunch with cocktails? You're in New Orleans! Brennan's has the New Orleans classics like shrimp remoulade and seafood gumbo, plus specialty cocktails. Another storied Brennan establishment, Mr. B's Bistro, is the weekday business lunch destination, and its New Orleans-style barbecue shrimp is to die for (you'll also get to wear a bib). Mr. B's pours $1.50 martinis (and bloody Marys) during weekday lunch; there's no limit on how many you can order.
And the grand dame of elevated Creole cuisine, Antoine's, offers prix fixe lunch deals at prices that, for this type of unique New Orleans experience, should be considered a steal. Lunch also comes with bottomless wine and sparkling if you buy an entree.
Happy Hour
Whether you're hitting a happy hour in the French Quarter solo or with a bunch of co-workers, the possibilities are virtually endless. We don't even know where to begin, but if you want a classic cocktail with high-shelf spirits in an iconic New Orleans setting, check out the award-winning French 75. The bar (located at Arnaud's) also serves delicious small plates nightly, starting at 5:30 p.m. If you like martinis, The Bombay Club has the largest selection in town, plus an inventive and varied bar menu.
Happy hour starts at 3 p.m. at the bar of the Vacherie Restaurant, accompanied by a Cajun-flavored bar menu of boudin balls and Cajun mac and cheese (diced andouille is the Cajun part). The $6 draft beer flights and wine specials can certainly accommodate a thirsty traveler.
For a casual hang, try Bar Tonique (with daily specials like whiskey flights Tuesdays and caipirinha Thursdays). It feels more like a neighborhood bar with specials chalked on the board (no food, no live music), but provides like a serious cocktail lounge, with a drink menu divided on the bar's website into a staggering eight categories.
If you're into tiki, Beachbum Berry's Latitude 29 features loads of island-themed exotic cocktails. From a Mai Tai to a long list of cocktails with names like Missionary's Downfall and Pontchartrain Pearl Diver, expect a lot of rum and pineapple. You can also bond with your co-workers over small plates like chickpea curry and sambal shrimp and grits.
Finally, both Brennan's and Effervescence feature champagne-centric happy hours, accompanied by high-end small plates.
Dinner
For the reliably excellent New Orleans must-try dishes head to the Red Fish Grill or Palace Cafe. Chef Susan Spicer's flagship restaurant Bayona serves high-end Louisiana food with a few modern twists in a gorgeous setting — we recommend everything on the menu.
Same goes for the prix-fixe Creole classics at Tujague's, the second oldest restaurant in the city that hosted many a president and celebrity. And if you're lucky to score a reservation at the jackets-required, 112-year-old Galatoire's, you're in for an unforgettable experience that's as boisterous and old-school New Orleans as they come.
If you want a local brew and a quick burger, we recommend the popular Crescent City Brewhouse. See you if can get a table on the balcony that overlooks Decatur Street — there's people-watching for miles.
We hope you enjoy your visit to Crescent City while you get some work done! And If you're planning a stay in the French Quarter, be sure to check out our resource for French Quarter Hotels.
---
Related Articles