Book A French Quarter Hotel
Where to Get the Best Gumbo in the French Quarter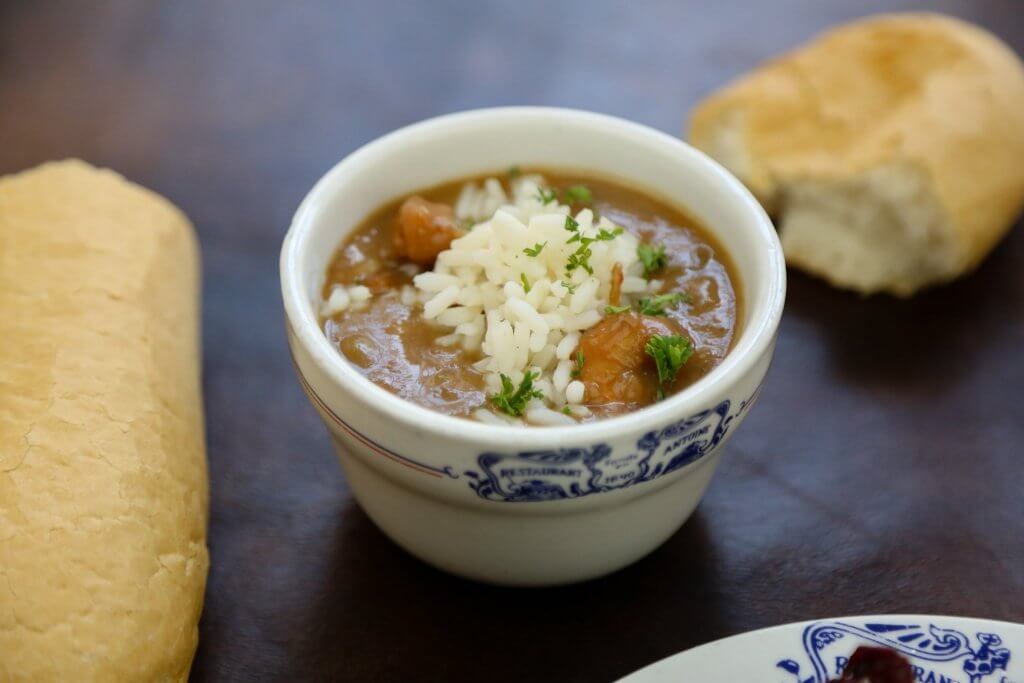 Photo courtesy of Antoine's Restaurant on Facebook
When it comes to gumbo, surely you've heard, "First, you make a roux" as a conversation starter. Roux is a traditional base for gumbo — flour and fat, browned together with seasonings. Just like gumbo is a blend of cultures and influences, including French, African, Caribbean, and Native American, the word "gumbo" comes from the Choctaw Indian "kombo" — filé, or powdered sassafras — and the African word "kingumbo," which means okra. Both filé and okra are used as thickeners in gumbo.
From roux, dozens of variations of gumbo could spring: with smoked meats like duck, rabbit, and Andouille sausage in a darker roux; with tomato or no tomato; with okra or without; with lighter roux; and with seafood like shrimp and crabmeat. Often the "holy trinity" of local cooking is used too: bell pepper, celery and onion. Gumbo z'herbes ("green gumbo") may or may not come with meat, but its vegetarian version, though not found often in New Orleans restaurants, holds its own with various greens like collards, mustard or turnip greens, spinach, chard, and kale.
A bowl of steaming gumbo served over rice is perfection anytime, but the fall, in particular, belongs to gumbo, when okra is in season and the heat lets up. In New Orleans, excellent gumbo is easy to find. The chefs tend not to deviate too much from the classic Cajun and Creole recipes. The difference is whether you like your gumbo laden with meat or seafood; with dark roux or a lighter roux; with an Abita draft or a crafted cocktail; and among chandeliers and gilded mirrors or in a dive bar.
Most restaurants include at least two versions on the menu, the meat and the seafood. You can get a cup alone, or a cup with half of a po-boy, if you don't want to commit to a bowl. With our picks for the French Quarter you would want to, though. From fine dining to casual, these restaurants feature different kinds of gumbo, at different price points. Most have gumbo recipes on their websites, so you can try to recreate your own.
Acme Oyster House
724 Iberville St.
This popular chain often has a line out the door at its Iberville St. location, but that's because Acme's Creole/Cajun classic menu of oysters, po-boys and gumbo is that good. Try a cup of the seafood gumbo with shrimp and crab, or the chicken and Andouille version. Or get the New Orleans Medley, to sample gumbo, jambalaya, red beans and rice, and grilled smoked sausage all at once. Acme also serves up half of po-boy and cup of gumbo combos. Chase yours with an oyster shooter of vodka or an oyster-topped Bloody Mary.
Antoine's
713 St. Louis St.
You can't go wrong with a classic Creole seafood gumbo served on the dinner and Sunday jazz brunch menus at this legendary restaurant. Try it with Oysters Rockefeller, Antoine's signature dish created in 1889. Established in 1840, Antoine's is the country's oldest family-run restaurant, with 14 dining rooms, some of which bear names of Carnival krewes, and a who's who roster of distinguished guests.
Arnaud's
813 Bienville St.
Staying true to the classic Creole cuisine since its inception in 1918, Arnaud's offers two gumbos (with chicken and Andouille, or seafood) on both its dinner and jazz brunch menus. You can eat in one of the elegant dining rooms, or dine in the Jazz Bistro while you listen to live Dixieland jazz presented nightly by The Gumbo Trio.
Coop's Place
1109 Decatur St.
If you want a quick, inexpensive meal any time of day or night, with some local color thrown in, Coop's Place is unbeatable. Located on the always-busy stretch of Decatur Street, Coop's is a no-frills bar and restaurant with a surprisingly extensive menu. One of the standouts is the seafood gumbo. It comes with Coop's own dark roux, okra, filé powder, shrimp, oysters, and crab claws. (You can ask for extra seafood.) Follow the gumbo with Coop's excellent rabbit and sausage jambalaya.
Galatoire's
209 Bourbon St.
This beloved institution serves two classic Creole gumbos for under $10 per bowl. The seafood okra gumbo is packed with shrimp and oysters plus okra, made with shellfish stock and light roux. The shredded duck and Andouille sausage gumbo is made with dark roux, duck stock, and the "trinity" — celery, bell pepper and onion.
Gumbo Shop
630 St. Peter St.
It wouldn't be right not to include Gumbo Shop. After all, the name says it all. Gumbo Shop serves up three gumbos: seafood okra, chicken and Andouille, and gumbo z'herbes. Gumbo z'herbes isn't a common sight on the New Orleans restaurant menus (unless you head to the legendary Dooky Chase's in Tremé), so this may be your chance to try this concoction. It's made with green stock and is laden with various greens, such as mustard or collard, turnips, and spinach. Gumbo Shop offers lots of other Creole and Cajun staples and has a lovely courtyard.
Kingfish
337 Chartres St.
Kingfish pays tribute the Huey P. Long era with a contemporary spin on the Southern classics and signature cocktails. The restaurant's gumbo is made with chicken and Andouille sausage and is served with popcorn rice. Pair it with a Sazerac or Pimm's Cup during Governor Hours (happy hour).
Mr. B's Bistro
201 Royal St.
The award-winning Mr. B's Bistro is the city's mainstay for high-end Creole dining, run by the Brennan Family. There are two gumbos on Mr. B's lunch, jazz brunch, and dinner menus. The seafood gumbo is a classic with shrimp, crabmeat and okra. Gumbo Ya-Ya, a house specialty, is a Cajun country style gumbo made with dark roux, lots of Creole spices, chicken, and Andouille sausage.
Restaurant R'evolution
777 Bienville S.
R'evolution's seafood gumbo, made with scallion rice, is a solid choice, but it's "Death by Gumbo" you'll want. And, at under $20, it's worth it. This dish is much talked about and documented on social media, and it keeps receiving accolades from national food and travel magazines and websites. Death by Gumbo is Cajun style, with dark roux, presented with a whole semi-boneless quail set in the middle of the bowl. The bird is stuffed with smoked Andouille sausage, filé rice and poached oysters.
Vacherie
827 Toulouse St.
We recommend Vacherie's okra and seafood gumbo, served with Louisiana seafood and jasmine rice. Vacherie Restaurant & Bar is located inside Hotel St. Marie and focuses on homestyle, inventive Cajun and regional fare using local ingredients.
---
Related Articles