Book A French Quarter Hotel
What to Do in July in New Orleans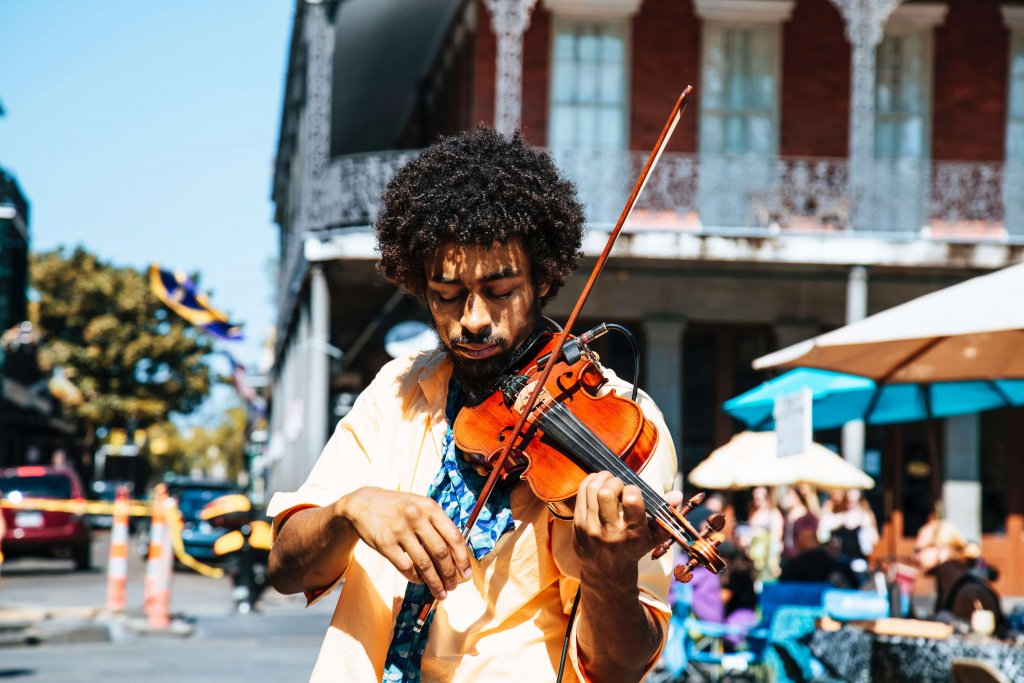 Photo by William Recinos on Unsplash
Summer in New Orleans is HOT, but we've got a slate of festivals that will cool you off and keep you entertained.
New Orleans will be celebrating its second Black Restaurant Week during the ESSENCE Festival and the Independence Day weekend. This is a great opportunity to taste the flavors of African-American, African, and Caribbean cuisines in one of the greatest food cities in the world. Some of the best in the business as well as a number of up-and-coming eateries are participating in this year's Black Restaurant Week with special menus, discounts, and signature events.
Independence Day – July 4
New Orleans celebrates July 4th like anywhere else in America, but with a flavor all her own. There will be fireworks, loud music, and much partying as usual. As part of the annual "Go 4th on the River" celebration the "Dueling barges" will again put on a spectacular fireworks show set to patriotic music.
There are plenty of great spots to watch the display, but a French Quarter balcony is one of the most desired viewing spots in the city. You can grab excellent vantage points on the Riverfront, and in the Marigny and Bywater too. The Woldenberg Park on the shoreline of the Mississippi River is also an excellent spot to throw a picnic while you wait for the fireworks, as well as another waterfront park, Crescent Park. Mandeville Wharf at Crescent Park will have live music starting at 5:30 p.m., and coolers and chairs are welcome.
There's a lot to love about Essence Festival, beyond the fact that it is the largest annual African American culture and music event in the world. It's one of the finest gatherings of musicians in a city that is well-known for throwing together excellent gatherings of musicians. Beyond the concerts held each night of the fest at the Superdome, its free daytime experiences at the Convention Center include motivational seminars, beauty and style presentations, celebrity interviews, cooking demonstrations with top chefs, and lots more.
Some of this year's events will also be held at the Contemporary Arts Center (CAC), and the new Wellness House experience will be held in the Arts District downtown at the Lighthouse Glass Gallery (743 Camp St.). As usual, the festival features a star-studded lineup of some of the country's biggest names in hip hop & R&B. This year, Brandy, Doug E. Fresh, Missy Elliott, Sheila E., Mary J. Blige, Nas, Pharrell Williams, Timbaland, and more are all scheduled to perform.
One of the biggest highlights this year is the chance to see the former First Lady and best-selling author Michelle Obama sit down for an interview on the Superdome mainstage on Saturday, July 6. Her appearance, a festival first, will include discussion of her recently published memoir, Becoming.
Don't wait! Get your tickets online. And please remember that all events held at the Convention Center during the day are free and open to all (registration is required though for anyone over 18).
San Fermin in Nueva Orleans (Running of the Bulls) – July 12-14 Rescheduled for August 23-25
Plenty of people know that Encierro de Pamplona is a major event in the Spanish tourism calendar, but not as many folks realize New Orleans hosts its own bull run. Except here, the "bulls" are roller derby girls, dressed in in the traditional colors of Spain's bull run and wearing horned helmets, who whack the participants — dressed all in white with red scarves and handkerchiefs — with wiffle bats.
Thousands of runners gather by 6:30 a.m. on Saturday morning by the Sugar Mill (1021 Convention Center Blvd.) in Downtown New Orleans to participate in the Encierro. There will be live music, beer, sangria, and food trucks on site to kick things off. After the run, which ends around 11:30 a.m., you can hit an after-party at the Rusty Nail (1100 Constance St.), or join the revelers who stick around to make a day of it bar-crawling in the Warehouse District. Note that this is a ticketed event — all proceeds from the event go to charity (tickets are $30-$95).
Some of the world's most famous cocktails were invented in this city: the Sazerac, Brandy Milk Punch, and Ramos Gin Fizz, to name a few. Having a drink in New Orleans isn't just fun — it's also a celebration of our unique history. Still, New Orleans can't just let a cultural touchstone lay without holding a festival, and thus: Tales of the Cocktail, a celebration of mixed drinks in all of their vast diversity. Every year, the party draws in thousands of bar owners, distillers, mixologists, authors, tastemakers, and enthusiasts who are interested in networking, sharing knowledge, showing off their skills, learning, and, well, drinking.
This five-day event is filled with seminars, workshops,  tastings, book signings, bartender contests, networking, and much more. The Tales' signature annual blowout, the "best of" Spirited Awards, will be held on Saturday, July 20, followed by the always-popular after-party.
During the festival Tales of the Cocktail hosts over 300 events. Please note that tickets for events are sold individually, so you can build your own itinerary. The prix fixe tasting menus and food-pairing dinners are especially popular, and the tours and cocktail-themed parties also tend to sell out quickly, so we highly recommend getting your tickets as early as you can.
---
Related Articles