Book A French Quarter Hotel
Best Muffulettas in the French Quarter and Nearby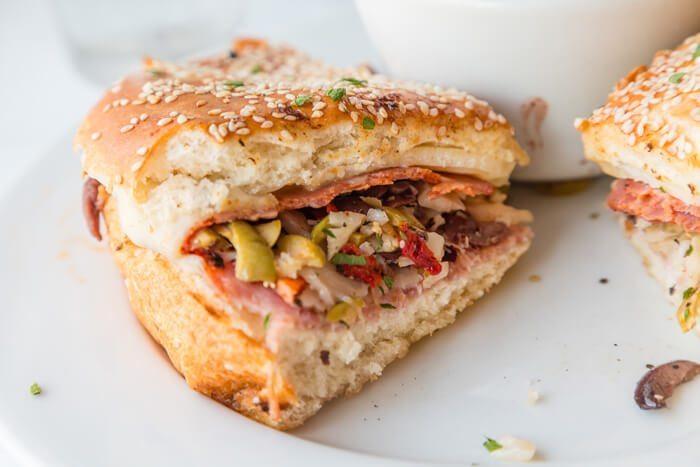 One of New Orleans' most celebrated creations is a tall, bready Sicilian-Cajun invention that reflects the city's diverse cultural and culinary heritage. The muffuletta goes back to the 19th century, when the French Quarter was sometimes referred to as "Little Palermo," and its Sicilian working-class population consisted of laborers, dockworkers, fishermen, and farmers. A few of the immigrants opened grocery stores and bakeries and catered to the Sicilians who lived and worked in the Quarter and parts of Treme.
What's in a muffuletta?
"Muffuletta" (pronounced "muffuLOTta" and sometimes also spelled as "muffaletta") comes from the bread known in Sicily under that name. Traditionally, the sandwich is made with the sesame-crusted wheel of bread, Italian salami and ham, cheese (usually provolone and Swiss), and olive salad. The olive salad consists of finely chopped green and black olives, celery, cauliflower, carrots, sweet peppers, pepperoncini, onions, capers, vinegar, and garlic. Spices and herbs are also added (parsley, oregano, etc.).
Where does it come from?
The invention of this oversized sandwich is credited to Salvatore Lupo, the proprietor of Central Grocery & Deli on Decatur Street in the French Quarter. The "Home of the Original Muffuletta" opened in 1906 and has been selling the sandwich for over a century. Legend has it that the Italian farmers and laborers would buy what became the ingredients for the muffuletta for lunch from Lupo's store (and other vendors in the French Quarter), and eat them separately. Lupo decided to assemble them into a sandwich, tweaked a few components — and muffuletta was born.
The variations outside tradition
Like with most signature New Orleans creations, opinions run strong when it comes to any deviation from the tradition. Some maintain that muffuletta is a cold-cut sandwich, period. Others had been serving it hot, like the James Beard Award-winning chef Donald Link, owner of Cochon Butcher. Yet others offer it hot and cold (Verti Marte).
Liuzza's Restaurant & Bar in Mid-City also popularized the "Frenchuletta," a muffuletta version served on French bread. PIZZA domenica, with three locations in New Orleans, has muffuletta pizza with provolone, cured meats and olive salad.
There are seafood versions, like the one that was at some point offered at Parran's Po-Boys & Restaurant, which has locations in Metairie and Kenner. Parran's "Original Seafood Muffuletta" came with fried oysters, shrimp and catfish, dressed with housemade Cajun mayo. Then there was the muffuletta King Cake from Cartozzo's Bakery in Kenner, with grated Romano cheese dyed in Mardi Gras colors and sprinkled on top of the savory King Cake ring.
Some call the non-traditional versions blasphemy; others say they're not muffulettas but "something else."
Who does it best?
Central Grocery
The original cold-cut version.
Central Grocery's made-to-order muffulettas have the visitors and the locals lining up ever since Salvatore Lupo stuffed his first sandwich. Today's muffuletta at Central Grocery keeps it traditional: Genoa salami, Holland ham, mortadella (bologna), the secret-recipe olive salad, and Swiss and provolone cheese — served on an 8-inch round bread.
The sprawling, old-fashioned grocery store is still run by the same Lupo family, selling imported Italian delicacies and the housemade olive salad by the jar. You can eat in at the counter, or take your muffuletta to go (the Woldenberg Park by the river is a great spot for a picnic). The visitors of the city have been known to pack their muffulettas for a flight or a drive home, but you don't have to — Central Grocery ships nationwide.
Cochon Butcher
Melted cheese, meats are cured in-house.
Another New Orleans joint that serves its muffulettas hot (unless you request yours cold) is Cochon Butcher in the Warehouse District, chef Donald Link's companion to Cochon. The much-praised Cochon muffuletta comes on a Sicilian roll, with housemade giardiniera. All the meats are cured in-house.
Frank's Restaurant
Baked, with melted cheese and toasted bread.
"The home of the other muffuletta," Frank's has been around for over 50 years, serving a different kind of muffuletta to scores of its loyal fans just down the block from Central Grocery. The crucial difference is that Frank's "World Famous Original Muffuletta" is baked and served with toasted bread and melted cheese. Frank's is also known for its po-boys and classic Italian fare. The downstairs looks like a deli with a to-go counter, but the second-floor dining room is spacious and has balcony seating if you want to dine in with a view of the French Quarter.
Napoleon House
Big enough to share, house specialty.
Muffuletta is one of the specialties at Napoleon House, which is housed in a historic landmark on Chartres Street that dates back to the 1700s and has the unique ambiance of old-world New Orleans. The traditional muffuletta is served warm, and is big enough for two people (you can also get it in half and quarter sizes). Wash it down with the restaurant's signature drink, the Pimm's Cup.
Verti Marte
Overstuffed, generous on meat, served cold or hot.
The tiny, beloved Verti Marte on Royal Street is open 24/7 for takeout or delivery. Verti Marte gets a lot of love for its long breakfast menu and epic po-boys, but don't discount the "Mighty Muffuletta." It's overstuffed with ham, salami and cheese, but — here's the catch — it could be served hot or cold. So if you're not from the cold-cut purist camp and won't mind your cheese melty and your meat warm, this is one of the best places to try the hot version.
Are you planning to spend some time in New Orleans soon? To stay close to all the action, book a historic boutique hotel in the French Quarter at FrenchQuarter.com/hotels today!
---
Related Articles