Book A French Quarter Hotel
Try the Best Jambalaya in the French Quarter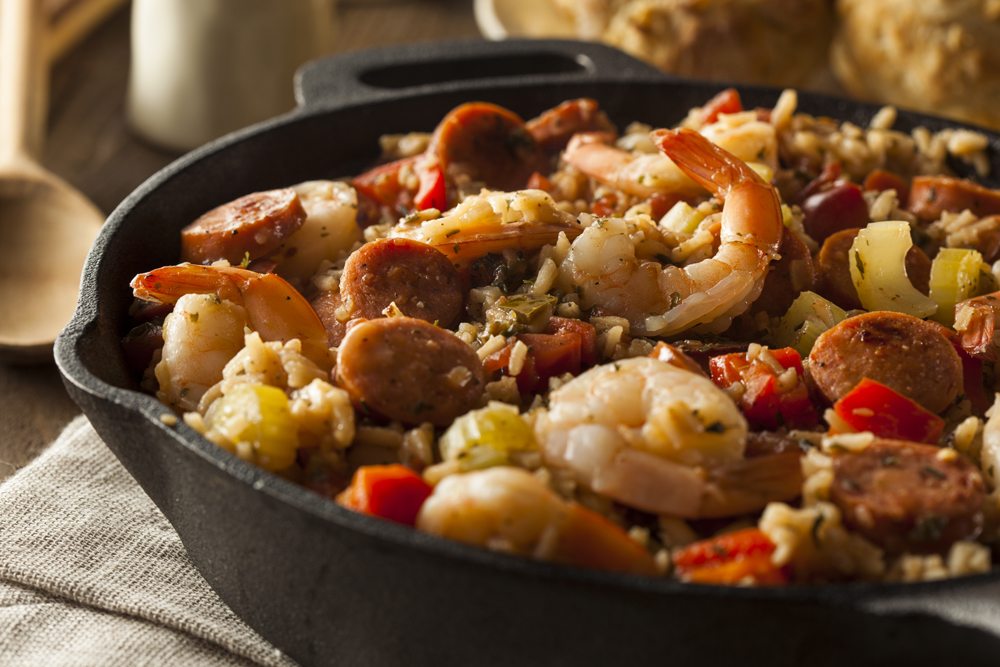 Just like with gumbo, when you ask a local where the best jambalaya comes from, they'll likely respond, "My kitchen" (or "My mama's kitchen"). That's not very helpful, however, when you have no access to the said kitchen. Luckily, local restaurants serve up top-notch jambalaya if you know where to look. And look you must, because tasting great jambalaya could be a transcending experience. Precede it with a cup of gumbo laced with okra (in season in the fall), and you got bliss.
Jambalaya is a New Orleans staple that has absorbed French, Spanish, African, and Native American influences. Legend has it that it was the result of the Spanish settlers attempting to make paella, but with tomatoes and without the hard-to-find saffron.
It's a one-pot dish that traditionally incorporates stock, meat, seafood, long-grain rice, and vegetables (like the "holy trinity" also used in gumbo — bell pepper, onion and celery). The main distinction is that the Creole version has tomatoes and the Cajun recipe doesn't. The frequent inclusion of Andouille sausage is the result of the French influence on this iconic dish.
Just like gumbo, good jambalaya is not that hard to find on the menus of French Quarter restaurants. Here are a few of our favorite picks.
1109 Decatur St.
We've already recommended this no-frills bar/restaurant for its dark-roux seafood gumbo, but it's Coop's Creole jambalaya that is truly outstanding. It's packed with local seasonings and comes with boneless rabbit, smoked pork sausage, plus tomatoes and the trinity.
You can get a cup or a bowl, but we recommend the supreme version — with shrimp, crawfish and Coop's own tasso (spicy cured pork used in Cajun cooking and often referred to simply as Cajun ham). Coop's excellent Cajun fried chicken plate comes in a variety of pieces and is served with jambalaya and coleslaw. Pasta jambalaya also makes an appearance, with shrimp, smoked sausage and tasso.
Coop's is popular with locals and tourists, so it can get busy and loud. Please also note that it's 21 and older only, even the restaurant seating area, because of the video poker machines on the premises.
630 St. Peter St.
Gumbo Shop's award-winning gumbos take the spotlight, including the rarely-seen vegetarian version, but don't overlook other Creole staples at this French Quarter mainstay. Gumbo Shop's jambalaya is served as an entree and a side, but also as part of the sweeping Creole dinner package. Pair it with one of the three gumbos, and you're set.
329 Decatur St.
This relative French Quarter newcomer is family-owned and features fresh, seasonal Louisiana cuisine that's sourced locally. Evangeline's traditional jambalaya comes with chicken and sausage cooked in a stock made in-house. There's courtyard seating, too. And don't stop at jambalaya either, as the menu is chockful of the iconic Creole and Cajun staples.
401 Poydras St.
Although this legendary eatery is located outside of the French Quarter on Poydras Street in CBD, not including it would do a disservice. You might appreciate Mother's casual, cafeteria-style approach, and the po-boys and jambalaya are a must. Mother's had been around since 1938, becoming a famous hangout for the working crowd, and, during and after World War II, the U.S. Marines. For over 20 years, Mother's also proudly employed a legendary cook, Miss Oda Mae Peters.
"Jerry's Jambalaya" on the menu was named after one of the owners and chefs Jerry Amato, who had ruled Mother's in the late 80s. It's done Creole style, with tomatoes, medium spicy, and you can try it in four size options, from a cup to a heaping plate, or as part of the combo platter with seafood and sides.
500 Chartres St.
At Napoleon House, the jambalaya comes with a bit of history. The restaurant is housed in a historic landmark on Chartres Street, dating back to the 1700s, with the unique ambiance of old-world New Orleans. The original owner, Nicholas Girod, who was Mayor of New Orleans from 1812 to 1815, hoped to provide refuge for the exiled Napoleon Bonaparte. The 2,300 sq. ft. worth of rooms on the second floor were designated to become Napoleon's apartments. The unique interior is fit for the emperor indeed, and there's a spacious courtyard for dining as well.
The spicy Creole jambalaya at Napoleon House comes with chicken and sausage and can be ordered as an appetizer or as a side. Consider pairing with the restaurant's famous muffuletta and washing it down with its signature drink, Pimm's Cup.
508 Toulouse St.
This dark and lovely restaurant, located on a quiet block of Toulouse Street, has exposed brick, a patio, an oyster bar, and live jazz. The menu is classic Cajun/Creole, with lots of boiled seafood and Creole and Cajun versions of gumbo. The charbroiled oysters are some of the best in the city, and the full bar features hurricanes (listed by strength category from 1 to 5) and other signature drinks like bacon Bloody Mary. The chicken and sausage jambalaya is Cajun style (offered both as a starter and an entree). There's also a vegetarian version, not something many restaurants offer.
440 Chartres St.
With its huge, always-open windows, this casual Cajun restaurant on the corner of St. Louis and Chartres Streets is a prime spot for people-watching. The building that houses the restaurant is one of the oldest in the French Quarter, dating back to 1788. Legend has it Andrew Jackson met with the Lafitte brothers here when it was a coffee house, to figure out the plan for the Battle of New Orleans. The blackened chicken and Andouille sausage jambalaya can be ordered as a standalone or part of the Crescent City Sampler. It's prepared Cajun style and you can substitute chicken with shrimp.
Are you planning to spend some time in New Orleans soon? To stay close to all the action, book a historic boutique hotel in the French Quarter at FrenchQuarter.com/hotels today.
---
Related Articles