Things to Do in New Orleans: Year at a Glance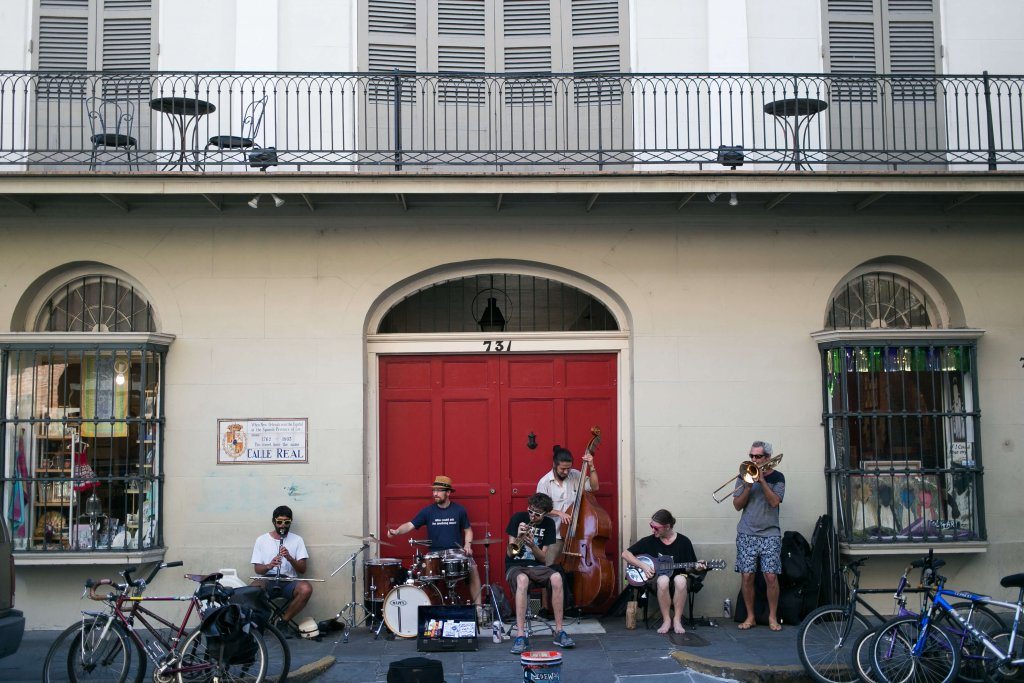 Here's a medley of annual events to look forward to throughout the year when you're in New Orleans.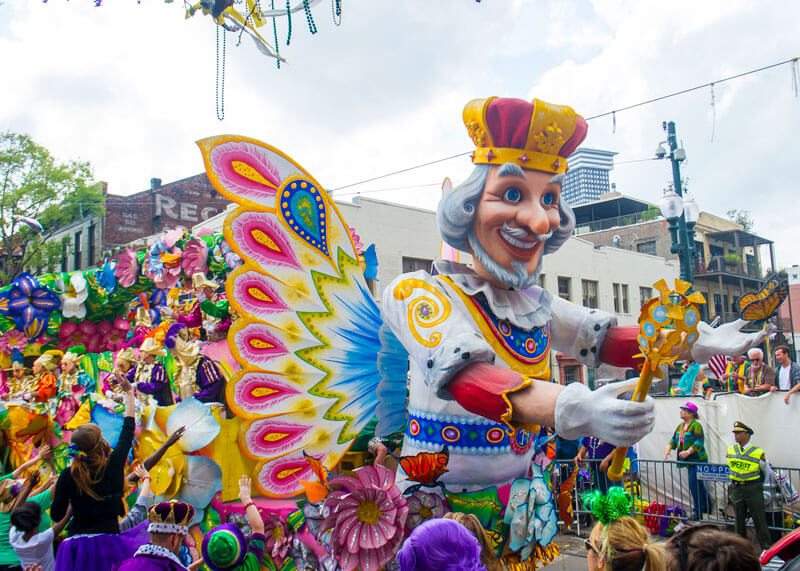 Photo by David Fary
January – March
---
Twelfth Night
The first day of the carnival season, known as Twelfth Night or the Epiphany, kicks off every year with three parades. Phunny Phorty Phellows ride the streetcar from Uptown to Canal Street and back starting at 7 p.m. The walking Krewe of Joan of Arc parade rolls at 7 p.m. from Jax Brewery in the French Quarter, and the latest newcomer, Société Des Champs Elysée parade, takes place starting at 7:30 p.m. on N. Rampart Street and Esplanade, going to the CBD while following the N. Rampart/St. Claude streetcar route.
Taste the many King Cakes from the city's best bakeries, enjoy live music, and support pediatric programs and the Ochsner Hospital for Children at this annual festival presented by Ochsner and held at the Champions Square.
Besides the fact Mardi Gras ("Fat Tuesday") always falls on, well, a Tuesday, the dates of Mardi Gras are pretty fungible. The reason the date of the holiday shifts year by year can be explained by the nature of the early Catholic calendar, which incorporated elements of earlier, pre-Christian dating systems. Long story short, the date of Mardi Gras is tied to Easter – Fat Tuesday is dated to 47 days before Easter Sunday. Easter always falls on (wait for it) the first Sunday after the first full moon after the spring equinox.
If that's all a little confusing, you can just look up the dates here. When you do, you'll see Mardi Gras always falls in February and March – specifically, between February 3 through March 9. That means that if you visit during these months, you might arrive in time to catch one of the great spectacles of American folk culture (In 2019, Mardi Gras falls on March 5). We could write a whole trove of separate articles on how to do Mardi Gras – heck, we already did! Check here and here to get started.
Tet Fest
New Orleans is home to one of the largest Vietnamese diaspora communities in the country. In Vietnamese culture, the Lunar New Year – Tết Nguyên Đán – is the largest festival of the year. In New Orleans, the Mary Queen of Vietnam church in New Orleans East hosts an enormous public Tet celebration that includes games, lots of firecrackers, traditional dance, and a ridiculous amount of excellent Vietnamese street food. The date of Tet celebrations is based off of the lunar calendar, which differs from the contemporary Western calendar. This year, Tet Fest falls on February 8-10. Check the Mary Queen of Vietnam Facebook page for updates.
Of course, Valentine's day isn't unique to New Orleans, but the restaurants and general vibe of the city makes for a uniquely romantic atmosphere. There are plenty of cozy spots to dine with a sweetie in New Orleans and in the French Quarter in particular.
A mere eight years old in 2019, BUKU has already established itself in the firmament of can't-miss New Orleans festivals. It's the youngest major musical event in town on several levels – not just by dint of its age, but by dint of the people attending the shows. Few other New Orleans events attract such a heavily millennial crowd, although we don't want to give the impression it's only under-30s at these shows; BUKU is for all ages.
Still, said ages better appreciate electronica, EDM, hip-hop and indie music – BUKU doesn't try and loop in every act in the world, and instead focuses on the music it loves, plus creating a curated underground house party experience (albeit a party with a ton of sweet art installations that kicks off in Mardi Gras World). This year, BUKU will be held on Friday and Saturday, March 22-23. Lana Del Ray and A$AP Rocky will headline.
Nothing bumps us over the midweek doldrums of hump day quite like a free music concert, which is exactly what's on tap with Wednesdays at the Square, which begins on March 20. Hundreds of revelers will pack into Lafayette Square to enjoy a free outdoor concert series sponsored by the Young Leadership Council of New Orleans.
The 10-concert music series lasts through the end of May, so if you miss one, there's always the week after. Each concert usually features two performers, who play starting at 5 p.m.; the shows usually last till about 7:30 p.m. Wednesdays at the Square are pet-friendly, as long as your furry friend is on a leash. No outside food or beverages are allowed. All food and drink is sold via ticketed concessions – those sales are what keep Wednesdays at the Square free.
St. Patrick's Day
It often comes as a surprise to first-time visitors to New Orleans that this city has a deep Irish heritage. This history is tied to the city's status as a Catholic port of call that was one of the main entry points for the USA.
As such, the weekend of St. Patrick's Day (March 17) is an important one for the city of New Orleans. Numerous parades kick off, including a downtown procession in front of Molly's at the Market (don't forget to get a Bailey's iced coffee), and the infamous Irish Channel parade, where float riders pass cabbages to the screaming crowds. Check out the New Orleans St. Patrick's Day Parades website for more information.
On select days throughout the year, the city's Mardi Gras Indian tribes parade through the city, chanting, shouting and challenging each other to determine who is "the prettiest." While Mardi Gras Indians have their set routes and parade areas, no one event packs the tribes into one public space like Super Sunday – the Sunday closest to St. Joseph's Day. At this event, the tribes pack around A.L. Davis Park, at the corner of Washington and LaSalle streets. The Indian procession usually leaves the park at 1 p.m. We can't stress this enough: Be respectful if you go. Take pictures at a distance, and don't get in the way of marching Indians or their friends, family and attached bands.
Some background: Mardi Gras Indians are African American New Orleanians who dress up (or in local lingo, "mask") as stylized Native Americans. They take to the streets in fantastic costumes made of beads, feathers and sequins that cost thousands of dollars, weigh hundreds of pounds and require hundreds of days of painstaking labor; no element of costume creation is automated.
There's more background on this fascinating subject here, or at the Backstreet Cultural Museum in the historic Tremé neighborhood.
Congo Square New World Rhythms Festival
The musical heritage of New Orleans follows a line that can be traced all the way back to Africa, where the black diaspora begins. The music of that continent evolved here and in the Caribbean, influenced by Europe and indigenous music, into the forms and traditions that are the core of today's New Orleans sound.
This vital legacy is celebrated in Armstrong Park, on the grounds of Congo Square, where local slaves were once permitted to practice the musical traditions of Africa and the Caribbean. The New World Rhythms Festival is a celebration of global and local music, and features both amazing food and a fantastic lineup of music. Plus, it's free – you have no excuse not to go! This year the festival is taking place on Saturday and Sunday, March 30-31, 11 a.m. to 7 p.m.
Tennessee Williams Literary Festival
The Tennessee Williams Literary Festival (March 27-31) celebrates the city's love affair with the written word, as well as writers' love affair with New Orleans. Notable authors will be in attendance, hosting seminars, workshops and lectures. Plus, this being the Tennessee Williams Festival, there is, of course, a "Stella" and "Stanley" contest, which involves folks screaming out the iconic scene from A Streetcar Named Desire to appreciative crowds on Jackson Square.
This annual 10K run, held on the Saturday before Easter Sunday each year (Saturday, April 20, this year), is one of the largest athletic events in New Orleans. Partly this is because the race is open to all, and as a result tends to attract a wide swathe of runners, from casual beginners to world-class pros (note that you have to register to run). The Classic is also notable for its route, which takes in some of the best cityscapes New Orleans has to offer. Runners take off from Jackson Square, run through the French Quarter and the Tremé, then up Esplanade Avenue – one of the most beautiful streets in the nation – all the way to City Park.
April & May
---
These months sit in the New Orleans climatic sweet spot. It's sunny and you can wear shorts on most days, but it's (usually) not super hot yet. Come evening, when the thermometer starts to dip into the 70s, the air feels something like perfect.
French Quarter Festival is the largest free musical event on the New Orleans calendar, and according to organizers, the largest free music festival in the USA. That setting is, as you may have guessed from the name, the French Quarter itself. Unlike so many music festivals around the world, French Quarter Fest eschews a huge grassy space for city streets. And in this case, said streets run through one of the world's architectural preservation treasures. The festival goes off during the second weekend of April, which tends to come with gorgeous weather.
Easter Parades
New Orleans is one of the most Catholic cities in the country, and it celebrates Easter in a big way, although that celebration isn't always as traditional as one might guess. Long story short: When the 40-day Lent period of fasting ends, New Orleans says, "OK, that was enough self-denial" and throws three big parades.
The first parade of the day begins before Easter Mass services have even begun. Starting at 9:45 a.m., the Historic French Quarter Easter Parade winds its way from Antoine's Restaurant to St. Louis Cathedral in Jackson Square via classic convertible cars and mule-drawn carriages.
This procession is followed by the Chris Owens French Quarter Easter Parade, featuring the Crescent City's own grande dame diva of singing, dancing, and general fabulousness, Chris Owens. She will proceed, along with a small army of attendants, atop a float built for a queen, rolling from Canal and Bourbon to her nightclub and performance venue at 500 Bourbon Street.
The final parade of the day is the Gay Easter Parade, which rolls at 4:30 p.m. This one is also a family-friendly affair, and has been a long-standing tradition of the New Orleans LGBT community. The paraders will march with floats and horse-drawn carriages, rolling by many of the French Quarter's most storied gay businesses. Bring the kids to this one, as the Gay Easter Parade is famous for its generous throws and elaborate costuming.
The biggest musical festival in the best music city in the USA is one of the marquee events of the New Orleans calendar. For the last weekend in April and first weekend in May, the city hosts hundreds of bands and thousands of tourists, who stream into the Fairgrounds from around the world. Dozens of food vendors will show off the best of local cuisine, while artisans create and sell Louisiana crafts. On the days between the weekends, some of the world's great musicians will be partying (and often, playing) at gigs all around the city.
Jazz Fest is a giant event, but once you find your favorite stage and preferred food vendor, and sit down with a cold drink and the breeze blowing across the Fairgrounds, it can also be very intimate – a means of annually connecting to New Orleans at a deep level that is exacerbated by the warm spring sun.
This year, the organizers added an extra day to the event, which celebrates its 50th anniversary in 2019. Thursday, April 25, will be the opening day of Jazz Fest.
The Bayou Boogaloo (May 17-19) has become as much a fixture on the festival calendar as its Mid-City neighbor, Jazz Fest, and the city's street-party season opener, French Quarter Fest. What started as a gathering of a few hundred festival diehards has grown into a part that attracts tens of thousands of guests.
Bayou Boogaloo is free. But its bucolic setting as a floating party, with its flotillas of inflatables, paddle boats and kayaks, gives the three-day festival its own unique character, while its stellar lineup of local and visiting musical artists rivals those offered by its much-bigger older siblings. So does its ever-growing menu of fest-worthy food and drink.
New Orleans Wine & Food Experience
The annual New Orleans Wine & Food Experience provides local and visiting epicureans and hobbyists an extended weekend of libations and culinary indulgence in a style that is uniquely New Orleans. NOWFE is designed to encourage participation in the full gamut of food and wine-centered experiences. The event offerings include package rates, activities, and dinners with something at nearly every price point with attire ranging from costumed to cocktail depending on the event and venue.
June-August
---
Summer in New Orleans can be pretty tough to endure, but we've got a slate of festivals that will either cool you off, or at least keep your mind off the heat.
Louisiana Cajun Zydeco Festival
Visitors to Louisiana often assume Cajun people, music and food exist across the state, but in fact, the true Cajun heartland lays in Acadiana, which is located about three hours west of New Orleans proper. Thus, it's kind of a treat when the city gets to host a party that celebrates the culture of the country's largest French speaking community. The Cajun Zydeco Festival is put on by the Jazz & Heritage Foundation, and pops off in Louis Armstrong Park, in the Tremé, on Saturday and Sunday, June 22-23.
 Independence Day
New Orleans celebrates July 4 like anywhere else in America, and also, with a flavor all her own. Of course, there will be fireworks and loud music, but the pretty lights pop off over the Mississippi River. There's plenty of great spots to watch the display, but a good French Quarter balcony is one of the most desired viewing spots in the city. You can also grab excellent vantage points along the Mississippi shoreline in the French Quarter, Marigny and Bywater.
There's a lot to love about Essence Festival, beyond the fact that it is the largest annual African American culture and music event in the world. It's one of the finest gatherings of musicians in a city that is well known for throwing together excellent gatherings of musicians. Beyond the concerts held each night of the fest, its free daytime experiences include motivational seminars, beauty and style presentations, celebrity interviews, cooking demonstrations with top chefs, and lots more. The Essence Festival is traditionally held over the 4th of July holiday weekend. In 2019, the Essence Festival celebrates its 25th anniversary.
Plenty of people know that the Running of the Bulls is a major event in the Spanish tourism calendar, but not as many folks realize New Orleans hosts its own bull run. Except here, the "bulls" are roller derby girls who whack the participants – dressed all in white with red scarves and handkerchiefs – with wiffle bats. Good times! The actual "bull run," which now features thousands of participants, goes off on July 13 at 6:30 a.m., but the folks at NOLA Bulls have events lined up through the weekend. Note that you are asked to sign up to participate in the Bull Run – all proceeds from the event go to charity.
Some of the world's most famous cocktails were invented in this city: the Sazerac, Brandy Milk Punch, and Ramos Gin Fizz, to name a few. Having a drink in New Orleans isn't just fun – it's also a celebration of our unique history. Still, New Orleans can't just let a cultural touchstone lay without holding a festival, and thus: Tales of the Cocktail, a celebration of mixed drinks in all of their vast diversity. Every year, the party draws in thousands of bar owners, distillers, mixologists, authors, and tastemakers who are interested in networking, sharing knowledge and showing off their skills.
Coolinary is simple: dozens of participating restaurants offer prix fixe menus at a discount. Sometimes, a significant discount. Interested? Just check out the Coolinary website and see what restaurants are participating (and for which meals; some spots, for example, only offer a Coolinary menu during lunch). You don't have to do anything else but show up and get fed.
An initiative from the folks at French Quarter Festivals, Satchmo SummerFest is a celebration of the city's most famous musical son (Louis Armstrong, nicknamed "Satchmo") and New Orleans music in general. As New Orleans festivals go, this one is pretty beloved – it's family-friendly, kicks off within the French Quarter, and the lineup is truly local. More than almost any other festival we mention, this one feels like a New Orleans street party (again, for families), and it definitely should not be missed if you're in town. Satchmo SummerFest is held on the first weekend of August.
Hancock Whitney White Linen Night
Back in the days before air conditioning, New Orleanians kept cool and looked fresh in the face of August swelter by wearing light-colored linen clothing. In order to boost gallery attendance and showcase local summer fashion, White Linen Night was created. Art galleries and restaurants in the Warehouse District throw their doors open for a night of wine, art perusing, dining, and more wine on the first weekend of August. There's also a free block party between the 300 and 700 blocks of the gallery-heavy Julia Street, with food vendors and live music.
Red Dress Run
Probably the last thing any sane human being wants to do in the midst of a New Orleans August is run, but then again, the folks involved with the New Orleans Hash House Harriers (NOH3) have always been a little crazy. The Red Dress Run is your chance to see a bunch of locals of all genders don red frocks and go careening through the city on a madcap 2-3 mile course. Said route is kept secret until the day of the run.
The more rebellious sibling to White Linen Night, Dirty Linen is a similar gallery evening, but in this case the galleries are located in French Quarter along Royal Street, and the vibe is a little more counterculture. Peruse food trucks, galleries, and bars, or enjoy the wine the gallery owners brought along with them, and enjoy an unbridled celebration of the creativity of the city.
September – December
---
Fall and winter bring cooling temperatures and a slate of events closely associated with the New Orleans cultural community.
New Orleans' largest LGBT event is a citywide party that celebrates the huge impact the local gay and lesbian community has on the city at large. The party kicks off within the Quarter over the Labor Day weekend, spreading across New Orleans as more and more guests swoop into town for several days of… well, as the title says, decadence (including block parties and a parade).
This is one of our favorite neighborhood parties in a city that knows how to throw a neighborhood party. The donation-based event takes over the streets of the oldest African American neighborhood in the country, centering around the historic St. Augustine Church, the oldest African-American Catholic church in the United States. The area is well known for producing some of the city's best musicians, and in this vein, fantastic talents like are among the official listed performers. The family-friendly festival is free and open to the public.
New Orleans loves to eat – and sometimes, citizens live to eat. There were, at last count, over 17 James Beard award winning restaurants in New Orleans, and many tourists and locals like to sample these spots during Restaurant Week New Orleans. Participating restaurants – which often include James Beard luminaries like Bayona and Commander's Palace, offer set-course menus at a discount (often, a deep discount).
Hundreds of beers from large-scale breweries, microbreweries and homebrewers alike are set to be tapped at this annual celebration of suds. The party has a history of attracting beer-drinkers, dog-lovers, and general party people with good music, good food, and, of course, great beer. Fun fact: since 2009, over 20 new breweries have opened within the state, including several in New Orleans' city limits – Port Orleans, New Orleans Lager and Ales (NOLA) Brewing, Courtyard Brewery, Second Line Brewing, Parleaux Beer Lab, and Urban South Brewery among them.
Since 1980, Art for Art's Sake has grown and into a citywide phenomenon – a night when all of the city's galleries open their doors and put on major shows. An estimated 30,000-plus guests will sip wine and cocktails as they saunter between big openings at Julia Street galleries like Arthur Roger, George Schmidt, and Jonathan Ferrara. A few blocks away, businesses on Magazine Street will stay open to provide shopping and dining for the masses.
Presented by the New Orleans Jazz & Heritage Foundation, this October festival always sports an eclectic lineup, consistently booking a mix of young talent alongside seasoned blues veterans. And that's before you even consider the wide variety of BBQ vendors that surround Lafayette Square throughout the weekend. The central location of the event makes it an easy walk from the CBD or French Quarter.
Halloween
Halloween in New Orleans is sort of like Halloween in your home city, but multiplied by a few hundred degrees of awesome. We're a city that likes to costume and make mischief, and if you're going to miss Mardi Gras, you can get a taste of the chaos and costuming of that holiday – just head to the French Quarter and the Marigny on the Saturday night before Halloween. Incidentally, this is the evening of the Krewe of Boo parade, which features a fine lineup of spooky floats and excellent throws.
There is a po-boy for every budget and palate in New Orleans at this annual fest, typically held on a Saturday in early November between the 8100 and 8800 blocks of Oak Street in the Carrollton neighborhood. About 35 vendors will present more food that you could shake your fork at (while competing in several Best Of categories, with over 50 varieties of the delicious sandwich alone — plus beer, specialty cocktails, and desserts.
Boudin, Bourbon and Beer is one of the more enduring event legacies chef Emeril Lagasse has given New Orleans. The one-night food and drink festival has cigars, Abita beer in copious quantities, brown liquor courtesy of Buffalo Trace, lots of live music, and – surprise! – boudin prepared by a gallery of some of the city's top chefs.
The New Orleans Jazz & Heritage Foundation puts on plenty of events in New Orleans, but the Creole Gumbo Festival is a perennial favorite. It's not just a celebration of the city's great contribution to the genre of stew; it's a party that commemorates great music and the creolized culture – and place (the Tremé) – that produced the dish. Beyond all of that, this is a free festival that features a lineup of some of the city's best musicians – really, you have no excuse not to attend.
You might wonder what holiday it really is on Thanksgiving weekend, when the Tigers of Grambling State meet the Jaguars of Southern University for the annual Bayou Classic in New Orleans. Each year, football crashes into the holidays for a four-day feast of events, starting with a massive Thanksgiving parade from the Superdome to the French Market, featuring some of the country's absolute best marching bands.
Christmas in New Orleans
There's a whole slew of events that accompany Christmastime in the Crescent City, from bonfires on the Algiers levies to City Park's Celebration in the Oaks to Reveillon menus at some of the city's classic Creole restaurants. But surely one of the most pleasurable events to be had during a New Orleans December is simply strolling through the French Quarter, marveling at the inevitably awesome light displays that are hung from wrought iron fences and elegant European style balconies.
During the second weekend of December, the LUNA Fête light show illuminates part of the New Orleans Central Business District, on and around the Lafayette Square, located a quick walk away from the Quarter. The annual large-scale light and sound installations are breathtaking, and the fest is free and family-friendly.
The annual NOLA ChristmasFest is the only indoor Christmas festival in the area. It takes place at the New Orleans Ernest N. Morial Convention Center, starting in the third week of December and wrapping on New Year's Eve. The Convention Center Boulevard is be draped and dripping in holiday decorations and thousands of lights synced to holiday music, and NOLA ChristmasFest is packed with attractions like giant slides, inflatables and rides. The focal point of the festival is the New Orleans' only, 52×140-foot ice-skating rink.
 This beloved New Orleans tradition has been around for over 30 years. It's is a dazzling holiday lights festival scattered throughout the 25 acres of the City Park, including the Botanical Garden, Storyland, and Carousel Gardens Amusement Park. Stroll through the magical grounds swathed in hundreds of thousands of twinkling lights, take a train ride or a holiday picture by the iconic Mr. Bingle, listen to the caroling, do some holiday shopping, or ride the historic carousel. The event typically runs through January 1.
From Dick Clark Rockin' New Year's Eve near the historic Jax Brewery featuring a live-case fleur-de-lis drop at midnight to the countdown on Jackson Square (New Orleans' version of the Times Square NYE party) it's no surprise that New Orleans does New Year's Eve quite well. Top it off with the fireworks over the Mississippi River and quite a few balcony bashes on Bourbon Street, and you've got yourself a night of revelry, New Orleans style.
---
Related Articles