Book A French Quarter Hotel
How to Spend St. Patrick's Day in the Quarter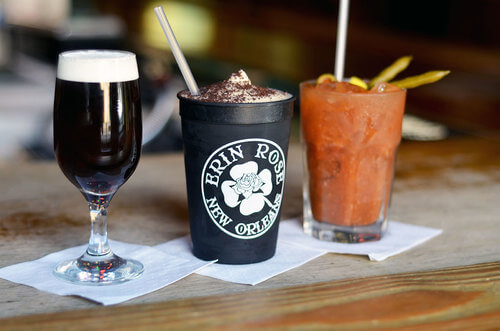 Photo courtesy of Erin Rose
It shouldn't come as a surprise, considering New Orleans' deep Irish heritage, that the weekend of St. Patrick's Day (Friday, March 17, 2023) is one of the biggest parades and party times in the city (outside of the Carnival and Halloween). The city's connection traces back to its history as a Catholic port of call that was one of the main entry points for the country. There's an entire neighborhood called the Irish Channel, which, as the name implies, was originally settled largely by immigrants from Ireland in the early 19th century. To this day, many locals have roots on the Emerald Isle.
Thanks to this connection the weekend closest to St. Patrick's Day is filled with parades, pub crawls, and block parties. While the biggest event, the Irish Channel parade, plus the most massive block parties, are happening Uptown, there's plenty to see, do, and drink in the French Quarter. There are a plethora of fantastic Irish pubs we recommend, many of which will be hosting their own St. Patrick's Day parties, plus a parade that rolls through the Quarter.
Here's how you can celebrate St. Patrick's Day — all without leaving the French Quarter.
The Parade
Friday, March 17, 2023, 7 p.m.
This parade rolls from the Bywater to the French Quarter, making several pit stops on its way to Bourbon Street. It begins on the corner of Burgundy and Piety streets in the Bywater, proceeds up Royal Street, across Esplanade Avenue to Decatur Street, and up Canal Street to Bourbon Street. The parade makes several stops at the various bars in the Marigny and the French Quarter on its way to Bourbon Street.
The Bars
These are all fair game during the St. Patrick's Day weekend, whether you want a relatively quiet stopover for some Guinness and a game of pool or an epic party with live music and an Irish buffet. Several of these bars serve as the stops for the parades, so we can assure you — they'll be partying.
The Boondock Saint
731 St. Peter St.
Tucked into a brick hideaway between Royal and Bourbon streets across from Preservation Hall, this intimate Irish pub was named after a movie that runs on the loop on the TV inside the bar (don't worry, there's a good jukebox too). The famously friendly bartenders serve Guinness and local beer on tap, as well as Irish car bombs. The prices are very, very good — so think of Boondock Saint as your perfect getaway from the 24/7 party happening just steps away on Bourbon St.
811 Conti St.
Just a few doors away from Bourbon Street, Erin Rose is a low-key watering hole favored by the locals. It's a stop on the route of Molly's at the Market parade so you can head to Erin Rose in confidence — there's going to be a party there. While you mingle, check the memorabilia galore and try the bar's excellent frozen Irish coffee or a Bloody Mary (made with the house secret recipe). Of course, there's Guinness on tap plus a selection of local brews. The bar is also home to the popular Killer Poboys (look for the takeout window in the back). Everything on the small but mighty menu is delicious.
540 Burgundy St.
Fahy's keeps it pretty traditional as far as Irish pubs go, with inexpensive drinks, a horseshoe-shaped bar, pool tables, darts, framed photos, and a laid-back ambiance. There are some Irish beers on tap, but you should try the bar's specialty called Mind Eraser. It's made with vodka and Kahlua, and it's meant to be shared with friends by everyone sticking straws into the drink at the same time and racing to the bottom. For St. Patrick's Day Fahy's has been known to put out an Irish buffet with traditional offerings like corned beef and cabbage.
717 St. Peter St.
Another low-key Irish bar on the same block as the Boondock Saints, Finnegan's Easy is long, narrow, and more crowded, but with ample capacity to handle it thanks to its spacious courtyard. You could tell it caters more to the visitors as it serves as a stop on some of the walking tours in the French Quarter. Finnegan's features sports on TV and cheerfully serves Irish grub along with more American fare, like wings. The drink menu also varies from the local beer on tap to Mai Tais and Hurricanes.
331 Decatur St.
Kerry packs the house for St. Patrick's every year with live bands performing back to back, with the doors opening as early as 8 a.m. in the years past. You may not find green beer at Kerry but you're guaranteed a proper pint of Guinness.
Molly's Irish Pub
732 Toulouse St.
Not to be mistaken for Molly's at the Market, this Molly's is close to Bourbon Street geographically but might as well be miles away for its understated charm and low-key vibe. Housed in an old Creole cottage, Molly's is all brick and dark wood. You won't find an epic party there (although things will definitely liven up during the St. Patrick's weekend), but if you want a bar with Guinness on tap, a pool table and a great jukebox, this local favorite is it.
718 St. Peter St.
As you might have guessed from its name this iconic French Quarter bar was founded by an Irishman. What's more, the invention of one of New Orleans' most famous cocktails, the Hurricane, is credited to him too. Every year on St. Patrick's Day weekend the bar participates in the festivities with drink and food specials and live music. Also, check out the flaming fountain on the bar's patio (it's a water fountain with fire emerging from its center, as crazy as it sounds).
Ryan's Irish Pub
241 Decatur St.
Just down the street from the Kerry and next to House of Blues, Ryan's is another stop for the St. Patrick's Day parades that go through the Quarter. Cozy booths, a beautiful antique bar, and plenty of local brews on tap draw a mix of local regulars and visitors.
Balcony Viewing Parties
For some traditional French Quarter-style partying, be on the lookout for balcony bashes at the bars located all up and down Bourbon Street. A balcony bash is pretty much that — you'll pay a cover and be allowed to plant yourself on a wrought-iron balcony overlooking the street below. Since the parade that rolls in the French Quarter hits Bourbon Street, prepare for much (green) bead tossing and catching.
---
Related Articles