Book A French Quarter Hotel
The Rundown of the Running of the Bulls in New Orleans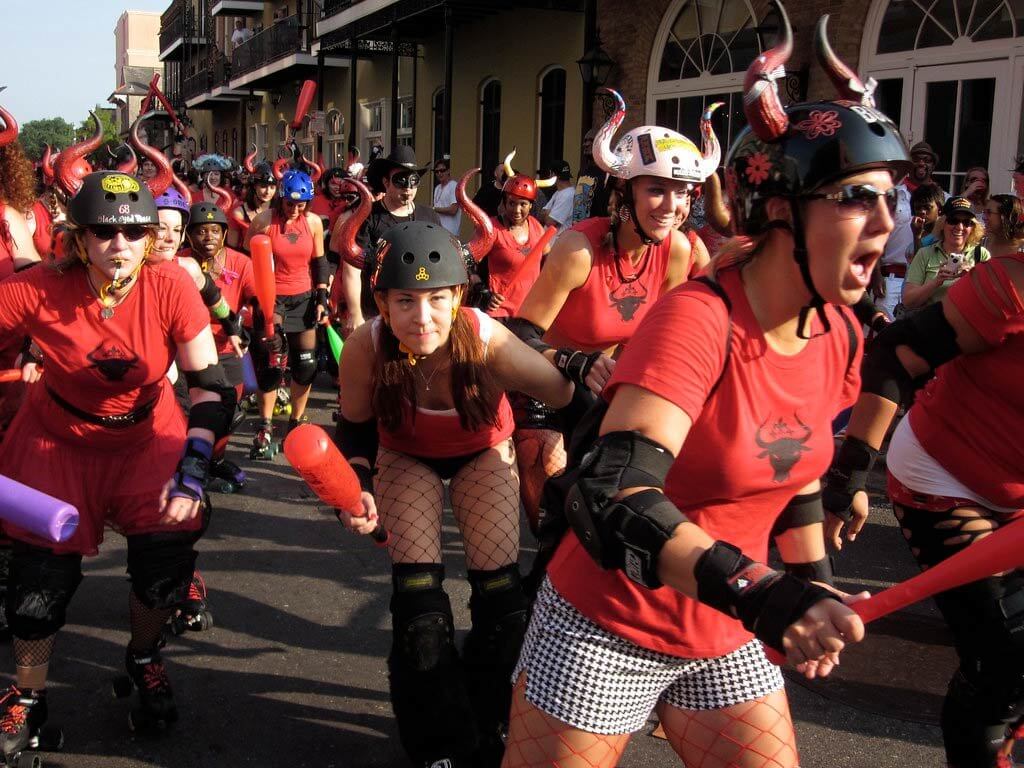 Photo: Some rights reserved by Infrogmation
Most people are familiar with Spain's Encierro de Pamplona, but not everyone might realize that New Orleans hosts its own Running of the Bulls. Here, though, the "bulls" are the roller derby skaters, dressed in the traditional colors of Spain's bull run and wearing horned helmets, who whack the participants with plastic bats during this annual Encierro (bull run).
The 13th annual summer spectacle falls on August 23-25 this year. Here's the daily rundown:
Friday, August 23
Friday evening marks the opening of SFNO, called El Txupinazo (and pronounced " el choo-pin-AHT-so"). One of the charities that benefits from this festival, Beth's Friends Forever, will host this event at the Sugar Mill (1021 Convention Center Blvd.) in Downtown New Orleans, 5-9 p.m. Expect live music, open bar, a silent auction, and a live auction for a lifetime VIP package for SFNO. This year the event will feature food from Apolline, Atchafalaya, Bacchanal, Commander's Palace, Sobou, and Tavolino.
Saturday, August 24
The actual Encierro will be held on Saturday. Join thousands of runners, wearing all white and accessorized with red scarves and handkerchiefs, as they gather by 6:30 a.m. by the Sugar Mill. Yes, the party starts early, and there will be live music, beer, sangria, and food trucks on site to get things going. The Procession of San Fermin and an invocation kick off the morning, followed by the run, which starts at 8 a.m. sharp. The run lasts till about 11:30 a.m. (you can check out the route here), followed by a live music show back at the Sugar Mill. After that, you can attend the traditional La Fiesta de Pantalones, held this year at the Rusty Nail (1100 Constance St.) starting at 11:30 a.m., or join the other revelers who stick around to make a day of it bar-crawling in the Warehouse District.
Sunday, August 24
Close out the SFNO 2019 with the annual El Pobre de Mí ("Poor Me"), an Ernest Hemingway-themed party at Lula Restaurant Distillery (1532 St. Charles Ave.), 10 a.m. – 2 p.m., with Roxie Le Rouge's Big Deal Burlesque, cocktails, and a Papa Hemingway Look-a-like contest. This is a non-ticketed event, and there're no cover, so you can pay as you go.
What else you need to know
All events happening on Friday and Saturday are ticketed —proceeds go to charity (tickets are $30-$95).
SFNO benefits Beth's Friends Forever (named after Nola Bulls cofounder Beth Hanning), which raises money for financially needy women fighting cancer in the Greater New Orleans area. The second charity SFNO had chosen is Big Easy Animal Rescue.
Since drinking is part of the festival, prepare to get carded.
While there is no dress code, the event organizers encourage everyone to dress in the style of Spain's Encierro de Pamplona: white top and bottom, with something red around the waist and the neck. This being New Orleans, many runners do, and get very creative with their gear.
There are several paid parking lots near the Sugar Mill, but this is a popular event, so it will most likely be crowded, with limited parking options all around.
No outside food and drinks are allowed inside the Sugar Mill on the day of the run, and no ice chests or chairs.
---
Related Articles