Eat Up at the Treme Creole Gumbo Festival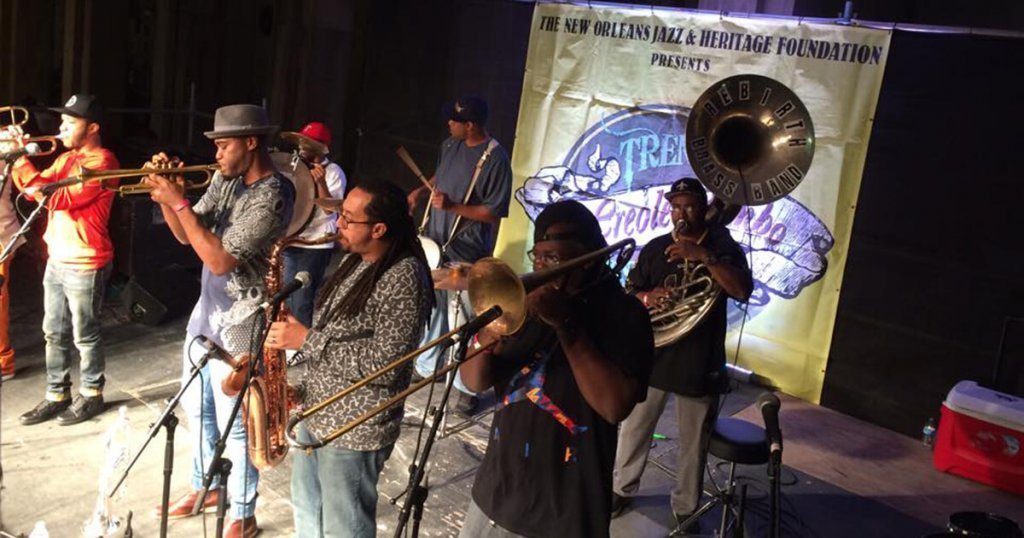 Photo courtesy of Treme Creole Gumbo Festival on Facebook
New Orleans and her fans know that few combinations are more satisfying than gumbo, brass bands and cooler temps, and that's what the annual Tremé Creole Gumbo festival serves up best, keeping it thematically simple but stellar in terms of its lineup of brass bands and food vendors.
The free festival returns to celebrate over a decade of existence at Louis Armstrong Park (701 N. Rampart St.) on Saturday and Sunday, November 17-18, from 11 a.m. to 7:30 p.m. on both days. As in past years, the festival will show off New Orleans' staple stew in all its savory varieties (sample-size portions will be available), from gumbo z'herbes and dark roux to the non-traditional vegetarian- and vegan-friendly versions. Of course, there will be traditional gumbo — seafood, chicken and andouille, filé — and so on. New this year, the food court is expanding into Armstrong Plaza to accommodate the ever-increasing number of vendors.
Once again, the festival will hold cooking demonstrations (two on each day), if you want to learn how to make that perfect roux. Celebrity Chef Kevin Belton, Chef Tia Moore Henry of Café Dauphine, Chef Ericka Lassir of Diva Dawg, and Poppy Tooker, host of the "Louisiana Eats" radio program, will host the demos.
This festival is touted as the "New Orleans' Premier Brass Band Showcase" for a good reason. The world-famous, Grammy-winning Rebirth Brass Band will headline the festival along with Ashlin Parker's Trumpet Mafia. They'll be joined by many of the local favorites, including the Hot 8, the Pinettes, the Tremé, and the Free Agents brass bands. Trumpeters Shamarr Allen and James Andrews, and trombonist Corey Henry and his band, the Tremé Funktet, are also part of this year's lineup.
The 2018 Tremé Creole Gumbo Festival is dedicated to the memory of Travis "Trumpet Black" Hill, a local musician who died suddenly from medical complications in 2015 at the age of 28. He had connections, both professional and personal, with most of the musicians who will be performing this year.
The festival's Arts Market is again merged with the Kids Area. The festival will feature dozens of Arts Market vendors, showcasing a mix of painting, photography, and mixed media, plus functional products like artistic textiles, handmade organic soaps, and pottery.
Free bicycle valet will be available on both days on festival grounds, courtesy of Bike Easy.
Are You Eating Enough Gumbo?
 "First you make a roux…" Gumbo is synonymous with New Orleans, and everyone and their mama (especially their mama) will offer an opinion on how to make the best gumbo and who makes it best in the city (it's usually the mama).
Luckily for us, many places in New Orleans make great gumbo. Anyone who lives here or visits can easily rattle off at least a few spots, high and low, where the gumbo is award-winning, and so special and delicious that trying it for the first time could go down forever as a life-changing experience.
Keeping in mind that every "Top Whatever Number of Best Gumbo in New Orleans" will always remain highly personal and incomplete, here are our current picks for best gumbo in the French Quarter.
---
Related Articles