Book A French Quarter Hotel
The Best Vegan & Gluten-Free Dishes to Look for in the French Quarter (and Nearby)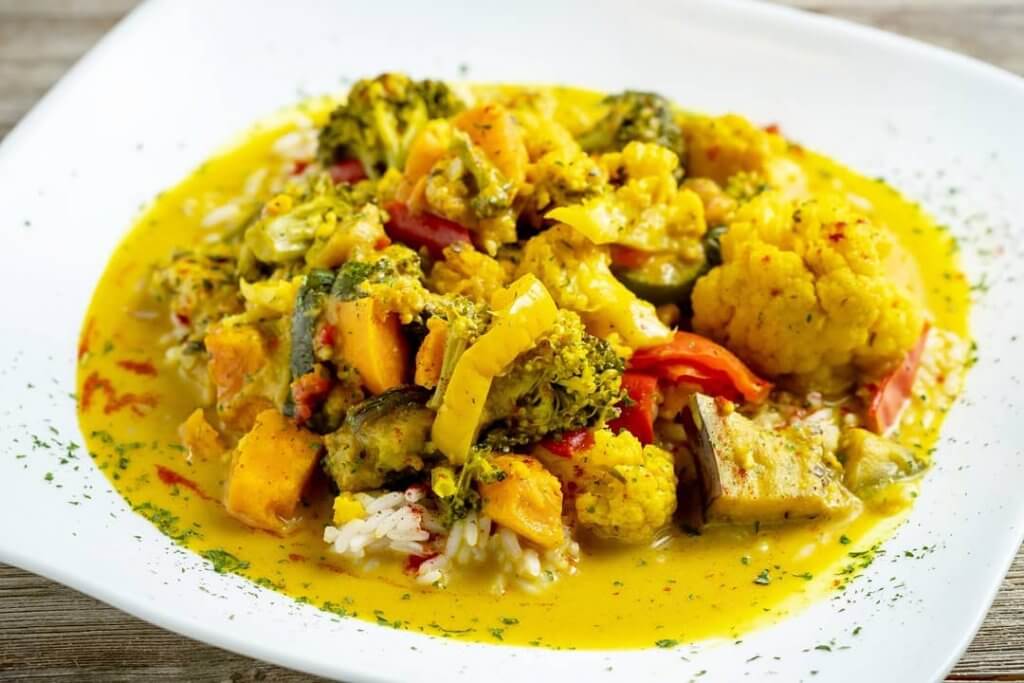 Photo courtesy of Sweet Soulfood on Facebook
New Orleans is a culinary mecca, but one admittedly laden with meat and seafood and swimming in cream and butter. It hasn't been an easy ride for vegetarians and vegans, especially in the past decade, though this is changing. With the proliferation of exclusively plant-based and gluten-free, vegan-friendly offerings around town the vegetarian culture is thriving, and the vegan scene is getting there.
In other words, it is not a bad time to be vegan in New Orleans, and it's much easier these days to find glorious vegan fare that goes way beyond the bland afterthought of the years past. Here are our top recommendations for the best vegan and gluten-free dishes, with emphasis on the local cuisine but also spanning the globe, that you can find in the French Quarter and nearby.
View this post on Instagram

Breakfast
Where to get it: Meals From the Heart (French Market; 1100 N. Peters St., #13), The Daily Beet (multiple locations, including CBD)
The French Market gem Meals From the Heart earns its stripes with the vegan versions of a burger and hard-to-find gumbo, but don't overlook its gluten-free and vegan pancakes and vegan apple patties. In a city where breakfast is often a decadent, eggs-and-meat-heavy affair, this is a treat.
The feel-good menu at The Daily Beet, that started in St. Roch Market and has since expanded to the CBD and Irish Channel, has all the makings of a healthy, satisfying breakfast, including smoothies, juices, avocado toast, and quinoa bowls. The latest Magazine Street location is also offering vegan buckwheat sweet potato pancakes for brunch.
View this post on Instagram

Burgers
Where to get it: Meals From the Heart (French Market; 1100 N. Peters St., #13)
Meals' popular Beyond Burger is both vegan and gluten-free. The restaurant's M.O. is "A Healthier Take on New Orleans' Famous Cuisine," and it riffs off the New Orleans staples like gumbo with its health-conscious versions. There are also breakfast items like vegan pancakes and apple patties. Delivery available.
View this post on Instagram

Cheesesteak
Where to get it: Trilly Cheesesteaks (4413 Banks St.)
Trilly has a whopping five kinds of vegan cheesesteaks on its menu, from the traditional Philly version to chicken, buffalo chicken and Far East (with ginger soy sauce) to BBQ chicken. All are made with steak or chicken seitan and served on an Amoroso's roll.
View this post on Instagram

Crepes
Where to get it: The Crepe Cart (French Market, 1100 N. Peters St., #14)
Another French Market destination, The Crepe Cart doles out classic, vegan and gluten-free crepes in flavors ranging from sweet to savory. Try the hummus crepe, made with gluten-free vegan batter.
View this post on Instagram

Dessert
Where to get it: Sweet Soulfood (1016 N. Broad St.), Carmo (527 Julia St.), Mac & Moon (801 Magazine St.), Girls Gone Vegan (various locations), Breads on Oak (8640 Oak St., Suite C.)
You'll find all-vegan versions of some of New Orleans' and southern traditional desserts like pralines and bread pudding, plus cornbread with rum sauce, and even ice-cream at Sweet Soulfood. The tropical-themed Carmo in the Arts District has a whole menu of vegan desserts, including Caribbean banana cake, zucchini chocolate chip cake, house-made cookies, Kahlua chocolate pecan cake, gateau, and more.
The Lafayette-based Mac & Moon has a stall in the Auction House Market, also in the Arts District, featuring over 20 flavors of vegan macaroons, including bananas Foster and red velvet. There are also cream tarts, rolled ice cream, milkshakes, and wild harvested herbal teas. Many offering are gluten-free.
View this post on Instagram

Donuts/King Cake
"Need" a donut? The bake-to-order bakery called Girls Gone Vegan is run by two sisters and produces only vegan and gluten-free goods, including donuts. In the French Quarter, you can find them at Envie Espresso (308 Decatur St. and 1241 Decatur St.), and the Quarter Master (1100 Bourbon St.).
Around Mardi Gras, you can score a vegan king cake from Breads on Oak, with or without filling. The traditional version is made with cinnamon, and the fillings include almond cream, cream cheese, pecan praline, tiramisu, and the company's latest, the peppery VooDoo king cake. Breads on Oak also ships in season.
View this post on Instagram

Gumbo
Where to get it: Meals From the Heart (French Market; 1100 N. Peters St., #13), Sweet Soulfood (1016 N. Broad St.)The back-alley French Market Meals From the Heart is worth the trip for its hard-to-find vegan okra gumbo alone, but its health-conscious menu is full of vegan and gluten-free riffs on other New Orleans classics that usually come only in meat and seafood versions, like the popular Beyond Burger (also soy-free), and the vegan crabcake. Sweet Soulfood also serves a vegan version of okra gumbo.
View this post on Instagram

Hot dogs/Sausage
Where to get it: Dat Dog (601 Frenchmen St.)
Yes, the menu is full of meat, from duck to alligator, but there are four vegan offerings too, including the Italian "dog" made with eggplant, and bratwurst (pea and rice protein, and fava beans). Quite a few among the 30 toppings are also vegan-friendly.
View this post on Instagram

Jambalaya
Where to get it: Sweet Soulfood (1016 N. Broad St.)
Sweet Soulfood is a cafeteria-style vegan haven that is on the border of the Tremé/Lafitte and Bayou St. John neighborhoods of New Orleans. Their jambalaya is served along with many other rotating all-vegan takes on Southern staples.
View this post on Instagram

Pizza
Where to get it: Blaze Pizza (611 O'Keefe Ave.), Pizza Delicious (617 Piety St.)
Blaze's Veg Out pizza comes with either keto or cauliflower crust (both gluten-free), topped with zucchini, red onion, mushrooms, and red sauce. Vegan cheese is optional. Pizza Delicious's Vegan Peppadew & Arugula features red onion and marinara (no cheese). You can add vegan Daiya cheese if you'd like.
View this post on Instagram

Po-boys
Where to get it: Small Mart (1303 Decatur St.), Nola Vegan (1923 Leonidas St.)
Small Mart is revered for its wide selection of New York City-style bagels, but its specialties also include vegan po-boys plus Indian and Pakistani street-food fare like the daily curry and vegetarian samosas. The Leonidas Street newcomer in the Carrollton neighborhood of Uptown, Nola Vegan grew from popups to a full restaurant, with all-vegan versions of "crab" mac and cheese, cauliflower tacos, and the particularly well-reviewed house specialty, an oyster mushroom po-boy.
View this post on Instagram

Red beans & rice
Where to get it: Meals From the Heart (French Market; 1100 N. Peters St., #13), Sweet Soulfood (1016 N. Broad St.), Small Mart (1303 Decatur St.), Carmo (527 Julia St.)
The Meals' version is solid (get the vegan gumbo to go with too), or check out the gluten-free vegan version at Sweet Soulfood.
The Decatur Street grocery/deli Small Mart also serves up a great version along with NYC-style bagels and Indian and Pakistani vegetarian and vegan street food. And the "tropical" enclave of Carmo, nestled among the galleries of Julia Street, features vegan beans and rice among its mainstays, along with the daily curry and a plethora of interesting, all-vegan desserts.
View this post on Instagram

Spanning the Globe
Where to get it: Green Goddess (307 Exchange Pl.), Carmo (527 Julia St.)
The tiny, no-reservations Green Goddess, tucked in a narrow, gas lantern-lit alley with lots of outdoor seating, is all about the global cuisine. There are some carnivore-friendly items on the menu, but all the vegan and gluten-free dishes stand out as well, paying homage to soul, Cajun and French influences. One star on the seasonal menu is rolled uttapam, a south Indian lentil pancake with vegan curry, kimchi slaw, and tamarind chutney. The Thai tofu, grilled local lemongrass tofu with the works, is also not to be missed. The wine list spans the globe as well, and the seasonal cocktails are ambitious and made with fresh juices.
The health- and sustainability-conscious Carmo in the Arts District features vegan versions of such local specialties as beans and rice, but the menu expands from the Gulf South to the Caribbean, West African and Southeast Asia influences with vegan seviche, curry, house-made Armenian breads, and bright and beautiful salads with mouth-watering toppings.
We're also excited to share our favorite vegetarian destinations in the French Quarter, so read on! You can find more dining guides — for every budget, bucket list, and discerning taste — here.
 Not sure where to stay? We got you covered! Check out our top recommendations for the hotels in the French Quarter.
---
Related Articles