Book A French Quarter Hotel
Where to Score the Best Crawfish in New Orleans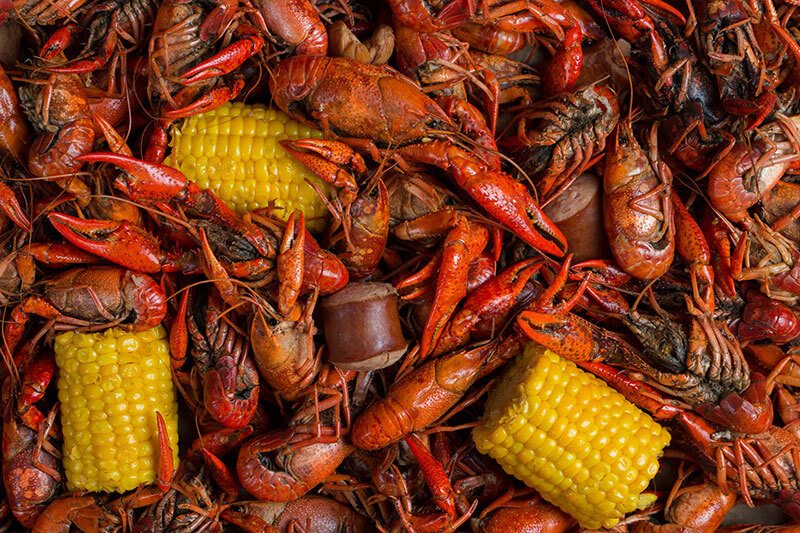 Spring means crawfish season in New Orleans, and that means picking the best spot to enjoy an old-fashioned boil. This list is far from exhaustive — in fact, it's more like a drop in the bucket — and that's a good thing. We're lucky enough to live in a place where boils happen in bars, restaurants and backyards every day this time of year.
Captain Sal's 
3168 St. Claude Ave.
Located on St. Claude Avenue in the Bywater, Sal's sells inexpensive boiled seafood, fried chicken and po-boys from an inauspicious concrete building. The crawfish are spicy, and that spice carries over into the corn and potatoes for some of the spiciest sides we've ever tried.
The crawfish are also buttery and garlicky; they have a particularly rich flavor. As the season progresses Sal's offers weekly half-price deals, usually beginning around Easter. There's plenty of space to sit inside, and there's counter service. Don't expect much of a wait here.
Cajun Seafood 
1479 N. Claiborne Ave.
Cajun Seafood opened its original location on S. Broad Street in 1995 and remains, in the words of many locals, "The best smelling corner in the city" (as company's website remind us). Since then, Cajun expanded to three more locations (each family-owned and operated), and the one on N. Claiborne is located in Tremé. The counter service spot usually has a wait, sometimes trailing around the outside of the building on Saturday afternoons and during second lines.
Diverse offerings include po-boys, Chinese food, boiled seafood, ya-ka-mein (also spelled as yaka mein — a magical concoction of chopped beef, noodles, green onions, hard-cooked egg, and broth), and fried chicken, as well as varying fresh seafood options. The boil is moderately spicy, with a pleasant clove and garlic flavor. It's a middle-of-the-road crawfish — a crowd pleaser.
Bevi Seafood Co.
236 N. Carrollton Ave.
Bevi began in Metairie, and Chef Justin LeBlanc expanded into this second location in Mid-City, much to the delights of the locals. The crawfish are fresh and nicely sized, and the menu also includes po-boys (try the smoked oyster or cochon de lait) and fried seafood. Bevi sells both cooked and raw crawfish, shrimp, and crabs when in season, as well as oysters. The counter-service restaurant has plenty of seating, and the prices for boiled crawfish remain competitive throughout the season.
Mid-City Seafood and Deli 
2526 St. Bernard Ave.
This Seventh Ward spot near the corner of St. Bernard Ave. and Broad St. is known for its boiled seafood and fried chicken. The boil has strong hints of clove, and deep, delicious flavor as well as a mild, lingering heat. It's counter service only — but you come for the food, not the atmosphere. The po-boys are numerous, well-priced, and also well regarded.
Salvo's Seafood 
7742 Highway 23, Belle Chase, LA
It's a bit of a trek, but Salvo's offers delicious boiled seafood at better prices than most restaurants in the city. Their all-you-can-eat seafood specials rotate nightly between crab, shrimp, and crawfish, but crawfish is consistently available by the pound as well during season.
The full-service restaurant has been open since 1984, and also offers sandwiches, steaks and ribs, though most people come for the boiled and fried seafood specials. The all-you-can-eat boiled seafood specials also include all-you-can-eat boiled sides.
Boils at Bars
Crawfish can be found at bars around the city in the spring. R Bar in the Marigny often doles out crawfish, and The Maple Leaf is known for its boil helmed by Jason Seither (of Seither's Seafood), which offers a unique boil with carrots, garlic, and sweet potato, among other unusual vegetables sometimes added to the pot. The 24-hour Three Legged Dog in the French Quarter also has weekly boils, and the Mid-City's Bayou Beer Garden throws an occasional boil on its spacious back patio, during the Saints games in particular. Pearl Wine Co., a wine shop/bar combo located in the American Can building in Mid-City, also hosts a great occasional boil popup that usually coincides with special events like bingo night or a wine tasting.
---
Related Articles