Book A French Quarter Hotel
Hat Shopping in the French Quarter and Nearby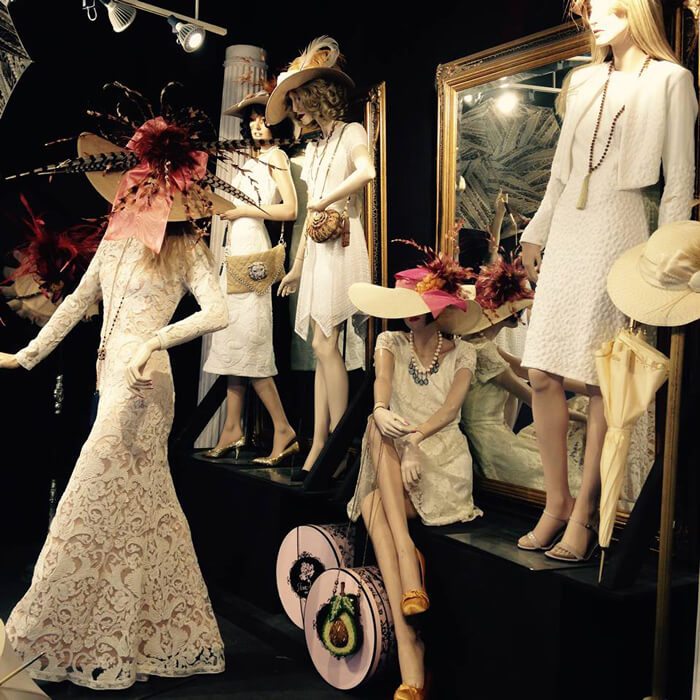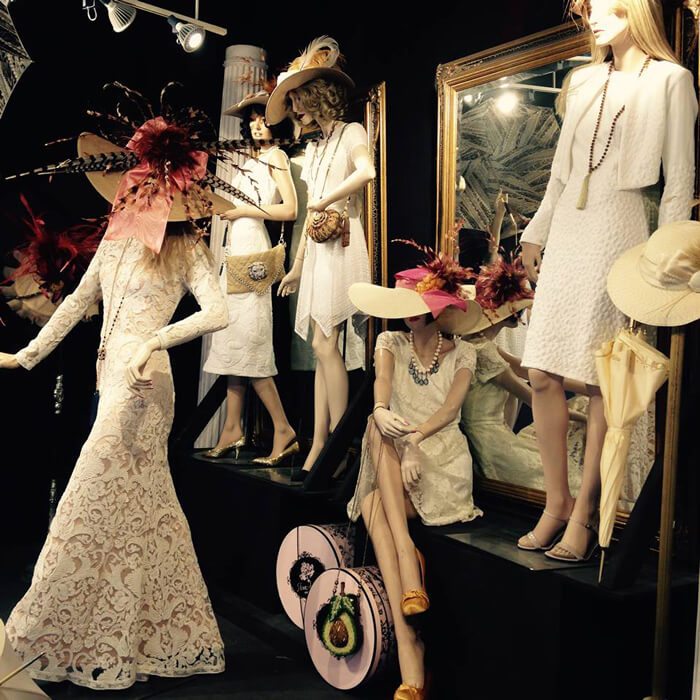 Photo courtesy of Fleur de Paris on Facebook
Themed weddings. Mardi Gras balls. Thanksgiving at the racetrack. Afternoon tea. New Orleans offers no shortage of opportunities to don your finest hat—and thanks to its costume culture and over-the-top reputation, you can be sure that there's no such thing as too bold when it comes to toppers. Whether you're looking for a huge, feather-trimmed hat to wear to the racetrack or an understated, sparkling fascinator to complement a slinky cocktail dress, these milliners have you covered.
Meyer the Hatter
120 St. Charles Avenue
If your tastes run to the classic, conservative side, you'll feel right at home in one of New Orleans' multigenerational family businesses. It's the oldest family-owned hat store in America. This long, narrow, fifth-generation enterprise has earned the loyalty and business of New Orleans' most prominent families over the last 123 years. Meyer the Hatter counts Kermit Ruffins, Susan Sarandon, Eric Clapton, Sylvester Stallone, Elvis Costello, the Backstreet Boys and many other celebrities as customers.
However, the hats don't come with A-list price tags: many cost less than $100. Today, you'll find Stetson hats, Kangol caps, jazz band hats, wool pork pie hats, Maysor fedoras and more inside the store, which hasn't changed much since the 1890s—though it has moved its location a few times, it's never left the block. Some things never change…and with the help of the three generations working at this hat shop, hopefully, neither will Meyer's. It's the perfect place to pop in and grab a souvenir you'll enjoy every day.
Goorin Brothers
709 Royal Street, 2127 Magazine Street
You wouldn't guess Goorin Brothers is a national hat chain—it feels like the kind of bespoke, handed-down-through-the-generations gem that you'd stumble upon tucked away on a quiet city street. And the quality of the hats upholds that impression, thanks to the Goorin family's 120 years of devotion to hat-making techniques. Launched in Pittsburg in 1895 with a single horse-drawn buggy, the fourth-generation business now boasts 30 shops across the U.S. and Canada.
You'll find toppers for men (rugged leather wide-brimmed, snazzy plaid flatcaps) and women (elegant cloches, floppy straw hats), as well as accessories. Hat addict? Enroll in the loyalty program. Every hat you purchase gets you a stamp, and 10 stamps get you a free hat (under $100) or $100 toward a new hat. You wouldn't limit yourself to just one pair of shoes—why not create an equally impressive hat wardrobe?
537 Royal Street, 712 Royal Street, 2048 Magazine Street, 2050 Magazine Street
Founder Candice Gwinn launched Trashy Diva as a vintage clothing shop in the 1990s. Today, she sells her original vintage-inspired designs, as well as lingerie, jewelry and hats galore at the boutique, a cult favorite for retro lovers worldwide. Lids include cloches, fedoras, berets, fascinators, pillboxes and cocktail hats. Though they're specially chosen to complement Trashy Diva's array of 1920s, '30s,'40s and '50s style dresses, these ladylike hats go with almost any ensemble.
If you're looking to create a show-stopping head-to-toe look, make a beeline for Trashy Diva and its impeccably dressed shop girls, who double as wardrobe stylists. They'll zip you into an uber-flattering dress and guide you to the hat that perfectly frames your face and tops off the ensemble. Best of all? These classic styles don't go out of style, and they're so well made that you might just be able to hand them down to your grandchildren.
532 Royal Street
When it comes to hats, the bigger, brighter and bolder the better. And by these criteria, Fleur de Paris makes the best hats in the business. From candy-egg hued, ostrich feather-trimmed Easter hats to smart, elegant chapeaus, every hat is made to order in house and ideally suited to that customer's face shape, coloring and aesthetic. Hand-dyed silks, purses and dresses round out the merchandise at Fleur de Paris, which is said to be the largest millinery shop in the U.S. Worried that a hat with a pizza-sized brim is too much of a statement piece? Don't be. After all, a wide hat just makes your hips look that much slimmer by comparison.
Love It!
2028 Magazine Street
The fanciful gowns, artistically crafted leather bags, masks and hats at this Magazine Street shop are a testament to the creativity of owner Danna Lea, who creates much of the merchandise by hand. A visit to her boutique is like a dress-up romp through an eccentric, stylish aunt's attic. When it comes to toppers, you'll find everything from fox fur caps and Vegas-style feathered headpieces to petite, heart-shaped fascinators and Alice in Wonderland-style top hats. Although it's not easy to stand out in New Orleans' sea of fantastically costumed revelers, a visit to Love It! Just might give you an unfair advantage.
Yvonne LaFleur
8131 Hampson Street
Yvonne LaFleur, the woman behind this eponymous boutique, is known for her custom millinery (and she is rarely sighted outside without a hat topping her signature chignon). Bring in an outfit or let one of the shop girls outfit you in the latest styles, and LaFleur will create a custom hat on the spot. It's a not-to-be-missed experience and a rite of passage for the generations of New Orleanians who have visited the romantic boutique for everything from fall wardrobes, jewelry and debutante gowns to bridal dresses, handbags and lingerie.  Sequined dresses and mink furs hang from the ceiling, and the overall vibe resembles that of a bygone era. Yes, Yvonne LaFleur is in Riverbend, and yes, it's worth the scenic ride on the St. Charles Avenue streetcar.
---
Related Articles