Book A French Quarter Hotel
Must-See French Quarter Art Galleries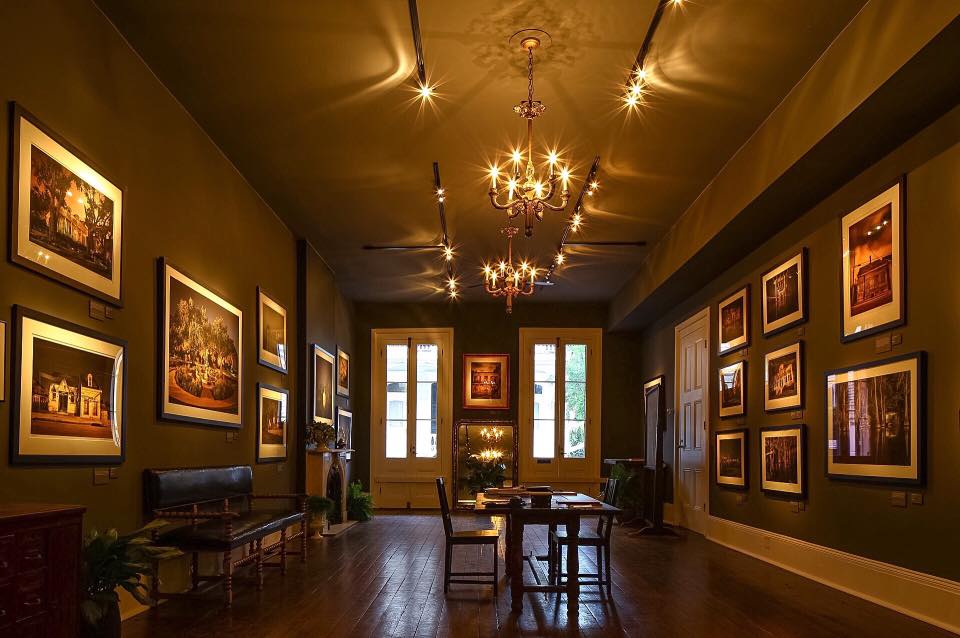 Photo courtesy of Frank Relle Photography on Facebook
Best known to visitors for her bars and restaurants, the French Quarter of New Orleans is also home to dozens of art galleries, constituting one of the greatest concentrations of studio space in the American South. In fact, the history and demographics that led to the Quarter becoming a hotbed of nightlife likely laid the foundation for its abundance of art galleries as well.
For decades, the Quarter's historical buildings were seen as crumbling ruins. The confluence of creativity and cheap rents led to the arts taking hold in the Quarter, although said arts did not manifest as public gallery retail space in the beginning. The French Quarter was a bit too rough in her earlier days to accommodate a gallery scene, but as the neighborhood began offering more to visitors in the late 20th century, art spaces became a natural outgrowth of the local scene.
That's not to ignore some truly steadfast art galleries that have held it down in the Quarter for what feels like ages. In any case, if you want to see local art, head to Royal Street, which is lined with galleries on multiple blocks. While it's not as jam-packed as Royal, Chartres Street is also a mini mecca for art retail. Also, don't miss the artists hawking their wares around the edges of Jackson Square, street artists throughout the Quarter, and Dirty Linen Night, an annual party that celebrates the Royal Street gallery scene.
Some notable local art galleries include:
910 Royal Street
One of the city's most famous photographers, Frank Relle has made a career out of his love of New Orleans architecture, history, and light — or lack thereof, in the last case. Confused? Relle is best known for taking shots of New Orleans homes, buildings and street scenes late at night, using long exposures to create a singularly eerie (yet also oddly comforting, and always beautiful) micro genre of fine art photography.
610/612 Royal Street
When we think of French Quarter art galleries, a place like Le Jardin often comes to mind. Effectively a narrow corridor that leads to a spacious dream of a Vieux Carre courtyard, all of the wall space in Le Jardin is crammed wall to groaning wall with the work of local artists. Much of the stuff you'll see on display has a folk arty feel; the bright colors, bold presentation, locally focused subject matter and the general haphazard, slightly chaotic atmosphere of the place makes for an art experience that feels quintessentially New Orleans. While you'll find original work here, there are plenty of prints as well. Also on site is Adorn, a local jewelry and crafts shop.
736 Royal Street
Ally Burguieres is passionate about both her art and the ethical treatment of animals, and has combined these interests into a gallery that is stuffed with paintings of animals. Some of these critters are engaged in almost anthropomorphic activities, and some are simply brought to life in a vibrant New Orleans color palette. You'll also find art inspired by Alice in Wonderland and New Orleans street scenes. This gallery has many prints that can be purchased in lieu of original artwork; this may be a good idea if you have a kid (or kids) in tow, as children are often obsessed with Burguieres' cute animal depictions.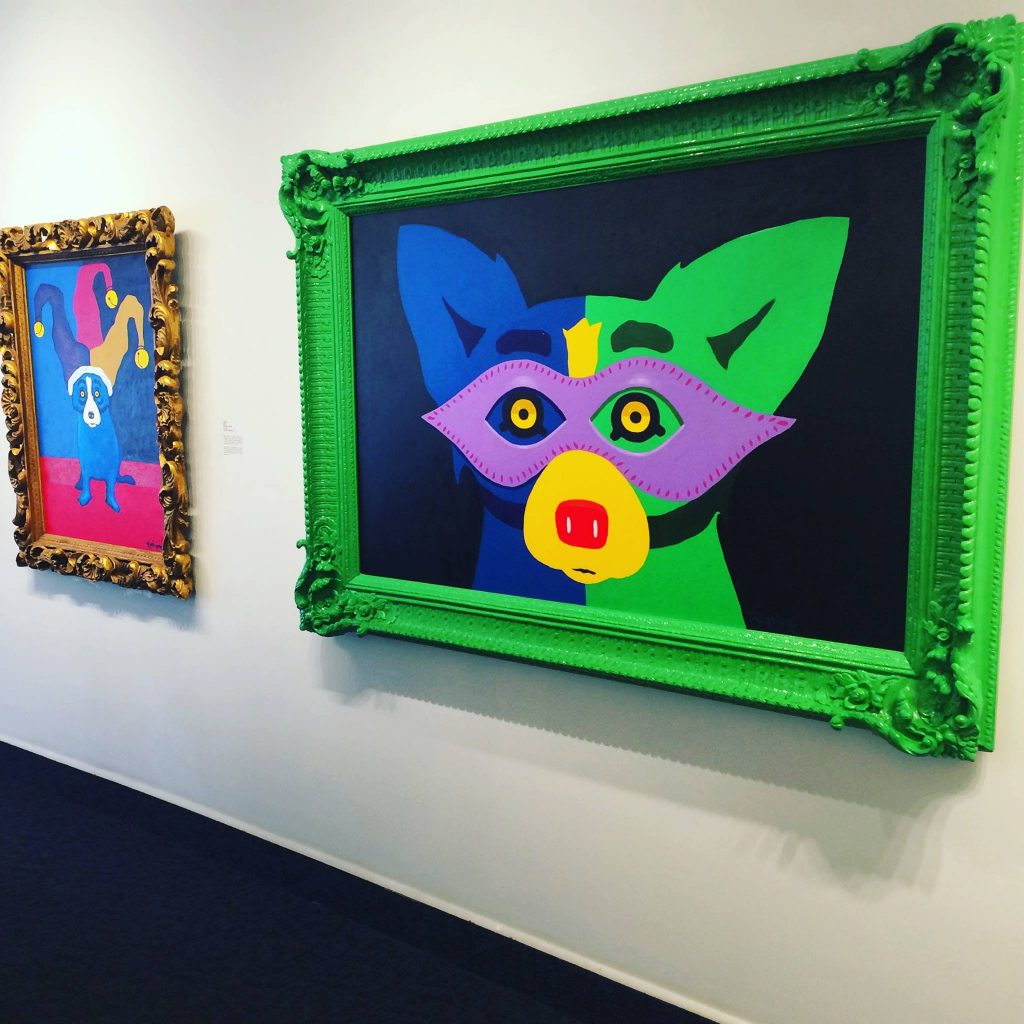 Photo courtesy of Art of George Rodrigue on Facebook
730 Royal Street
George Rodrigue, a native song of south Louisiana, was best known as the creator of the "Blue Dog," perhaps the most recognizable symbol of Louisiana contemporary art. The dog, with its soulful yellow eyes, was first painted in 1984 for Bayou, a selection of Louisiana ghost stories released in conjunction with the 1984 World's Fair, held in New Orleans. Rodrigue decided to paint a version of the Cajun loup garou, or werewolf, and in so doing created the ghostly visage of the Blue Dog. At once approachable, mysterious and riotously colorful, the Blue Dog would go on to become, in the eyes of the public, a stand-in for Cajun culture and Louisiana as a whole and the vehicle for Rodrigue's considerable commercial success.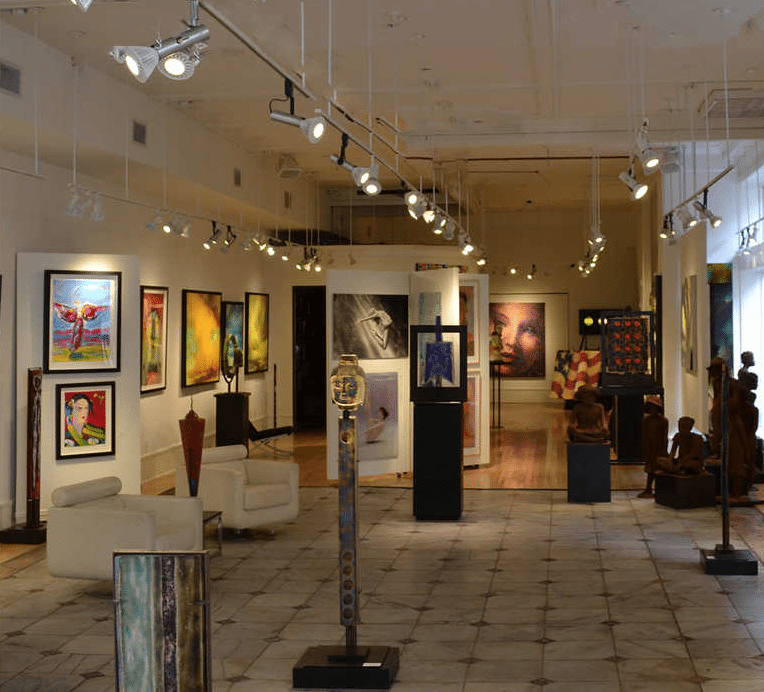 Photo courtesy of Angela King Gallery on Facebook
241 Royal Street
Many visitors pigeonhole New Orleans art as big, bright and made for tourists, but this is hardly the case at the Angela King Gallery, one of the best contemporary art galleries in the city. At any one time, the gallery showcases the work of up to 30 artists, whose talents range from oil paintings to mixed media to ink sketches. This is an extremely varied, diverse gallery, and a great stop for visiting (and local) art lovers.
1036 Royal Street
This gallery is a fine base for local artist and all-around character Emile Rhys. A supremely talented artist, Rhys is best known for her fine art ink and pen drawings of the city's local musicians. Her work, which synthesizes two great elements of New Orleans creativity — the sonic world of music and the frenetic energy of her visual art — is unique and singularly worthy of souvenir consideration.
Are you planning to spend some time in New Orleans soon? To stay close to all the action, book a historic boutique hotel in the French Quarter at FrenchQuarter.com/hotels today!
---
Related Articles