Book A French Quarter Hotel
French Quarter Shopping: The Best Perfumeries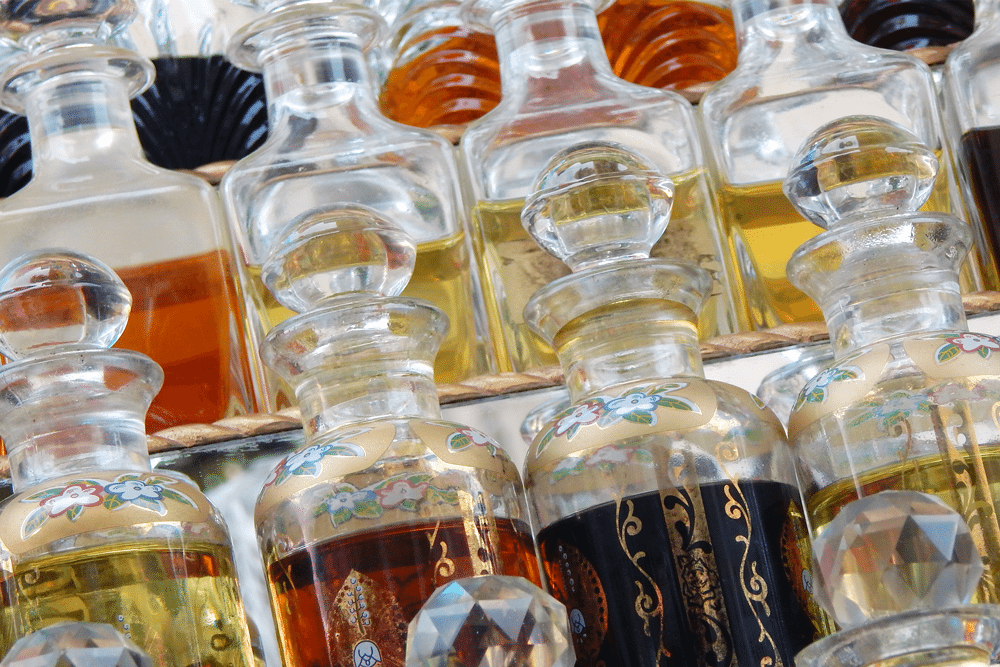 New Orleans is often compared to a bewitching but temperamental woman. If that analogy is apt, then she's also a perfumed one. From delicately fragrant honeysuckle and sweet olive to ghostly night-blooming cereus, floral scents hang heavy in New Orleans' humid, subtropical air. They are as much a part of the city as pastel shotgun houses or the sound of a busker's saxophone licks.
Although few senses are as subtle as the olfactory, the scent is also enormously evocative. Complex emotions and memories may be summoned from a whiff of freshly cut grass or hot apple pie. Why not include a bottle of perfume harnessing the essence of New Orleans among your souvenirs? You'll make a fond memory when you purchase the perfume… and relive it every day when you apply it.
805 Royal St.
Participate in a 180-year-old tradition when you browse for perfume at this quaint Royal Street shop. A specialist can custom-mix a unique fragrance tailored to your body chemistry, or you can take home a classic scent such as lilac, French lavender or musk. All perfumes are hand-mixed in small batches from natural ingredients.
434 Chartres St.
You'll find a treasure trove of single-note floral perfumes at this elegant, high-ceilinged shop, some in distinctly old-fashioned scents like heliotrope and vetiver. There's more to enjoy, though: bath salts, body powders, colognes, massage oil, and French-milled perfumed soaps. Tuck a beautifully wrapped bar in your luggage, and sweetly scented clothes will be your reward upon returning home. And get this: Founded in 1931, Hové is the oldest continuous perfumer manufacturer in New Orleans.
532 Royal St.
Yes, it's a chain, but when the associates are this generous with samples and the product is both luxurious and eco-friendly, who can complain? Crafted in France of organic, vegetarian ingredients, each Lush perfume contains all-natural essential oils. Many feature coordinating lotions, soaps, shampoos, and bubble bars, so you can soak yourself in scent from head to toe. Spend an hour sampling the wares to see which suits you best.
608 Bienville St.
Madame Aucoin was said to be the first female perfumer in New Orleans, who coined the term "The Paris of America" for her perfumery in the French Quarter. The current location of the shop is a modern reincarnation of her legacy in her former residence. The perfumery's goal is a reformulation of Madame Aucoin's original collection. This boutique perfumery is a must destination if you're a fan of lesser-known French and other independent, niche brands both locally made and imported.
631 Toulouse St.
Tijon is definitely a luxury, unique experience as you'll be handed a lab coat and a workbook so you can create your own perfume. There are over 300 oils available, and you can bottle and name your own. Should you want to reorder in the future, Tijon will retain your formula. Tijon also offers classes, its own signature perfumes, and the New Orleans-inspired collection.
Are you planning to spend some time in New Orleans soon? To stay close to all the action, book a historic boutique hotel in the French Quarter at FrenchQuarter.com/hotels today!
---
Related Articles