Try the Best Coffee in the French Quarter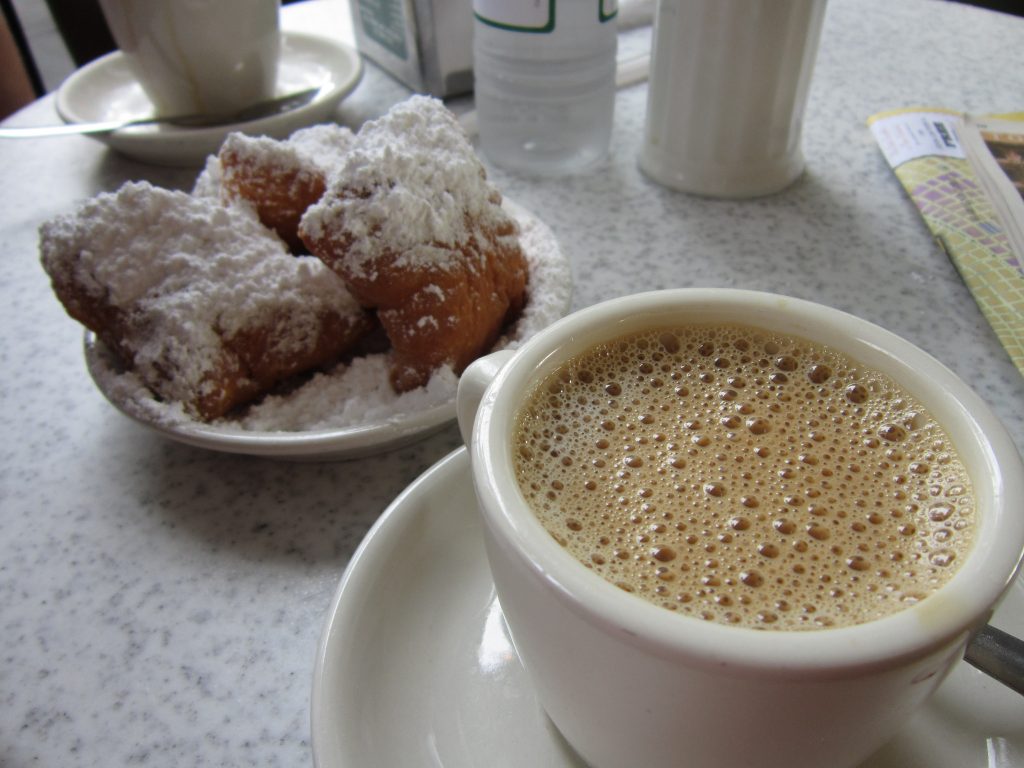 Beignets and cafe au lait at Cafe du Monde by Selena N. B. H. on flickr
As befits one of the most European and Caribbean cities in the country, New Orleans loves coffee. This city was sipping on the stuff long before it became popular across the rest of the USA, and some of our oldest cafes remain destinations in and of themselves. Of course, there's some modern coffee houses here as well you don't want to pass up.
In the French Quarter
New Orleans can be a romantic place for a cup of coffee, but there are parts of the French Quarter where the balconies and street music make for pure caffeinated magic.
Cafe Envie
1241 Decatur Street The people watching at Cafe Envie is some of the best in the city, and that's saying something in this city. Pull up a chair at an outdoor table, order a coffee drink (or a drink drink, or both; Envie has good cocktails and can do an excellent Irish coffee), and just watch life in the Quarter: musicians, lovers, poets, rowdy folks on a weekend trip, and everyone in between.
Spitfire
627 St Peter Street This little closet of a coffee stand produces what is probably the best coffee in the Quarter. They use small batch roasters and do excellent pour over coffee, but they can also whip out a classic slate of espresso drinks that should impress any coffee lover.
Cafe du Monde
800 Decatur Street What, you thought we'd let you go without recommending one of the world's most iconic cafes? If we're being brutally honest, the lines here can be a little much when they stretch almost a city block, but the chicory coffee and beignets are truly excellent.
Cafe Beignet
334 Royal Street There's plenty of ridiculous debate over who serves the better beignet, du Monde or Cafe Beignet (just have both and decide for yourself), but when it comes to venue, it's hard not to make the case for the Royal St location of Cafe Beignet. It's shady, relatively quiet, and you can get some excellent people watching in.
Outside of the French Quarter
Many of the best coffee shops in New Orleans are located within easy walking or biking distance from the French Quarter, in Faubourg Marigny and the Bywater.
Orange Couch
2339 Royal Street This spare, minimalist cafe is nonetheless populated with warm, inviting staff. The coffee is made with care and attention, and the menu is more creative than your average espresso outpost; mochi ice cream sits aside a delicate, moist tea bread that makes for a fairly perfect light lunch. A popular spot for folks looking to get in some work and wi-fi.
Coast Roast
2381 St Claude Avenue Located within the St Roch market, Coast Roast produces some fine pour over coffee and espresso drinks. With all of that said, our personal addiction is the frozen coffee, which is quite simply the best frozen coffee we've had anywhere, full stop. That sort of superlative statement gets thrown around a lot in these sorts of articles, but we really will stand by this assertion: Coast Roast frozen coffee is sweet, strong and stupendous. It's good whatever the external climate is, but on hot, humid days (which, let's be honest, aren't unheard of in New Orleans), it's seriously heaven in a cup.
Solo Espresso
1301 Poland Avenue An argument over who makes the best coffee in New Orleans will spark long arguments and drawn out discussions, but you'll always at least get a nod of respect for recommending Solo Espresso. Located at the edge of the Bywater, this is a tiny shop – seriously, there's two long tables and a cozy chair – that specializes in pour over, ethically sourced, sustainable coffee and espresso drinks that are simply out of this world. If you worship at the temple of coffee bean, this is a can't miss stop in the Crescent City.
Who Dat Coffee Cafe
2401 Burgundy Street While there's not a ton of space to bust out a laptop and be all professional in this little Marigny cafe, if you can score a comfy seat in the little alcove room, you've got one of the best little workspaces in New Orleans (or if you're in a group, an excellent spot for a caffeine-fueled discussion). Bonus: the attached restaurant is pretty excellent; try the corn cakes.
Satsuma
3218 Dauphine Street Whether the owners like it or not, Satsuma is one of the most recognizable icons of the 'new' Bywater, which is ironic, as old neighborhood locals and transplants alike tend to congregate here. That's because Satsuma is simply a lovely place: they've got good coffee, excellent breakfast and lunch food, a pretty outdoor courtyard, a cool, airy interior, and they're totally family friendly. Bring the kids, and don't leave without trying the quiche of the day.
Flora Gallery & Cafe
2600 Royal Street The atmosphere can't be beat. The overgrown lushness of the outside trees, fading paint and cracked walls are like the Platonic ideal of the sort of space where you'd expect to find a local musician or writer.
Fair Grinds
3133 Ponce De Leon Street This is our one cafe pick that is located outside the Quarter, Marigny and Bywater. Surely one of the best independent coffee shops in a city that has its share of the genre, Fair Grinds has two locations. The Faubourg St John location referenced above is super cute, the owners are lovely, and it's plunked in of the most attractive parts of the city just off of Esplanade Avenue. There's another location on St Claude Avenue, in the Marigny, that arguably isn't as work and hangout friendly, but it's still an awesome space, a bit more oriented towards activism and art creation. If you're looking for organic and ethically sourced coffee, this is a good shop to start in.
---
Related Articles