Book A French Quarter Hotel
The Best Happy Hours in the French Quarter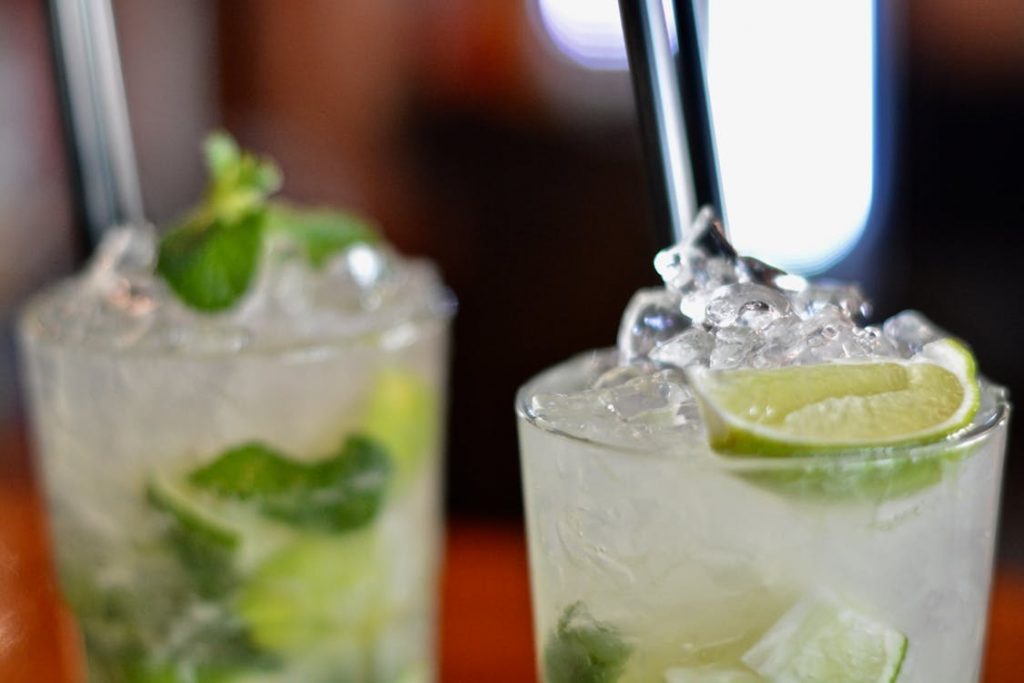 Finding world-class food and expertly crafted cocktails at beyond-reasonable prices is easy enough in New Orleans on any day, but who can resist the lure of trying the best cocktails this city has to offer at a deep discount, along with some refined bar food compressed to a bite size and a small plate? In New Orleans, happy hours tend to start a little earlier and stretch a little longer. And, beyond the obvious pleasure of socializing and unwinding they provide, happy hours are a surefire way to sample the restaurant's cuisine or bask in a place's ambiance — at a fraction of a price.
The French Quarter-based bars and restaurants we recommend below take it up a notch in terms of the quality of the ingredients; the inventiveness of the dishes and the cocktails; the bargain factor compared to the regular price you'd pay for the same outside the happy hour; and, of course, the level of expertise that goes into the preparation.
You could order the "3-4-1" specials on Bourbon Street, but these deals generally prioritize booze quantity over quality. Fortunately, if you're willing to venture outside of peak drinking hours, the world is your oyster (sometimes literally, as Red Fish Grill and Bourbon House offer oyster-centric happy hours).
These guys below are serious about what goes into every glass and onto every small plate, and about who gets to make it and serve it. Cheers!
Arnaud's French 75
813 Bienville Street
Happy hour 3-5:30 p.m. on Fridays
The award-winning and accolade-gathering French 75 sports a vintage bar, custom built in the 1800s for another restaurant and eventually acquired by Arnaud's owners, and has come a long way from being the restaurant's "gentlemen only area" back when it was owned by the Cazenave family. As iconic as the Creole restaurant itself, French 75 serves classic cocktails with high-shelf spirits and offers a bar menu (served 6-10 p.m. nightly) featuring shrimp spring rolls, oysters en brochette, cougeres, and shrimp and andouille calas. The Friday happy hour offers half-priced wines and $5 specialty cocktails.
Bar Tonique
820 N. Rampart Street
Happy hour noon to 5 p.m. weekdays
In addition to the $5 daily specials (whiskey flights Tuesdays and caipirinha Thursdays, for example), there are $5 cocktails from noon to 5 p.m. on weekdays. Some are unique to the bar; others are modern twists on the classics, with welcome deviations and house-made syrups.
Interestingly, for a destination revered for its perfectly crafted cocktails, there's not an ounce of pretentiousness about Bar Tonique. It's small, cozy, a tad romantic (there are comfortable couches, nooks, and a fireplace). Overall it feels more like a neighborhood bar with specials chalked on the board (no food, no live music), not a cocktail lounge with a drink menu divided on the bar's website into a staggering eight categories like "True Cocktails" and "Succulents. "
Beachbum Berry's Latitude 29
321 N. Peters Street
Happy hour 3-6 p.m. daily
This tiki bar features loads of island-themes exotic cocktails. From a Mai Tai to a long list of cocktails with names like Missionary's Downfall and Mississippi Mermaid, expect a lot of rum and pineapple. There are also communal drinks, meant to be shared by four to eight people. Paired with steak frites or bahn mi, it's tiki perfection.
Bombay Club
830 Conti Street
Happy hour 4-7 p.m. weekdays; 3-7 p.m. Saturday-Sunday
The Bombay Club inside the Prince Conti Hotel has more than 50 specialty cocktails on the menu. Happy hour features select $3 beer and wine and a $5 cocktail of the day. The $4 small plates are fresh takes on Cajun and European comfort food: Boudin Rangoons, Cajun Poutine with pimento, pork belly tacos, and house-made pretzels with Guinness cheese dip. Come for the martinis, and stay for live music!
Cane & Table
1113 Decatur Street
Happy hour 3-6 p.m. weekdays
The rustic rum-based cocktail destination is helmed by Neal Bodenheimer, who pioneered New Orleans' craft cocktail scene in 2009 when he opened Cure on Freret Street. Happy hour prices hover around $6 for cocktails and food. Try a rum old fashioned and triple-pea hummus with yucca chips in the weathered courtyard.
Effervescence
1036 N. Rampart Street
Happy hour: 4-6 p.m. Wednesday-Friday
Speaking of bubbles, the French Quarter has a champagne-centric bar to call its own. Effervescence opened its tall doors on N. Rampart St. in March of 2017 and has become the destination for high-to-low sparkling wines from all over the world, champagnes, small plates, and live music. There's a full bar and dozens of still wine by the glass and bottle, plus a limited beer selection.
The spotlight, however, is on the champagnes, cavas, and proseccos of the world, from mind-bogglingly expensive champagne from the famed houses to artisanal, natural, and the lesser-known iterations of the bubbly, like Hungarian Tokaj and Lambrusco. Also, prosecco on tap? Yes, please. You can order half-glass flights hailing from all over the world in a range of prices. Happy hour brings a selection of wines and bubbles to $5.
The place itself is airy, spacious, and polished, with lots of sunlight and a brick patio if you want a quiet conversation. The food menu is meant to be paired with the bubbles, of course, and aims to please with small plates of grilled octopus, American caviar, cheese, and pommes frites.
Hermes Bar
725 St. Louis Street
Happy hour 4-7 p.m. weekdays
Formerly Antoine's dining room, Hermes Bar retains the grand dame's luxurious feel. During happy hour, sip $4 house brand cocktails and house wines, or get an imported beer for $3 and domestics for $2. Order Creole gumbo from Antoine's and eat sitting at the Hermes bar — it's a low-key way to partake in an elegant, 175-year old tradition.
Kingfish
337 Chartres Street
Happy hour 2-7 p.m. daily
To paraphrase Huey P. Long, who called himself the Kingfish, every man is a king during happy hour. Get half off all beer and wine by the glass throughout Kingfish's exorbitantly long happy hour. The $5 small plates join the party (think gumbo, cracklins, steamed buns and boudin balls).
Kingfish keeps it somewhat traditional with its focus on Louisiana cuisine like seared Gulf fish and gumbo, and classic cocktails like the Sazerac, Vieux Carré, and Mint Julep. The cocktail menu also goes beyond those with quite a few signature drinks. There's a valiant effort to support local wineries, distilleries, and breweries, so Kingfish is a good choice to sample these Louisiana products at happy hour prices. The pressed-tin ceilings, large windows and brick walls give Kingfish an appealingly antiqued vibe.
Meauxbar
942 N. Rampart Street
Happy hour 5-7 p.m. Monday-Thursday
This beautifully appointed bistro on N. Rampart Street serves a refined cocktail and a variety of eclectic, beautifully executed small and large plates. The menu is high-end French comfort food with local nods, such as escargots, smoked Gulf fish, grilled sweetbreads, and fried oysters.
Oz New Orleans
800 Bourbon Street
Happy hour 4 p.m. to 8 p.m. daily (and more)
At this high-energy, two-story gay dance club, a better question to ask is, "When is it not happy hour?" That's because patrons enjoy bargain prices on well drinks and domestic beer almost anytime outside of prime clubbing hours. Happy hour runs from 4 p.m. to 8 p.m. daily, and then kicks in again from 2 a.m. to 8 a.m. Monday through Thursday.  (Not to overload you, but it's also happy hour from 8 a.m. to 4 p.m. Monday through Thursday.)
SouBou
310 Chartres Street
Happy hour 3-6 p.m. daily
SouBou (stands for "South of Bourbon") keeps its happy hour food and drink offerings in the $3-$6 range, whether they're drink classics like highballs, Sazeracs, and Tom Collins, or food offerings like the gumbo and pulled pork tacos. SouBou's all-star team comes from the Commander's family of restaurants and recreates a saloon environment with a little of everything — there's even a beer garden with self-serve wine machines.
St. Lawrence
219 N. Peters Street
Happy hour 4-7 p.m. weekdays
Daiquiris are a must while in New Orleans, and if you're looking for one that's not laden with sugar and artificial flavorings, try the craft daiquiris at St. Lawrence, which are mixed with seasonal fruits and herbs. Plus, they're $2 off during happy hour, as is wine and draft beer.
Tableau
616 St. Peter Street
Happy hour 2-5 p.m. daily
Sip or snack on the second-floor balcony of this elegant bistro perched on the edge of Jackson Square and attached to the historic Le Petit Theatre for an experience that feels like a million dollars — but costs less than attending Hamilton. Calamari, truffle fries and select wines, beers and classic cocktails are only $5 each. Try the steamed mussels or Tableu's signature sliders, paired with the classic French 75 or a Manhattan.
The Roost Bar at Brennan's
417 Royal Street
Happy hour 2-7 p.m. Monday-Thursday
Brennan's elegant Roost Bar emphasizes the bubbles for its happy hour, with premium bottles and half bottles available at half the price, plus several specialty champagne-centered cocktails for $7 each, complemented by the bar menu in the $7-$12 range, but topping at $35 with caviar nachos. The bar food includes house sliders, pommes frites, BBQ shrimp pot stickers, and other takes on "elevated" Creole cuisine. There's also champagne sabering every Friday at 5 p.m. in the lush courtyard, which is a sight to behold in itself.
Vacherie
827 Toulouse Street
Happy hour 3-7 p.m. daily
Vacherie's restaurant, bar, and cafe are located next to one another on the first floor of Hotel St. Marie. Vacherie serves authentic Cajun cuisine with a few inventive twists. The $5 bar menu includes spicy chicken wings, deviled eggs, gator sausage that comes with Creole mustard, pickled vegetables, grilled French bread, and a cup of seafood étouffée. You can also try the slider of the day special. To drink, $5 will get you a Pimm's Cup, a Rum Punch, a glass of any of the house wines, or a draft beer flight (three half-pints of your choice).
---
Related Articles