Book A French Quarter Hotel
Best Brunch in the French Quarter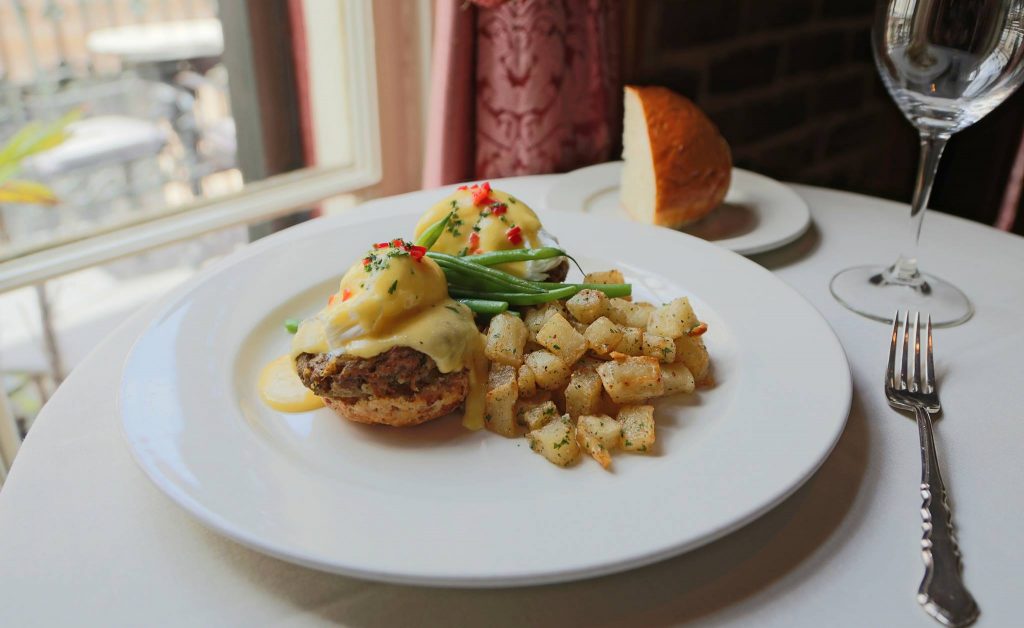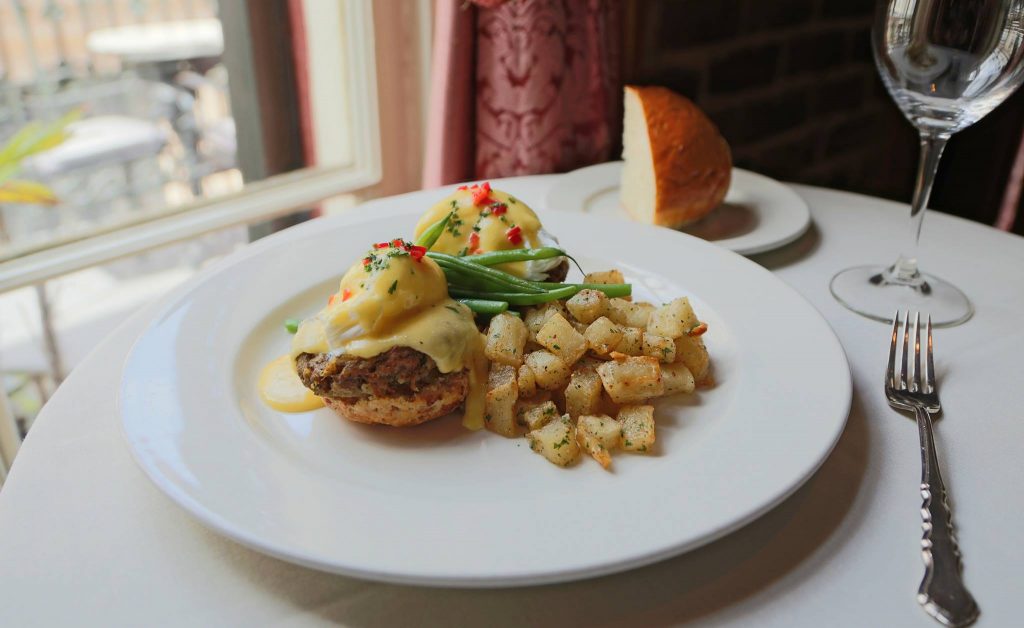 Photo courtesy of Muriel's Jackson Square on Facebook
First named in print in an 1895 newspaper, brunch is thought to have originated with English hunt meals. But although New Orleans didn't invent brunch, it did invent two things that elevated the mid-morning extravaganza to its highest form: cocktails and jazz. What would brunch be without bloody Marys, mimosas and Irish coffee? And how much less festive would it feel without trumpet flares and piano riffs mingling with the sounds of laughter and clinking champagne flutes?
We've rounded up a few of our favorite spots to enjoy brunch, ranging from down-home hearty joints to refined, white-tablecloth versions.
713 St. Louis St.
The country's oldest family-run restaurant (since 1840), Antoine's is a go-to for a lingering jazz brunch on Sunday. This Creole grand dame serves up its signature Oysters Rockefeller, rich omelets, decadent Creole mains, and dessert classics to the sounds of live jazz. This is fine dining at its best.
813 Bienville St.
For a Dixieland jazz brunch, Arnaud's can't be beat. The three-course "prix fixe" Sunday brunch menu is mouth-watering. Try the traditional Creole breakfast starter, Creole Cream Cheese Evangeline, or shrimp bisque. Eggs Fauteaux, poached eggs with smoked pompano from the Gulf, are also popular. The restaurant's signature dish, Shrimp Arnaud, is Gulf shrimp marinated in a house-made Creole remoulade. The ambiance is old-world elegant, yet exuberant, and a business casual dress code is observed.
900 Royal St.
How about an iconic culinary experience in one of the most gorgeous courtyards in the French Quarter (and that's saying a lot, as the Quarter is full of tropical lushness)? Many items on the weekend menu would pair well with Amelie's seasonally inspired cocktails, and the locally sourced ingredients speak for themselves, but the signature cochon de lait sandwich will render you speechless. Another beloved signature dish to try is shrimp and grits, served with corn and Andouille maque choux.
830 Conti St.
Looking for lighter fare? This hidden gem specializes in simple but beautifully executed French and Creole-tinged breakfast staples. There's house-made muesli brimming with fresh fruit and walnuts, as well as lox and bagel. For something more substantial, grab Croque Madame of a breakfast po-boy. Order at the counter, take a seat in the intimate, chandelier-hung space, and savor the ambiance.
1113 Decatur St.
C & T's entrées on the brunch menu span from lighter fare like avocado toast to the modernized version of biscuits and gravy, and fried chicken sandwich. Plus, the elegant Cane & Table is one of the best escapes in the Quarter, invoking Old Havana and packing the punch with its excellent rum-based cocktails.
617 Ursulines St.
Tucked away between Royal and Chartres on Ursulines and steeped in old-world charm, this Parisian-style patisserie has some of the best baked goods in town — and the bar is high in New Orleans. Made daily and served fresh from the bakery, Croissant D'Or's croissants come plain, sweet and savory, stuffed with things like chocolate and ham and cheese. Everything you'll find displayed in the gleaming glass case is a must-try, from the Napoleon and tiramisu to the tarts and the tortes. Some of the delicious made-to-order sandwiches come with house-made Bechamel sauce.
801 Chartres St.
If there's a better place to enjoy brunch than on Muriel's balcony overlooking Jackson Square on a Saturday or Sunday morning, we haven't found it. Sit inside to enjoy a live jazz trio — and if you order the three-course brunch special, take note: Muriel's turtle soup is legendary.
1005 Canal St.
Launched from a humble Mid-City cottage in 2008, Ruby Slipper has grown into a beloved family-owned chain with nearly 30 locations scattered from New Orleans to Florida, the Carolinas, and so on. It's easy to see the appeal: local specialties like shrimp and grits and po-boys meet mainstays like classic buttermilk pancakes and Spanish omelets. And, of course, there are those mimosas and bloody Marys — because as the menu reminds diners, "you can't drink all day if you don't start in the morning."
547 St. Ann St.
Stanley has a lot going for it: The airy, sunny, inviting dining rooms; prime location (it overlooks Jackson Square); a nod to Tennessee Williams in its name; and all-day breakfast that emphasizes regional cooking and local ingredients. Owner and chef Scott Boswell serves classic New Orleans comfort food with an upscale twist. Yet it's affordable and the portions are very generous. Try the signature Bananas Foster French toast, or Eggs Stanley: cornmeal-crusted oysters, poached eggs, Canadian bacon and Creole hollandaise on a toasted English muffin. Eggs Benedict get a po-boy treatment by being served on toasted French bread. Or, if you can handle it, get them as part of a breakfast seafood platter, with soft-shell crab, oysters and shrimp. Wash it down with a Mega (double) Bloody Mary or a milkshake punch while you people-watch.
613 Royal St.
The historic courtyard at this restaurant is so great they named the restaurant after it, and its Creole menu and the jazz brunch are staples of the local culinary scene. The brunch buffet's selections change seasonally, but you can count on eggs any style, made-to-order omelets, Eggs Benedict, and turtle soup to be served. Also, take note: Court of Two Sisters made the traditional version of Bananas Foster part of its dinner and jazz brunch menus. The dessert fits right in with the restaurant's luscious Creole and Cajun cuisine like jambalaya and gumbo, and is served with brandy and banana liquor over French vanilla ice cream.
1035 Decatur St.
From the owners of Tartine, this is the latest of the three New Orleans locations of a laid-back neighborhood bakery. You can both linger with an omelet sipping a cafe au lait or grab a latte and a pastry to go — either way, expect excellent, French-leaning food. All breads, jams, custards, and curds are made in-house daily. Fittingly, there are three French toast options on the menu, including the king cake version filled with cinnamon cream cheese, with Mardi Gras sprinkles on top. Another standout is Toast's signature aebleskiver, a puffy Danish-style pancake ball, served with lemon curd, jam, maple syrup, and caramel (or other sauces) for dipping
Don't miss out on all the excitement the French Quarter has to offer all year round, round the clock! Book your room at any of these historic hotels today.
---
Related Articles