Book A French Quarter Hotel
What to Do on a Rainy Day in the French Quarter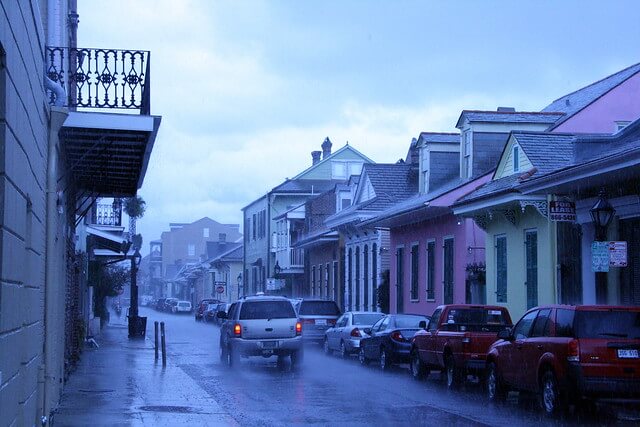 Photo by Vince Huang on Flickr
Rain, rain, go away? Not necessarily. It can rain buckets in New Orleans, seemingly suddenly, and especially during the long, steamy summer season in Louisiana. If you're been caught in a daylong downpour or even a brief afternoon shower while visiting, do not worry — it's easy to enjoy a few hours in the air-conditioned indoors in the French Quarter  — just bring patience, your sense of adventure and appetite, and an umbrella (rain boots are also a good idea as the streets can flood). Here are our suggestions to keep you entertained until the sun comes out again.
Head to a Museum
The Quarter boasts quite a few museums, which tend to focus on the city's past and the history of Louisiana. Some, like the New Orleans Jazz Museum, are free; others you can visit for a nominal fee. For example, the New Orleans Pharmacy Museum is a reasonable $10 and features a permanent collection of 19th-century surgical instruments, books, patent medicines, and locally excavated bottles. The museum occupies a two-story historic building, the site of the apothecary shop of Louis Joseph Dufilho, Jr., who was America's first licensed pharmacist. The museum's second floor features a sick room and physician's study, and there's a small yet lovely courtyard.
Hermann-Grima House and Gallier Historic Houses are two historic homes that are considered some of the best-preserved historic structures in the French Quarter. You can tour both and learn about what life was like in New Orleans in the 19th century for the Creole gentry as well as their enslaved servants.
The Historic New Orleans Collection is spread over 10 historic buildings in the French Quarter. The Royal Street location (533 Royal St.) houses the main museum with a permanent exhibit on state history, plus rotating exhibits on history and art. Admission is free.
Consider heading to Jackson Square for two museums and a historic cathedral. Catch a mass or free concert (or just admire the interior during the quiet hours) at the St. Louis Cathedral. It's flanked by The Cabildo and The Presbytère, which are run by the Louisiana State Museum and house a number of excellent exhibits. You'll find many precious pieces of Louisiana history at the Cabildo, like a rare Napoleon death mask and a painting of Marie Laveau by Frank Schneider.
There are two excellent permanent exhibits at the Presbytère. You could get lost for hours in the "Mardi Gras: It's Carnival Time in Louisiana" exhibit which details the history of Carnival traditions in Louisiana, including Cajun Courir de Mardi Gras, Zulu coconut throws, Rex floats, and spectacular costumes throughout the centuries. The "Living with Hurricanes: Katrina and Beyond" exhibit documents the natural disaster and ongoing recovery.
Go shopping
The Riverwalk Outlets and Canal Place are a short walk away from each other. Both are self-contained, multi-storied indoor malls that could keep you shopping and eating for as long as your stamina holds up. The Riverwalk mall is an outlet with more than 75 retailers and restaurants, including Nordstrom Rack and Cafe Du Monde. Canal Place is home to Saks Fifth Avenue, Tiffany and Co., Anthropologie, and dozens of other upscale retailers. There's a small food court upstairs.
Another option is The Shops at JAX Brewery on the busy stretch of Decatur Street, a multi-story historic landmark that holds retail stores, cafes, restaurants, and a small museum dedicated to the brewery. Nearby, the historic French Market is a treasure trove of souvenirs, crafts, Louisiana spices and hot sauces, and more.
While you're there, check out the Shops at the Colonnade. The strip of shops, some with Decatur and some with N. Peters St. addresses, is worth a visit if you're shopping for souvenirs or local specialties like pralines. The whole stretch of the French Market is covered, from the flea market to the food vendor section, and you can easily duck in and out of the Shops at the Collonade even in the most inclement weather.
Relax with a book
New Orleans proudly boasts a number of impressively stocked independent bookstores, and some of the best ones are located in the Quarter. A former home of William Faulkner located in the historic and picturesque Pirate Alley, just off Jackson Square and behind the Cabildo,  Faulkner House Books mostly offers local-interest books and the classics, including rare editions, and, of course, the works of William Faulkner.
Another beloved independent bookstore, and decidedly one of the best bookstores in New Orleans, the bi-level Beckham's Bookshop specializes in used, antiquarian, and rare books, as well as CDs and vinyl. A gem of a place, Beckham's has been around since 1979 at this location. It's crammed floor to ceiling, and is beer- and dog-friendly. You'll find it right across the street from the House of Blues.
The charming Dauphine Street Books and Crescent City Books are both great spots if you want to browse an eclectic, well-curated selection of both new and used books, including maps and out-of-print editions.
See a movie
The Prytania Theatre is located inside Canal Place. It's the longest-operating movie theater in the South, and this location is its latest.
Visit the Aquarium or the Insectarium
The Audubon Aquarium is a sprawling compound on the Riverfront that will keep you and your family enthralled for hours. It was renovated in 2023, reopening in the early summer, after the Audubon Insectarium had moved in. Both are packed with state-of-the-art exhibits, some brand new.
Take in a show
With the beautifully renovated Saenger and Joy theaters, Canal Street shines once again as a performing arts destination. See a Broadway show at the palatial Saenger, built in 1927 and restored in 2013 after staying vacant post-Katrina. Or catch a live music show or a national standup comedy act at the Joy Theater. This 1946 landmark started off as a movie theater and was gorgeously restored to its art deco glory.
Just off Jackson Square, Le Petit Theatre has called its St. Peter Street location home since 1922. See what's playing this season at the famed playhouse here.
Eat and drink, of course
When it comes to those two activities in the French Quarter, the world is your oyster and the options are overwhelmingly, deliciously numerous. Whether you're on a quest to sample the New Orleans staples, or want to experience some classic fare on the budget, you'll find that some of the best bars and restaurants in the city (and the country, if not the world) could be found in the French Quarter, steps away from your hotel.
And what could be better than holing up with a drink and watching the rain? All year round the Quarter offers incredible happy hour deals you won't want to miss. Just to name a couple, Vacherie's happy hour (3-6 p.m. every day) $6 bar menu draft beer flights and mixed drinks, plus $8 small plates like the slider of the day Tuesdays through Saturdays. And The Bombay Club inside Prince Conti Hotel specializes in martinis and has more than 50 specialty cocktails on the menu.
Rain or shine, happy exploring! And if you're planning a stay in New Orleans, be sure to check out our resource for French Quarter Hotels.
---
Related Articles