Book A French Quarter Hotel
Best Bars in the French Quarter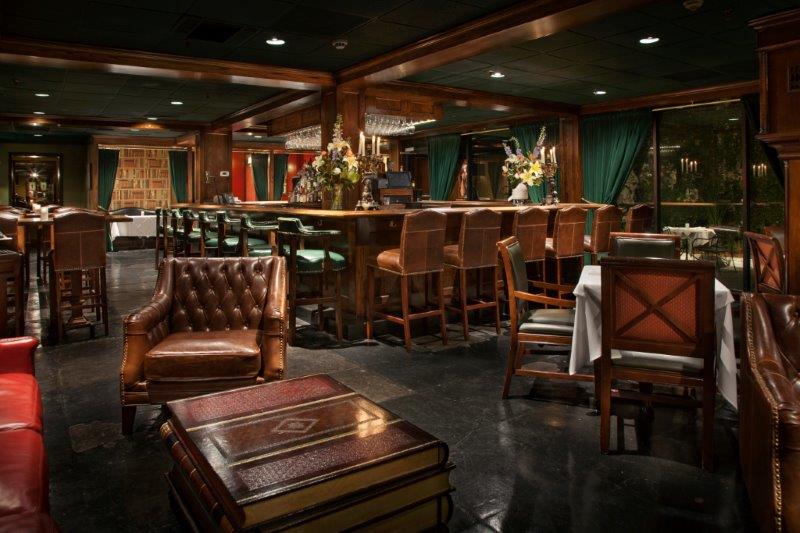 Photo courtesy of The Bombay Club on Facebook
The numbers don't lie: According to numerous studies, New Orleans is permanently wedged on the list of top cities that have the most bars per capita in the nation. And according to our unofficial calculation, the lion's share of those bars is concentrated in the French Quarter. With watering holes of every type and persuasion harkening from the corners, alleys and thoroughfares of the Vieux Carre, how is one to choose the best drinking option?
We've narrowed down the selection to standout bars in a few categories. Choose your favorite and check it out… or get a drink to go and hit up several.
830 Conti Street
Let's face it: You came to New Orleans to hear great music, eat great food, and drink — and in this old-school jazz and blues club, you can accomplish all three. Settle yourself into a curtained booth or deep leather chair, order a classic martini and charred hanger steak, and savor the smooth sounds of trad jazz.
1207 Decatur Street
You know you've spent too long at this 24-hour bar when morning light begins to filter through the dirty plastic strips that serve as a door. But it's an easy mistake to make when the bartenders pour heavily and the Halloween decoration-filled interior is dark as night. You won't meet many fellow tourists in this cash-only joint, but you will find cheap drinks and a good time. (P.S. Contrary to what the name may suggest, Aunt Tiki's is definitely not a tiki bar.)
Gay bar: Oz
800 Bourbon Street
If you're looking to dance, take in a drag show, and unwind in a LGBTQIA+-friendly space, walk past the strip clubs and three-for-one beer stands until you arrive at this two-story dance mecca. If the dance floor gets too packed for your liking, head to the second-floor balcony for some air and quality people-watching.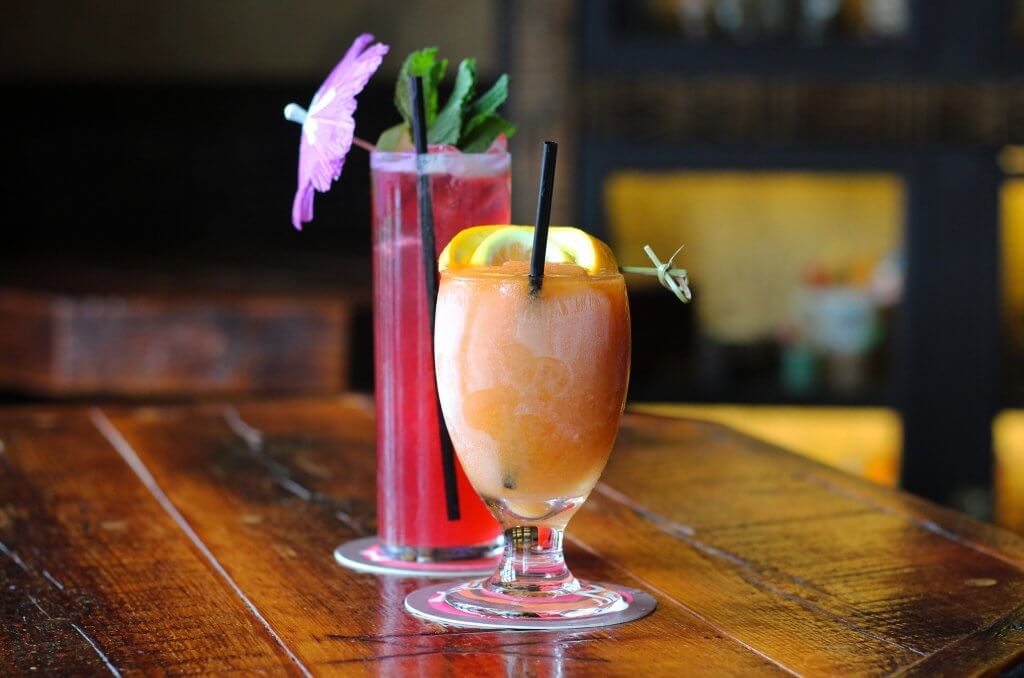 Photo courtesy of Beachbum Berry's Latitude 29 on Facebook
329 N. Peters Street
In a nutshell, Latitude 29 is a Tiki-style gastropub serving up exotic drinks and island-inspired cuisine such as pineapple bread. The menu for both drinks and food isn't extensive, but everything is done well. The drinks range from the classics like Mai Tai to the inventively named in-house creations. The food matches the cocktails, offering sticky ribs, Filipino-style egg rolls, pimento cheese rangoons, and chickpea curry.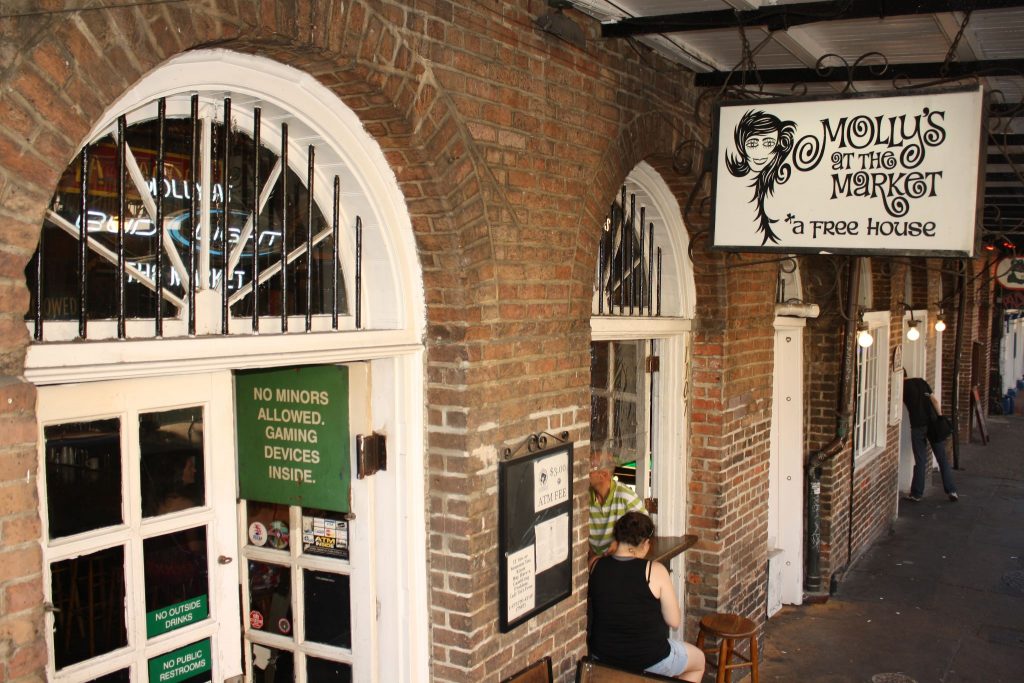 Photo courtesy of Molly's at the Market on Facebook
1107 Decatur Street
Located on lower Decatur Street, steps from Frenchmen Street's nightlife, Molly's on the Market serves as an ideal jumping-off point for the evening. With old signs, T-shirts, newspaper clippings, and other paraphernalia on the walls, it has the lived-in feel of a longtime neighborhood hang. Try the frozen Irish coffee, but don't expect a fancy craft cocktail here. Molly's is a beer-and-a-shot type joint.
820 N. Rampart Street
Located on N. Rampart Street, right on the streetcar line, Tonique, is a candlelit, intimate place to canoodle with a date over beautifully constructed craft cocktails. There's also a thoughtful mocktail menu in the weathered, brick-walled bar. On a pretty day, there's nothing nicer than getting the second round to go and drink it in leafy Armstrong Park, which is right across the street.
813 Bienville Street
Well, we can't leave out French 75 from our roundup of great cocktail bars, considering this is a bar that is, hey, named for a cocktail (although interestingly, the French 75 was not invented here — that honor goes to Paris, France). French 75 is located inside Arnaud's Restaurant and has a fantastic cocktail list that includes both New Orleans classics and some fruit-inspired goodness — the perfect compliment to a hot New Orleans day. There's also an elegant small-place bar menu with French items like escargot and the restaurant's signature shrimp Arnaud.
The interior of the bar is as lovely as the drinks that come out of it — this is a true grand dame New Orleans institution, accented in dark woods and elegant furniture such that you feel as if you're drinking in a particularly well-appointed parlor.
625 Chartres Street
Sylvain sells itself as a gastropub, and while the food is excellent, we don't want to ignore the excellent drinks that are prepared behind the bar. It helps, of course, that Sylvain has an absolutely lovely courtyard, and did we mention the food? Because nothing compliments your drink like their New American rustic fare. Oh, they also serve "fried and champagne" — a bottle of champagne and hand-cut fries — which is just perfect.
700 N. Rampart Street
If you've got a big group of friends and need a chill bar to sink beer and cocktails, it's hard to do better than the Penny, which sets at the edge of the Quarter. It's a good alternative to some of the, shall we say, louder large bars along Bourbon Street — no volume-splitting karaoke happening here.
It's also notable for both friendly bartenders, good prices, strong drinks, and a fantastic selection of craft beer (most of which is served by the can). Unlike a lot of Quarter bars, the Penny is pretty spacious, so you've got room to mingle, but there are booths and seating for those who want to make a more intimate night of it. Worth noting: This spot also happens to have excellent top-shelf scotch, and is publicly and loudly LGBTQIA+-friendly.
214 Royal Street
One of the most iconic of New Orleans bars, the Carousel sits at the excellent intersection of old-school elegance and off-the-wall quirk, which is a description that could really be applied across the whole of New Orleans, now that we think about it. The bar, which includes a piano lounge, is in fact a 25-seat merry-go-round, so hold on to your seat as you hold onto your drink. We're kidding — the bar doesn't spin particularly fast, although if you've had a few of their stronger libations, you might start feeling dizzy.
Don't miss out on all the excitement the French Quarter has to offer all year round, round the clock! Book your room at any of these historic hotels today!
---
Related Articles