Book A French Quarter Hotel
Late Night Dining: Where to Turn in the Quarter When the Midnight Hungries Hit Hard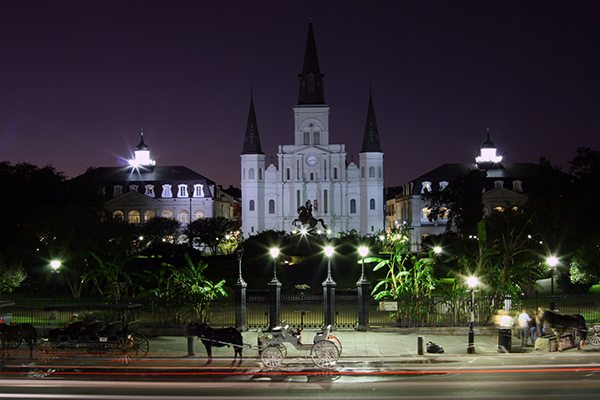 The French Quarter is truly a 24-hour neighborhood where "making a night of it" can easily mean greeting the daybreak in last night's clothes. But even the most spirited reveler must eat, if only to keep up stamina. Fortunately, late-night Quarter restaurants offer a wide variety of options for noshing round midnight, whether you're hankering for a burger and fries, need to sample jambalaya before your red-eye flight back home or are looking for something a little more upscale to polish off the evening in style. Below is a list of favorite Quarter spots to turn to when midnight cravings hit, even if they hit quite a bit after midnight.
1001 Esplanade Ave.
A funky mainstay that exists just on the other side of the Quarter in the Marigny, Buffa's is essential for eccentric servers, New Orleans locals, great burgers and etouffee, and live music (offered in no particular order). We've never had a night here that didn't get delightfully weird. Open till 2 a.m. every day.
900 Bourbon St.
Both the staff and clientele of this Bourbon Street burger joint look like a casting call for a John Waters movie, and the atmosphere is just about as fun. Located across from a thriving gay nightclub, the tile-and-chrome diner is as heavy on camp as it is on calories. Everyone from drag queens to cab drivers keep the orders for burgers, fries and omelets coming in all night. Open 24 hours.
1109 Decatur St.
What appears to be another of the many dark barrooms along Decatur Street reveals an excellent late-night menu of local dishes, including the best inexpensive jambalaya around. Look for pasta dishes loaded with local seafood and tasso (a flavorful Cajun ham smoked on premises), blackened redfish, and a fried alligator appetizer that for once actually tastes like something besides batter. Open till 11 p.m. Friday-Sunday.
400 Dauphine St.
This 24-hour full-service restaurant and bar in the French Quarter is always available and ready to accommodate. You will find a wide variety of options on the menu ranging from traditional New Orleans fare to downhome comfort food, all reasonably priced. Deja Vu serves breakfast, lunch and dinner all day long and is available for dine-in, carry out or delivery.
830 Conti St.
Located in the elegant Prince Conti Hotel, the Bombay Club offers some of the most refined food you'll find in the French Quarter after 9 p.m. Ribeye, seared Gulf fish and curried cauliflower are a few examples of the dishes served in a British imperial setting of polished wood and well-made cocktails. Dinner is served till 11 p.m.; the bar is open till midnight Wednesday-Sunday.
400 Burgundy St.
This place is an unassuming bar with classic pub grub and really good crawfish boils, when in season. Open 24 hours.
1119 Decatur St.
The 24/7 Turtle Bay is famous for its 20-ounce rib eye served with potato skins and garlic bread, big enough for two to share and still a little over $20. The thin-crust pizza comes with lots of toppings, and there is a handful of signature burgers on the menu along with the classic pub grub like wings and nachos.
1201 Royal St.
A miracle of space management, this tiny corner deli serves an enormous array of sandwiches, po-boys and hot plates ranging from blackened catfish and creamed spinach to a dense block of utterly comforting macaroni and cheese. There is barely enough room to stand and order, never mind sit and eat, so all orders are "to go." Free delivery is available in the French Quarter, Marigny and the CBD. Open 24 hours.
Don't miss out on all the excitement the French Quarter has to offer all year round, round the clock! Book your room at any of these historic hotels today.
---
Related Articles