Book A French Quarter Hotel
Best Daiquiris in the New Orleans French Quarter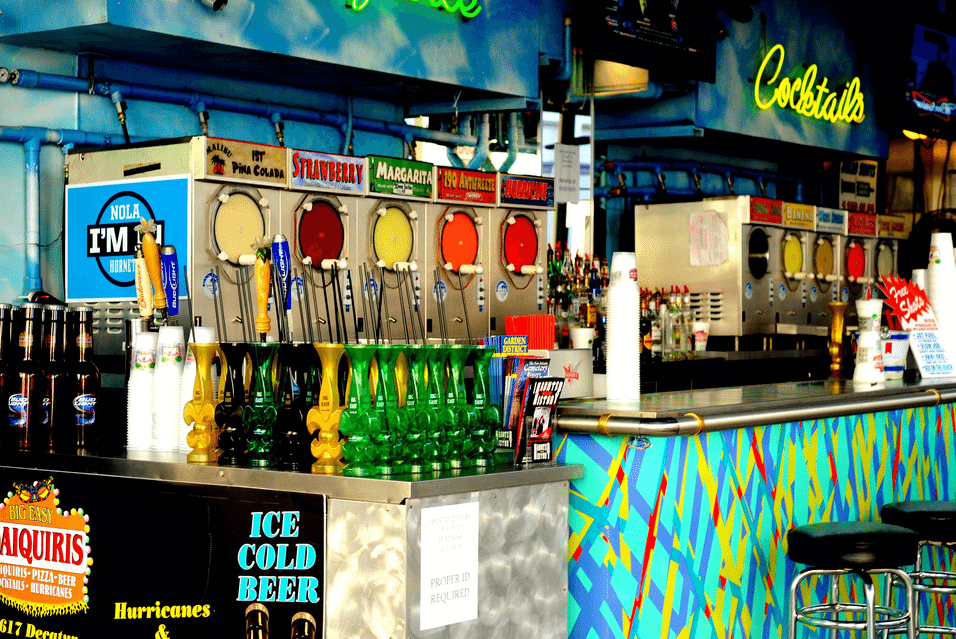 Big Easy Daiquiris by AngryJulieMonday
Is there a more refreshing drink on a hot New Orleans Day than a daiquiri? Well, that depends – are you looking to get refreshed and, y'know, refreshed? Just sayin': if you want to take the edge off the day and enjoy a bit of neon slush that will put you in mind of an old school slurpee, the 'daq' can't be beat. By the way, while a daiquiri does the job in the summer heat, make no mistake, they're delicious no matter the weather.
Fair warning: the daiquiri is delish partly because they usually (but not always! See below!) come with a serving of sugar that would give most nutritionists nightmares. As a result, the daiquiri come down is a thing of infamous legend. Imagine if a sugar crash got married to a hangover and you've got an idea of what to expect. Ward this away by drinking some water and not going too crazy on the daqs.
Now, as if to refute that entire last paragraph, here is our list of some of the best daiquiris in the French Quarter and around.
Saint Lawrence (219 N Peters Street)
Even locals (i.e. this writer) sometimes forget about Saint Lawrence, which is odd. It's near the heart of the action in the Quarter, but it feels pretty off the beaten path. Anyways, once you find this spot, saddle up to the bar and order a frozen Pimm's Cup. You didn't think there was a way to New Orleans-up the great summertime drink? Think again, friends: this thing makes the heat melt away like an afterthought. Side note: Saint Lawrence is super creative when it comes to daiquiris, so make sure to sample whatever is on special too.
Big Easy Daiquiris (409 Decatur Street)
No, you're not in some '80s neon riff on a washeteria or a psychedelic power plant – those spinning turbines generate sweet daiquiri goodness, not electricity. It's hard to go wrong here, but we've got a thing for the Peach Bellini, although other friends swear by the 190 Antifreeze. Bartenders will add an extra shot, because why not? Besides the Decatur Street location, there are a couple on Bourbon Street, of course.
Molly's at the Market (1107 Decatur Street)
We suppose this is cheating, as the slushy drink served here is deemed 'Frozen Irish Coffee' as opposed to a daiquiri, but whatever – it's basically a daiquiri, and for what it's worth, it's delicious. Plus, it has a practical application – namely, waking you up so you can have another daiquiri.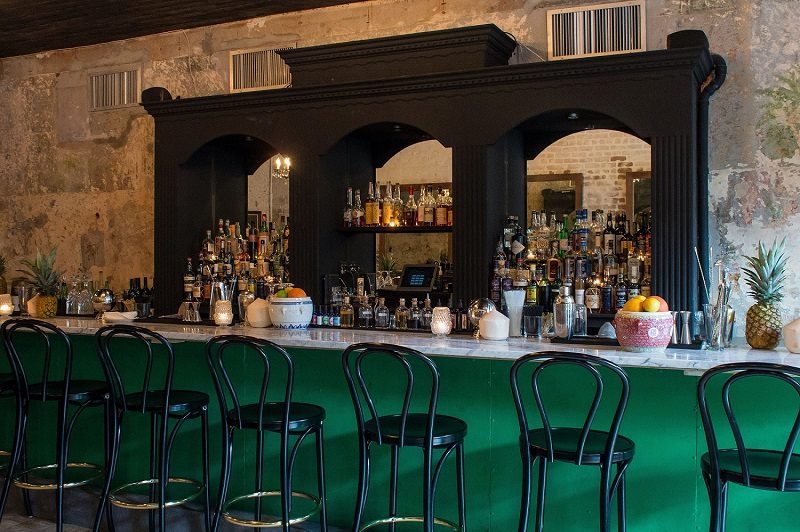 Photo courtesy of Cane & Table on Facebook
Cane & Table (1113 Decatur Street)
Now we're getting into the fancy daiquiris. Cane & Table has an ever-shifting drink menu, but their libations are always inspired creations meant to comfort the sipper as they lounge in the tropics. Your daiquiri may not be frozen, but it will be, by all means, amazing.
Tiki Tolteca (301 N Peters Street)
Tolteca wins points for its atmosphere alone – few bars in the world have so thoroughly nailed the old school, faux-Polynesian tiki aesthetic like this spot. Now that you're drinking amidst palm leaves, have a classic daiquiri – for sheer quality, this is one of the best examples of the genre in town.
Gazebo Cafe (1016 Decatur Street)
By name alone, you'd think you were about to drink at a fancy garden party. Well, if fancy garden parties have live jazz, outdoor tables and ice cream daiquiris, sign us up.
Kingfish (Chartres & Conti Street)
Here's another contender for the fancy daiquiri crown. Kingfish prides itself on constantly churning out original, Southern-inspired cocktails, so it's hard to say what kind of daiquiri will be offered here – or indeed, if they will even be serving them. But in our experience, when the bar team here is on a daiquiri tip, it's best not to pass them by.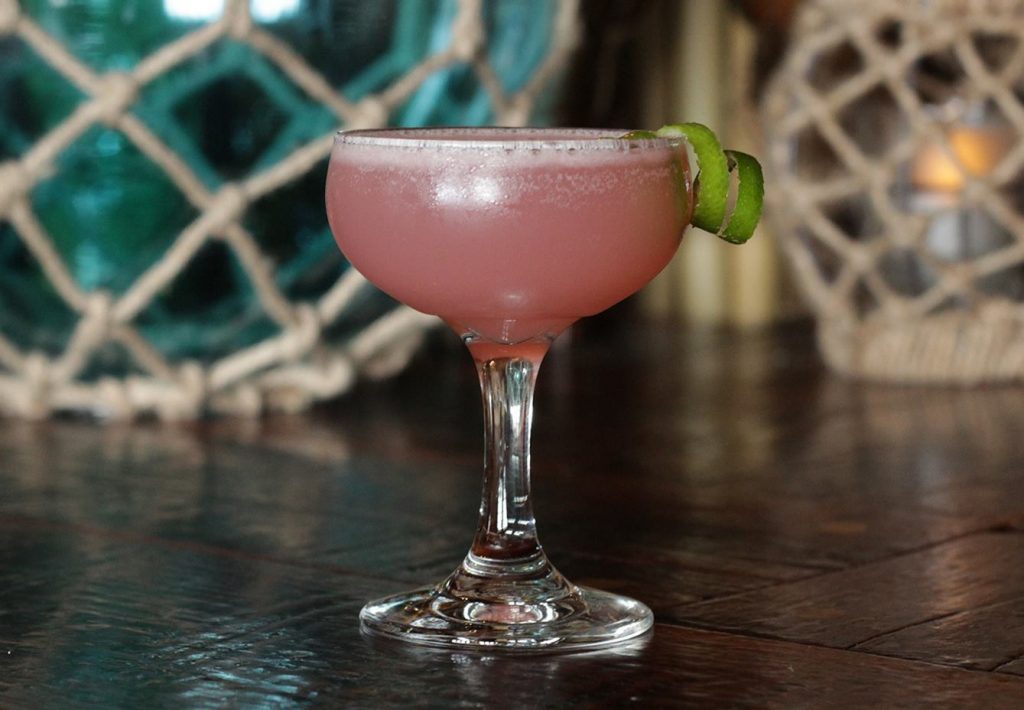 Photo courtesy of Beachbum Berry's Latitude 29 on Facebook
Beachbum Berry's Latitude 29 (321 N Peters Street)
There are plenty of places that are trying to revive the great tiki drinks of days gone by, but few are as dedicated to the craft of the tropical tipple as Jeff "Beachbum" Berry. The man has opened an excellent bar on Peters Street that serves some fine beverages – you can taste fresh fruit and real sugar here, as opposed to an over-processed syrup profile. While there may not be a drink officially deemed a 'daiquiri' when you visit (although there sometimes is), many of Berry's drinks would, to our palette, fulfill the requirements of an unfrozen daiquiri.
Organic Banana (1100 N Peters Street)
If you want to feel good about your daq and its impact on your body, order from this fruit stand and juice bar, located in the French Market. Again, you're getting real fruit profiles here without an overwhelming wave of sugar. Plus, they use locally made Old New Orleans Rum. The Pina Colada is one of the coolest things in a cup in the entirety of the Quarter.
---
Related Articles