More Winnin' at Dirty Linen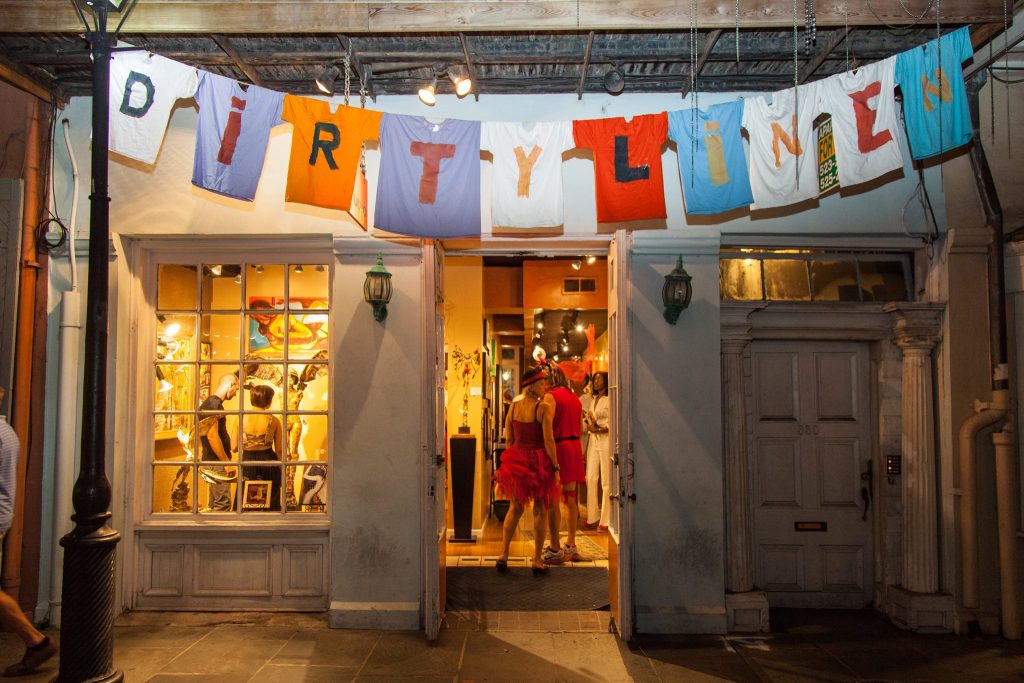 Image courtesy of Dirty Linen Night on Facebook
Every year, Dirty Linen Night invites New Orleanians and tourists alike to celebrate the city's French Quarter art galleries and boutiques. The event was originally conceived it as a way to encourage people to visit Royal Street and support local businesses.
This year's event – the 16th annual Dirty Linen night – lasts from 6-9pm (officially – the event generates its own momentum and tends to run on a little late) and kicks off on Aug 12. The festivities will feature more than 40 participating galleries, multiple blocks of pedestrian friendly celebrations, buskers, delicious food, drink specials, and plenty of good times. The bulk of the action will occur between the 200 and 900 blocks of Royal Street.
Dirty Linen is free and open to the public, but make sure to wear unwashed white linen from the previous week – Dirty Linen is a continuation of the White Linen party, albeit one that is a little more raucous than the Julia Street fete. We're kidding, by the way – while you're encouraged to wear last week's linen, any kind of flowy, comfortable summer clothes will do.
The Galleries and Businesses
It's impossible to describe every participating gallery and shop in a short article, but here are some of the highlights. Galleries regularly provide discounts on Dirty Linen night.
Caliche & Pao (312 Royal Street)
The gallery is named after the owners, married artists contributing to New Orleans impressionism through bright colors and 3-D textures.
Gallery Orange (819 Royal Street)
Named in honor of its British/Dutch ownership, Gallery Orange offers fair market values and original, quirky paintings. On Saturday, there will be a 10% discount for locals and no sales tax, plus a gift with each purchase.
Gem de France (729 Royal Street)
This store has an array of products ranging from knives, kitchen accessories, linens, preserves, prints, music, glassware, perfumes, and more.
Lozano & Barbuti (313 Royal Street)
This gallery features an extensive collection of art works and sculptures.
Martin Lawrence Gallery (433 Royal Street)
Works from Rembrandt, Picasso, Chagall, and Warhol stand alongside contemporary artists like Deyber and Murakami. There will be special discounts for Dirty Linen Night; inquire at the gallery.
Rodrigue Studios (730 Royal Street)
Highlighting the works of George Rodrigue (1944-2013), this gallery features Rodrigue's famous "Blue Dog" paintings as well as some of the late artist's earlier works.
Tresor Gallery (811 Royal Street) Tresor Gallery offers an impressive collection of figurative, narrative, pop surrealism, fantasy, and outsider art.
Where to Eat
Many of New Orleans' classic old school restaurants like Antoine's, Galatoire's, Mr. B's, and Arnaud's are within walking distance of the Royal St. galleries. Here are some relatively newer spots outside of the pantheon of classic Creole institutions that you want to sample.
Green Goddess (307 Exchange Place)
Just off Royal Street in Exchange Alley, this restaurant serves eclectic dishes with vegetarian fare and gluten-free options. Try the smoked duck breast slices or the palapas pork.
Sylvain (625 Chartres Street)
Located in a historic French Quarter carriage house, this eatery has classic options like a hamburger or a "Chick-Sylvain Sandwich" alongside pan-seared scallops and a pan-fried pork shoulder.
Bayona (430 Dauphine Street)
Chef Susan Spicer's restaurant features daily specials and a creative mix of foods influenced by cuisine from around the globe. Try the veal sweetbreads with sherry mustard.
Sobou (310 Chartres Street)
New American cuisine gets a playful twist at Sobou – indulge yourself and take advantage of this spot's unapologetic penchant for decadence. Surf and turf steam buns or the ridiculous foie gras burger are winners on the menu.