Southern Decadence in the French Quarter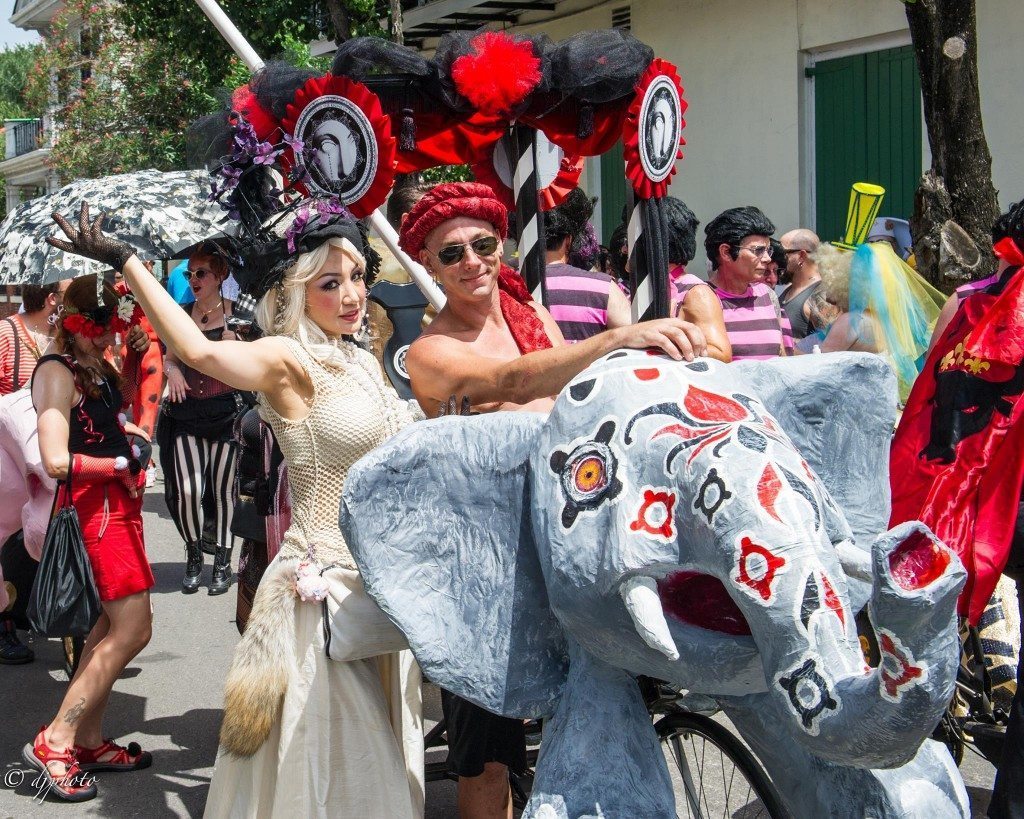 Photo by David Fary
Born in the early 70s as a going-away party, Southern Decadence has evolved into a massive and immensely popular four-day festival that celebrates LGBTQ culture and attracts participants from all over the world. It's traditionally celebrated over the Labor Day weekend and is considered the fifth largest event in New Orleans after Mardi Gras, Jazz Fest, Essence Festival, and the French Quarter Festival.
The 47th Southern Decadence falls on Thursday, August 30, through Monday, September 3. This year's theme is "House of Bourbon — Unleash Your Beast," with the featured colors announced as royal blue and canary yellow. Just like every year, most activities will be centered in and around the French Quarter, with lots of block parties and dance parties at bars and clubs on Bourbon Street starting on Thursday.
The hub of the festival is again Bourbon Pub/Parade, with two rocking floors and an expansive balcony. The Pub will be open 24/7 Friday through Monday; the balcony will open at noon Thursday through Monday.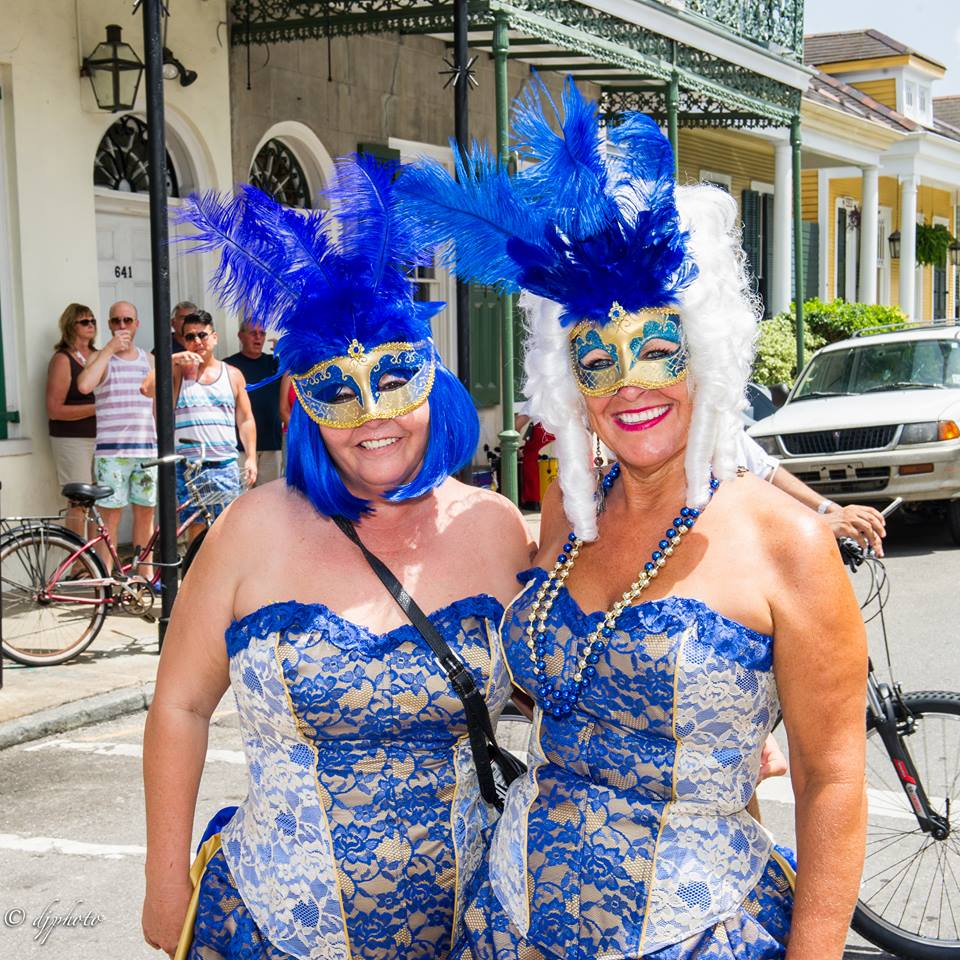 Photo by David Fary
The Pub will be hosting numerous events throughout the festival, including a kick-off party on Thursday at midnight and a closing party on Monday at 8 p.m. It will again serve as an epicenter of the 14th annual Bourbon Street Extravaganza, a free show/block party happening on Saturday at the corner of Bourbon and St. Ann Streets. Performer Deborah Cox is returning this year for her fourth time to headline the Bourbon Street Extravaganza. She will be joined by the Tony and Grammy Award winner Jennifer Holliday, and Jeanie Tracy (the Queen of Southern Decadence, returning for her 14th consecutive year).
The annual Southern Decadence Grand Marshal Parade on Sunday will also end up there, stretching loosely one block over to its ending point at Bourbon and Dumaine Streets. Just like last year, there's no Friday float parade due to street construction in the French Quarter.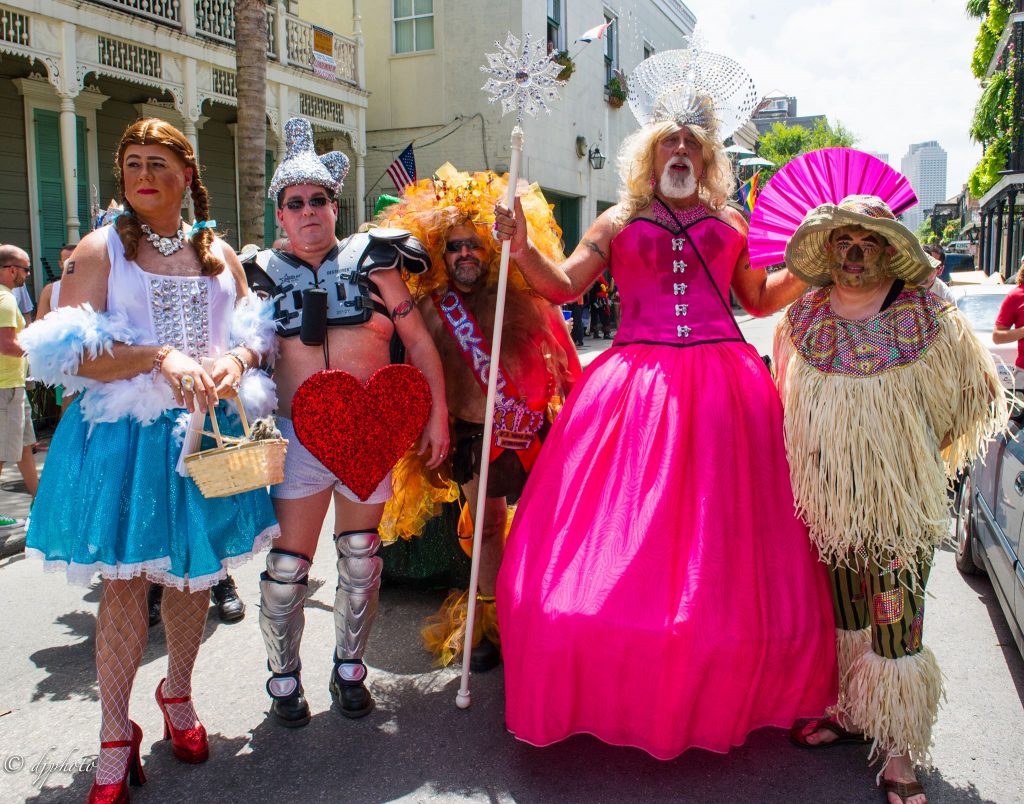 Photo by David Fary
Several French Quarter bars and clubs will also host the festival crowds that weekend. Oz dance club and Cafe Lafitte in Exile, both on Bourbon St., will be hopping as they do every year. Oz has DJ'd shows every night Friday through Monday at 7:30 p.m. and fills up during Southern Decadence. Cafe Lafitte in Exile, a 24/7 French Quarter mainstay since the 1950s, has generous happy hour deals and a wraparound balcony. Although not part of the Bourbon Street stretch, the 24/7 Good Friends bar at 740 Dauphine St. in the French Quarter also receives a fair share of the festival partygoers.
Although a lot of events are confined to the French Quarter, the festival generally spills into quite a few bars and clubs in the Marigny and the Bywater. The Friendly Bar at 2301 Chartres St. is a quiet neighborhood bar with a pool table, solid jukebox, and well-priced drinks. Big Daddy's Bar (2513 Royal St.) also has a pool table, a jukebox, and a neighborhood vibe. These two bars, plus Cutter's right next door to Big Daddy's Bar, are great for a quiet after-party conversation.
New Orleans is not lacking in tour options any time of year, but one in particular sounds worth considering during Southern Decadence. Called "The Twirl, a Gay Heritage and Drinks Tour," it focuses on "history of gay New Orleans." (Cocktails are optional; $30 per person, or book a private tour for up to six people for $200.)
We've included the festival event highlights below. You can also check out our event listings here.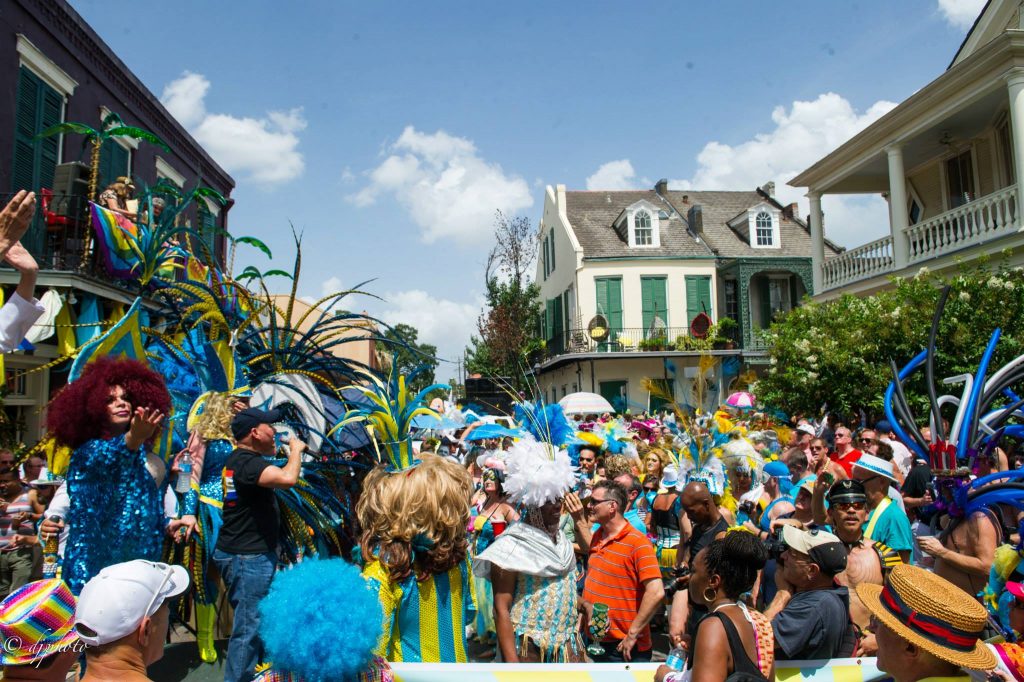 Photo by David Fary
Southern Decadence Highlights
What: The 14th Annual Bourbon Street Extravaganza, a free show/block party
When: Saturday, Sept. 1, 6:30 p.m. (pre-show street party starts at 6 p.m.)
Where: The corner of Bourbon and St. Ann Streets
---
What: Southern Decadence "T" Dance with DJ Orlando Ricardo
When: Sunday, Sept. 2, 3-8 p.m.
Where: Upstairs at the Bourbon Pub/Parade
---
What: Southern Decadence Grand Marshal Parade, an annual walking parade
When: Sunday, Sept. 2, formation at 1 p.m., parade starts at 2 p.m.
Where: Starting point is the Golden Lantern, 1239 Royal Street. Ending point at Bourbon and Dumaine Streets (route).
---
What: "Hung Over and Broke" Closing Party
When: Monday, Sept. 3, 8 p.m.
Where: Upstairs at the Bourbon Pub/Parade
---
Related Articles