Book A French Quarter Hotel
Things to Do in New Orleans This March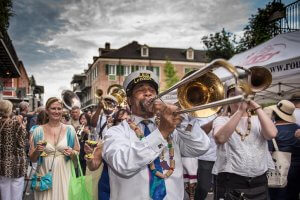 With March upon us, expect a good slate of early-spring activities in the Crescent City. Also, the weather is warmer — hopefully just pleasantly warmer — the kind of spring sunshine that equals t-shirts and jeans, if not shorts.
Mainly, we consider this time of year an awesome window when the Carnival wraps up (or, depending on the year, is over) and the festival season is yet to begin. This is that rare time when the city settles for a very slight breather between its biggest parties and still means there's a ton of stuff to do. Here are the highlights.
The New Orleans Book Festival at Tulane
Thursday-Saturday, March 9-11, 2023
The New Orleans Book Festival features both fiction and non-fiction and readings, panel discussions, symposia, and keynote speeches. It also provides an opportunity for outlets, authors and readers to interact with each other. Saturday is Family Day, so bring your kids to the Tulane campus for some fun. This year's notable authors and speakers on the impressive roster include Andy Borowitz, Richard Campanella, Maureen Dowd, and many more.
Wednesday at the Square
Every Wednesday, March 15 – May 17, 2023
Unwind with a cold beverage on any given Wednesday at the Square, a free concert music series held in the spring in Lafayette Park (located one block off of Poydras Street, between St. Charles Avenue and Camp Street in the heart of the Central Business District) every Wednesday from 5 to 8 p.m. From March through May, these outdoor concerts feature a variety of jazz, rock, swam pop, brass, Latin rhythms, and more.
Bring a chair or a blanket, or head to the front of the stage to partake in some dancing. You can bring your dog, and there are vendor booths surrounding the park where you can buy food and alcoholic and non-alcoholic beverages (no outside food or beverages, please).
St. Patrick's Day
Friday, March 17, 2023
It often comes as a surprise to first-time visitors to New Orleans that this city has a deep Irish heritage, which traces back to its history as a Catholic port of call that was one of the main entry points for the USA. There's an entire neighborhood in this town called the Irish Channel, plus a plethora of fantastic pubs that eschew cheesy emerald-green Irish stereotypes for rough-hewn hospitality (Finn McCool's and Erin Rose come to mind, plus a selection of our favorite Irish pubs in the French Quarter).
As such, there are plenty of Irish in this town, and thus, the weekend closest to St. Patrick's Day is an important one for the city of New Orleans. Numerous parades kick off, including the massive Irish Channel parade (on Saturday, March 11, 2023), where float riders pass cabbages to the screaming crowds.
The Downtown Irish Club Parade rolls on Friday, March 17, 2023, from the Bywater to the French Quarter, making several pit stops on its way to Bourbon Street.
How much you enjoy all of the above is linked to your tolerance for public drinking and green beer. St. Patrick's Day in New Orleans is not quite as kid-friendly as the Carnival — you'll still see families, but these parades are more aimed at adults.
Super Sunday
Sunday, March 19, 2023
The annual gathering of the Mardi Gras Indian tribes is perhaps the most open means of accessing this unique element of New Orleans backstreet culture. The tribes will be out in large numbers on Super Sunday, which usually falls on the third Sunday of March, but this year coincides with St. Joseph's Day (Sunday, March 19, 2023), which is also when you can typically spot the Mardi Gras Indians out and about.
While the Mardi Gras Indians have their set routes and parade areas, no one event packs the tribes into one public space like Super Sunday. In this case, said public spaces are A.L. Davis Park, at the corner of Washington and LaSalle streets; and Bayou St. John in Mid-City, at the intersection of Orleans and Moss streets, on the bayou's banks and the Orleans Street bridge. The Indian procession usually leaves the gathering spot around 1 p.m.
We can't stress this enough: Be respectful if you go. Take pictures at a distance, and don't get in the way of marching Indians or their friends, family and attached bands. Super Sunday has been overrun with spectators in the past years, so please do your part to enjoy this amazing cultural event responsibly.
Some background: The Mardi Gras Indians are the most vibrant, visible and conversely mysterious expressions of African-American New Orleans culture. To distill them into an extremely simplistic sentence: Mardi Gras Indians are African-American New Orleanians who dress up (or in local lingo, "mask") as stylized Native Americans.
They take to the streets in fantastic costumes made of beads, feathers, and sequins that cost thousands of dollars, weigh hundreds of pounds, and require hundreds of days of painstaking labor; no element of costume creation is automated.
On Mardi Gras Day, Super Sunday, St. Joseph's Day, and a select few other special occasions, the "chiefs" and their tribes parade through the city, chanting, shouting and challenging each other to determine who is "the prettiest."
There's a ton more background on this fascinating subject at the Backstreet Cultural Museum in the historic Tremé neighborhood.
Tennessee Williams Literary Festival
Wednesday-Sunday, March 22-26, 2023
Writers have always been drawn to New Orleans. Few cities in America (or the world, really), can match this town for its atmosphere, sense of place, or penchant for fun and pathos (all good elements of a writing life).
The Tennessee Williams Literary Festival celebrates this city's love affair with the written word, as well as writers' love affair with New Orleans. Notable authors will be in attendance, hosting seminars, workshops, and lectures.
Plus, this being the Tennessee Williams Festival, there is, of course, a "Stella" and "Stanley" contest, which involves folks screaming out the iconic scene from A Streetcar Named Desire to appreciative crowds on Jackson Square. The program will also include a scholar conference, walking tours, masterclasses, theater, and more.
Note that on March 24-26, 2023, the city will also host the Saints & Sinners Literary Festival, an alternative literary event that celebrates LGBTQIA+ authors. The three-day festival will include panel discussions and a fair amount of networking opportunities between authors, editors, and publishers.
Congo Square Rhythms Festival/Tremé Creole Gumbo Festival
Saturday-Sunday, March 25-26, 2023
The musical heritage of New Orleans follows a line that can be traced all the way back to Africa, where the black diaspora begins. The music of that continent evolved here and in the Caribbean, influenced by Europe and indigenous music, into the forms and traditions that are the core of today's New Orleans sound.
This vital legacy is celebrated in Armstrong Park, on the grounds of Congo Square, where local slaves were once permitted to practice the musical traditions of Africa and the Caribbean. Congo Square Rhythms Festival (now combined with the Tremé Creole Gumbo Festival) is a celebration of global and local music, and offers both amazing food and a fantastic lineup of music.
Presented by the New Orleans Jazz & Heritage Foundation, the festival features Mardi Gras Indians, African dance, brass bands, soul-funk, as well as indigenous music of Honduras, and highlife from West Africa. The large art market and a Soul Food Court complete the experience.
Don't miss one of the fest's highlights, the Mardi Gras Indian "battle" — when the tribes gather in the center of the square, plus the festival's largest to date assemblage of New Orleans-based African dance troupes (they typically perform on Sunday).
Hogs for the Cause
Friday-Saturday, March 31 – April 1, 2023
In late spring, the hot scent of BBQ will once again mix with the twang of electric guitars at the UNO Lakefront Arena. Hogs for the Cause is an annual celebration of whole hog roasts and local music (with some national acts in the lineup as well). The event brings awareness to pediatric brain cancer, and the founders have — at least in this city — pioneered the idea of turning a hog roast into a charity event. The goal was to have a good time for a purpose — the more you drink, the more you eat, the more you help.
The event began modestly in 2009 at The Fly at Audubon Park with maybe 200 people and has now expanded into a massively popular regular on the city's culinary and music calendar.
Happy Spring!
---
Related Articles