Book A French Quarter Hotel
More Winnin' at Dirty Linen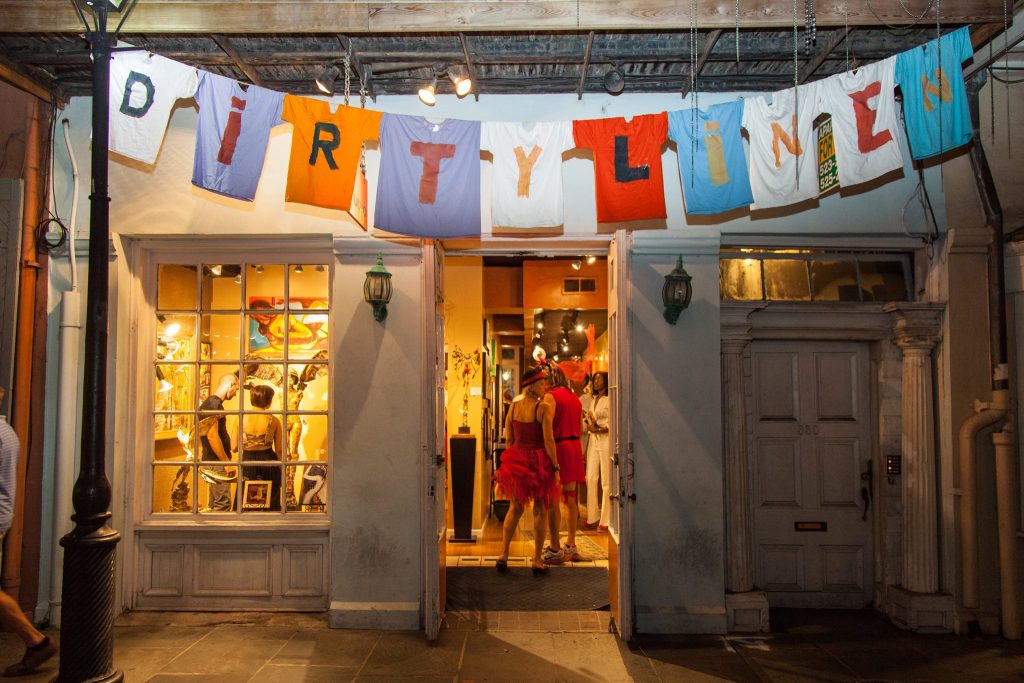 Image courtesy of Dirty Linen Night on Facebook
Every year, Dirty Linen Night invites New Orleanians and tourists alike to celebrate the city's French Quarter art galleries and boutiques. The event follows the White Linen Night, usually held on the Saturday before. The Dirty Linen Night was originally conceived not to compete but as a way to encourage people to visit Royal Street and support local businesses.
This year's event, the 20th annual Dirty Linen Night, lasts from 6 to 9 p.m. (officially — the event generates its own momentum and tends to run a little late) and will be held on Saturday, August 12, 2023. The festivities will feature dozens of participating galleries and businesses, multiple blocks of pedestrian-friendly celebrations, buskers, delicious food, drink specials, and plenty of good times. The bulk of the action will occur between the 300 and 1100 blocks of Royal Street. Dirty Linen is free and open to the public. You can also buy raffle tickets online to win artwork and gifts.
And, oh, make sure to wear unwashed white linen from the previous week — Dirty Linen is a continuation of the White Linen party, albeit one that is a little more raucous than the Julia Street event. We're kidding, by the way — while you're encouraged to wear last week's linen, any kind of flowy, comfortable summer clothes will do.
The Galleries and Businesses
It's impossible to describe every participating gallery and shop in a short article, but here are some of the highlights. French Quarter art galleries regularly provide discounts on Dirty Linen Night.
610/612 Royal St.
When we think of French Quarter art galleries, a place like Le Jardin often comes to mind. Effectively a narrow corridor that leads to a spacious dream of a Vieux Carre courtyard, all of the wall space in Le Jardin is crammed wall to groaning wall with the work of local artists. Much of the stuff you'll see on display has a folk arty feel; the bright colors, bold presentation, locally focused subject matter and the general haphazard, slightly chaotic atmosphere of the place makes for an art experience that feels quintessentially New Orleans. While you'll find original work here, there are plenty of prints as well. Also on site is Adorn, a local jewelry and crafts shop.
611 Royal St.
Owned and operated by the artist Matt Rinard, this gallery features the work of many of the area's renowned painters and sculptors, with a focus on whimsy and humor rather than what we think of as classic Southern art.
730 Royal St.
George Rodrigue, a native song of south Louisiana, was best known as the creator of the "Blue Dog," perhaps the most recognizable symbol of Louisiana contemporary art. The dog, with its soulful yellow eyes, was first painted in 1984 for Bayou, a selection of Louisiana ghost stories released in conjunction with the 1984 World's Fair, held in New Orleans. Rodrigue decided to paint a version of the Cajun loup garou, or werewolf, and in so doing created the ghostly visage of the Blue Dog. At once approachable, mysterious and riotously colorful, the Blue Dog would go on to become, in the eyes of the public, a stand-in for Cajun culture and Louisiana as a whole and the vehicle for Rodrigue's considerable commercial success.
910 Royal St.
One of the city's most famous photographers, Frank Relle has made a career out of his love of New Orleans architecture, history, and light — or lack thereof, in the last case. Confused? Relle is best known for taking shots of New Orleans homes, buildings and street scenes late at night, using long exposures to create a singularly eerie (yet also oddly comforting, and always beautiful) micro genre of fine art photography.
708 Toulouse St.
Located in a courtyard, this gallery is a fine base for local artist and all-around character Emile Rhys. A supremely talented artist, Rhys is best known for her fine art ink and pen drawings of the city's local musicians. Her work, which synthesizes two great elements of New Orleans creativity — the sonic world of music and the frenetic energy of her visual art — is unique and singularly worthy of souvenir consideration.
Where to Eat
Many of New Orleans' classic restaurants like Antoine's, Galatoire's, Mr. B's Bistro, and Arnaud's are within walking distance of the participating galleries. Here are some other spots outside of the pantheon of classic Creole institutions that you would want to sample.
430 Dauphine St.
Chef Susan Spicer's restaurant features daily specials and a creative mix of foods influenced by cuisine from around the globe. Try the veal sweetbreads with sherry-mustard butter.
1212 Royal St.
You might have tried Bennachin's legendary mburu akara (black-eyed pea fritters and tomato stew on French bread) and jama jama ni makondo (sautéed spinach, fried plantains and coconut rice) at Jazz Fest, where the longtime spot for African fare has a perennial presence. The food tastes even better when consumed in the cozy, colorful French Quarter destination. Bonus: A BYOB policy makes Bennachin an excellent place to affordably wine and dine.
900 Royal St.
The elegant courtyard and delicious modern Louisiana fare at Cafe Amelie are all part of a package that is equally as romantic and heart-stopping.
500 Chartres St.
Although this weathered brick building was offered as a refuge to Napoleon Bonaparte by its owner, New Orleans mayor Nicholas Girod, the exiled emperor died before taking advantage of the gesture. However, the name stuck. Today, it's a unique place to taste New Orleans cuisine in a setting that feels rich with history. Try the restaurant's specialty, the muffuletta, with its signature cocktail, Pimm's Cup.
625 Chartres St.
Located in a historic French Quarter carriage house, this eatery has classic options like a hamburger or a chicken sandwich alongside elevated Louisiana-centric fare.
Need a hotel? To stay close to all the action, book a historic boutique hotel in the French Quarter at FrenchQuarter.com/hotels today!
---
Related Articles