Book A French Quarter Hotel
Cigars and the Good Life in the French Quarter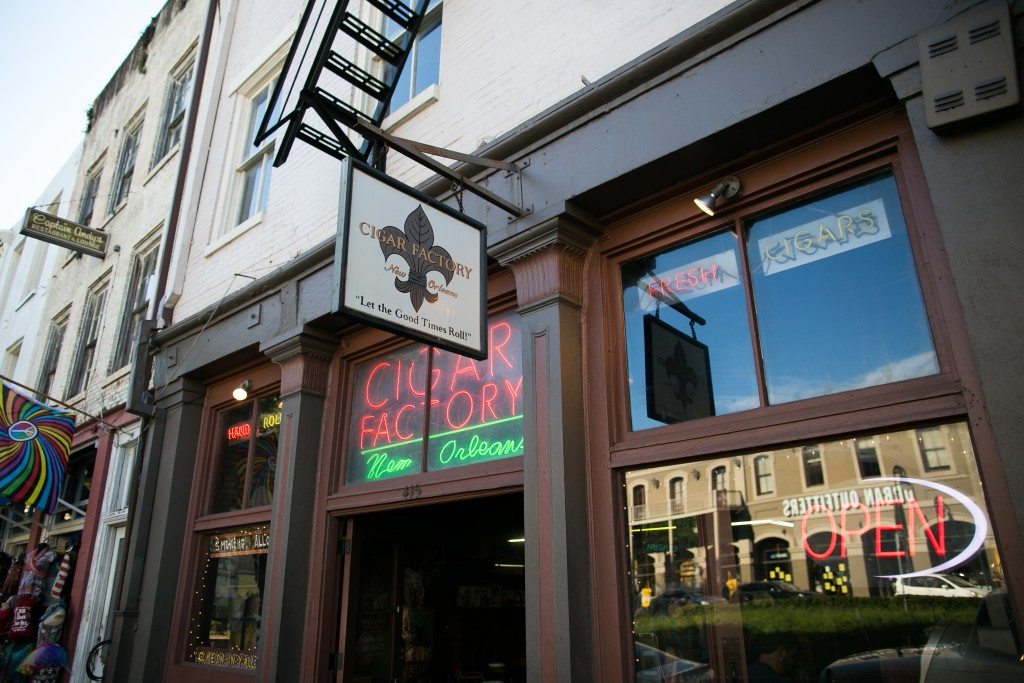 Photo by Trevor Mark
Cigars may not be native to Louisiana, but they have certainly taken firm root in the city's celebrated culture of indulgence.
The traditional finale to a rich meal, the cigar is also used to mark an important event such as the birth of a child or the completion of a big business deal. It's no surprise then that a city that loves its fine cuisine and is willing to launch into boisterous celebration on the smallest pretext should prove a welcoming home for the cigar.
On A Roll
A fine cigar, after all, is to a common smoke as a bowl of dark, rich gumbo is to a can of soup: incomparably finer and more lavish. It's also a handcrafted product made by artisans, rather than a mass-produced commodity, as one visit to The Cigar Factory (415 Decatur St., 504-568-1003) will demonstrate vividly.
In a bustling atmosphere fueled by meringue music and the ever-present aroma of just-lit cigars, a team of cigar makers works rapidly and with focus at a line of rustic wooden booths, rolling the establishment's proprietary blends as visitors look on. Turning a pile of tobacco into a properly formed, appropriately aged and carefully maintained cigar is a long process, and each step is on display here, from the rolling table to the aging room to the walk-in humidor. The Cigar Factory operates a second location closer to the all-night action on Bourbon Street (206 Bourbon St., 504-568-0168), which is open much later.
If you're in a classy mood, the Bombay Club – all wood paneled handsomeness and stately atmosphere – treats guests to an excellent humidor and gorgeous courtyard. Couple your stogie with some scotch or a cognac, and you've got the ingredients for a perfect al fresco New Orleans evening.
Many cigar aficionados have brand loyalty and are only willing to stray from their favorites for so long. The French Quarter has several tobacconists offering large selections from well-known cigar makers, as well as specialty cigarettes and pipe tobacco.
For example, the Crescent City Cigar Shop (730 Orleans Ave., 504-522-4427) looks and functions much like the cigar shops visitors are likely familiar with from home. Much more exotic, however, is the retail experience at Rev. Zombie's House of Voodoo (723 St. Peter St., 504-486-6366), where altars of religious statuary, ritual totems, candles and other curios share shop space with a wide selection of cigars and other tobacco products.
Most of the cigar shops also sell smoking accessories, from utilitarian cigar cutters to beautiful humidors. But a stop in to M.S. Rau Antiques (630 Royal St., 504-523-5660), gives a unique historical perspective to just how seriously the cigar culture was regarded in the gilded age and earlier. This immense antique mecca boasts a collection of cigar smoking accessories, including some crafted by renowned makers such as Tiffany, Faberge and Cartier.
Often made from gold and sterling and sometimes even encrusted with gemstones, these antiques can command kingly sums. For much less treasure, however, visitors might well feel like kings and queens themselves with a fine cigar in hand strolling under the balconies and moon of a French Quarter evening.

Where to Find Cigars in the New Orleans French Quarter
---
Related Articles