Where to Score the Best Crawfish in New Orleans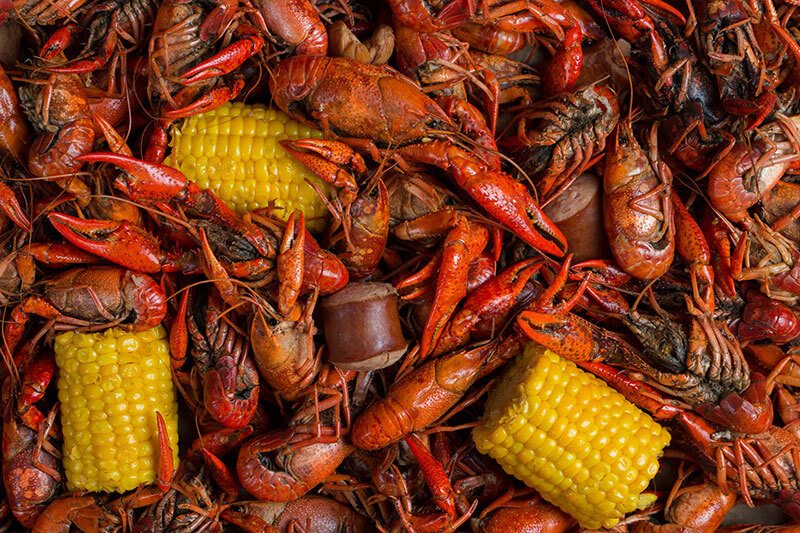 Spring means crawfish season in New Orleans, and that means picking the best spot to enjoy an old fashioned boil. This list far from exhaustive – in fact it's more like a drop in the bucket, and that's a good thing. We're lucky enough to live in a place where boils happen in bars, restaurants, and backyards everyday this time of year.
Captain Sal's (3168 Saint Claude)
Located on Saint Claude in the Bywater, Sal's sells cheap boiled seafood, fried chicken, and po boys from an inauspicious concrete building. The crawfish are spicy, and that spice carries over into the corn and potatoes for some of the spiciest sides I've ever tried.
The crawfish are also buttery and garlicky; they have a particularly rich flavor. As the season progresses they offer a half price deal on Tuesdays, usually beginning around Easter. There's plenty of space to sit inside, and counter service. Don't expect much of a wait here.
Cajun Seafood (1479 North Claiborne Avenue)
"The crowd is starting to assemble like the crowd during Mardi Gras. 'Gimme some of them smoke sausages'." – Cajun's website says it all. The counter service spot usually has a wait, sometimes trailing around the outside of the building on Saturday afternoons and during second lines.
Diverse offerings include po boys, Chinese food, boiled seafood, yakamein, and fried chicken, as well as varying fresh seafood options. The boil is moderately spicy, with a pleasant clove and garlic flavor. It's a middle of the road crawfish- a crowd pleaser.
Bevi Seafood Co. (236 N. Carrollton Avenue)
Bevi began in Metairie, and Chef Justin LeBlanc expanded into this second location last year. The crawfish are fresh and nicely sized, and the menu also includes po'boys and fried seafood. Bevi sells both cooked and raw crawfish, shrimp, and crabs when in season. The counter service restaurant has plenty of seating with prices for boiled crawfish around $4.50 at the end of February.
Mid-City Seafood and Deli (2526 Saint Bernard Avenue)
This authentic Seventh Ward spot near the corner of St. Bernard and Broad is known for its boiled seafood and fried chicken. The boil has strong hints of clove, and deep, delicious flavor as well as a mild, lingering heat. It's counter service and you come for the food, not the atmosphere.
There are heaps of steaming boiled crabs as well as snow crab legs behind the counter. The sandwiches are cheap and also well regarded. Seven dollars gets you a boiled turkey neck, pig foot, corn, potato, and a hot sausage, and who could pass that up?
Salvo's Seafood (7742 Highway 23 in Belle Chase)
It's a bit of a trek – but Salvo's offers delicious boiled seafood at better prices than most restaurants in the city. Their all you can eat seafood specials rotate nightly between crab, shrimp, and crawfish, but crawfish is consistently available by the pound as well during season.
The full service restaurant has been open since 1984, and also offers sandwiches, steaks, and ribs, though most people come for the boil and beer specials. All you can eat crawfish is $25.99 after 5pm and domestic drafts are 50 cents.
Boils at Bars
Crawfish can be found at bars around the city in the Spring. R Bar in the Marigny often doles out crawfish, and The Maple Leaf is known for its boil on Sundays, where Jason Seither (of Seither's Seafood) offers a unique boil with carrots, garlic, and sweet potato, among other unusual vegetables sometimes added to the pot.
Recent Articles
Bayou Boogaloo
Photo courtesy of Bayou Boogaloo - thebayouboogaloo.comOne of the standouts in the seemingly...
Read More