Proof is in the Bread Pudding—Chefs Add Variety to New Orleans' Classic Dessert
By: Ian McNulty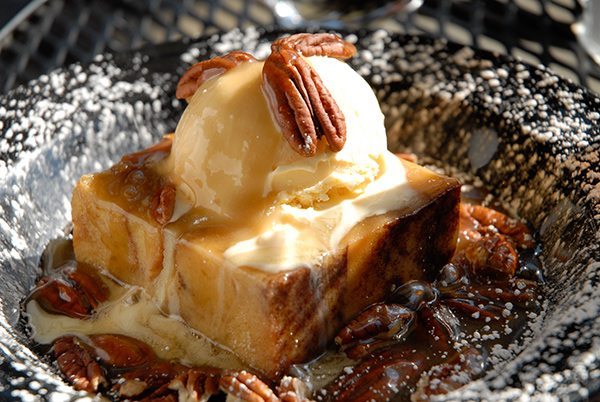 When most bread goes stale it gets tossed in the trash or fed to the birds. But for some lucky loaves, going stale is just the beginning of a transformation into bread pudding-the ambrosial dessert that is a mainstay finale at Creole restaurants across New Orleans.
Though its roots go back centuries to the thrifty domestic kitchens of Europe – where a variety of sweet and savory pudding dishes evolved from the recycling of stale bread – the distinctively Southern-style bread pudding is a dessert New Orleans has embraced and made its own.
Most such recipes start with bread soaked in a mixture of milk, eggs and sugar, which is then baked and sliced into squares or wedges. Served warm, bread pudding is usually covered in a rich, sweet sauce containing a strong dose of booze – most often bourbon. The main appeal of the dessert, however, goes back to its first ingredient. The bready foundation nicely sops up any sauce paired with it so that each bite is infused with its flavor. The bread base – soaked in milk and eggs – also lends a soft, spongy texture to the pudding that contrasts deliciously with toppings of pecans, walnuts or raisins that often accompany the dish.
Bread pudding is a featured item at a wide range of restaurants in the French Quarter whether they are landmark establishments or newcomers, casual restaurants or dining palaces. K-Paul's Louisiana Kitchen (416 Chartres St., 504-524-7394), home base of the famous Cajun chef Paul Prudhomme, makes its traditional bread pudding using a mixture of breads and paired with a rich chantilly cream touched with lemon. Guests in the lavish dining rooms at Arnaud's (813 Bienville St., 504-523-5433) and Broussard's (819 Conti St., 504-581-3866) – two of the Creole grand dames – have been finishing off meals with bread pudding since each restaurant was opened more than eight decades ago. No reservations are required – or even accepted – at the casual eateries the Gumbo Shop (630 St. Peter St., 800-554-8626) and Acme Oyster House (724 Iberville St. 504-522-5973), though patrons here often end their meals in much the same way with hot bread pudding in boozy sauces.
At Muriel's Jackson Square (801 Chartres St., 504-568-1885), chef Erik Veney's bread pudding goes under the old Creole name pain perdu – or "lost bread," a reference to the main ingredient's stale status before its sweet transformation. Here, lost bread finds complimentary companions with a topping of crunchy candied pecans and a potent rum sauce.
From such traditional foundations, however, the bread pudding recipe has been taken in all sorts of directions by New Orleans chefs. As is often the case with classic regional dishes, various kitchens and pastry chefs vie to come up with new interpretations and twists.
One of the most successful results of this experimentation is the white chocolate bread pudding invented at Palace Cafe (605 Canal St., 504-523-1661), the upscale Creole bistro from local restaurateur Dickie Brennan, where it remains the most popular dessert. The dish starts with day-old French bread from the city's leading po-boy bread producer, Leidenheimer Baking Co., which is stuffed with white chocolate, baked and smothered in warm white chocolate ganache.
"We've been told by industry people that we use more white chocolate than any other restaurant in the country and it's because of demand for that dessert," says Palace Cafe marketing manager Lee Anne Garner.
Around the corner at Dickie Brennan's Steakhouse (716 Iberville St., 504-522-2467), meals of ribeye, filet and porterhouse prime steaks are often finished with a rendition of bread pudding that brings in elements of another New Orleans classic: bananas Foster. In this dish, bananas are baked into the bread and sliced over the top in the rich, sweet sauce.
NOLA (534 St. Louis St., 504-522-6652) – the French Quarter outpost of Emeril Lagasse's culinary empire – serves a banana toffee bread pudding. This treat comes with whipped cashew toffee cream cheese, cane syrup caramel, and drunken monkey ice cream.
"Dessert is the last thing our guests taste before they leave the building, so we want to make sure it's rocking," says NOLA chef du cuisine Michael Ruoss. Home cooks will no doubt come up with even more variations on the New Orleans dessert classic. To get you started, here's a straightforward recipe of a traditional preparation like those found at Crescent City restaurants:
Bread Pudding
Serves 6
Ingredients: 1 loaf stale French bread 1 cup raisins 2 cups milk 3 eggs, beaten 1/2 cup melted butter 1 teaspoon vanilla 1/4 teaspoon salt 1 tablespoon cinnamon 1/2 cup brown sugar
Directions
1. Preheat the oven to 350 F
2. Rip the bread into small pieces
3. Place in a mixing bowl and cover with the milk, letting it soak for 20 minutes
4. Mash the bread into a consistent texture with no chunks
5. Add the eggs, vanilla, cinnamon, sugar, raisins, butter and salt and mix well 5. Pour into a buttered nine-inch square baking pan and bake for about 45 minutes, until browned on top and set in center
6. Cut into squares and serve with whipped cream
Ian McNulty is a freelance food writer and columnist, a frequent commentator on the New Orleans entertainment talk show "Steppin' Out" and editor of the guidebook "Hungry? Thirsty? New Orleans."