Book A French Quarter Hotel
Best Pizza in the French Quarter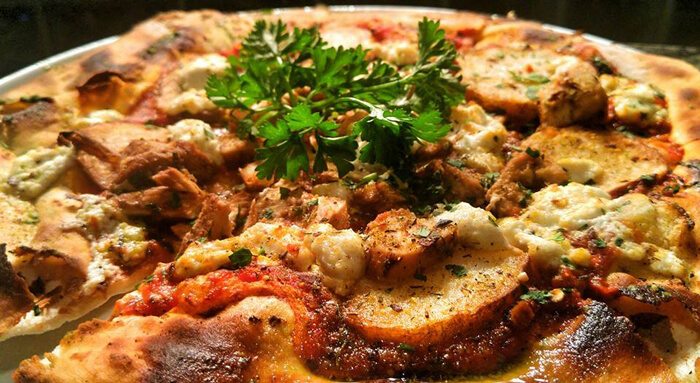 Photo courtesy of Louisiana Pizza Kitchen on Facebook
Good pizza isn't hard to find in New Orleans, although it's not one of the city's signature offerings, like gumbo or a po-boy. There's no loyalty to any specific style (deep dish vs. thin crust, for instance), and the pizzerias run the gamut of high-end to classic parlors to casual neighborhood spots to the late-night after-party soakers.
The French Quarter has its share of restaurants that serve decent to excellent pizza, with a wide variety of vegetarian options and specialty pies that highlight the local ingredients and take advantage of the abundance of Gulf seafood, Cajun meats, and other culinary staples New Orleans is known for. Here are several options in the French Quarter we recommend.
Louisiana Pizza Kitchen (95 French Market Place)
Each location of this local chain is owned and operated separately, and this Louisiana Pizza Kitchen fires its gourmet pizzas in a wood-burning stove. Many ingredients are locally sourced, all the meats are organic and free-range, and whole-wheat crust is available. The restaurant also has an extensive wine list and a selection of specialty beers from local microbreweries.
Specialty pizzas showcase the local cuisine with their takes on staples like crawfish etouffee and jambalaya. The standouts are a fried oyster pizza, topped with P&J oysters, artichokes, and grilled eggplant; and a smoked salmon pizza that inventively combines tomatoes, capers, caviar, red onions, and cream cheese.
Vieux Carre Pizza (733 Saint Louis Street at Bourbon Street)
This pizza joint uses housemade dough and its own marinara sauce. Besides pizza it has an affordable menu of pastas, po-boys, fried or baked chicken wings, salads, and more. One of the most popular specialty pies, the Bourbon Special, is loaded with chicken, feta cheese, spinach, and pesto. The Vieux Carre also has the basic specialties like vegetarian and Hawaiian pizzas. It's open late (3:30 a.m. Mon.-Thu. and Sun; 4:30 a.m. Fri.-Sat.). Delivery and online ordering are also available.
Mona Lisa's (1212 Royal Street between Barracks & Gov. Nicholls)
This is a great dine-in option if you want romantic and laid-back with some New Orleans flair. The building that houses the restaurant has undergone many reincarnations, housing a machine works business and a cigar shop at one time. It still retains its charm and historic elements. The restaurant's walls are adorned by dozens of paintings and drawings of Mona Lisa, some of which came from the patrons. Mona Lisa's has been in the neighborhood for several decades, earning a loyal local following with its simple and solid Italian fare.
There are four vegetarian pizza options, plus the seafood one with tilapia, shrimp and baby clams. The Mona Lisa Special is a meat-lover's bliss — with pepperoni, ham, Italian sausage, and loaded with vegetables. Another popular specialty pizza is the Da Vinci, with Italian sausage, bacon, artichoke, and sun-dried tomatoes.
Crescent City Pizza Works (407 Bourbon Street at Conti)
This is another late-night Bourbon pizzeria, where pies have names like Big Cheesy and Chicken Bacon Krunch. The BBQ pork pizza will chase your hangover away with pulled pork, two types of cheese, cinnamon apples, and a generous serving of Sweet Baby Ray's BBQ sauce. The ever-popular Chizzaburger combines Angus beef, onions, mozzarella, pickles, ketchup, and mustard.
Industry Bar & Kitchen (240 Decatur Street at Bienville St.)
Industry Bar & Kitchen (locals may remember this spot as Club Decatur) is a sports bar with over 120 beers on tap or bottled, with 15 local craft beers on tap alone. There are eight HDTVs and a huge screen for big games, outdoor seating, and a large menu of wings, burgers and pizza. The pizza is deep-dish style, with fillings topped with parmesan and mozzarella cheeses. Industry Bar & Kitchen is open till 3 a.m.; online ordering is available.
---
Related Articles