Book A French Quarter Hotel
Bananas Foster in the French Quarter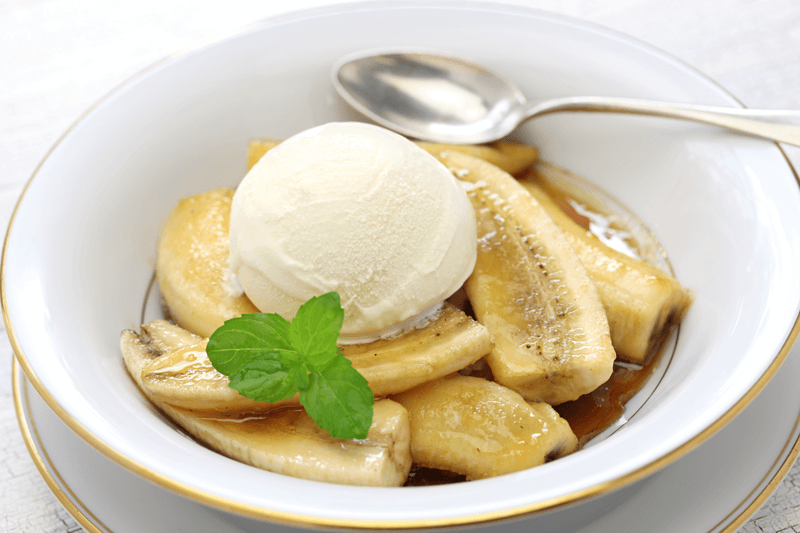 Bananas Foster, a type of dessert made with bananas and vanilla ice cream, was made famous by way of New Orleans. Today, this decadent dessert remains a staple, impressively served flambéed tableside as it was intended, or in many delicious variations (as a pie, ice cream, or French toast) in some of the best restaurants in the city.
Bananas Foster's rise to fame was quick and glorious. Its creation in 1951 is credited to Paul Blangé, a Brennan's Restaurant chef. In the early 50s, New Orleans served as a major port of entry for bananas coming from Central and South Americas. Wanting to promote the imported fruit, the restaurant's owner Owen Brennan asked Chef Blangé to include bananas in a new dessert.
Chef Blangé then came up with sautéing the bananas in butter, sugar and cinnamon, and then adding rum and igniting the concoction. The dessert was named after Richard Foster, a friend of Owen Brennan and the then chairman of the New Orleans Crime Commission, on which Brennan served. The dish is usually set aflame tableside and served over ice cream.
Here are our favorite places in and around the French Quarter to try Bananas Foster, both the traditional version and one of its many scrumptious incarnations.
The traditionals
To this day, the original-recipe Bananas Foster at Brennan's Restaurant (417 Royal St.) is its most-ordered item. The restaurant reportedly flames 35,000 pounds of bananas for the famous dessert every year. The dramatic, tableside-flambéed original remains a standalone draw for the post-dinner crowd, visitors and locals alike, who flock to enjoy just the dessert, maybe with a cocktail, at the restaurant's lush, iconic courtyard.
Keep in mind that Brennan's Roost Bar emphasizes the bubbles for its happy hour, with premium bottles and half bottles available at half the price, plus several specialty champagne-centered cocktails. There's also champagne sabering Thursday-Sunday starting at 5 p.m. in the lush courtyard, which is a sight to behold in itself. Bananas Foster and bubbles. We can't think of a better combination.
Arnaud's (813 Bienville St.) churns out its own take on the traditional version of Bananas Foster, which has been the menu's mainstay long enough to get on Tom Fitzmorris' "500 best dishes in New Orleans area restaurants" list. The grand dame of Creole cooking offers its version with a little more cinnamon, in a portion that's big enough to be enjoyed by two people.
The sprawling Court of Two Sisters (613 Royal St.) made the traditional version of Bananas Foster part of its dinner and jazz brunch menus. The dessert fits right in with the restaurant's luscious Creole and Cajun cuisine like jambalaya and gumbo, and is served with brandy and banana liquor over French vanilla ice cream. It is set aflame tableside (here's a Facebook video demo posted by the restaurant).
French Toast and Pain Perdu
Chef Scott Boswell, Owner and Executive Chef at Stanley (547 St. Ann St.), created a very popular Bananas Foster French toast for Stanley's breakfast and brunch menus. The battered French bread is topped with sliced bananas, toasted walnuts and Foster sauce, and served with vanilla ice cream.
Stanley has a lot going for it as it — the airy, sunny, inviting dining rooms; prime location (it overlooks Jackson Square); a nod to Tennessee Williams in its name; and a long menu of classic New Orleans comfort food that emphasizes regional cooking and local ingredients. The fact that breakfast and brunch are served all day doesn't hurt either.
The locally owned and operated brunch queen Ruby Slipper Cafe does a Bananas Foster pain perdu across its six New Orleans locations, one of which is in the French Quarter (204 Decatur St.) and another in the adjacent Marigny (2001 Burgundy St.).
Pain Perdu means "lost bread," referring to the dish's ability to resurrect stale and otherwise lost to most purposes bread. For this version of French toast French bread is soaked in eggs and milk and then fried (sometimes deep-fried) or grilled. This breakfast and brunch staple usually sports a crisp and buttery exterior and is soft and custardy inside.
The Ruby Slipper has been consistently winning the title of best breakfast and brunch spot on the local dining scene and in reader polls. What's the secret? Fresh, upscale ingredients and surprising twists on local flavors for starters. The restaurant's version of pain perdu fits right in with eggs cochon and the acclaimed house specialty, BBQ shrimp and grits. It's made with French bread, of course, and is served with rum-flambéed bananas and applewood-smoked bacon.
Pie and bread pudding
If you like bread pudding, the Bananas Foster bread pudding at Irene's Cuisine (529 Bienville St.) is a must. The upscale Irene's has been one of the hottest tickets in town, with its elegant Italian classics like shrimp and crab pappardelle or their famous duck St. Philip, a piano bar, and a homey vibe. Irene's is family owned operation, helmed by the owner Irene DiPietro and her son, chef Nicholas Scalco. The restaurant relocated seven blocks in early 2018 to its present location, while remaining a solid New Orleans tradition and a beloved dining destination.
Finally, if you're jonesing for the pie version of Bananas Foster, the mini-chain Mr. Ed's Oyster Bar & Fish House has Bananas Foster cream pie at its French Quarter location (512 Bienville St.). This Bananas Foster-inspired riff on the classic banana cream pie recipe features a layer of rum-spiked sautéed bananas under the traditional pudding filling, plus a brown sugar-mascarpone cream topping. Goes great with Mr. Ed's famous charbroiled oysters!
Are you planning to spend some time in New Orleans soon? To stay close to all the action, book a historic boutique hotel in the French Quarter at FrenchQuarter.com/hotels today!
---
Related Articles