Book A French Quarter Hotel
Year-Round Christmas Shopping in New Orleans at Santa's Quarters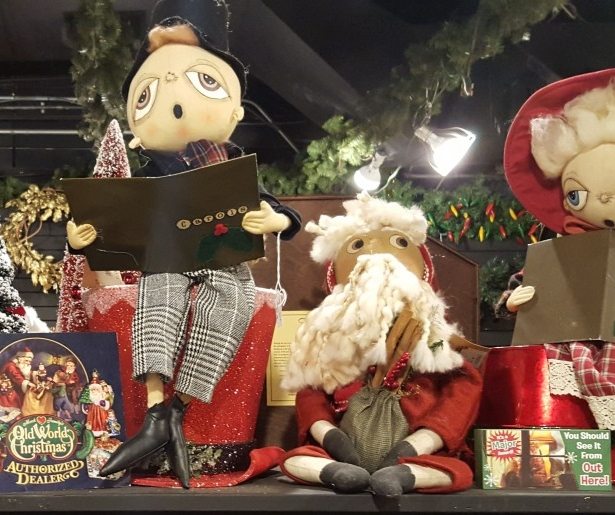 Even on the muggiest of Louisiana days, it's always Christmas inside Santa's Quarters in the French Quarter.
Those who have never ventured into the store can't help but wonder, How do they stay in business year-round? What is it a front for?
But Santa's Quarters (1025 Dectatur St) owner David Erath, who also lives upstairs, assures NewOrleans.me, "Even though it's Christmas stuff, it sells all year. Because a lot of tourists want to collect stuff, and this is collectible stuff. Even in June and July they'll buy Christmas ornaments as mementos—a New Orleans themed Christmas ornament, that they put it on their tree in December to remember their trip."
A French Quarter resident for 20 years, Erath purchased Santa's Quarters from longtime friend Nel Leveque (from whom Erath and his wife also purchased the Head to Toe women's boutique) in January 2005, just before Katrina came to town.
"For three or four years there was almost no business," recalls Erath. "We reopened on October 15, as soon as the power came back on. There were some government state programs that helped with payroll. And I worked the shop myself some, and we managed to trickle out an existence. The landlord reduced the rent and everybody cooperated and we managed to keep it afloat until the city came back and the tourists started to come back."
Erath says that any time tourists are in town, Santa's Quarters is jingle bell rocking. "This weekend is our biggest weekend of the year, of course," he says. "It's the second weekend of the high school play offs, and that brings a lot of people into town. But any time the weather is nice, business is good."
The trick, Erath says, is to sell quality merchandise that people can't get anywhere else—not even on the shop's companion website, run by Erath's son. "What we do in our store that is different is there is virtually nothing here you could find in a big box store," Erath attests. "There is virtually nothing they sell that we sell. This is all collectables and higher end stuff—like Christopher Radko hand blown glass stuff, that's $60 to $80 per ornament. The cheap stuff doesn't work; people are gonna buy that at WalMart. We might sell a $150 doll, but it's special."
The other trick, he says, is diversity of merchandise. Alongside Santa's Quarters' unique items like Dr. Who Tardis ornaments ("We've sold about 1,000 of those this year," Erath says), he's hosted a food and wine area, Halloween gifts, and a hunting and fishing room.
But Erath relies heavily on his large, well-curated Mardi Gras room. "A lot of people who do still decorate—especially in the French Quarter—they will take the Christmas stuff of their tree and decorate it as a Mardi Gras tree. That's pretty common. And that helps after Christmas. The biggest sellers in the store are anything that screams New Orleans," he says. "The New Orleans stuff and Mardi Gras stuff is 50-percent of our business."
Erath also attributes his continued success to his exceedingly loyal, knowledgeable employees. "We acquired the employees with the business—they really knew how to run it," he says. "I just go to the market in Atlanta in January and buy all the stuff and just stay out of my employees' way."
Cheryl Hingle ("Like Chris Kringle," she laughs, "Or J with a jingle.") has worked at Santa's Quarters for 30 years. "I just love Xmas," she announces when asked why she's so loyal. "And I love that we get to meet all different kind of people. I like meeting all the tourists; we learn a lot from different countries and states. We see a lot of repeat customers come back."
Erath though, says there aren't as many repeat customers these days, nor as many locals. "When I moved into the Quarter 20 years there were 4,000 registered voters, now there are 1,200," he claims. "So we don't have the local business that we used to have. We used to sell tons of ribbon, and picks to make arrangements, and that's pretty much gone. We have very few locals living in the Quarter now—most of them live in condos on the weekend and they don't do a lot of decorating. "
When asked what it does to one's mind to be surrounded by Christmas every day, Erath says that the holiday season does not invade him dreams. He does, however, laconically admit, "You do gotta like Christmas."
Santa's Quarters is located at 1025 Decatur St, near the corner of Decatur & Ursulines Ave. It is open seven days a week, from 10am-6pm.
---
Related Articles