Book A French Quarter Hotel
Over-the-top Gravesites in New Orleans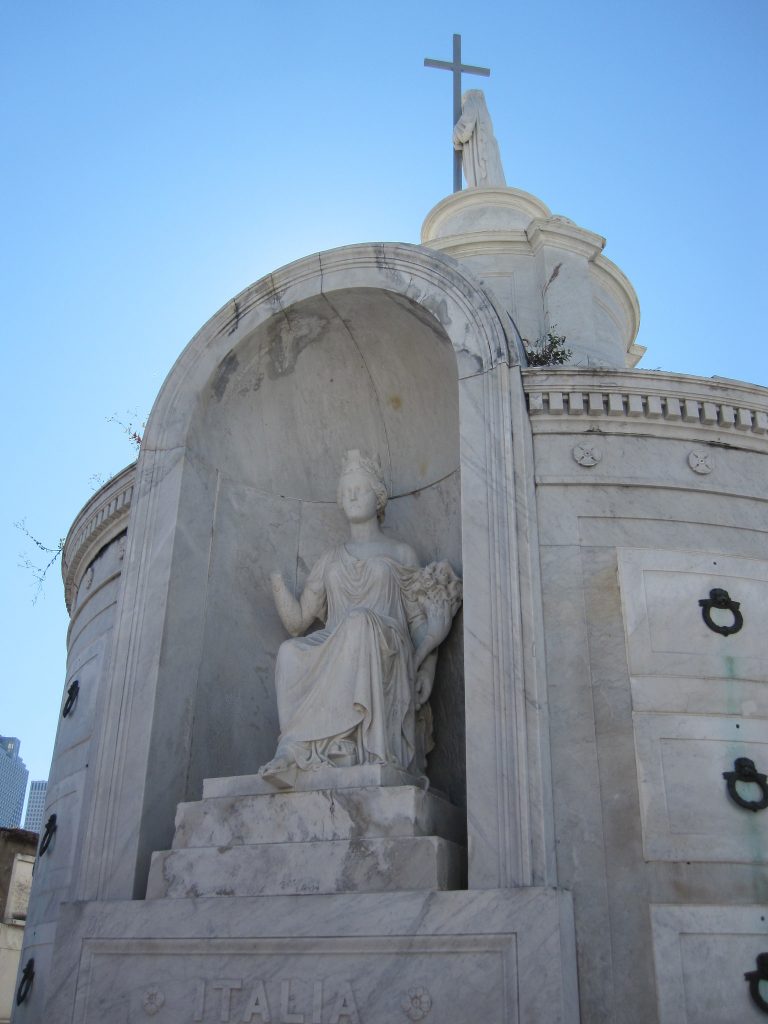 Italian Benevolent Society Tomb, New Orleans, Louisiana, USA—photo by traveljunction on Flickr
From Ernie K-Doe to the fictional Ignatius P. Reilly, many over-the-top personalities comprise the city of New Orleans. Not surprisingly, these larger-than-life characters often take their showmanship and swagger to the grave. The Crescent City's above-ground cemeteries offer the perfect vehicle for showing off even after shuffling off the mortal coil. Here are just a few extravagant graves—and where to find them. To schedule a tour at St. Louis Cemetery No. 1, visit cemeterytourneworleans.com.
Italian Benevolent Society Tomb, St. Louis Cemetery No. 1
At the time of its construction in 1927, this mausoleum was one of the most expensive society tombs ever built. (It cost $40,000, which incidentally is the same price Nicolas Cage paid for his pyramid-shaped tomb in the same cemetery in 2009).  The elaborate Baroque tomb features 24 vaults and carved marble statues, and it became the setting for a scandalous scene in the 1969 movie Easy Rider.
Nicolas Cage (1964—), St. Louis Cemetery No. 1
Is it the fact that the white, pyramid-shaped tomb contrasts sharply with the surrounding mausoleums and society tombs? Is it the constant presence of red lipstick kisses on its exterior, left by adoring fans? Maybe it's the Latin phrase inscribed over the entry: "Omnia Ab Uno" (all from one). Or maybe it's the fact that the celebrity owner of this extravagant tomb isn't even dead yet. For whatever reason, Nicolas Cage's future tomb is definitely over the top.
Marie Laveau (1801-1881), St. Louis Cemetery No. 1
Voodoo queen Marie Laveau's Greek Revival tomb is relatively humble compared to others in the St. Louis Cemetery. Its larger-than-life qualities come from the personality of its occupant. Many supplicants believe Laveau continues her healing magic from beyond the grave, and they leave small tokens, often in sets of threes, as entreaties. Others believe her spirit haunts the graveyard. Whatever your belief may be when it comes to the afterlife, Marie Laveau has transcended death—or her reputation has, at the very least.
 Chapel, St. Roch Cemetery No. 1
Head to the rear of this active cemetery, where you'll find a small Gothic Revival chapel with a crumbling, petite side room filled with prosthetic limbs, crutches, glass eyes, votives and thank-you notes to St. Roch, the patron saint of miraculous cures. The collection of cast-off medical artifacts is creepy or inspiring, depending on your perspective.
Not in New Orleans, but close
Al Copeland, 1944-2008, Metairie Cemetery
Many New Orleanians have fond childhood memories of visiting Al Copeland's Metairie abode, which he decorated extravagantly during the holiday season. Today, the Popeye's Chicken founder is interred in an opulent family tomb in Metairie Cemetery. Flanked by urns, white marble columns and a stained-glass door, it looks less like a mausoleum than a minor Greek acropolis.
Chapman H. Hyams, 1838-1923, Metairie Cemetery
How can you be sure that your death causes angels themselves to weep? Commission a marble version yourself, as did millionaire stockbroker Chapman H. Hyams. His "Angel of Grief" statue rests inside a granite Greek temple surrounded by Ionic columns. Stained glass windows illuminate the grieving seraph.
---
Related Articles