Book A French Quarter Hotel
The Historic New Orleans Collection Presents Storyville: Madams and Music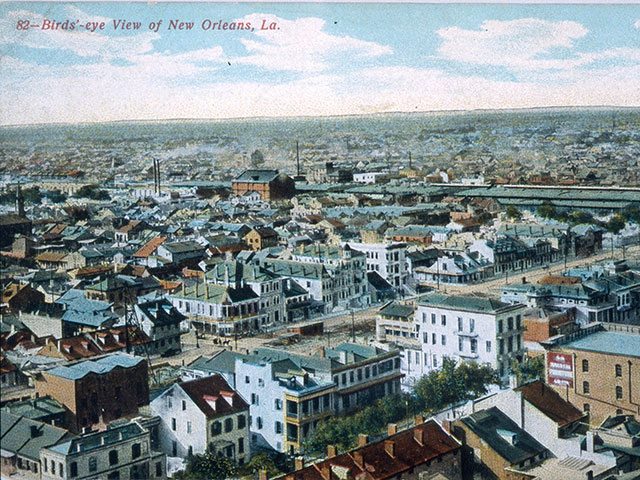 Postcard showing view of Storyville courtesy of The Historic New Orleans Collection
Many know Storyville as the red light district where prostitution and jazz music flourished in New Orleans from 1895 to 1917. A lineage of musical geniuses, including Jelly Roll Morton, Buddy Bolden and Pops Foster, gave birth to jazz while entertaining customers at brothels—or so the story goes.
Beyond Basin Street
But a recent talk at the Historic New Orleans Collection by Kansas University professor of American Studies Sherrie Tucker, "More to the Story: Listening for Early New Orleans Jazzwomen," explored the limitations of this popular narrative. Though it became the dominant explanation of jazz's origin when the musical form was being institutionalized in universities, the narrative "leaves out a lot," Tucker said.
Music did not happen in a vacuum, said Tucker, who described herself as "a feminist jazz researcher since before it was cool." Jazz happened inside and outside brothels, at parties and at homes—and many jazz musicians were women. Their influence on jazz, though mostly unwritten, is undeniable.
The Early Influences of Jelly Roll Morton
Though Jelly Roll Morton is the greatest legend of Storyville, he might never have come to prominence without the influence of a woman. Mamie Desdunes, a pianist who played in Storyville brothels, was one of Morton's teachers. Morton gave credit to Desdunes in Mamie's Blues and admitted it was Desdunes who taught him what he called "the Latin tinge." "She played the blues like this," he said on one recording before launching into a habanero rhythm.
Morton also described Desdunes in an oral history recording.
"Among the first blues that I've ever heard, happened to be a woman, that lived next door to my godmother's in the Garden District," Morton said. "Her name was Mamie Desdunes. … So she played a blues like this all day long, when she first would get up in the morning."
Sadly, Desdunes died in 1911, at age 32, leaving behind not a single recording of her music. But her influence can still be heard in Morton's many surviving records.
Women Bandleaders
The daughter of two trumpet players, Dolly Dureaux Adams began playing gigs at parties with her older brother and uncle when she was just nine years old. Her fifty-year career as a pianist and bandleader led her to play with jazz greats, including Kid Ory, Louis Armstrong and Joe "King Oliver."
Emma "Sweet Emma" Barrett (1897-1983) was a self-taught pianist, vocalist and bandleader who maintained a 25-year gig at Preservation Hall. She made her first recording for Columbia Records in 1926 and played her last gig in 1983, ten days before she died.
"Emma's role was to keep the rhythm and beat going," said William Russell, a Tulane archivist, in her obituary in the New York Times. "For such a small lady, she had tremendous power. She sat on a low stool and in her later years, a wheelchair with her hands higher than her arms, yet she got all that power in there."
This tremendous power—both Barrett's and that of other jazz woman—continues to resonate around the world. This is just a sampling of the female jazz greats. Though their stories remain little known, their music lives on.
To learn more about women and the history of jazz, visit the Historic New Orleans Collection's Williams Research Center (410 Chartres St.), which hosts an exhibit titled Storyville: Madams and Music through November 2018.
---
Related Articles