Book A French Quarter Hotel
Guide to How to Plan a Second Line Parade in New Orleans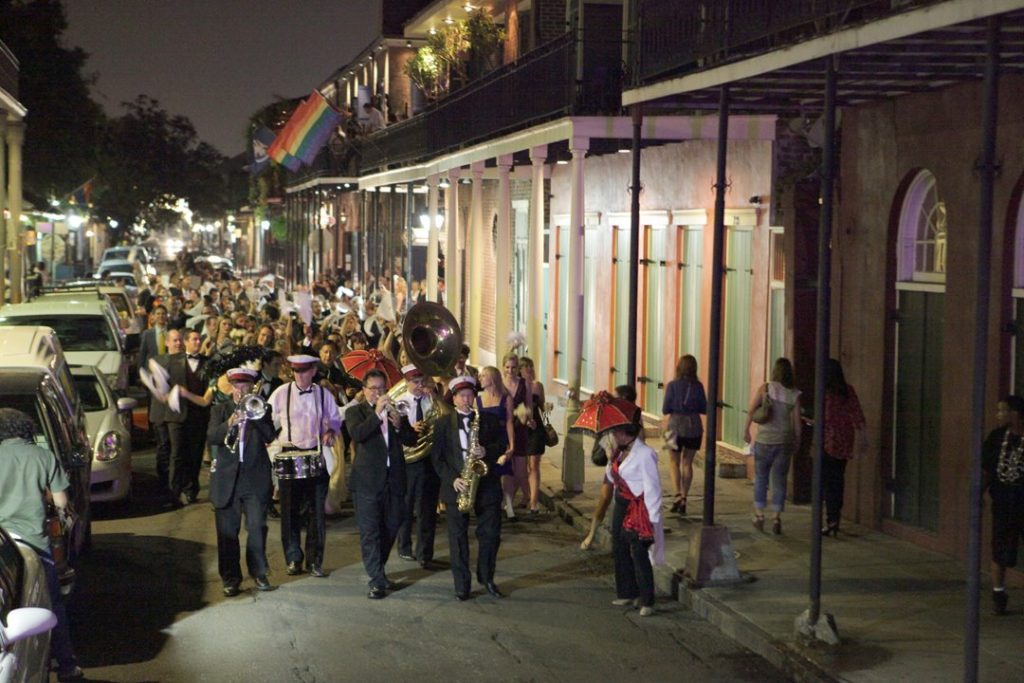 Photo courtesy of Jazzman Entertainment on Facebook
Second lines are our pride, joy, and what makes us unique. You don't have to be dead and/or famous to get a second line parade. You don't even have to live here. Organizing a second line is not hard, though it requires a few hundred dollars and some advance planning. Some things, like acquiring a police escort or a permit from the City of New Orleans, are not optional. Others, like throwing beads or twirling parasols while you strut, are up to you to add on or to skip.
You can organize a second line by either doing it yourself or by using a full-service company that would plan and coordinate on your behalf. The DIY approach is an attractive option if you don't mind filing the paperwork yourself, know exactly what you want, and have a limited budget.
Jazzman Entertainment has been organizing second line parades for over 20 years, including ones for weddings and bachelor/bachelorette parties. Jerry Embree, the Director, notes the increase in interest in second line parades.
"In the last three years I'd say we average about 100 parades a year," he says. "That's just our band." Embree plays in several, and Jaywalkers is his second line band. He describes it as "not the cheapest band but not the most expensive either." Jaywalkers come with a grand marshal, who won't only dance-lead the parade but will coordinate the event.
Outsourcing the detail coordination and knowing what to expect are two points in favor of using a full-service company. For example, Embree points out that his band always offers to play for up to an hour. Some bands that are hired directly, he notes, might only stay for 20 minutes or so. Since the police escort time booked is 45 minutes max, you may want the band to stay for an hour. "Four events a day is our limit," he says.
So, how viable is it to do everything yourself? "You certainly can do it yourself," says Embree, "but I think the reason we get a lot of our gigs is because we offer that service… It's not that it's hard, but you have to deal with two different departments… One for the permit and another for the detail cops… Most people consider that service charge to be a bargain for that."
This would also involve hiring the band directly, plus the grand marshal, and any additional musicians, costumed revelers, dancers, and stilt walkers. If you want accessories like parasols, handkerchiefs, beads, or any other throws, they would also need to be purchased from a local vendor or online (parasols could be rented). Finally, if you want to customize the handkerchiefs, go-cups, or any other throws with your name and the date (people often do, especially for weddings), you'll have to coordinate that too with one of the local companies.
Leaving everything to a professional would cost more but would save you a lot of hassle, especially if you are coordinating your event remotely.
"I would say about 75% of our business is out-of-town clients," says Embree, also noting, "We've done some international weddings."
Some local companies offer both standard packages and customized options. Either way, they do all the planning for you. Here we explain your options for both the DIY and the outsourcing approaches.
Do It Yourself
File the paperwork
Determine the date, the route, and the number of participants. You will need this information for the permit application.
Fill out two applications: the Master Special Event Permit Application and Parade Permit Application (Supplement C). The applications must be submitted at least 15 days prior to the event, but the City of New Orleans recommends filing 90 days in advance.
According to the City of New Orleans:
"In New Orleans a Parade Permit, Police escort and City Permitting tax/fee are required for any/all events parading in the streets…

Any cancellation must be done a minimum of two (2) hours prior to the event. Less than two (2) hour notification means that all police fees shall be forfeited for that date…

The parade route, along with the size of the parade, will determine the number of police officers needed for the parade escort. You will consult with the Special Events Commander about the rest of the details and any additional documents needed."
Some additional paperwork may be required:
— Supplement B: Street Closure/Block Party — If you plan to tow cars from your route or purchase meters
— Supplement G: Safety and Security — If you have any fire-related activity during your parade/race
— Plan/contract to dispose of all waste
You can find all the fees listed here. A parade permit is $200.25 ($100.25 for nonprofits), minimum escort fee is $384.97, but may be higher depending on the length of the route and the parade elements (pyrotechnics, for instance).
For parades with fewer than 200 participants, two officers (usually on a motorcycle) are riding first, and a squad car rides last closing the parade. If you have more than 200 participants more police officers will be required. Police escort fees are structured by the police officers' rank, number, and whether it's a holiday. The hourly rates are listed here.
Submit the paperwork at least 15 days prior to the event date to One Stop App, City Hall, 7th floor, 1300 Perdido St., New Orleans 70112.
You can find all applications and descriptions of procedures in the City of New Orleans' "Special Event Permit Guide and Applications."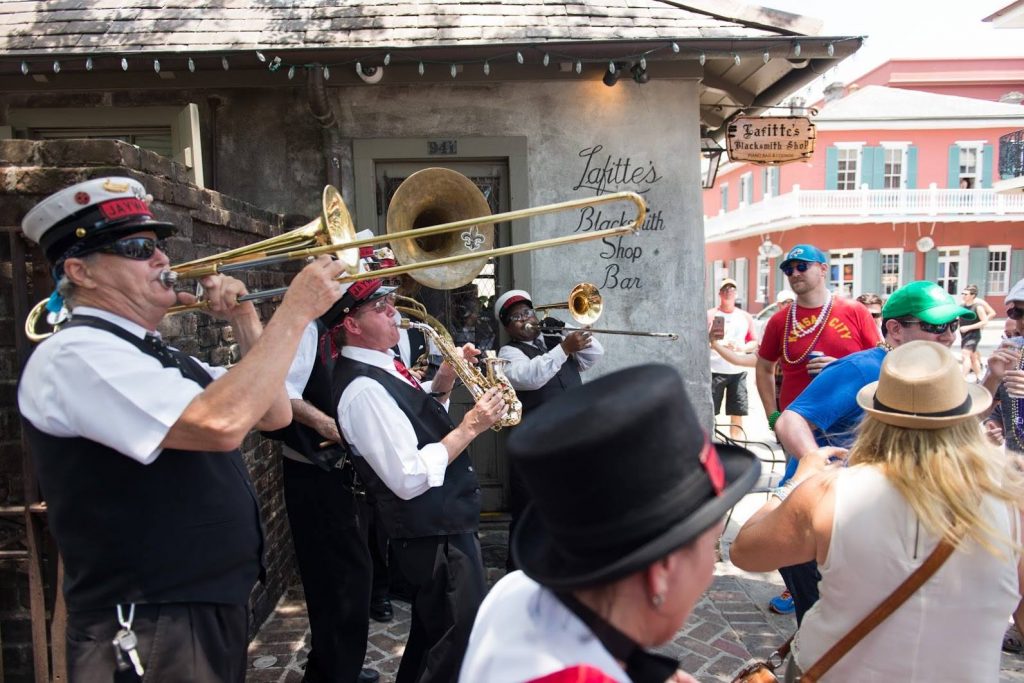 Photo courtesy of Jazzman Entertainment on Facebook
Hire the band
Many local bands are available for hire for a second line, even the world-famous ones that play regular gigs and tour. The fees and availability depend on how established and in demand the band is, but it doesn't hurt to ask. Some bands, like Storyville Stompers and Panorama Jazz Band, do a lot of second lines.
Panorama, which specializes in klezmer, offers two variations, the 6-7 piece jazz band and 8-10-piece brass band. The fees for both, just to give you an example, are listed as $2,500 for two hours and $500 for each additional hour. In general, band fees vary greatly depending on the time of the week (higher on weekends), the season, and the band's availability and popularity.
If you're lucky you may snag one of these excellent choices: Egg Yolk Jubilee, Hot 8 Brass Band, the Dirty Dozen Brass Band, or the all-women Original Pinettes Brass Band. Another option is to look into hiring a high school brass band, they're likely to command a lower fee.
Get the accessories and personalize
Most second lines just do with white handkerchiefs and a few parasols, but you can certainly get throws like beads and go-cups. You can personalize those for your second line by custom-printing your initials, for example, or the date of the event.
These local vendors offer the accessories and/or can custom-design to your specifications:
Backyard Printing and Second-line Handkerchiefs
... Or Leave It to the Pros
This option will cost more but it may be worth it to save time and to skip all the steps to the fun part — showing up for your parade. For example, Kinfolk, the local brass band, won't just walk in your parade but will do full-service parade planning for you: helping you plan the parade route, securing the required permit and three police escorts, and coordinating on-site. They'll also rent the parasols and will help you get customized accessories. You can also add a grand marshal, dancers, and even Mardi Gras Indians to your parade.
How much in advance should you book the full-service company? "Book your band a year out if you can, or at least six months out," advises Embree. "We don't normally book more than 365 days out," he says, but "we do a lot of bookings six to eight months out."
Last minutes bookings are OK, too, he says, though not for weddings. Embree says he gets quite a few bookings less than a month in advance, and it could work for bachelorette and bachelor parties.
Timing is essential because so many elements must come together. "The biggest frustration is when the client wants to change the details after we've already booked six musicians, three cops, and got them a permit, and now they want to change the time by an hour or 30 minutes," says Embree. "It's not always possible."
However you want to get there, walking in a second line parade will be worth it. "It's a once-in-a-lifetime opportunity, don't pass it up," says Embree (the glowing feedback and the pictures back it up).
Embree says: "One recurring comment is, 'Oh my god, that's the most fun I've ever had in my life!' We get that a lot. I mean, you've got cops blocking the street, you feel like a big shot. Everyone is videotaping you, you got your own private band… You feel very important. It's just a lot of fun."
If you're planning a trip to New Orleans, be sure to head over to our French Quarter hotels page to find the perfect historic boutique hotel for your stay.
---
Related Articles