Book A French Quarter Hotel
LUNA Fête Returns to the Arts District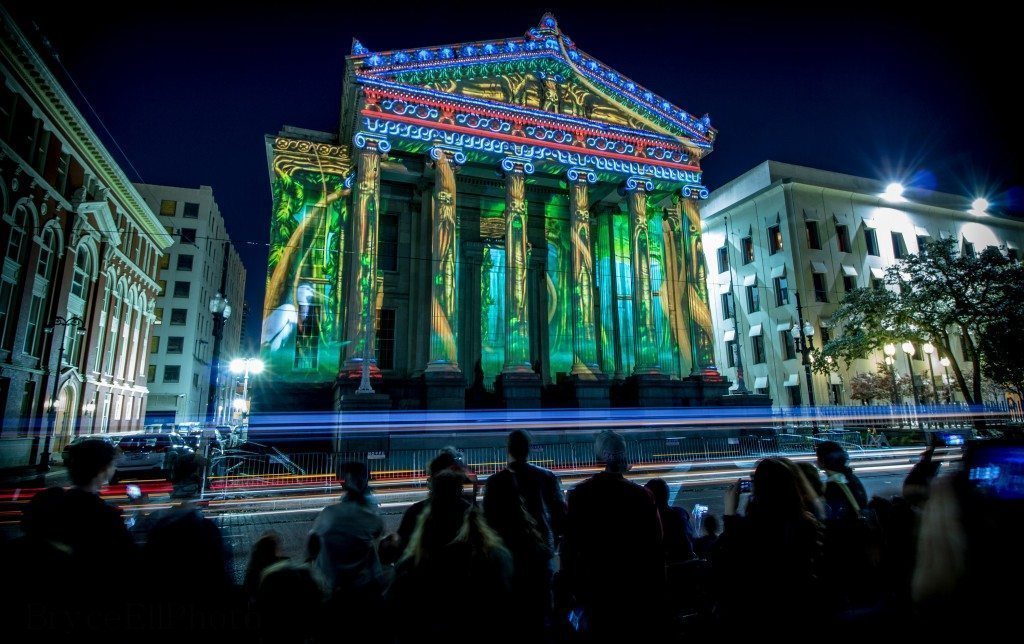 Photo courtesy of Arts Council of New Orleans on Facebook
How would you like to add a free multi-block party that also happens to be a walkable art and technology experience to your holiday roster of things to do? Not to mention, it's interactive, kid-friendly, and full of light-based art.
LUNA Fête started as just one installation in 2014 on Lafayette Square (602 Camp St.) in downtown New Orleans. (It was a light and video projection illuminating Gallier Hall.) Since then, the celebration has spread up Lafayette Street, merging with Harrah's popular Miracle on Fulton Street event. This year, the Fête will be held for four nights, Thursday, December 12, through Sunday, December 15, 6-10 p.m.
An annual presentation by the Arts Council of New Orleans, LUNA Fête marries art and technology in unprecedented ways, with emphasis on projection mapping, digital sculpture and light installations. LUNA Fête was originally envisioned as a five-year initiative intended to culminate in New Orleans' 2018 tricentennial, but it will continue into 2019. Each year the Arts Council grew the scope of its international partnerships with video-mapping artists and expanded the number of installations it commissioned and produced in New Orleans.
The idea of LUNA Fête hails from Europe. Take a visit to Lyon, France, in the winter, and you may see buildings crumble before your eyes, and then reassemble. What you are witnessing is a trick of art and illusion born partly from a digital process called "image mapping" at the Fete des Lumieres, an annual illumination festival that lights up Lyon each winter.
The process is different from just projecting an image onto a building. Instead, a 3D model of the building is used to create an optical illusion that gives the impression the building is moving and changing.
Projection mapping, as an art form, and as part of the free public festival, has been around in Europe but is relatively new to the U.S. It's becoming more popular though, especially because it's interactive, kid-friendly, and pretty incredible to see in person.
But projection mapping isn't the entirety of LUNA Fête. Past installations include huge snow globes that transformed light into a paintbrush. The spheres were sensitive to light, so the audience could interact with them creating shapes and even their own portraits on the surface using flashlights, glow sticks, smartphones, or any other light-emitting device.
Other previously showcased pieces included audio and video installations with sonic lollipops, robot cave drawings, and a giant whale spouting techno music. As you might guess, all of the above goes over great with children, as do the stands on the street selling hot chocolate.
Those are part of the LUNA Bazaar Arts Market, which returns this year with dozens of art vendors, plus food stands, cotton candy, rotating dance performances, and other entertainment. The event's VIP feature, the heated SONDER Luna Lounge, will host several parties, with food catered by some of the best restaurants in the city.
Come see how Luna Fête brings technology, film and contemporary art together while using local iconic architecture in a unique, contemporary way.
Find more information at the Arts Council of New Orleans.
---
Related Articles