Book A French Quarter Hotel
The Irish Pubs of the French Quarter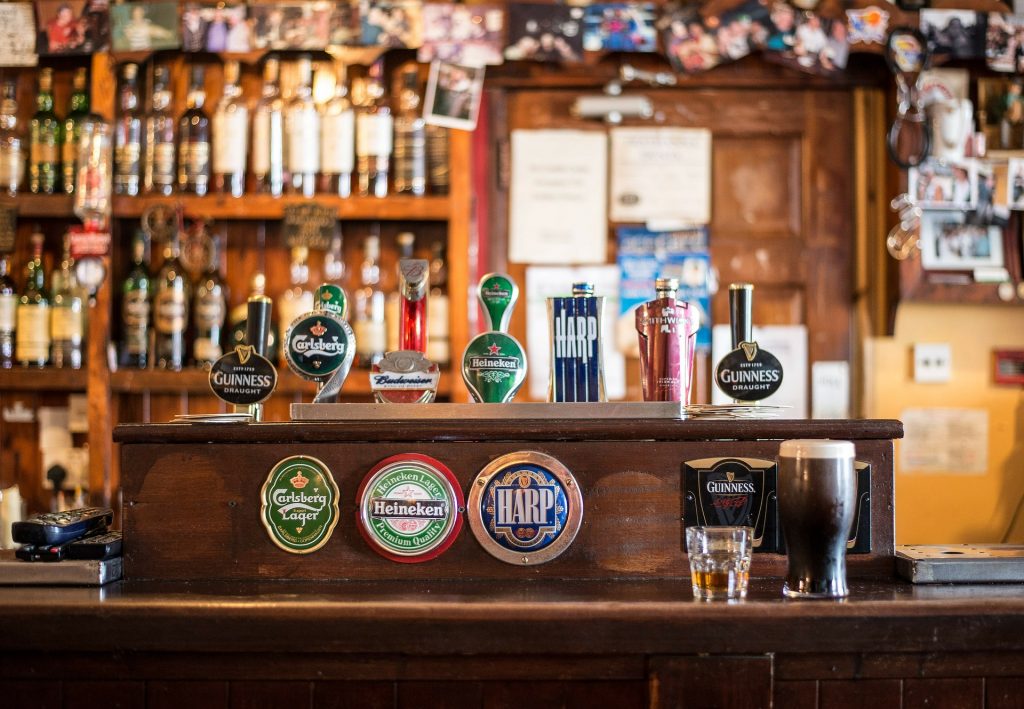 The French Quarter, despite its name, has quite a bit of Irish blood running through it.
Like old port cities of the East Coast, New Orleans saw a huge influx of Irish people in the 19th century, and for a time the Celtic brogue was heard as commonly on the streets here as the Creoles' Francophone dialect. Both those mother tongues have assimilated into the modern New Orleans accent, but one contribution of the Irish to French Quarter culture is indelible and indispensable to this day: the pub.
As is true wherever they are found, Irish pubs serve as local watering holes and gathering spots for friends in the French Quarter. While the karaoke joints and dance clubs and theme bars shake, rattle and roll, these pubs are bastions of camaraderie and good cheer, places for locals to unwind after a shift, and for visitors to sit back and observe New Orleanians in their natural element.
The pubs are often found literally in the shadows of flashier establishments. There's Molly's Irish Pub (732 Toulouse St. — not to be mistaken for Molly's at the Market, below!), for instance, an attractive, understated barroom of soft brick and polished woodwork the color of burnt sugar housed in an old Creole cottage. Regulars perch themselves on window sills or along the bar, while just outside the howls, chants and yelps of Bourbon Street are clearly audible and occasionally drown out the jukebox.
Erin Rose (811 Conti St.) offers a similarly dramatic transformation of the setting by taking just one step up and inside. Bourbon Street, in all its bead-flinging, feather boa-strewn glory, is merely two doors away, but Erin Rose seems like it's in a whole different neighborhood — one where drink prices take a sharp turn downward and local color amps up pleasingly. Regulars make a clubhouse of the place, installing themselves at the bar with the predictability of a professor's office hours.
Music: Traditional and Otherwise
In a city famous for its jazz and R&B, a handful of musically-inclined pubs provide a welcome alternative for fans of acoustic music and singer-songwriter genre.
Kerry Irish Pub (331 Decatur St.) hosts live music seven nights a week (traditional Irish music and acoustic harmonizing are well represented). With a street reputation for pouring the best pint of Guinness in the Vieux Carré, many an innocent Decatur Street stroll has been cut short by a stop inside this hospitable pub.
Have a Pint, Spin a Yarn
The entertainment provided by other French Quarter pubs is entirely in the hands of fellow patrons and passersby.
Just down the street from the Kerry is Ryan's Irish Pub (241 Decatur St.), an unassuming picture of tranquility during the day but something else altogether at night. Fitted out with cozy booths and a beautiful antique bar, the pub can get quite lively after sundown depending on which nationally touring acts are performing at the adjacent House of Blues and the temperament of the crowd those acts draw to the neighborhood.
Those with the gift of gab will find a stable of regulars with plenty of stories to swap at Fahy's Irish Pub (540 Burgundy St.), where a decidedly locals' scene develops after restaurants and other bars begin cutting their shifts for the night. The popular drink at Fahy's is a local version of the "mind eraser," a sweet vodka concoction served in a pint glass and slurped quickly by two or more people simultaneously through straws in a race to the bottom. Pool is very popular here, as evidenced by the rows of small, wooden lockers for regulars to stow their personal pool cues and gear.
And if you find yourself at Molly's at the Market (1107 Decatur St.) any day or night without an interesting yarn to share with a total stranger, just wait around a bit and you will likely witness the makings for a worthy story to tell the next time around. It's hard to imagine a more variegated bar crowd anywhere than the one that develops at Molly's, located just around the corner from the French Market.
For years, Molly's served as the de facto press club for New Orleans, and journalists, political hopefuls and other local notables have spent honorary shifts behind the bar pouring drinks for their friends and critics alike. Every night, the place fills with a crowd of fops, bards, fancy ladies, punks, bankers, artists, students, tourists, and those best described as "open to suggestion."
If for some reason, this social cocktail doesn't spark things up for you, there's always inspiration to be found in the collection of French Quarter stories and memories enshrined on the walls and behind the bar, which includes Molly's founder, the late Jim Monaghan. His ashes have been interred in a place of honor above the bar ever since his jazz funeral disbanded outside the pub's doors in 2001.
We'd also like to add these two Irish bars to the French Quarter lineup since this article has been written:
731 St. Peter St.
Tucked into a brick hideaway between Royal and Bourbon streets across from Preservation Hall, this intimate Irish pub was named after a movie that runs on the loop on the TV inside the bar (don't worry, there's a good jukebox too). The famously friendly bartenders serve Guinness and local beer on tap, as well as Irish car bombs. The prices are very, very good — so think of Boondock Saints as your perfect getaway from the 24/7 party happening just steps away on Bourbon St.
717 St. Peter St.
Another low-key Irish bar on the same block, Finnegan's Easy is long, narrow, and more crowded, but with ample capacity to handle it thanks to its spacious courtyard. You could tell it caters more to the visitors as it serves as a stop on some of the walking tours in the French Quarter. Finnegan's features sports on TV and cheerfully serves Irish grub along with more American fare, like wings. The drink menu also varies from the local beer on tap to Mai Tais and Hurricanes.
---
Related Articles