Book A French Quarter Hotel
A First-Timer's Guide to the French Quarter

Welcome to New Orleans — and the French Quarter. This neighborhood was the original city of New Orleans, a literally walled city founded by the French so they could command commerce coming up and down the Mississippi River.
Although this is the "French" Quarter — and is also known as the Vieux Carre ("Old Square") — much of the historical architecture here is Spanish in origin. During its long history, New Orleans has been administered by the French, the Spanish, the French (again!), and the USA. Here are some can't-miss destinations for those exploring the Quarter for the first time.
Jackson Square
If New Orleans has a town square, Jackson Square — dominated by St. Louis Cathedral and an eponymous statue of Andrew Jackson — is it. There's a crackling energy here, which manifests amidst street artists, friendly fortune tellers, and busking brass bands.
The Square is hemmed in on either end by the Pontalba Buildings, one-block-long four-story brick buildings built in the late 1840s. Besides their handsome appearance, the top floors of the Pontalba Buildings house supposedly the oldest rented apartments in the USA (the ground floors are given over to shops).
St. Louis Cathedral, the oldest cathedral in the country, is the dominant landmark in the Square.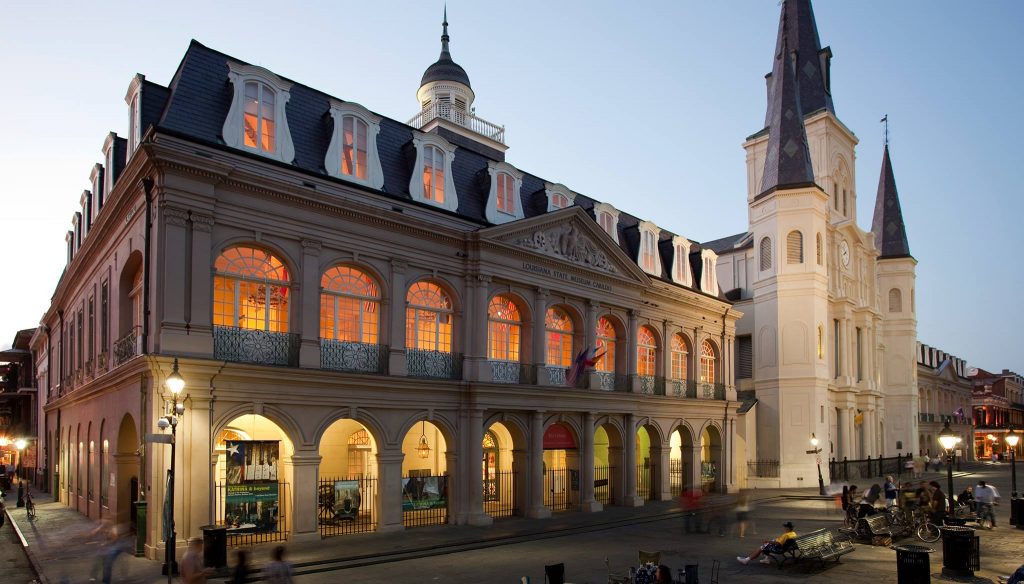 The Cabildo in Jackson Square courtesy of Louisiana State Museum on Facebook
Jackson Square
New Orleans fairly drips with history, more so than almost any other American city (alright, we see you Boston, Philadelphia and St. Augustine). If you want an introduction to that history — indeed, to the story of Louisiana itself — make sure to drop into The Cabildo. Once a seat of local government and judiciary, today the building is managed by the Louisiana State Museum. Each floor gives insight into the past via exhibits on the different ethnic groups that have inhabited the state, the local history of colonization and Francophone identity, and the legacy of slavery and Civil Rights.
Pirate's Alley
Off Jackson Square
This thin thoroughfare almost feels like an urban afterthought given the scale of some of the other streets in the French Quarter, but walking down Pirate's Alley — which takes but a few minutes — is a quintessential French Quarter stroll.
This little street (it's only 600 feet long), backed by historical buildings and packed with unique businesses like Faulkner House Books and the Pirate's Alley Cafe and Absinthe House embodies a certain element of French Quarter identity: an unreplicable hybrid of architectural preservation and idiosyncratic eccentricity.
For what it's worth, the legends that Andrew Jackson met pirate Jean Lafitte here for a clandestine pow-wow are probably that — myths. If a powerful official was going to meet with a wanted pirate, they probably wouldn't do so on a pedestrian alley that ran alongside the city's then-largest church.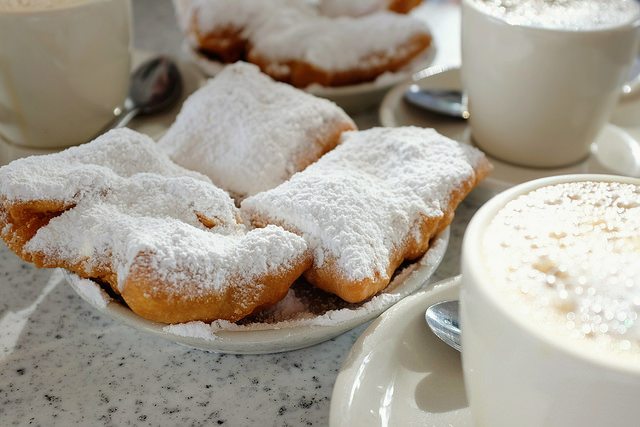 Beignets from Cafe du Monde by Peter Burka
800 Decatur Street
We'll be brutally honest here: Sometimes, when you hit Cafe du Monde during the busy part of the day (which can vary, although there's almost always a crowd on weekends), it can be a bit too much. The whole point of sipping a cafe au lait and snacking on a beignet is to slow down, open your eyes and take in the street scene of New Orleans in a state of relaxed contemplation.
It's tough to do this when you're standing in line with 40 other people. But the times when du Monde is relatively slow (we like visiting late at night or early in the morning — don't forget, it's open 24 hours) are something like magic — it's you, the city, some good coffee, and a pastry dusted in enough sugar to fund several dentists' offices.
419 Decatur Street
This small branch office of the National Park System may seem a little underwhelming at first blush, but stop in and talk with a ranger and you'll understand why this is one of the cultural cornerstones of the Quarter. The staff here are intimately tied to the city's music scene and can direct you to any number of concerts and events where the best of New Orleans music will be showcased.
(Note: Due to ongoing projects to repair damages suffered from Hurricane Ida in 2021, the visitor center has temporarily moved to 916 N. Peters Street.)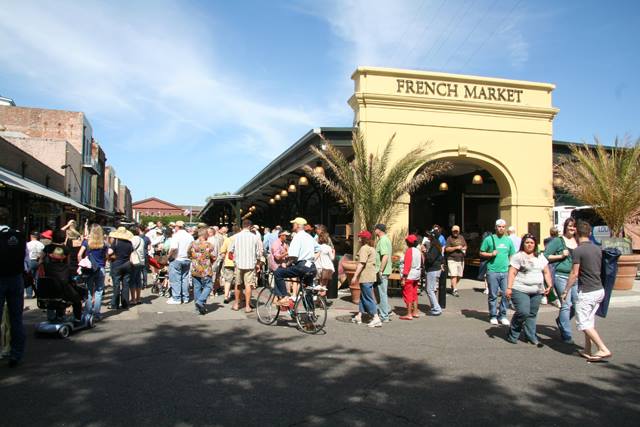 Photo courtesy of French Market on Facebook
1008 N. Peters Street
Back in the day, when the French Quarter was more of a residential neighborhood, the French Market was truly that: a large, open-air bazaar where folks could find their daily produce and groceries. Today the market is divided into two portions: an upriver side collection artist stalls and food stands to showcase some excellent local crafts and cuisine, and a downriver side flea market, where you can find all kinds of souvenirs and trinkets ranging from cheap sunglasses to giant belt buckles to African wood carvings.
Adjacent to the upriver food stalls is Joan of Arc Park, a small plaza that includes a statue of the Lady of Orleans (i.e. "old" Orleans, i.e. the one in France).
Sure, you've heard about Bourbon Street — everyone has. Heck, we've even got the complete block-by-block guide to Bourbon Street. But it's amazing how many visitors know plenty about Bourbon, yet rarely venture a block towards the river to see Royal Street — a thoroughfare that is equally fascinating, fun, yet sometimes seemingly a world away from the admittedly fratty behavior that can characterize Rue Bourbon. On Royal Street, you'll find gorgeous architecture, elegant wrought iron balconies, and a glut of art galleries and antique stores — plus, some of the city's finest restaurants.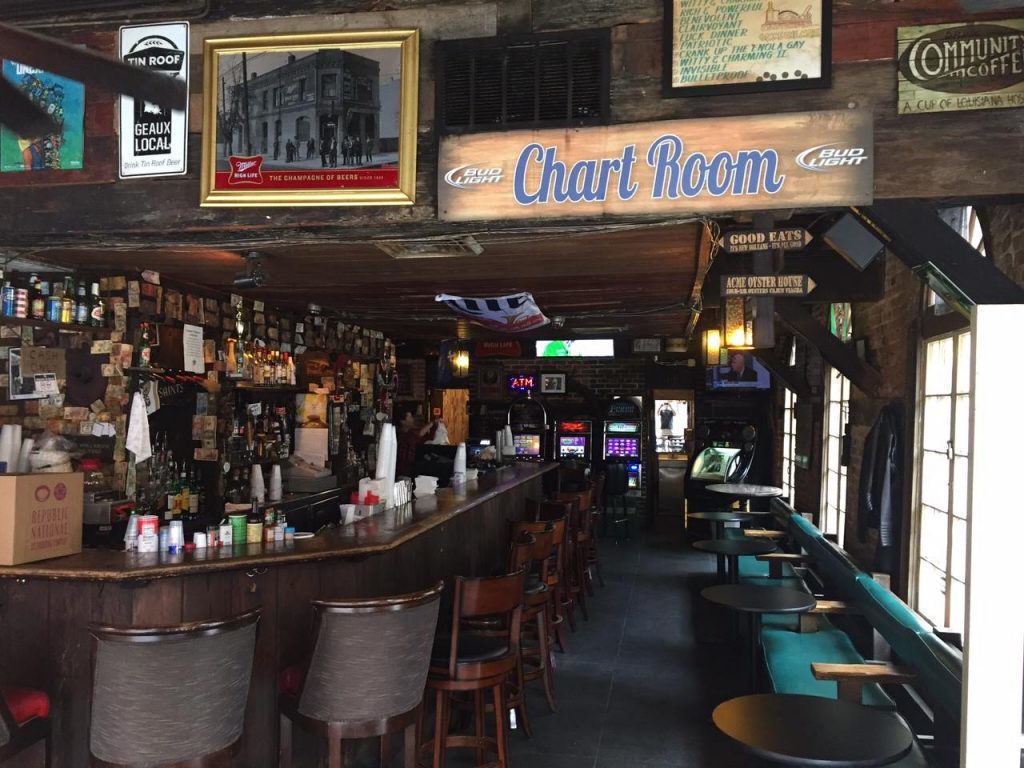 Photo courtesy of The Chart Room on Facebook
300 Chartres Street
There's no shortage of great bars in the French Quarter, but few spots are as appealingly gritty and real as The Chart Room. It's cheap, it's cheerful, and it's a world away from some of the other neon-bedecked theme bars you'll find elsewhere in the neighborhood. They may not serve craft cocktails or fancy beer, but if we need a go-cup while we wander the Quarter, we head to The Chart Room.
The Moonwalk
Woldenberg Park
The Moonwalk is named for former mayor Moon Landrieu. It's a pleasant little walk that offers excellent views out onto the largest river in North America, the mighty Mississippi. You'll often find street performers, folks having a picnic, families on a walk, and a generally eclectic cast of New Orleans characters strolling around up here. Spot a riverboat, snap a picture, and soak up the scene.
1109 Decatur Street
Look, if you're visiting New Orleans, you should eat your way through the whole city, but as you do, don't miss Coop's. Its blends the two distinct cuisines, Cajun and Creole, onto one excellent menu, the interior looks like a mad hallucination dreamed up by a bartender on a pirate ship, and the beer is cold. Sample some rabbit jambalaya or redfish or… well, you can't really go wrong. Bon appetite!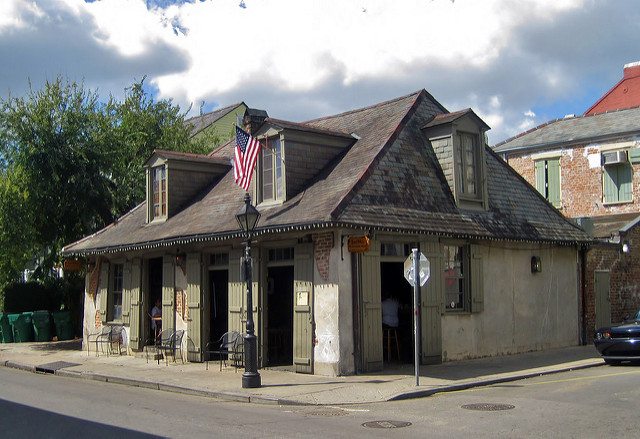 Lafitte's Blacksmith Shop by Teemu008
941 Bourbon Street
Housed in a little stone building that looks like it dropped out of a timewarp (but for the modern mixers doling out frozen "Purple Dran"), Lafitte's lays claim to being the oldest structure in the U.S. operating a bar. Come on in, listen to the local crooners bang out some piano tunes, and enjoy a drink in a true New Orleans landmark.
Are you planning to spend some time in New Orleans soon? To stay close to all the action, book a historic boutique hotel in the French Quarter at FrenchQuarter.com/hotels today!
---
Related Articles