Book A French Quarter Hotel
Best Food on Bourbon Street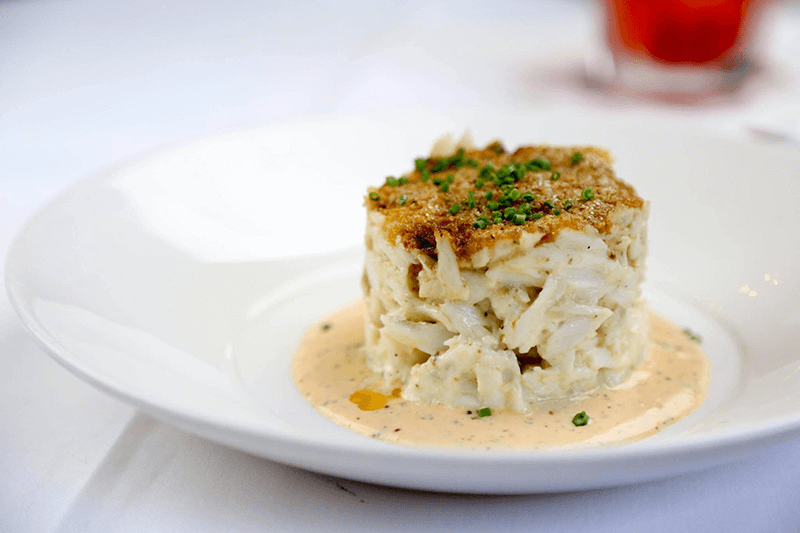 Photo courtesey of Galatoire's 33 Bar & Steak on Facebook
The 13-block strip of Bourbon Street is not all neon hustle and gigantic drinks in souvenir cups. It's actually home to some of the most vibrant restaurants in the city — high and low, round-the-clock, world-famous — and just interesting. Here's a quick rundown of the best food you could find on this most-visited street in the French Quarter, starting with Upper Bourbon on Canal Street and walking towards Esplanade Avenue.
Red Fish Grill 115 Bourbon Street
Ralph Brennan's Red Fish Grill has been around for more than 20 years, offering a child-friendly respite in the middle of the Bourbon Street chaos. It's known for its seafood-heavy menu and good happy hour deals on the drinks and the oysters. The Creole jambalaya risotto is a popular item. It comes with Gulf shrimp, Andouille sausage, grilled chicken, and roasted tomatoes. Other signature dishes include BBQ oysters and double chocolate bread pudding.
Bourbon House 144 Bourbon Street
An old-school seafood restaurant run by the Brennan family with a raw oyster bar and Creole fare like New Orleans-style BBQ shrimp and pasta with pork belly and crawfish tails. "If it's not in season, you won't find it on the menu" is a promise delivered. The Plateaux de Fruits de Mer is quite a starter — with oysters, shrimp, seafood salads, and marinated crab fingers. Bourbon House also lives up to its name with a selection of small batch and single barrel bourbons. Try the specialty frozen bourbon milk punch, or get one of the four-bourbon flights ($14-$18).
Galatoire's 209 Bourbon Street
Galatoire's should be on everyone's New Orleans bucket list, and it's likely to deliver a day-long eating and drinking extravaganza you won't soon forget. Founded in 1905, the restaurant has become a fine-dining institution beloved by the generations of New Orleanians. The decadent classics like crabmeat maison, duck crepes, foie gras, and turtle soup has been served there for over a century. Jackets required.
Galatoire's 33 Bar & Steak 215 Bourbon Street
Galatoire's added a steakhouse to its family of restaurants in 2013, right next door to the original. Galatoire's 33 is named after a post marker found inside the historic building during the renovation. It serves traditional steakhouse fare.
Desire Oyster Bar 300 Bourbon Street
The elegant hotel restaurant has a Broadway-style marquis sign, huge windows, tin ceiling, and black-and-white checkered floors. It was redesigned in 2015 and is currently helmed by Executive Chef Jeff Mattia. Besides oysters, the menu emphasizes the Gulf seafood, and features New Orleans favorites like shrimp and grits, gumbo, po-boys, and fried greet tomatoes.
Remoulade 309 Bourbon Street
Remoulade is a family-friendly, casual offshoot of Arnaud's with some of Arnaud's signature Creole dishes like shrimp remoulade, but at a lower price point and served cafe-style. Sidle up to its marble-topped oyster bar for some fresh oysters, or choose from the classic New Orleans menu of po-boys, gumbo, jambalaya, and crawfish pies. Takeout available.
Crescent City Pizza Works 407 Bourbon Street
A late-night pizzeria at Conti Street, with pies that have telling names like the Big Cheesy and Chicken Bacon Krunch. The BBQ pork pizza will chase your hangover away with pulled pork, two types of cheese and a generous serving of Sweet Baby Ray's BBQ sauce. The ever-popular Chizzaburger combines Angus beef, onions, mozzarella, pickles, ketchup, and mustard.
The Tequila House 417 Bourbon Street
A laid back joint with drink specials, a simple Mexican menu and a cozy, candle-lit courtyard. Obviously, there's an extensive tequila menu, plus the bar-friendly grub like fajitas and southern BBQ.
Pier 424 Seafood Market Restaurant 424 Bourbon Street
A seafood-focused casual eatery with balcony dining and a large oyster bar. Try the sauteed crab claws or bayou frog legs (battered, with buffalo sauce), or a seafood muffuletta. The New Orleans Trio sampler is a local trifecta of crawfish etouffee, red beans and rice, and gumbo with Andouille sausage ($17.50).
Bayou Burger & Sports Company 503 Bourbon Street
A sports bar with a second location on Magazine Street, from Creole Cuisine Restaurant Concepts that also operates a number of local restaurants including Kingfish, Broussard's and The Bombay Club. Bayou Burger offers lots of TV, local brews, specialty burgers, and pub grub with local flair. The burgers come in a variety of meats including alligator and venison, with toppings like fried pickles and pulled pork.
Cornet 700 Bourbon Street
Cornet, on the corner of St. Peter and Bourbon, serves traditional Cajun and Creole dishes like crab cakes, grilled gator sausage, po-boys, seafood platters, pastas, and staples like crawfish etouffee. Try the smothered shrimp and okra, or the Tour of New Orleans sampler of jambalaya, gumbo and crawfish mac 'n' cheese ($16). Balcony seating available.
Clover Grill 900 Bourbon Street
A retro-classic, 24-hour diner in a city that sorely lacks them, Clover Grill "loves to fry and it shows" (as the menu states). The food is a reliable greasy-spoon fare, but you'll be coming in at 4 a.m. as much for the scrambled eggs as the vibrant mix of its French Quarter crowd. The restaurant's interesting existence is reflected in its no-nonsense menu, which is peppered with requests like: "We don't eat in your bed, so please don't sleep at our table" and "Dancing in the aisles only, please keep off the tables."
---
Related Articles