Book A French Quarter Hotel
Bayou Bacchanal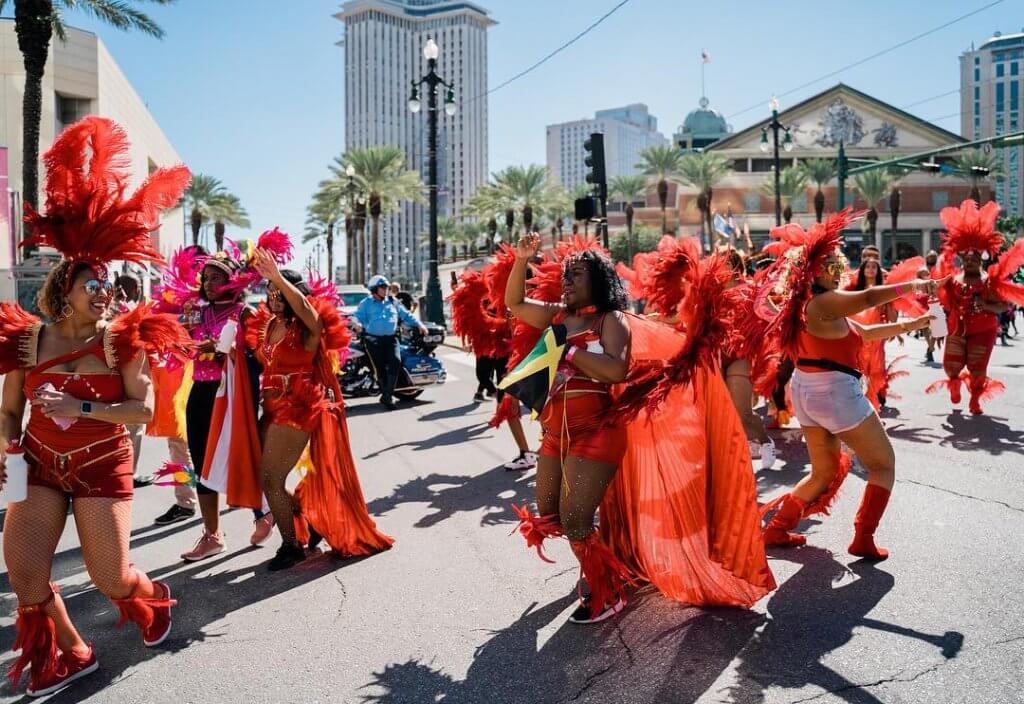 Photo courtesy of Bayou Bacchanal on Facebook
We know, fall in New Orleans is packed with festivals, but please make room for this fabulous annual fest that pays homage to Caribbean culture and heritage right here in the Crescent City. The Caribbean islands nations and New Orleans have had ties for centuries, and, besides, just like the vibrant countries of the Caribbean, the city also knows a thing or two about throwing a serious Carnival party, complete with costumes, live music, amazing food, and, of course, a parade.
Bayou Bacchanal is presented by the Friends of Culture, which provides a cultural link between the Greater New Orleans area and the island nations of the Caribbean. The 17th annual fest will be held over two days, on November 1 and 2. The fest opens on Friday, November 1, with an All-White Affair party at Cozie's Sport Bar & Grill (724 Franklin St., Gretna) at 10 p.m. The attendees are encouraged to don white outfits and represent their countries with flags.
The main event falls on the next day, Saturday, November 2, from 11 a.m. to 9 p.m., at the Crescent Park (2300 N. Peters St.). The extravaganza starts with a parade that will weave from the Warehouse District through the French Quarter and will wrap up in the Crescent Park. Attendees are invited to bring their families, don costumes, and join in on the fun. Marching bands and dance troupes will lead the procession, playing Soca, Dancehall and Reggae. The annual Bayou Bacchanal Parade is free and open to the public.
Once the celebration reaches the park, the fun will continue with live performances (highlighting Caribbean artists and DJs), dancing, a costume competition, and dozens of Caribbean food vendors doling out the delicious flavors of the island nations. Expect to sample such staples as jerk chicken, saltfish, roti, and curry goat and chicken. You can wash it all down with ginger beer or passionfruit juice, or any number of the delicious concoctions that will be available throughout fest grounds.
Bayou Bacchanal closes out each year with a post-party featuring DJs, street food, cocktails, and more dancing. This year, Rendez-Vous Creole Haitian Restaurant on the Westbank in Algiers (3042 Gen. Collins Ave.) will host. The party starts after the fest wraps up, at 11 p.m.
Pre-party, festival and post-party ticket prices vary ($15-$20). Immerse yourself into the Caribbean culture and party till the sun goes down (and beyond) at this lively festival.
Are you planning to visit New Orleans this fall? Thinking of joining in on some Halloween fun?
The weather is mild, and we've got a fabulous lineup of festivals that celebrate the Crescent City's unique culture and every food and drink imaginable. Visit FrenchQuarter.com/hotels to find your perfect historic French Quarter hotel that will put you right in the center of all of the action and within walking distance to many of New Orleans' bars, restaurants and entertainment spots. Be in that number!
---
Related Articles