Book A French Quarter Hotel
NOLAxNOLA Comes Back for Its Third Year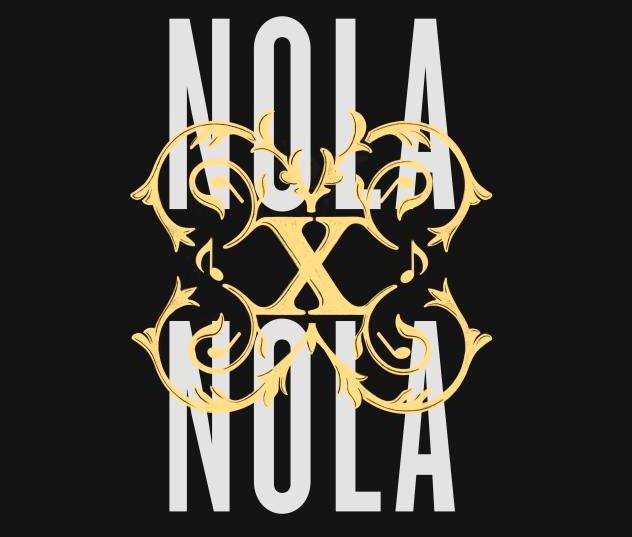 Did you know that October is considered Music Month in New Orleans? That's saying something, considering New Orleans' vibrant music ecosystem all year around. Here, our festival and music culture reflects the city's rich history and diverse cultural heritage. And we have over 130 annual festivals to show for it. There's a celebration of so many things, from a Creole tomato to beignets to Louisiana seafood to beer… You get the drift. Music, however, is a constant presence in the magical equation that is a New Orleans festival. And what better time of year to throw an 11-day music party than in October, when the temps are pretty much perfect and fall is finally in the air?
So, what is NOLAxNOLA exactly? Pronounced "NOLA by NOLA," it's a celebration of New Orleans music, venues and artists. In 2021, a coalition of New Orleans artists, venues and cultural leaders banded together to support one another and keep the music community and culture bearers strong in those difficult times. The event featured a huge and impressive case of New Orleans artists and was a success, so it came back in 2022 with even more shows and more venues participating.
In its third year, NOLAxNOLA will run from Thursday, September 28 through Sunday, October 8, 2023. The astonishing 48 venues will host over 300 shows during that time. They are both indoor and outdoor, located all over the city, and span from the dives and breweries to hotel bars, music halls, jazz clubs and iconic venues like Preservation Hall and Tipitina's to local theaters (Civic, Joy, Orpheum, and more).
The lineup is very local and breathtakingly extensive. Think of a perfectly put roster of all of your favorite local acts, and that's the artist list scheduled to perform at the event. That would be Big Freedia, Soul Rebels, Hot 8 Brass Band, Preservation All-Stars, Galactic, Kermit Ruffins & The BBQ Swingers, Anais St. John, Panorama Jazz Band — the list goes on and on.
NOLAxNOLA is more than music, too. The events will include comedy shows like a roast of Tipitina's co-founder and Galactic's drummer, Stanton Moore, DJ nights, burlesque, and jazz yoga at the New Orleans Jazz Museum. New this year, NOLAxNOLA Meet & Greets will give you a chance to meet the people behind the music industry in NOLA for a happy hour and conversation at The Howling Wolf, Chickie Wah Wah, Le Bon Temps Rouler, and a few other venues.
NOLAxNOLA was co-founded by Sig Greenbaum, Founder and CEO at Sigfest Events. He has over 20 years of experience producing global live events. For updates and to see the full lists of participating venues and artists, visit the event's page on NewOrleans.com and follow NOLAxNOLA on Instagram.
---
Related Articles
Book A French Quarter Hotel
Suit Up for the Red Dress Run in New Orleans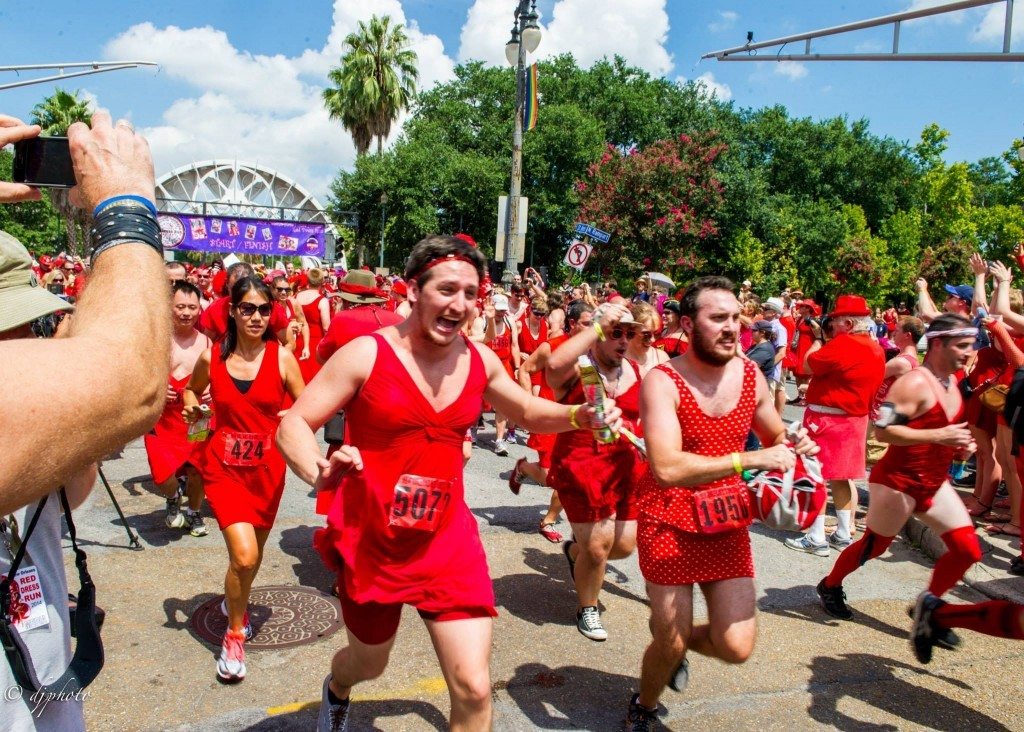 All photos are courtesy of David Fary
You'd be tempted to call thousands of sprinting women and men kitted out like a Chris de Burgh single ("Lady in Red") a drag race, but no. It's a dress run. On the second Saturday of August — this year, that's August 12, 2023 — the New Orleans Hash House Harriers (NOH3) are at it once again, hosting the annual New Orleans Red Dress Run.
The Event Details
Still going strong after more than two decades, the race draws in thousands of men and women aged 21 and older, who take to the French Quarter to showcase the color red in all of its glory (and let's be honest, sometimes lack thereof).
This year, once again, the race assembles in Crescent Park around 9 a.m., with beer flowing and a DJ spinning. Late registration goes on until the start of the run (10 a.m.), which tends to finish in a crimson scrum of sweat and live music. Please note the earlier start time as the organizers are trying to get everyone moving before the serious heat descends. Admission for this event is $65.  Day-of registration is cash only.
The two-mile race route is a closely guarded secret, but expect runners to jog/stumble/sprint through the Bywater and Marigny neighborhoods eventually making it into the French Quarter and back to the Crescent Park. Once the run is over at 11:30 a.m., lunch is served. The whole affair is over by 4 p.m.
Participants can pick up their event packets on the day of the event, but also on Thursday and Friday, from 4 to 8 p.m., at Deutsches Haus, 1700 Moss St. (Bayou St. John in Mid-City). Everyone needs to show ID and sign a liability waiver.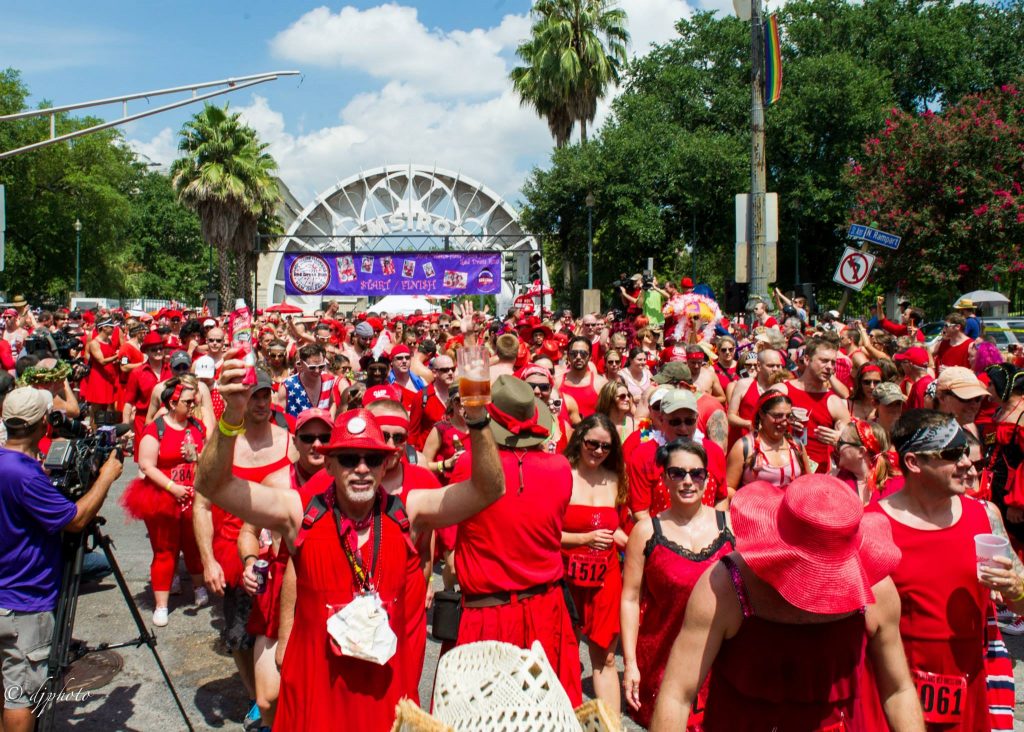 Tips for the Red Dress Run
Here are some pro tips we've collected over the years from repeat participants. New Orleans heat in August is no joke, so we hope you heed the advice to stay safe, hydrated, and have fun.
No one wants to be dragged down with a handbag, so consider investing in a fanny pack or a Ziploc bag "wallet" for phone cards and cash. Another option is to wear a dress that is tight up top so you can hold your phone, cash, card, and ID secure in the breast area (yes, this goes for guys too).
Just assume that it will be seriously hot, and a breathable pair of underwear is a good investment. We also recommend headbands and sweatbands that are good to wipe off moisture that's your own and from others that are tipsy and bumping into you.
Remember, this is a long party with food, beer and music. Avoid rough sequins under the arms, because arm abrasion will rain on your parade really fast. If you are unsure, dance around the house with some bold arm movements to see if you've got the right stuff on top.
Some more race etiquette: Tie your shoes. The last thing you want is someone stepping on your laces and you, or them, falling. If you are going slowly, no worries, although a koozie might be a good idea as your drink will get hot, quickly.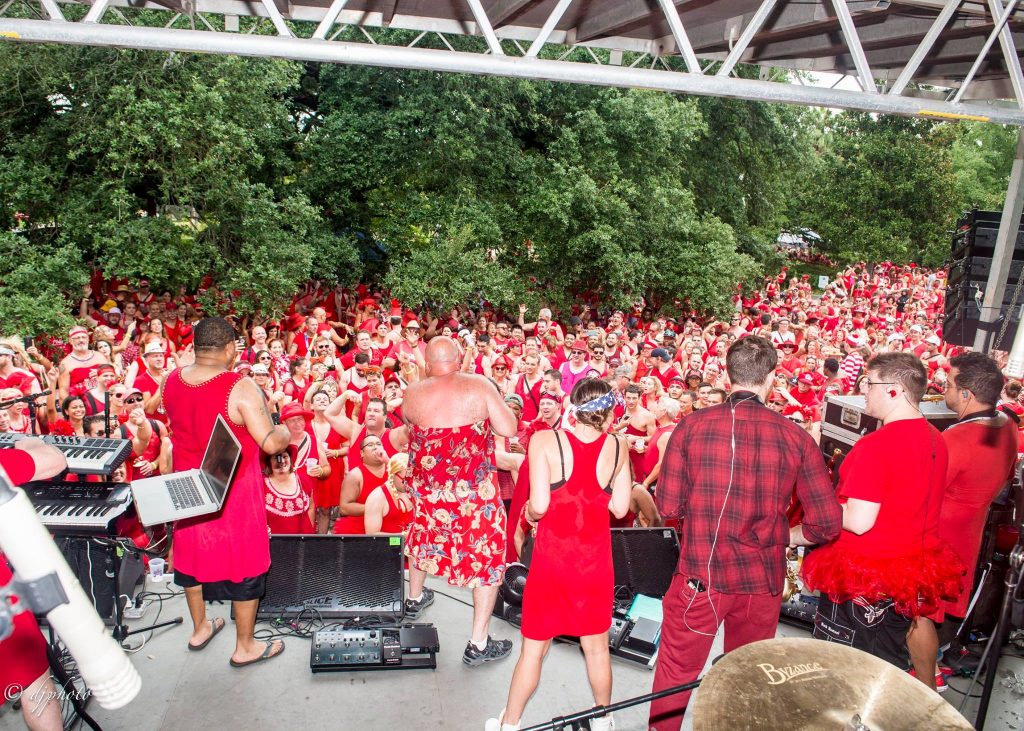 About the Red Dress Run
The entire affair owes its existence to the remarkable efforts of the local chapter of Hash House Harriers, a club dedicated to running and drinking (many Hashers would flip those priorities). The club — a "Drinking Club with a Running Problem" — is international, and you can find a Hash/Run event in almost every country in the world. Proceeds from the event benefit different charities.
The calendar of runs is on the NOH3 website and membership is open to anyone over 21. All you need to do is show up.
Just remember, it takes more than putting on a red dress and tying off a few in the Quarter to be a part of this historic event. Don't be a red dress rip-off — register to enjoy unlimited beer, food and music.
As mentioned above, the race route is secret, so follow the event on Facebook. For spectators looking to watch the action, the race "track" has always traversed Bourbon and Royal Street in the past, with a handful of beer stops along the route.
Need a hotel? To stay close to all the action, book a historic boutique hotel in the French Quarter at FrenchQuarter.com/hotels today!
---
Related Articles
Book A French Quarter Hotel
More Winnin' at Dirty Linen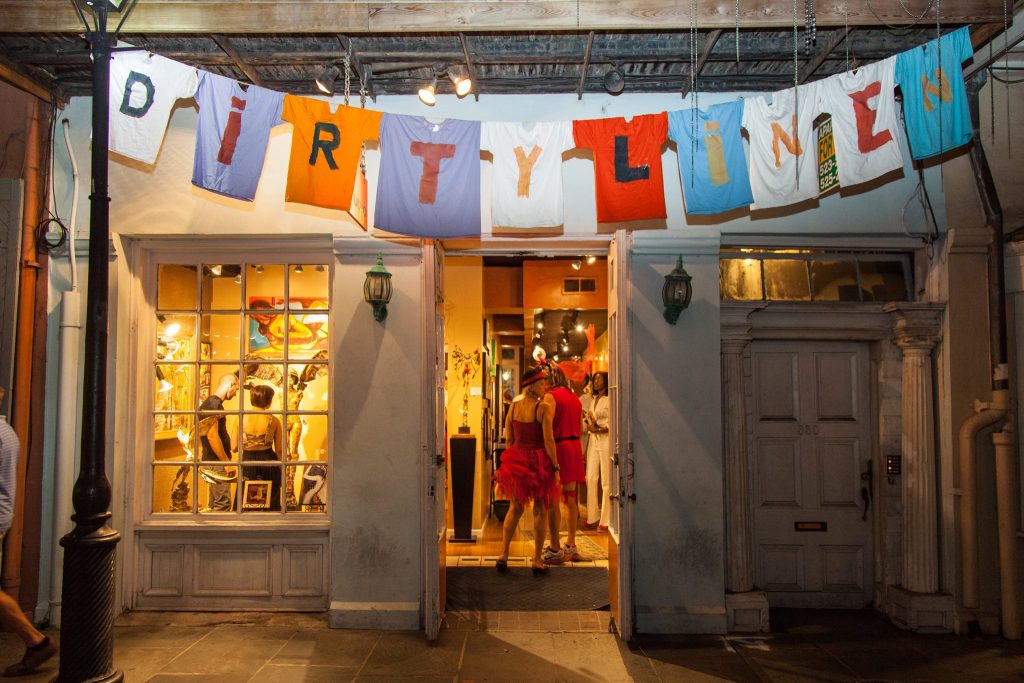 Image courtesy of Dirty Linen Night on Facebook
Every year, Dirty Linen Night invites New Orleanians and tourists alike to celebrate the city's French Quarter art galleries and boutiques. The event follows the White Linen Night, usually held on the Saturday before. The Dirty Linen Night was originally conceived not to compete but as a way to encourage people to visit Royal Street and support local businesses.
This year's event, the 20th annual Dirty Linen Night, lasts from 6 to 9 p.m. (officially — the event generates its own momentum and tends to run a little late) and will be held on Saturday, August 12, 2023. The festivities will feature dozens of participating galleries and businesses, multiple blocks of pedestrian-friendly celebrations, buskers, delicious food, drink specials, and plenty of good times. The bulk of the action will occur between the 300 and 1100 blocks of Royal Street. Dirty Linen is free and open to the public. You can also buy raffle tickets online to win artwork and gifts.
And, oh, make sure to wear unwashed white linen from the previous week — Dirty Linen is a continuation of the White Linen party, albeit one that is a little more raucous than the Julia Street event. We're kidding, by the way — while you're encouraged to wear last week's linen, any kind of flowy, comfortable summer clothes will do.
The Galleries and Businesses
It's impossible to describe every participating gallery and shop in a short article, but here are some of the highlights. French Quarter art galleries regularly provide discounts on Dirty Linen Night.
610/612 Royal St.
When we think of French Quarter art galleries, a place like Le Jardin often comes to mind. Effectively a narrow corridor that leads to a spacious dream of a Vieux Carre courtyard, all of the wall space in Le Jardin is crammed wall to groaning wall with the work of local artists. Much of the stuff you'll see on display has a folk arty feel; the bright colors, bold presentation, locally focused subject matter and the general haphazard, slightly chaotic atmosphere of the place makes for an art experience that feels quintessentially New Orleans. While you'll find original work here, there are plenty of prints as well. Also on site is Adorn, a local jewelry and crafts shop.
611 Royal St.
Owned and operated by the artist Matt Rinard, this gallery features the work of many of the area's renowned painters and sculptors, with a focus on whimsy and humor rather than what we think of as classic Southern art.
730 Royal St.
George Rodrigue, a native song of south Louisiana, was best known as the creator of the "Blue Dog," perhaps the most recognizable symbol of Louisiana contemporary art. The dog, with its soulful yellow eyes, was first painted in 1984 for Bayou, a selection of Louisiana ghost stories released in conjunction with the 1984 World's Fair, held in New Orleans. Rodrigue decided to paint a version of the Cajun loup garou, or werewolf, and in so doing created the ghostly visage of the Blue Dog. At once approachable, mysterious and riotously colorful, the Blue Dog would go on to become, in the eyes of the public, a stand-in for Cajun culture and Louisiana as a whole and the vehicle for Rodrigue's considerable commercial success.
910 Royal St.
One of the city's most famous photographers, Frank Relle has made a career out of his love of New Orleans architecture, history, and light — or lack thereof, in the last case. Confused? Relle is best known for taking shots of New Orleans homes, buildings and street scenes late at night, using long exposures to create a singularly eerie (yet also oddly comforting, and always beautiful) micro genre of fine art photography.
708 Toulouse St.
Located in a courtyard, this gallery is a fine base for local artist and all-around character Emile Rhys. A supremely talented artist, Rhys is best known for her fine art ink and pen drawings of the city's local musicians. Her work, which synthesizes two great elements of New Orleans creativity — the sonic world of music and the frenetic energy of her visual art — is unique and singularly worthy of souvenir consideration.
Where to Eat
Many of New Orleans' classic restaurants like Antoine's, Galatoire's, Mr. B's Bistro, and Arnaud's are within walking distance of the participating galleries. Here are some other spots outside of the pantheon of classic Creole institutions that you would want to sample.
430 Dauphine St.
Chef Susan Spicer's restaurant features daily specials and a creative mix of foods influenced by cuisine from around the globe. Try the veal sweetbreads with sherry-mustard butter.
1212 Royal St.
You might have tried Bennachin's legendary mburu akara (black-eyed pea fritters and tomato stew on French bread) and jama jama ni makondo (sautéed spinach, fried plantains and coconut rice) at Jazz Fest, where the longtime spot for African fare has a perennial presence. The food tastes even better when consumed in the cozy, colorful French Quarter destination. Bonus: A BYOB policy makes Bennachin an excellent place to affordably wine and dine.
900 Royal St.
The elegant courtyard and delicious modern Louisiana fare at Cafe Amelie are all part of a package that is equally as romantic and heart-stopping.
500 Chartres St.
Although this weathered brick building was offered as a refuge to Napoleon Bonaparte by its owner, New Orleans mayor Nicholas Girod, the exiled emperor died before taking advantage of the gesture. However, the name stuck. Today, it's a unique place to taste New Orleans cuisine in a setting that feels rich with history. Try the restaurant's specialty, the muffuletta, with its signature cocktail, Pimm's Cup.
625 Chartres St.
Located in a historic French Quarter carriage house, this eatery has classic options like a hamburger or a chicken sandwich alongside elevated Louisiana-centric fare.
Need a hotel? To stay close to all the action, book a historic boutique hotel in the French Quarter at FrenchQuarter.com/hotels today!
---
Related Articles
Book A French Quarter Hotel
Burgundy Street, a Block-by-Block Guide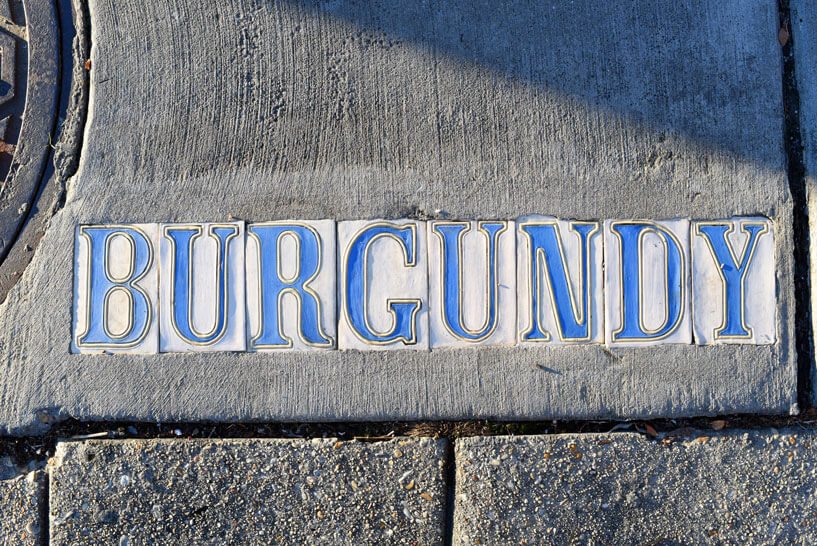 The French Quarter is many things: a historic site, a shopping and entertainment district, a premiere food and drink destination, and, to many tourists, an adult Disneyland. But for roughly 4,176 New Orleanians, according to the 2020 Census, the French Quarter is home.
Nowhere is it easier to remember that the Vieux Carre is a living, breathing neighborhood than on Burgundy Street. Unlike Bourbon Street, with its daiquiri bars and strip clubs, or Royal Street, with its antiques shops and boutiques, Burgundy Street is lined with the down-home essentials that make the French Quarter livable.
From parks to bars, Burgundy Street is the place to go if you want to live like a local. Here are a few favorite neighborhood hangs.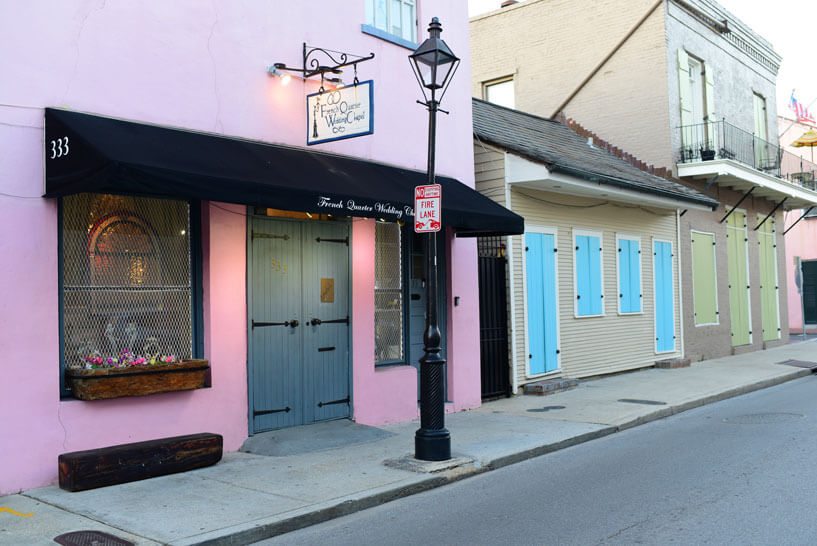 333 Burgundy Street
From cake pulls to second lines, New Orleans has rich wedding traditions, which is just one reason so many couples plan destination weddings in the Big Easy. But for spur-of-the-moment nuptials, this petite, 24-hour wedding chapel fits the bill. Reverend Tony Talavera (Rev. Tony) can waive the 72-hour waiting period that usually accompanies a wedding license application, so you can get married on the spot.
Whether you want a quick 20-minute ceremony or a two-hour affair that includes a violinist, photography, second line, and hankies for 50 guests, there's a package for every price and preference. You can also get a "specialty reverend" (Elvis, vampire, Wicca, or voodoo). It's no wonder more than 15,000 people have gotten hitched here.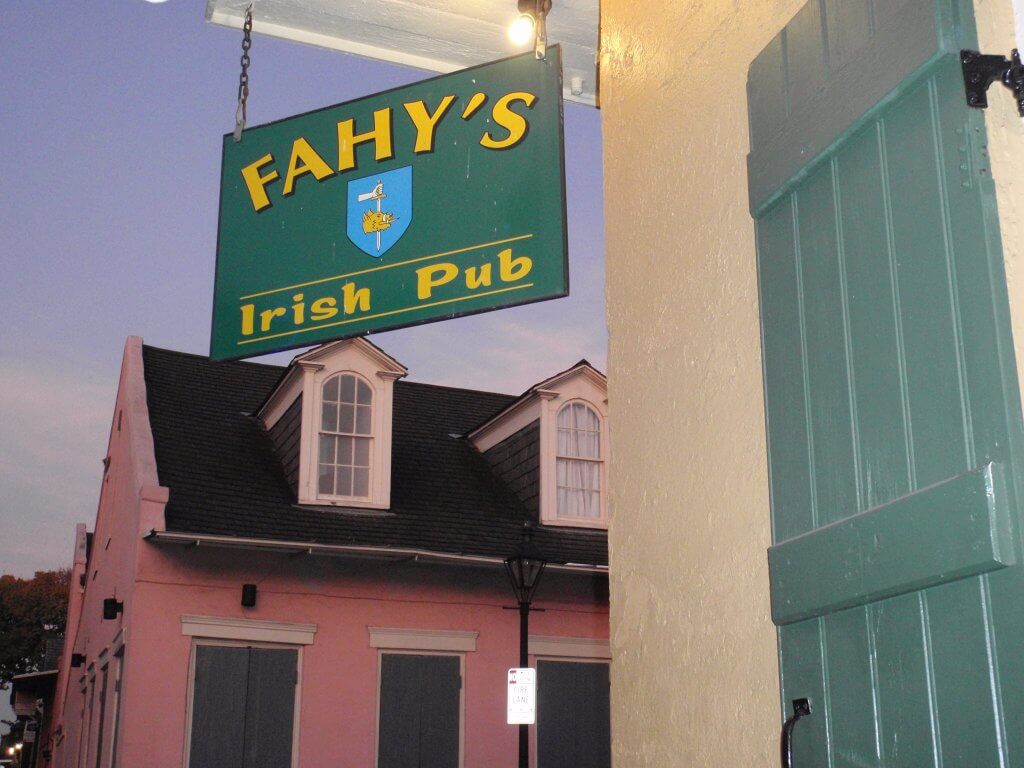 Photo courtesy of Fahy's Irish Pub on Facebook
540 Burgundy Street
Fahy's is a decidedly local scene, especially after restaurants and other bars begin ending their shifts for the night. The popular drink at Fahy's is a local version of the "mind eraser," a sweet vodka concoction served in a pint glass and slurped quickly by two or more people simultaneously through straws in a race to the bottom. Pool is very popular here, as evidenced by the rows of small, wooden lockers for regulars to stow their personal pool cues and gear.
740 Burgundy Street
This down-to-earth gay leather bar has daily happy hours, pool, a jukebox, a laid-back vibe, and adult videos on TV. Although The Silver Fox bills itself as a craft cocktail bar, the prices are reasonable. There's also a dance floor with an abundance of disco balls. You can't beat the location, either.
Quarter Grocery & Deli
836 Burgundy Street
Along with sundries and alcohol, this unassuming convenience store also has a deli with sandwiches and po-boys. How great is that? Especially since the French Quarter isn't exactly teeming with convenience and grocery stores.
931 Barracks Street
Although its official address is 1219 Dauphine Street, this fenced playground backs up to Burgundy Street. If you're traveling with kids, it's a must-stop and a great place to let little ones burn off excess energy. Slides, climbing equipment, jungle gyms, grassy fields, and more are all available at this neighborhood park. You can also walk your dog there, as long as your furry companion is on the leash.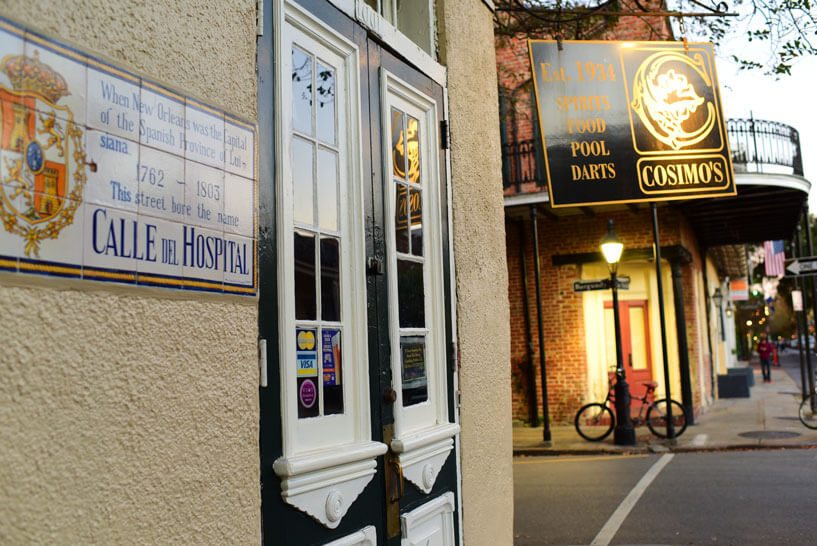 1201 Burgundy Street
This dim, dog-friendly neighborhood hang is just the place when you're in the mood for a pint and conversation in a laid-back environment. During crawfish season, you might get lucky and stumble upon one of Cosimo's boils, and the bar serves top-notch pub grub year round. It's a great place to take in a New Orleans Saints game, too. Plus, there are pool tables, Pac-Man and pizza — what more could you need?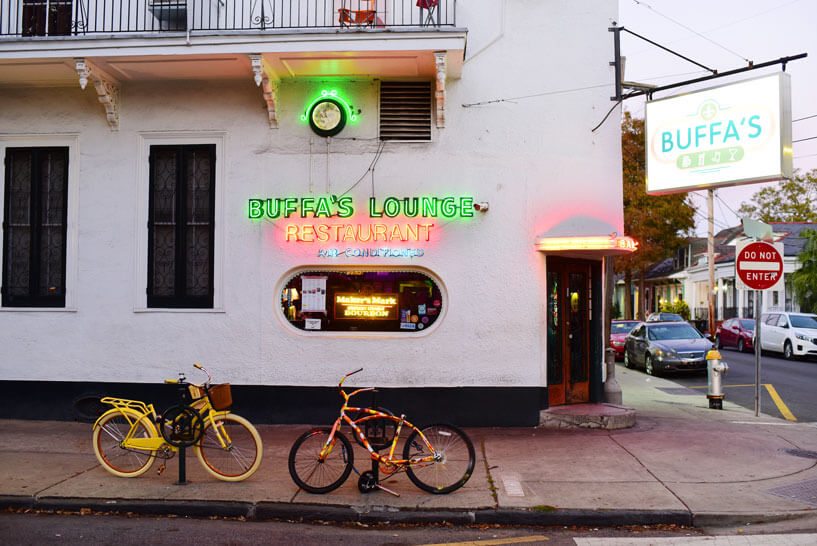 1001 Esplanade Avenue (where Esplanade Avenue meets Burgundy Street)
A neighborhood staple since 1939, this beloved neighborhood destination isn't so much a dive bar as it is a community center. On any given night, patrons will find live music, open mics and more in Buffa's back room. The menu ranges from classic bar bites (burgers and fries) to Louisiana fare (gator balls and red beans and rice). Plus, there's breakfast and a Sunday brunch. Another plus — Buffa's is open (and serves food) till 2 a.m. every night. Buffa's is technically located in the Marigny, but it's right across the street from the French Quarter, so it's good enough of a reason to recommend it.
2001 Burgundy Street
Looking for a brunch? Cross over into the Marigny and hit up The Ruby Slipper, a local chain serving Louisiana-tinged breakfast staples, such as barbecue shrimp and grits or banana pecan pancakes. Plus, there's a full bar. Just don't get there too late — this popular spot attracts a weekend crowd and long waits.
For more, check out our guide to the Famous Streets of the French Quarter.
Also, are you planning to spend some time in New Orleans soon? To stay close to all the action, book a historic boutique hotel in the French Quarter at FrenchQuarter.com/hotels today!
All photos except Fahy's Irish Pub are by Cheryl Gerber
---
Related Articles
Book A French Quarter Hotel
Dauphine Street, a Block-by-Block Guide
A dauphine is the wife of the French king's oldest son — and just as its name suggests, a stroll down Dauphine Street will make you feel like royalty. That's thanks in part to the standout restaurants that line the elegant (and, yes, regal) corridor. But Dauphine Street is also host to attractions that range from humble to down-out weird. Here are just a few top spots on Dauphine Street.
219 Dauphine Street
Killer PoBoys launched as a pop-up in the rear of Erin Rose bar — and the proprietors still sling sandwiches there. But if you want to taste the innovative po-boys in a more expansive environment, this counter-serve restaurant fits the bill. Killer Po-boys expanded to these Dauphine Street digs in 2015, where a steady flow of French Quarter workers, locals and tourists rub shoulders over truly outstanding po-boys. There's a sweet potato and greens version for the vegan crowd, a cheddar omelet po-boy for breakfast fiends, and a seared Gulf shrimp and sriracha version that has the flavor profile of banh mi. In short, Killer PoBoys has a po-boy for every palate.
227 Dauphine Street
What better place to contemplate your own mortality than the most haunted city in the United States? The Museum of Death offers creepy, oddball and downright disturbing artifacts and paraphernalia. Shrunken heads, mortician equipment, serial killer letters, graphic crime scene footage, and more fill the space. This morbid museum may be a little too intense for children, as well as some adults.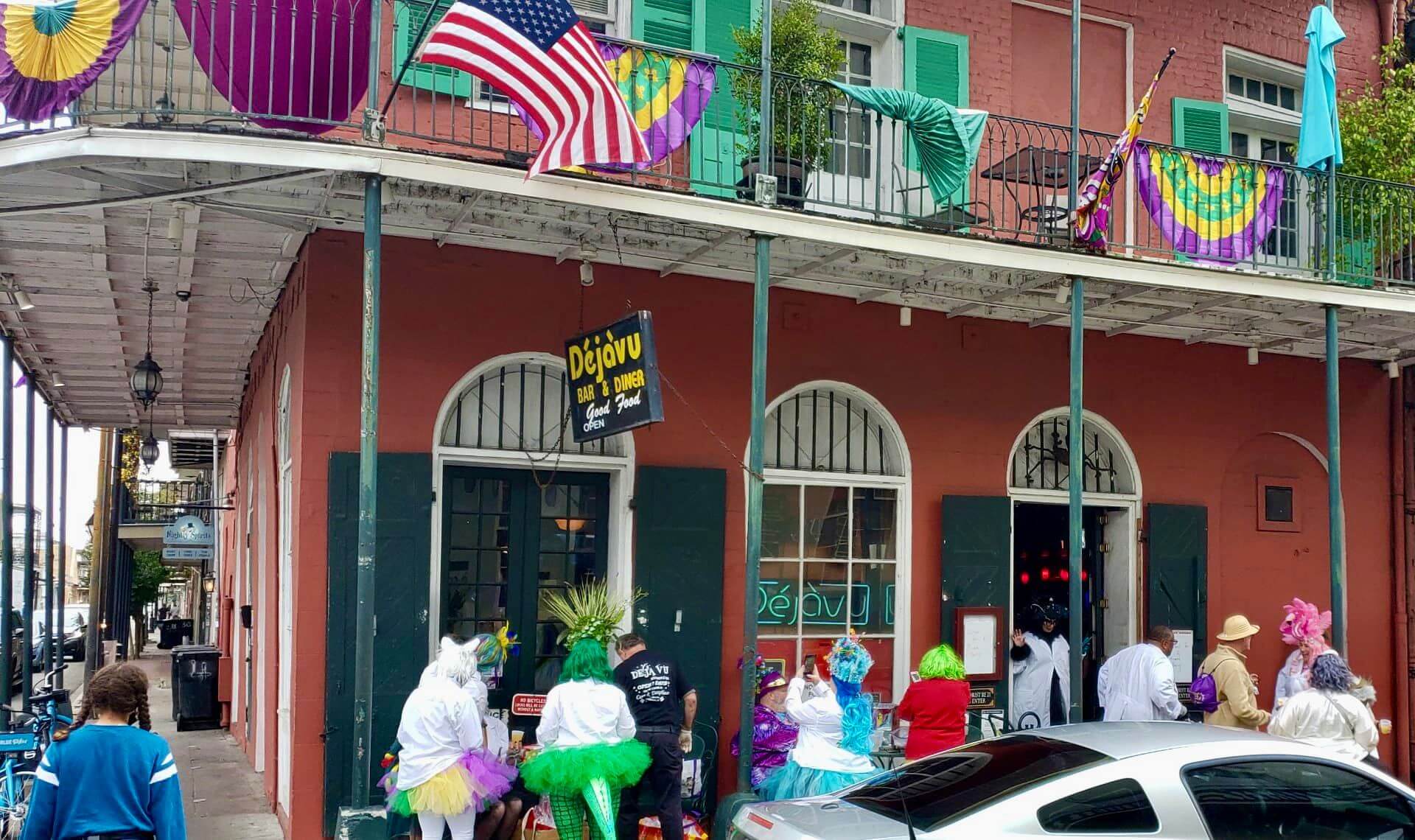 Photo courtesy of Deja Vu Restaurant and Bar on Facebook 
400 Dauphine Street
This 24-hour full-service restaurant and bar in the French Quarter is always available and ready to accommodate. You will find a wide variety of options on the menu ranging from traditional New Orleans fare to downhome comfort food, all reasonably priced. Deja Vu serves breakfast, lunch and dinner all day long and is available for dine-in, carry out or delivery.
430 Dauphine Street
Legendary chef (and James Beard awardee) Susan Spicer has crafted a restaurant empire, racking up accolades from Food and Wine, the John Folse Culinary Institute, the Zagat guide, and many others. Opened in 1990 in a 200-year-old cottage, Bayona is the restaurant that put her on the map. Today, its globally accented Louisiana cuisine feels both classic and forward-thinking.
740 Dauphine Street
Laid back and welcoming, this is the Cheers of French Quarter gay bars. You'll feel welcome at its mahogany bar (or on its second-floor balcony) whether it's your first visit or your 50th. P.S. Good Friends is a great place to watch the New Orleans Saints play.
1001 Dauphine Street
It's an MVP for French Quarter locals and tourists alike: a family-owned market where you can grab everything from a sausage po-boy and a six-pack to paper towels and bananas. Plus, they deliver. Is it any wonder Matassa's business has been booming for 90 years?
Dauphine Street forms the northernmost boundary of this dog-friendly park in the Marigny, where you'll find playground equipment, shady oak trees, benches, and grassy fields. The 2.54-acre park is a comfortable neighborhood hangout and a great place to unwind. Grab a beer and a hot dog from Dat Dog, or get a latte and a sandwich from Ayu Bakehouse, and enjoy a picnic in the park.
For more, check out our guide to the Famous Streets of the French Quarter.
Also, are you planning to spend some time in New Orleans soon? To stay close to all the action, book a historic boutique hotel in the French Quarter at FrenchQuarter.com/hotels today!
All photos except Deja Vu are by Cheryl Gerber
---
Related Articles
Book A French Quarter Hotel
Chartres Street, a Block-by-Block Guide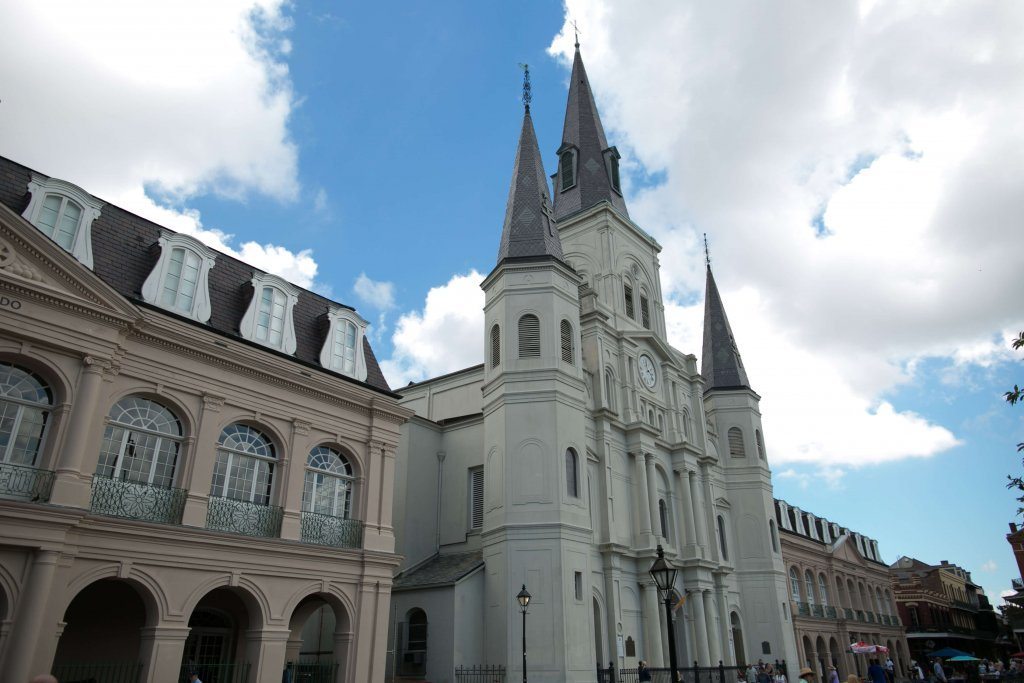 Photo by Trevor Mark
When it comes to Chartres Street, the best approach is to keep it simple. That guideline pertains to both the street's name (no need to pull out your French pronunciation guide — it's simply pronounced CHART-ers) and your approach to exploration. Chartres Street is lined with historic sites, restaurants, bars, and boutiques. Here are just a few top spots to check out.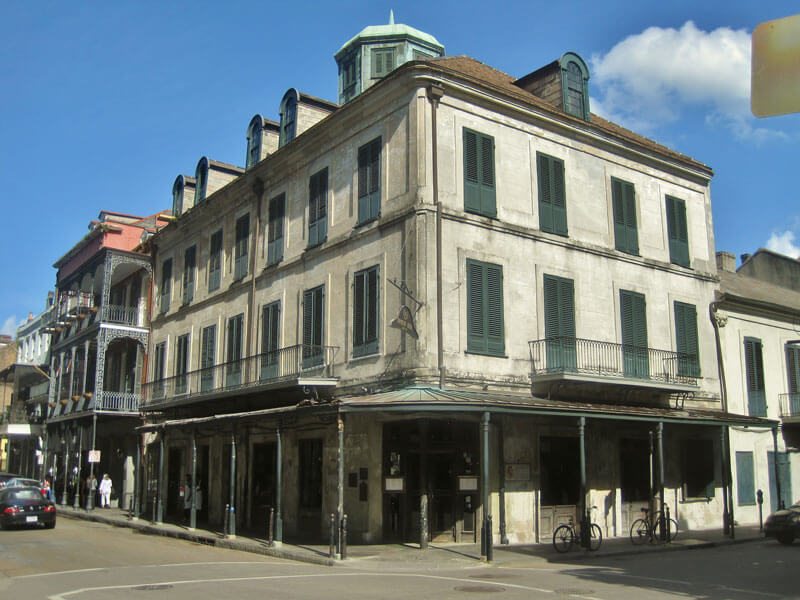 Photo by Teemu008 on Flickr
500 Chartres Street
Although this weathered brick building was offered as a refuge to Napoleon Bonaparte by its owner, New Orleans mayor Nicholas Girod, the exiled emperor died before taking advantage of the gesture. However, the name stuck. Napoleon House served as a family home, grocery store, and bar before coming into the ownership of Ralph Brennan in 2015, who added it to his lauded restaurant collection. Today, it's a unique place to taste New Orleans cuisine in a setting that feels rich with history.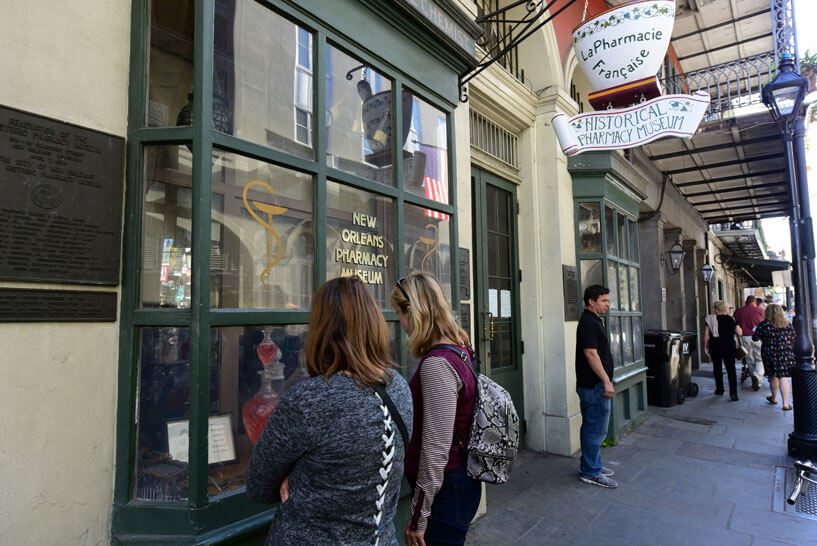 Photo by Cheryl Gerber
514 Chartres Street
Truly one of New Orleans' must-see oddities, this museum is a beautifully preserved, circa-1823 pharmacy. From leech jars to bloodletting devices and a soda fountain, the multi-story building's medical paraphernalia and exhibits offer a glimpse into the past — and a reminder that simpler times weren't always better.
581 Chartres Street
Frugal fashionistas: Your mecca is here on Chartres Street. Balenciaga, Chanel, Givenchy, Alexander Wang — you'll find all these designer labels at UAL, discounted 70 to 90 percent. The small chain was launched in 1980 and now boasts nine locations across four Southern states.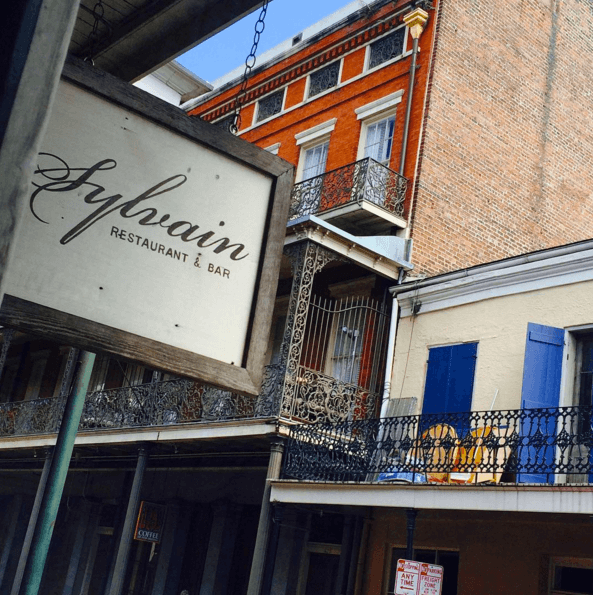 Photo courtesy of Sylvain on Facebook
625 Chartres Street
This chic gastropub is a great place to grab a cocktail or a multi-course meal. Lauded by publications including Southern Living and Travel + Leisure, it's dim, intimate, and very New Orleans.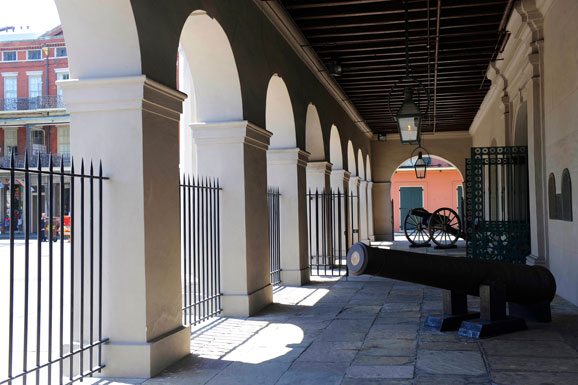 Photo by Cheryl Gerber
701 and 751 Chartres Street
These neighboring 17th-century structures were built in the Spanish colonial style (and later destroyed by a 1788 fire and rebuilt). They have served as courthouses and commercial sites, but today they house Louisiana State Museum.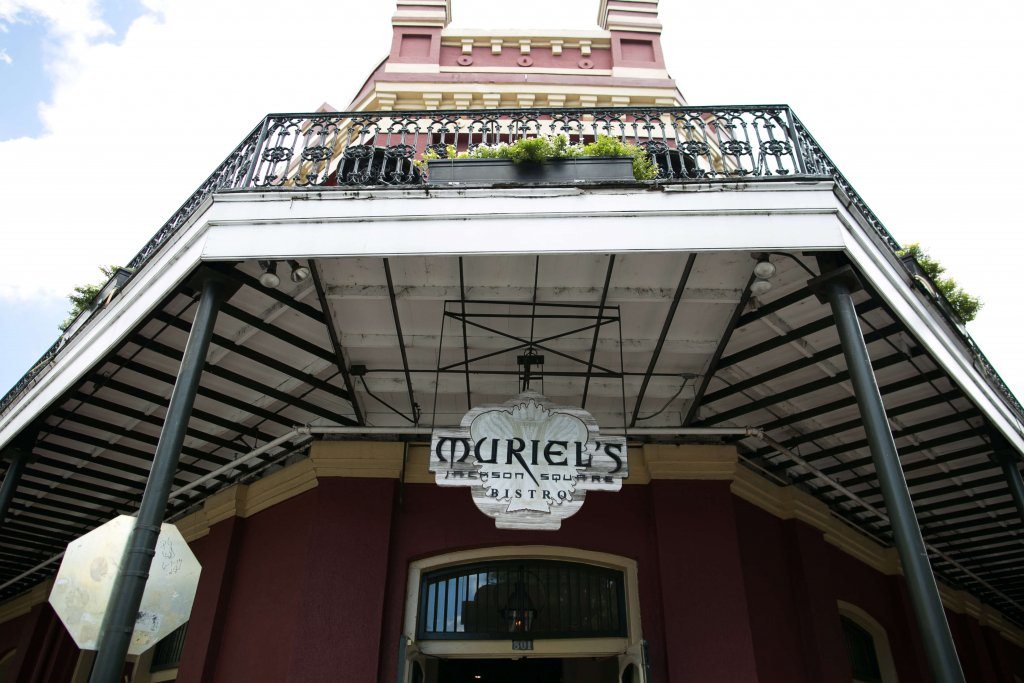 Photo by Trevor Mark
801 Chartres Street
There's no better place to sip a brandy milk punch than on the second-floor balcony at Muriel's overlooking Jackson Square, where both the people-watching and the view are excellent. But Muriel's courtyard is a close second. Don't forget to stop by the Sunday Jazz Brunch! Somehow, shrimp and grits just taste better paired with the lively sounds of a jazz trio.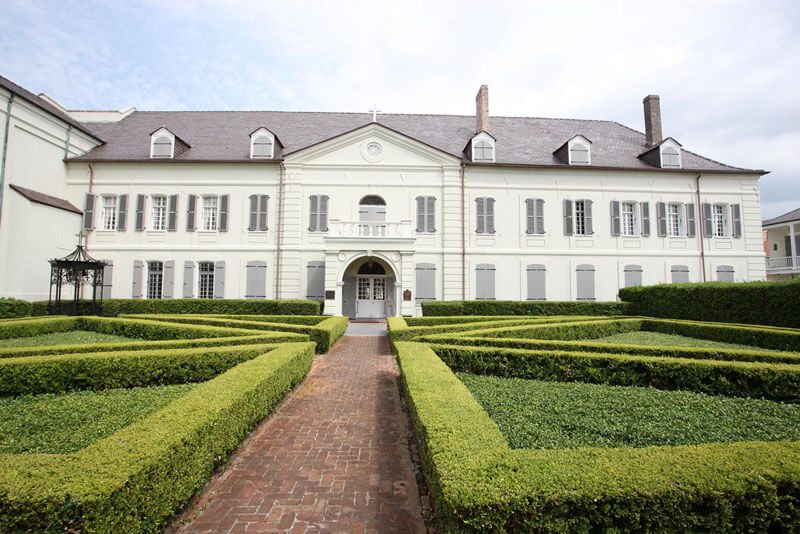 Photo by Louisiana Travel on Flickr
1100 Chartres Street
Built in 1748, this gracious, French Colonial cathedral is one of New Orleans' oldest buildings. It was also the place where many of New Orleans' founding matriarchs first resided. These casket girls, who were sent from France to serve as brides for colonists, lived with nuns until marriages could be arranged. Many locals proudly claim their casket girl ancestry— and even more, come to this convent to pay homage to the original New Orleanians.
For more, check out our guide to the Famous Streets of the French Quarter.
Also, are you planning to spend some time in New Orleans soon? To stay close to all the action, book a historic boutique hotel in the French Quarter at FrenchQuarter.com/hotels today!
---
Related Articles
Book A French Quarter Hotel
North Rampart Street, a Block-by-Block Guide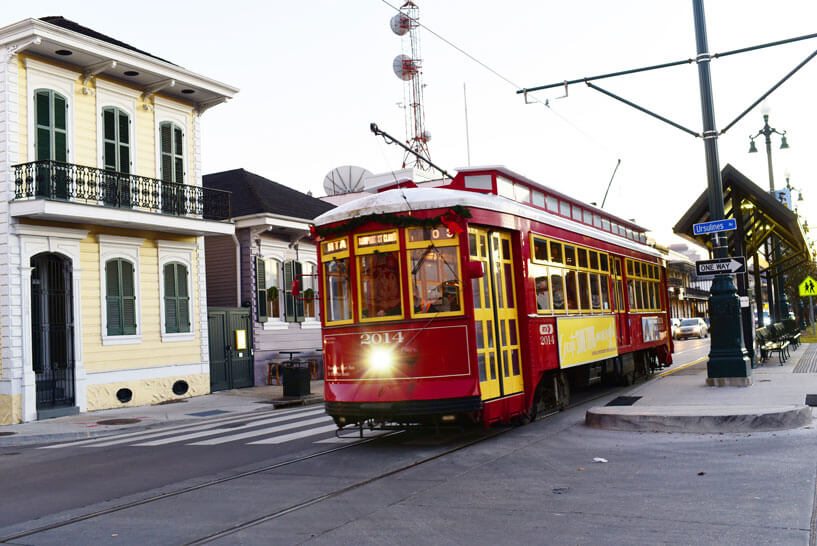 Rampart-St. Claude streetcar by Cheryl Gerber
For people who like living on the edge — of the French Quarter, that is — North Rampart Street is where it's at. This street serves as the northernmost boundary of the French Quarter, dividing it from Tremé. You'll find less foot traffic on this bustling thoroughfare than in other places in the Quarter, but no shortage of photo-worthy destinations. Plus, thanks to the recently installed streetcar line, getting around Rampart Street is a snap. Here are a few must-visit destinations on the historic thoroughfare, starting by Canal Street and going toward Esplanade Avenue.
Rampart-St. Claude Streetcar Line
Long ago, almost all of New Orleans was crisscrossed by streetcar tracks. In the mid-20th century, streetcars fell out of favor as buses became the norm, and many tracks were ripped up and repaved. Today, this charming, energy-efficient form of mass transportation keeps regaining popularity.
The newest streetcar line is the Rampart-St. Claude route, which travels from the New Orleans Union Passenger Terminal to the intersection of St. Claude Avenue (Rampart changes to this name when it passes Esplanade Avenue) and Elysian Fields Avenue in the Marigny. Each ride costs only $1.25 (exact change required; or you can buy passes for up to one month online).
1111 Canal Street
The beautiful, 4,000-seat theater opened in 1927 as a silent movie destination. Eventually renovated after years of neglect following Hurricane Katrina, it shines more brightly than ever. One hundred and fifty lights twinkle in the domed auditorium ceiling, evoking a starry nighttime sky, and the entire interior resembles a 15th-century Italian courtyard replete with columns, arched doorways and mosaics. Broadway shows, touring musicians and comedians all make stops at this theater, which is listed on the National Register of Historic Places — and you should, too.
222 N. Rampart Street
Established in 1872, this marble-clad, chandelier-hung gym boasts the Old World opulence you'd expect of a club where Tennessee Williams and Clark Gable once worked out. Modern exercise equipment meets luxurious amenities, including a saltwater lap pool, free parking, over 50 group exercise classes, and a full bar. Your hotel key, ID and $20 get you a day pass to this storied gym, and you truly can make a day of it. Start with free coffee and newspaper in the library, move on to a yoga class in the ballroom, then sit in the sauna, shower, grab a cocktail, and finally head out on the town feeling refreshed.
308 N. Rampart Street
This relative newcomer (since 2019) is a relaxed, brick-lined restaurant serving local, Mexican & Caribbean cuisine, plus wine and craft cocktails. Think laid-back, casual-cool fine dining.
700 N. Rampart Street
This dive bar has several pages' worth of craft beer on the menu (50, in fact, and most come in a can). The space is both weathered and welcoming, featuring a refurbished bar, exposed brick and beams, and long booths.
Louis Armstrong Park
701 N. Rampart Street
Inside this leafy, 31-acre park, a large statue of Satchmo himself presides over fountains, walking trails, lagoons, and the Mahalia Jackson Theater. Armstrong Park is also the location of Congo Square, where enslaved Africans and free people of color congregated on Sundays to socialize, dance and sell goods in the 18th and early 19th centuries. This historic park is the birthplace of jazz, named for a jazz legend, and it's definitely worth a visit.
740 N. Rampart Street
Self-billed as a "slice bar," Rampart Treehouse is a colorful, well, bar that serves pizza. There are at least 10 pizzas on the menu, including vegetarian and vegan options, and available both to go or in-house, whole or by the slice. There are also a couple of salads and sandwich options on the menu, plus a whole lot of booze one would expect from a full bar.
820 N. Rampart Street
For the destination revered for its perfectly crafted cocktails, there's not an ounce of pretentiousness about Bar Tonique. It's small, cozy, and even romantic (there are comfortable couches, nooks, and a fireplace). Overall it feels more like a neighborhood bar, with specials chalked on the board (no food, no live music), not a cocktail lounge. The ingredients, however, are often house-made, and the extensive menu is staggeringly categorized. There are $6 daily specials (whiskey flights Tuesdays and caipirinha Thursdays, for example). Some are unique to the bar; others are modern twists on the classics, with welcome deviations and house-made syrups. Service industry folks enjoy a discount.
942 N. Rampart Street
Opened in 2022 (replacing the longtime neighborhood fave, Meauxbar), MaMou is a modern French brasserie from Executive Chef Tom Branighan and Sommelier Molly Wismeier. The menu is European continental cuisine with Creole influences, using mostly Louisiana ingredients and prepared with French techniques. The airy, whimsical interior serves as a perfect backdrop.
1014 N. Rampart Street
Think fresh, elevated takes on international fare like tuna tartare and curried cauliflower. Executive Chef Eason Barksdale brings with him 14 years of experience and training under Susan Spicer.
1036 N. Rampart Street
The French Quarter has a champagne-centric bar to call its own. Effervescence opened its tall doors on N. Rampart St. in March of 2017 and has become the destination for high-to-low sparkling wines from all over the world, champagnes, small plates, and live music. The setting is modern and polished, and there's ample outdoor seating. There's also a full bar, and dozens of still wines by the glass and bottle, plus a limited beer selection — but it's the bubbles you'd come for. Check out a variety of themed flights, or order half a glass, if you'd like to try a variety. The small plates are meant to be shared — like the Gulf seafood plate or crispy Brussels sprouts. Effervescence is also a good spot to try caviar, from the prized osetra to the local (and more affordable) bowfin.
For more, check out our guide to the Famous Streets of the French Quarter.
Also, are you planning to spend some time in New Orleans soon? To stay close to all the action, book a historic boutique hotel in the French Quarter at FrenchQuarter.com/hotels today!
---
Related Articles
Book A French Quarter Hotel
Royal Street, a Block-by-Block Guide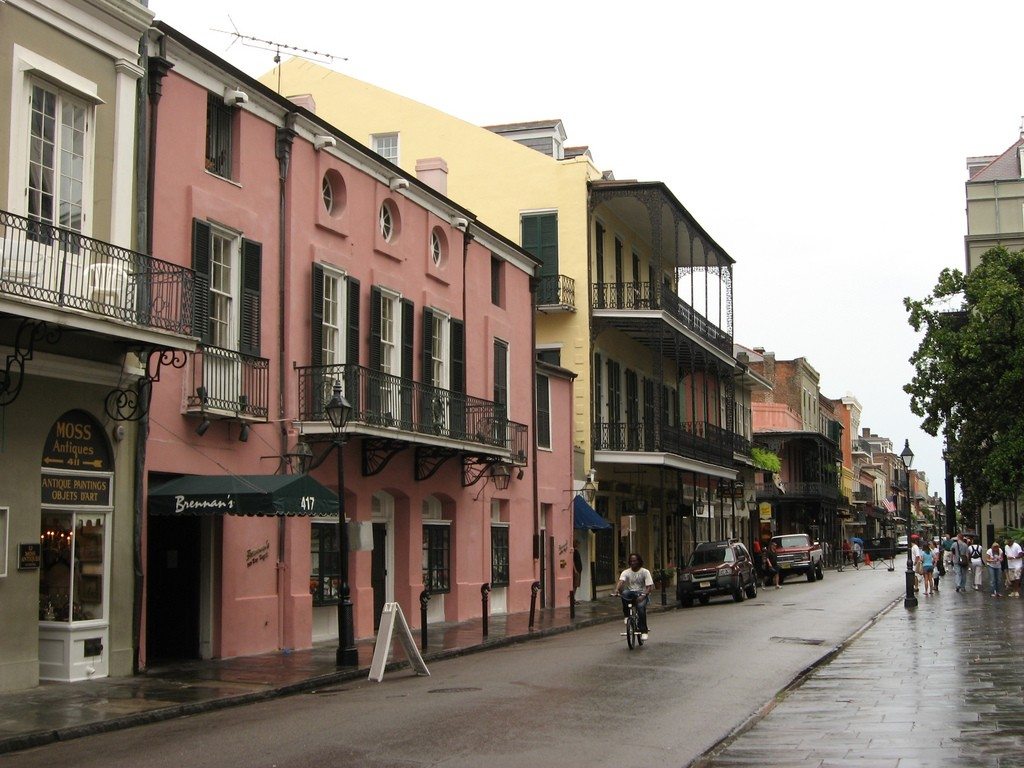 Royal Street between St. Louis and Conti streets. Photo by Ken Lund
For a full 13 blocks stretching in the French Quarter, Royal Street runs parallel to Bourbon Street, yet this thoroughfare — one of the finest stretches of art galleries, antique stores, wrought iron balconies, restaurants, and architecture in the USA — is sometimes almost completely missed by visitors. This is a real shame; beyond the qualities we've just described, Royal Street makes a nice counterbalance to the neon and noise of Bourbon. Well, you've read these words, so now you've been briefed: Royal Street is pretty cool. Here's our block-by-block guide, running from Canal Street to Esplanade Avenue.
214 Royal Street
The Monteleone is one of the grandest of old-school New Orleans hotels and has a history of housing authors — from Ernest Hemingway to William Faulkner to the annual Tennessee Williams Literary Festival — and ghosts. We are not big on contacting other realms of existence here, but we have come close at the excellent Carousel Bar, where the constantly rotating main bar area conspires with the strong drinks to make you feel extra loopy.
334 Royal Street
Almost everyone coming to New Orleans has heard of Cafe Du Monde, but Cafe Beignet seems to fly under a lot of radars. Without making a value judgment, we'd say the beignets at Du Monde are smaller and crisper; the ones at Cafe Beignet are larger and softer. One definitive judgment call: This is one of the most romantic outdoor dining destinations in the Quarter. You're on a quiet, pretty stretch of Royal where the main company is begging pigeons and sparrows.
400 Block
The 400 block of Royal is distinctive because an entire side of the street is taken up by one building: the Louisiana Supreme Court. This massive, marble Beaux Arts building wouldn't feel out of place in Washington, D.C., but for the palm trees and humid wind that always sways around the steps. The structure was finished in 1910, vacated in 1958, neglected for decades, and eventually restored to its old glory in the 1990s. On the front steps, you'll see a statue of Edward Douglass White Jr., 9th Chief Justice of the U.S. Supreme County, best known for upholding the right of states to segregate in Plessy vs. Ferguson and upholding the eight-hour workday after reviewing the Adamson Act.
Across the street is Brennan's (417 Royal Street), one of the most important restaurants in the city. Back in the day, spots like Brennan's led the revival of Creole cuisine that popularized New Orleans food across the country. Stop in for any meal, although we particularly love breakfast with an "eye opener" (cocktail).
The Pedestrian Mall
The blocks of Royal between Bienville and Orleans streets become a pedestrian mall from 11 a.m. to 4 p.m. Mon.-Fri. and 11 a.m. to 7 p.m. on weekends. Take advantage of that window and use your feet to explore this gorgeous window into the French Quarter experience.
537 Royal Street
Ladies looking to look good: It's hard to beat this shop (even if by name alone), which sells the 40s and 50s-inspired retro dresses, jewelry, lingerie, and all-out fabulousness. There's an entire line of clothes for those who live rockabilly, plus some corsets and other fun finds if you're feeling adventurous.
613 Royal Street
Get a little dressed up and treat yourself to a classical Creole brunch, accompanied by jazz music, in the airy, lovely courtyard this restaurant is named for. Or take a date here in the evening; there are few restaurants in this city that can match the sheer romantic power of the Court.
Royal & St. Peter
While buskers can be found plying their trade all around the Royal Street pedestrian corridor, for some reason — maybe it's the acoustics of the area — the quality of the live musicians who occupy this patch is generally quite high. Stop by, and try to soak up the shade and the sounds.
Royal & Orleans
While we would generally characterize Royal Street as the quiet alternative to Bourbon Street, this particular intersection, which sits at the back of the St. Louis Cathedral and Jackson Square, is one of the busiest street scenes in the city. Artists hawk their paintings, street performers and puppeteers busk for the public, tourists mill about, and a general air of playful chaos extends onto the whole scene. This is one of our favorite intersections in the city.
713 Royal Street
What do you need? Love potions? A psychic reading? A little gris-gris to make the day go by easier? A fetish doll for the nightstand? A mask from a continent far away? This store got you covered.
736 Royal Street
You should probably stop into every art gallery you encounter on Royal Street, but we have to cop to being particular fans of the works of Ally Burguieres, who is best known for her sketches and paintings of animals. Her work is characterized by bold color, flowing lines and a general funky sensibility that's easy to love.
811 Royal Street
ESOM ART replaced the quirky and popular Tresor Gallery in this space, showcasing abstract art, mixed media and jewelry made by Tony and Tracey Mose, both artists and owners of this gallery.
900 Royal Street
Did you skip our suggestions about having a nice date night at The Court of Two Sisters? That's fine — the elegant courtyard and delicious modern Louisiana fare at Cafe Amelie are all part of a package that is equally as romantic and heart-stopping.
934 Royal Street
New Orleanians like to get dressed up — we're not ones to say no to a costume party. And seeing as no costume is complete without a fabulous hairpiece or wig, we feel confident saying Fifi Mahony's is vital to the very cultural heartbeat of the city. Seriously: The staff here knows how to put together some amazing head ornamentation or help you select the perfect wig for your dome. Don't leave town without popping inside.
1132 Royal Street
One of the best-preserved historic homes in the city, the Gallier House was built over 150 years ago and reflected the then-cutting-edge interior design. The house is operated as a museum alongside the Hermann-Grima House; visitors can marvel at period furniture and architectural details, and learn about both the Gallier family and the slaves, and later domestic servants, who enabled their opulent lifestyle.
1201 Royal Street
If it's late at night and you need a po-boy in New Orleans, head on down to Verti Marte, which somehow packs the crowds in a store that feels like it has a total of 10 square feet of floor space. There's plenty to love on the menu of this 24-hour bastion of calories, but you can't go wrong with the All That Jazz — ham, turkey, shrimp, mushrooms, and melted cheese doused in a sinful sauce that we dream about in the wee hours.
1212 Royal Street
Not many visitors list West African cuisine as their number one reason for visiting New Orleans, even if much of the Creole food they enjoy has its roots in that part of the world (gumbo, for example, has clear links to West African stews). In any case, you can sample dishes like sauced piquant chicken served over jollof rice and wonderfully spiced greens, all served in a friendly, cozy dining room. Bennachin was one of the first places in New Orleans to feature vegan items on its menu.
1212 Royal Street
We know it's weird that this spot seems to share an address with Bennachin (above), but they're just adjacent to each other. Mona Lisa is what a lot of people imagine when they hear "Italian restaurant" — it's not fancy, but there's dim lighting coming from candles plunked in Chianti bottles, pictures of the old country, and some of the best pasta in the city. Bonus: It's inexpensive, including the delicious red wine, and the place is covered in the Mona Lisa art of every iteration.
For more, check out our guide to the Famous Streets of the French Quarter.
Also, are you planning to spend some time in New Orleans soon? To stay close to all the action, book a historic boutique hotel in the French Quarter at FrenchQuarter.com/hotels today!
---
Related Articles
Book A French Quarter Hotel
Bourbon Street, a Block-by-Block Guide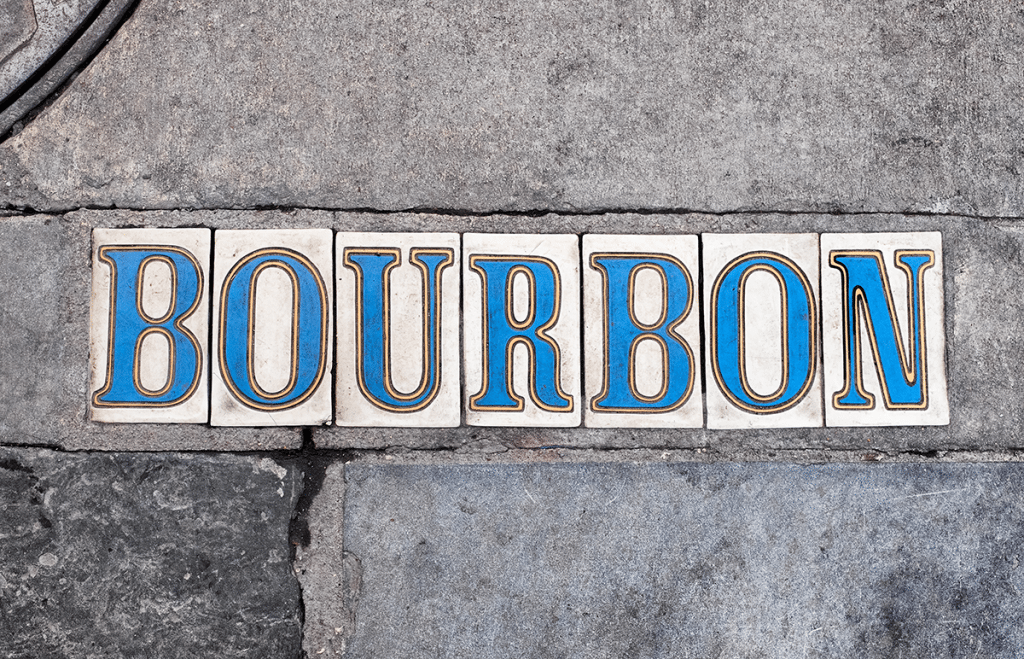 This street is a tourist destination for a reason. It's a thoroughfare with an utterly fascinating history, home to some of the oldest bars, family-run restaurants and gay entertainment districts in the country. In short, while there's plenty to discover off of Bourbon, there's a lot to discover on the iconic street as well that may surprise you.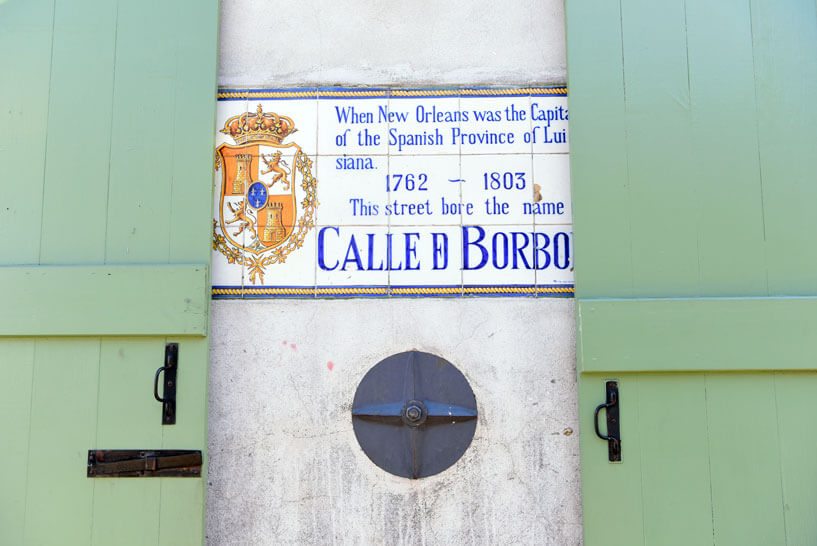 Photo by Cheryl Gerber
A Brief History of Bourbon Street
Let's start, appropriately enough, with the history of one of the oldest streets in North America. First, despite popular rumors to the contrary, Bourbon was not named for bourbon. That particular iteration of brown liquor had not even been invented when the street was laid out in 1721 by Adrian de Pauger. The street, then located in the colony of New France, was named for the French royal House of Bourbon (which bourbon, the drink, was ultimately named for).
Like much of the French Quarter, Bourbon Street's historic architecture owes far more to Spain than France; most of the street's French buildings were destroyed in the Great New Orleans Fire of 1788, when the city was a Spanish colony. For most of its history, Bourbon was a modest residential street, populated by a mix of Creoles (New Orleanians of Franco-Spanish descent) and the successive waves of immigrants who settled the French Quarter.
Bourbon began morphing into an entertainment strip in the late 19th and early 20th centuries, when the Red Light District of Storyville was established a few blocks away on Basin Street. Bleed-over from the Red Light District begot a shift in the Quarter, which became less residential and more entertainment-oriented. The earliest "jass" (i.e. jazz) artists weren't headlining festivals in Montreal or Switzerland — they played for customers who patronized Basin and Bourbon Street's sweaty brothels and music halls (on a side note, those music venues stopped being quite as sweaty when they started installing round-the-clock air-conditioning about half a century later — some of the first nightlife spots in the world to take that step).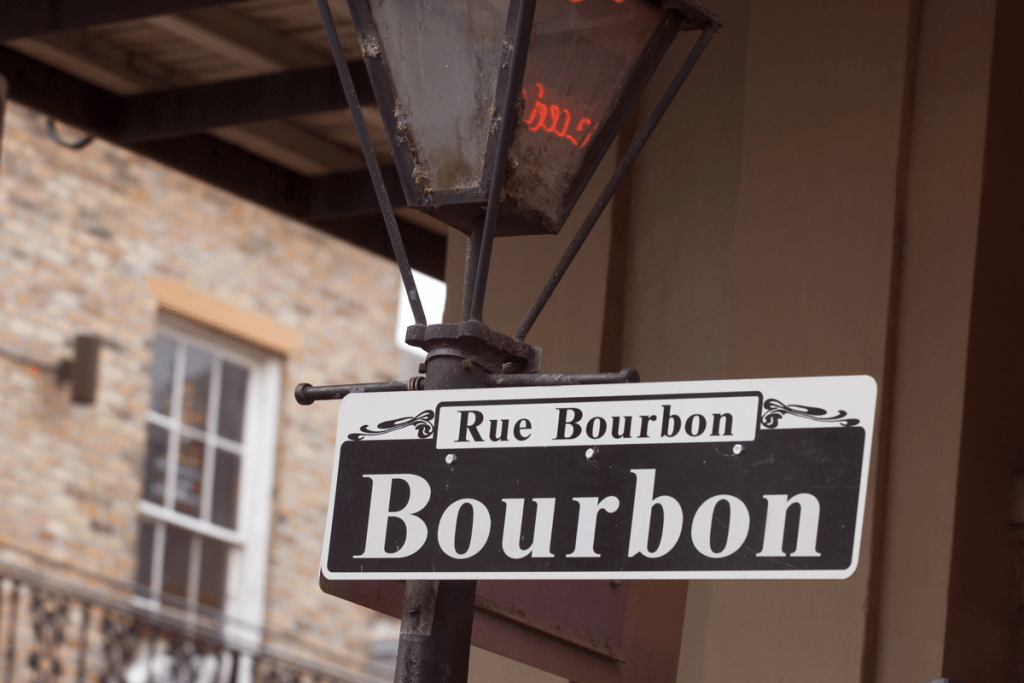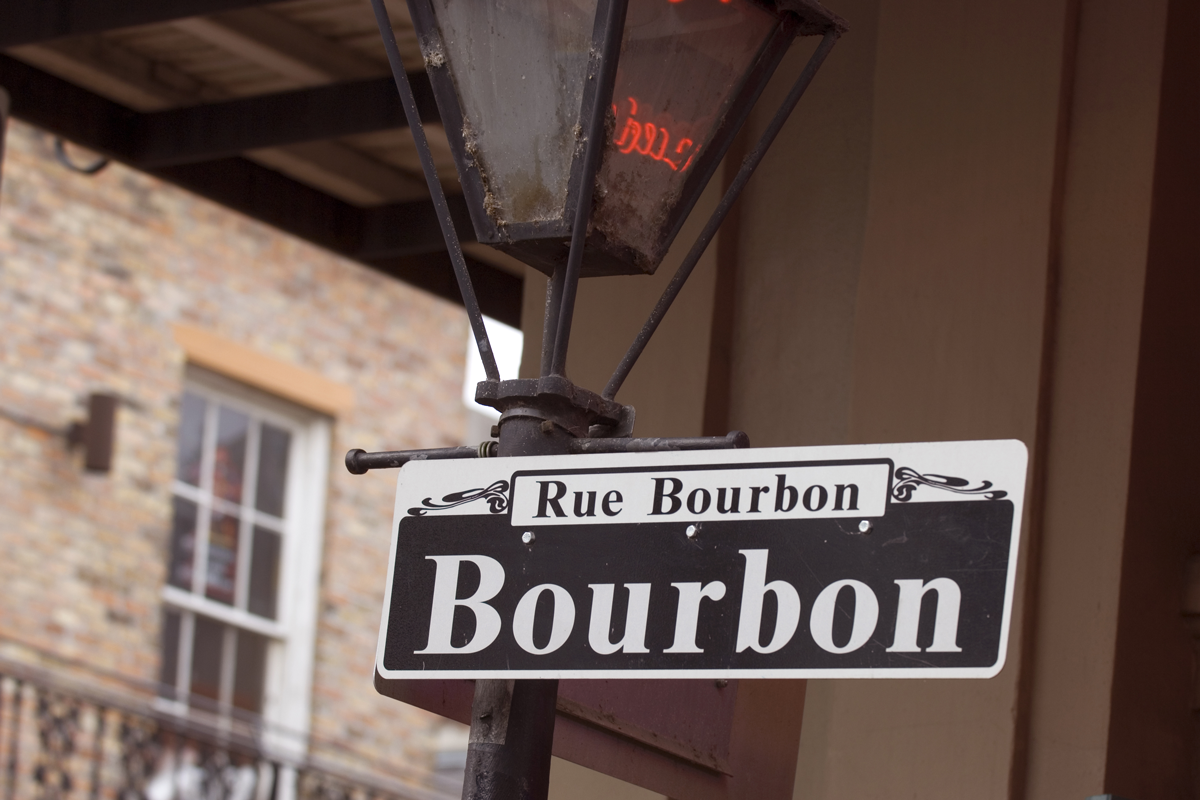 Ironically, the shuttering of Storyville's brothels in 1917 likely accelerated the French Quarter's popularity as a place to party. At the time, Mayor Martin Behrman said, "You can make it illegal, but you can't make it unpopular," and while the "it" he referred to was prostitution, the legal nightlife that surrounded that practice quickly filled the Red Light vacuum.
In the Quarter, the entertainment focus shifted to live music, gambling, burlesque shows, and drinking establishments, dozens of which opened on Bourbon. By the post-World War II period, Bourbon Street was similar in character, if not appearance, to the Bourbon Street of today, although live music was more heavily emphasized back in the day. The Meters played here, as did Dr. John and Louis Prima, among dozens of other acts that have defined successive generations of American music.
While there are still live music clubs on Bourbon, those venues have tended to spread into other parts of the city. On the other hand, Bourbon remains a nightlife epicenter for the New Orleans LGBTQIA+ scene, which established a presence here in the early 20th century, when the area had (more of an) "anything goes" reputation. In the present day, while the LGBTQIA+ culture is thankfully accepted across the city, the "Lavender Line" on Bourbon and St. Ann Street still marks one of the country's most fabled gay nightlife blocks.
The Geography of Bourbon Street
Bourbon Street runs 13 blocks through the heart of the French Quarter, from Canal Street to Esplanade Avenue; it becomes Carondelet Street past Canal, and Pauger Street past Esplanade. If you were looking at a map, Bourbon runs along a diagonal; confusingly to visitors, the "southern" part of Bourbon (near Canal Street) is Upper Bourbon, while the "northern" end (near Esplanade) is Lower Bourbon. In New Orleans parlance, Upper and Lower refer to the upriver and downriver flow of the Mississippi. If all of the above is confusing, don't worry — it's more interesting trivia than vital geographic knowledge.
Upper Bourbon is the area best known to visitors — the land of lots of neon, roaming bachelor and bachelorette parties, strip clubs, and enormous drinks served in souvenir cups. Lower Bourbon has most of the above, but not in such intense concentration; it includes the LGBTQIA+ blocks of Bourbon. While this is not the exhaustive list of every business and attraction on Bourbon (some even may or may not be here tomorrow), here are some of our favorite hangouts, running from Canal to Esplanade.
The 100 Block of Bourbon Street
Bourbon House (144 Bourbon Street)
The Bourbon House is one of the city's grand dame, old-school seafood houses. Run by the Brennan family restaurant empire, they serve excellent raw oysters, decadent pastalaya, and one of the truly great iterations of barbeque shrimp; their version is cooked in a buttery sauce that is balanced by a generous helping of rosemary.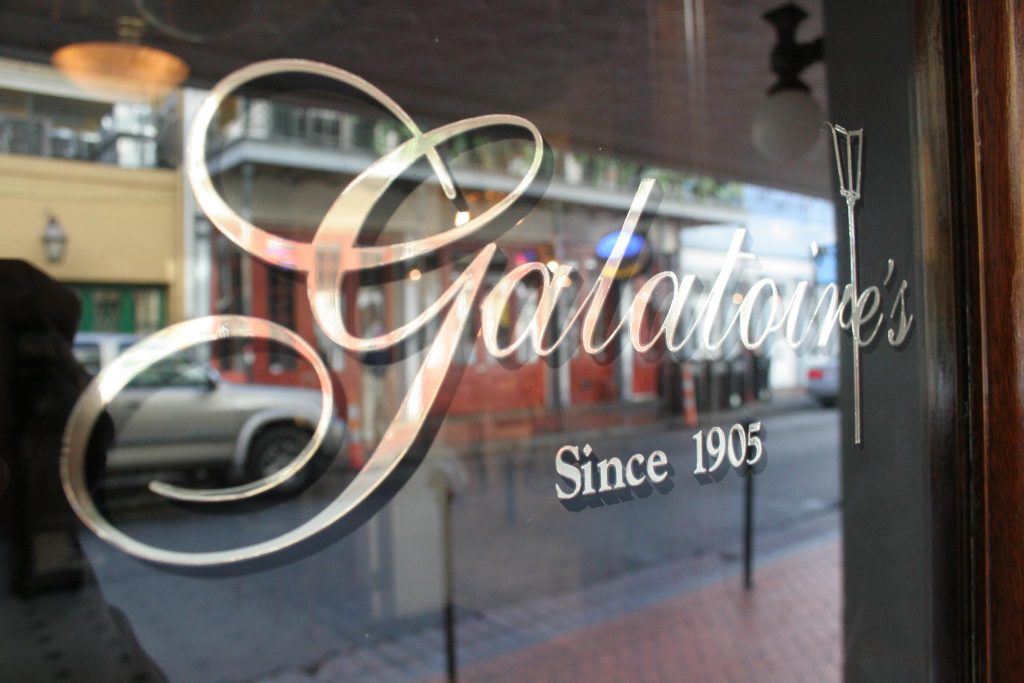 Photo courtesy of Galatoire's on Facebook
The 200 Block of Bourbon Street
Olde Nola Cookery (205 Bourbon Street)
If you're in the market for something simple and noticeably New Orleans, and you're wandering around the 200 block of Bourbon, Olde Nola Cookery is a good choice. We basically always have time for barbeque shrimp, which is not grilled or smoked, but rather cooked in a lemon butter and pepper sauce. Plenty of gumbo and Cajun pasta dishes round out the menu — that latter category includes some delicious fare like crawfish tails served over fettuccini alfredo and a shrimp and alligator jambalaya, also tossed with fettuccini.
Galatoire's (209 Bourbon Street)
Stepping into Galatoire's is stepping back in time; the restaurant opened its doors in 1905, and not much seems to have changed since (our understanding is they only started accepting credit cards in the '90s). The cuisine is old-school, heavy Creole classics — chicken Clemenceau and crabmeat sardou — but folks come for the scene as much as the food. On Fridays, the oldest of old-school New Orleans families line up around the block (or pay people to wait in line for them) and engage in daylong drinking and dining sessions. It's a spectacle for sure.
Galatoire's "33" Bar and Steak (215 Bourbon Street)
For decades, nothing changed at Galatoire's, one of the grandest of old New Orleans restaurants. Then they started accepting credit cards, and eventually, Galatoire's "33" opened. The times are a-changing, but "33" has the original Galatoire's charms — and it also happens to have some very fine steaks.
Old Absinthe House (240 Bourbon Street)
It's always a good idea to sidle up to the classic copper bar, and you won't be the first to do so: The Absinthe House dates to 1806, making it older than most American states, and has hosted Franklin Roosevelt and Oscar Wilde, among other patrons. It can get crowded, but when the bar is (relatively) quiet, we like to order the signature absinthe and dream of boozy days (and famous patrons) past.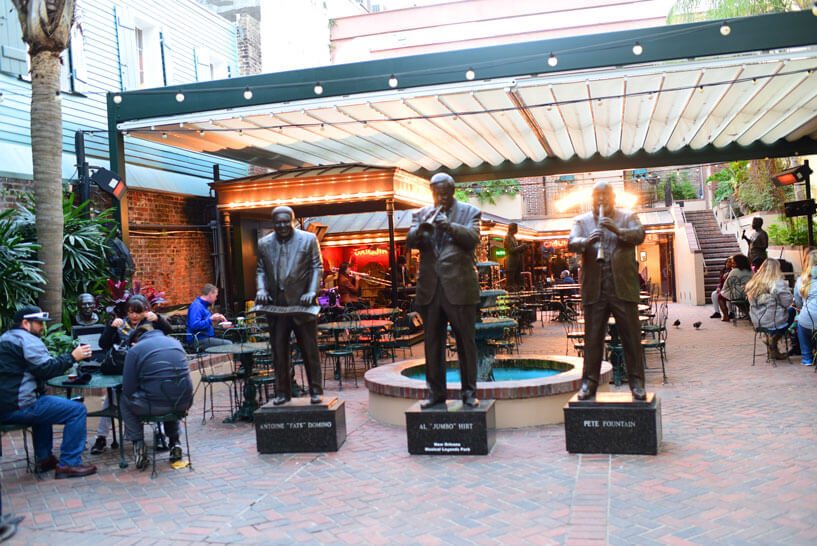 Musical Legends Park by Cheryl Gerber
The 300 Block of Bourbon Street
The Jazz Playhouse (300 Bourbon Street)
This is a legitimately lovely music venue in the heart of Bourbon Street (inside the Royal Sonesta). The lineup is straight unadulterated jazz, and the Playhouse hosts some of the most talented and exciting acts in the country.
New Orleans Musical Legends Park (311 Bourbon Street)
Life-size statues of local musical legends line this park, which is a (sort of) quiet respite from the noise and thrum that lines this portion of Bourbon.
The 400 Block of Bourbon Street
Hideout Bar (417 Bourbon Street)
Oceana's Hideout Bar is 24/7, has outdoor seating, and serves the kind of New Orleans/Southern fare you just might be craving after midnight.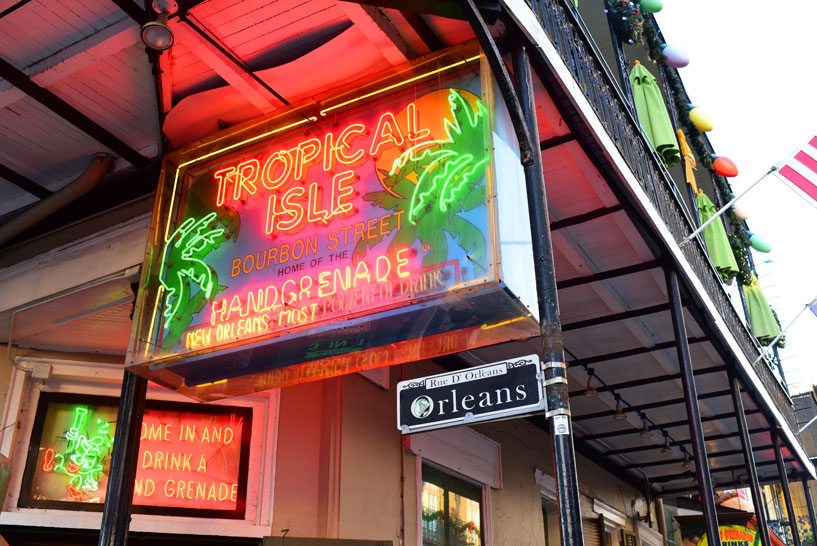 Tropical Isle by Cheryl Gerber
The 500 Block of Bourbon Street
The sadly now-shuttered club owned by the late, great Chris Owens dominates the block.
The 600 Block of Bourbon Street
Tropical Isle (600 Bourbon Street)
Besides the Hurricane, the Isle's signature Hand Grenade is the most famous drink in the French Quarter. They taste like candy, but they are very potent. Tropical Isle also has locations at 435, 610, 721, and 727 Bourbon Street.
Old Opera House (601 Bourbon Street)
This live music venue was a French-style opera house back in the day.
Maison Bourbon (641 Bourbon Street)
The sign outside the door says, "Dedicated to the preservation of jazz," and Maison Bourbon does not disappoint in this regard — it's a good spot for a live show. It also has a lovely courtyard and a big balcony.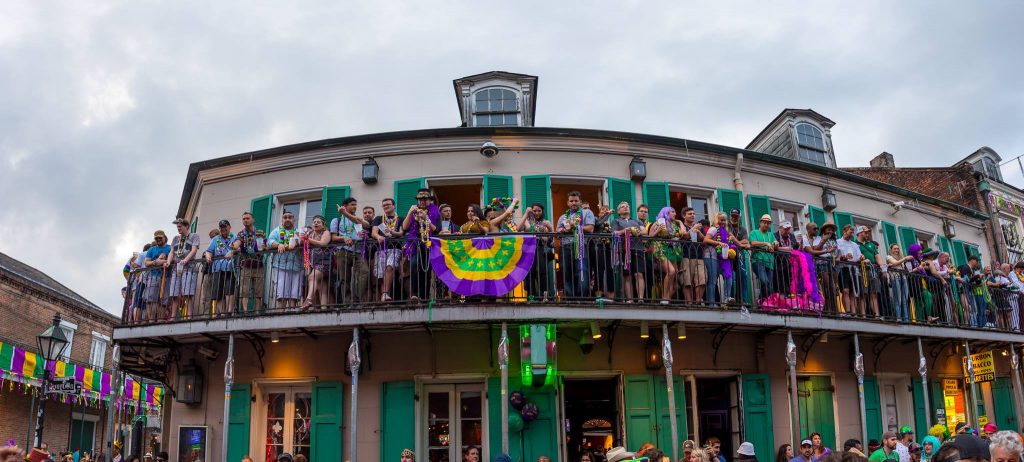 Photo courtesy of Cat's Meow on Facebook
The 700 Block of Bourbon Street
Cat's Meow (701 Bourbon Street)
You've never heard "Sweet Home Alabama" until it's belted out by a crowd at the Meow. We have to give this spot credit: It was an early adopter of karaoke, back when people sneered at the idea of karaoke in a bar. The Meow's enormous popularity is proof of the success of a then-risky business idea.
Pat O'Brien's (718 St. Peter Street/600 block of Bourbon Street)
While the address for Pat O's is technically on St. Peter Street, you can enter the bar complex in the middle of the 600 block, right next to Willie's Chicken Shack. Inside, you'll find one of the most attractive courtyards and bars in the French Quarter, which is a pleasant surprise for a lot of visitors. There are also dueling pianos. Take a seat, enjoy the tropical ambiance, and order a specialty drink — the Hurricane, of course. The drinks may be sweet, but we're not going to sugarcoat this next bit of advice: beware the Hurricane hangover.
Bourbon Street Honky Tonk (727 Bourbon Street)
One of the five locations of the Tropical Isle chain with potent drinks and, as you might have guessed from the name, live country music.
Bourbon "O" Bar (730 Bourbon Street)
"Bourbon Street" and "quiet bar that serves craft cocktails" aren't two concepts that seem to jive, but Bourbon "O" manages to pull it off. OK, maybe it's not always quiet, but the drinks are gorgeous and well-prepared, which is a welcome development at this stage during our Bourbon Street stroll.
Fritzel's European Jazz Pub (733 Bourbon Street)
Fritzel's is a good spot for live jazz; they regularly feature plenty of old-school Dixieland. It's calm and laid back in almost inverse proportion to much of the rest of Bourbon Street — a great stop if you're feeling overwhelmed by all the crowds, or if you just want to listen to some good music.
Marie Laveau's House of Voodoo (739 Bourbon Street)
This is one of our favorite tourist voodoo shops. The walls are adorned with masks, gris-gris bags, spell candles, and all kinds of other cool magical paraphernalia. Check out the handmade voodoo dolls fashioned from Spanish moss, and have yourself a consultation — these folks are true believers.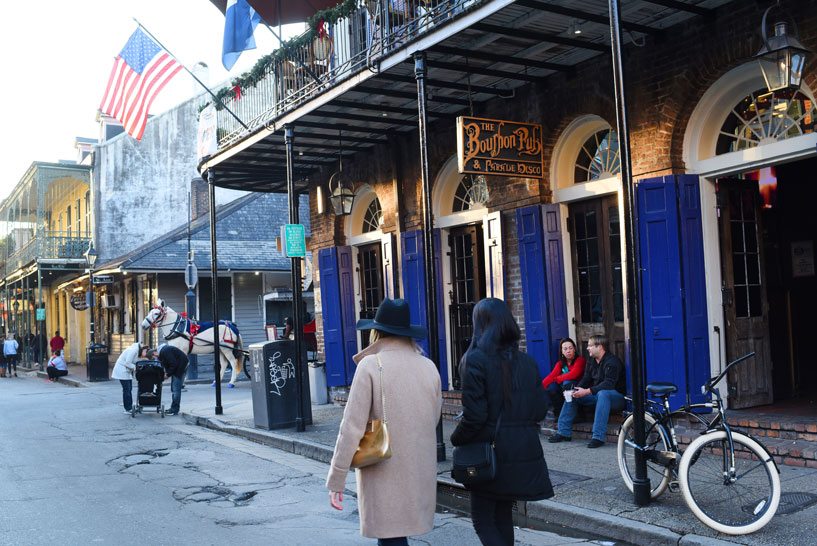 Bourbon Pub & Parade by Cheryl Gerber
The 800 Block of Bourbon Street
Oz (800 Bourbon Street)
The corner of Bourbon and St. Ann streets is known as the Lavender Line, which marks the beginning of the LGBTQIA+ section of Bourbon Street (you may also be subtly tipped off by the enormous rainbow flags). Oz is one of the more popular gay dance clubs in the city; expect drag queens, shirtless dancers, and all the rest.
Bourbon Pub Parade (801 Bourbon Street)
A late-night nightclub with two balconies, dance floors, shirtless folks on the bar, drag queens, and a lot of unsa-unsa. It serves as one of the focal points of the annual Decadence fest.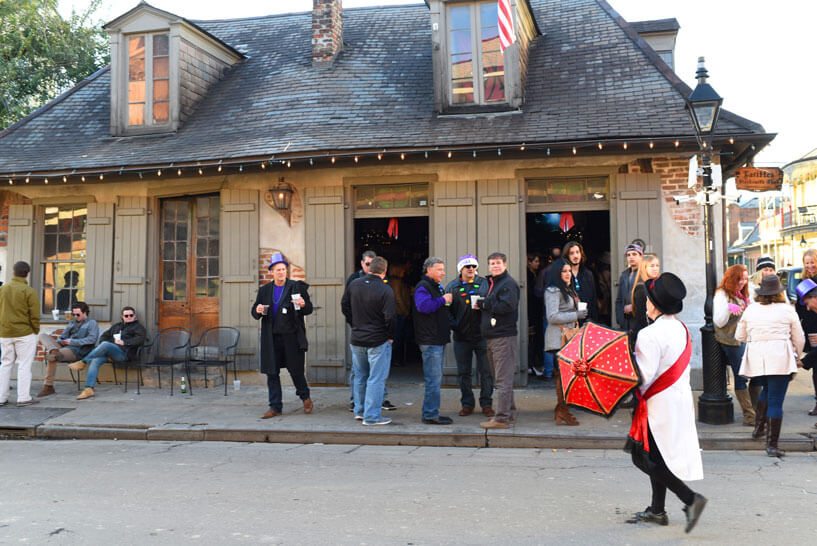 Lafitte's Blacksmith Shop by Cheryl Gerber
The 900 Block of Bourbon Street
Clover Grill (900 Bourbon Street)
The Clover is one of our favorite 24-hour diners in New Orleans (on a side note, there aren't a ton of 24-hour diners in this city, which is a shame). The food is great, but we really come for the atmosphere, which is a heady mix of drag queens, off-work servers, bartenders, hotel staff, tourists, and musicians all hunkering down for burgers and scrambled eggs at three in the morning.
Cafe Lafitte in Exile (901 Bourbon Street)
The self-proclaimed oldest gay bar in the country is open 24/7, and features karaoke nights, disco parties and a huge wraparound bar and balcony. It's a little more laid back than Oz and the Pub Parade.
Lafitte's Blacksmith Shop (941 Bourbon Street)
One of our favorite Bourbon Street haunts, Lafitte's (not to be confused with Lafitte in Exile, above) operates out of the oldest building that has served as a bar in the country. It looks the part, too; the walls are all moldering stone and wood, although the scene is pretty modern: there's a piano bar and the signature "purple drank," a frozen daiquiri that can quickly end your night (or get it started).
For more, check out our guide to the Famous Streets of the French Quarter.
Also, are you planning to spend some time in New Orleans soon? To stay close to all the action, book a historic boutique hotel in the French Quarter at FrenchQuarter.com/hotels today!
---
Related Articles
Book A French Quarter Hotel
Decatur Street, a Block-by-Block Guide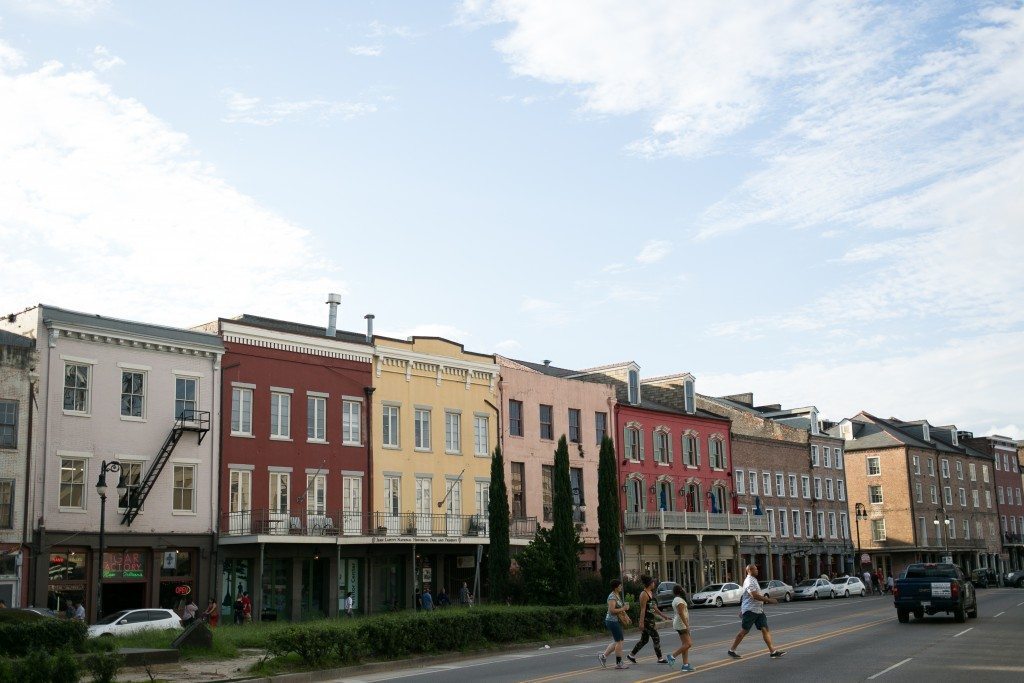 Decatur Street. Photo by Trevor Mark
Decatur Street runs parallel to the Mississippi River, starting on Canal and ending at St. Ferdinand Street in the Marigny. Decatur was previously known as Rue de la Levee ("Levee Street") but was renamed in 1870 after Stephen Decatur, the American naval war hero and Commodore.
Basically a waterfront strip, the French Quarter part of Decatur Street has catered to sailors and hosted the kinds of businesses a big port would have. By the 80s it still retained its port feel, especially in the Lower Decatur near Canal Street, but the part closer to Esplanade and Frenchmen Street became a bohemian haven with a vibrant goth and punk scene.
All that changed drastically in modern times, though some places remained, like Cafe Du Monde, Central Grocery and Tujague's. These days Decatur Street is as vibrant as ever, even though the punk clubs and dive bars had been replaced by restaurants that cater to tourists, and bars and clubs that have more traditional jazz bands. There seems to be a candy store and a visitor center on every other block, and the number of places that sell po-boys, daiquiris and Mardi Gras masks is staggering.
There's nothing wrong with that, of course. Decatur Street features a diverse selection of restaurants, a few funky bars, lots of shopping (from national chains like Sephora to unique local artist co-ops and vintage stores), and plenty of live music. In just 14 short blocks for its French Quarter part, Decatur packs a few legendary, centuries-old institutions, historic landmarks, an amazing bookstore, and so many zydeco-blasting souvenir shops that all your hot sauce and mask needs could be addressed within one block.
Let's start walking from Esplanade Avenue to Canal Street, noting the highlights. Two places stand out when you are on Esplanade and Decatur — the live music bar Check Point Charlie and the firehouse, at the beginning of Frenchmen Street. This is where the French Quarter ends and Faubourg Marigny begins.
On the corner of Esplanade and Decatur (1331 Decatur St.) is Balcony Music Club (BMC), a bar with live music and pub grub. After a few in-between reincarnations, BMC has eventually replaced the beloved local haunt El Matador Lounge. It seems to have music spilling onto the street at all hours, from brass bands to rock to traditional jazz.
Across the street, the Old U.S. Mint (the New Orleans Jazz Museum) takes up a chunk of space on the block. Built in 1835, the Old U.S. Mint uniquely served as both a U.S. and a Confederate Mint. The building is now a museum (free to the public) and research facility. It also serves as a site for music festivals, like the French Quarter Festival and Satchmo SummerFest. The permanent collection showcases coins and stamping presses. Upstairs, you'll find the "New Orleans Jazz" exhibit featuring priceless pieces like Louis Armstrong's first cornet and Fats Domino's Steinway grand piano, plus historic recordings and rare film footage.
The next block is home to the always-busy Envie Espresso Bar & Cafe (1241 Decatur St.), The Artist's Market and Bead Shop (1228), and Palm Court Jazz Cafe (1204). Envie is an airy coffeehouse with comfortable sidewalk seating, popular with the locals. It has a full bar and a big breakfast menu, plus small plates like hummus, and panini and burgers.
The Artist's Market and Bead Shop has two entrances, one on Decatur and another on the French Market side, and is filled with unique, well-priced local art and beads. Palm Court Jazz Cafe is a must for jazz and Creole cuisine fans alike. The dining room is pure old New Orleans elegance, with high ceilings, a mahogany bar, mosaic-tiled floor, jazz photos all over its brick walls, and a Steinway grand piano. The place has hosted numerous jazz greats and their fans since 1989. Palm Court closes for a few weeks at the end of summer, but otherwise, the bands play every Wednesday through Sunday. The menu is classic Creole: shrimp remoulade, gumbo, oysters Bordelaise, chicken Clemenceau, and so on.
The 1100 block is a heavy hitter with a slew of legendary bars, longtime popular restaurants, and two relative newcomers that bring fresh elevated takes on the local cuisine and cocktail scene. The two most recent additions on the block, Saint John, replacing the now-closed Trinity (1117), and Cane & Table (1113) are both sleek foodie havens. St. John is Chef and owner Eric Cook's baby, serving "haute Creole cuisine."
Cane & Table describes its menu of small plates like ropa vieja and seviche as "rustic colonial cuisine" with the ambiance of Old Havana. The cocktail menu showcases seriously crafted concoctions, many of which are rum-based, imaginative updates of the classics.
If you can settle for less than a craft cocktail, the 24-hour dive next door, The Abbey (1123), and Molly's at the Market (1107) are two classic, laid-back, and welcoming bars of the French Quarter you should definitely check out. Molly's is home to an excellent jukebox, a back bar courtyard, and frozen Irish coffee. The bar was (and, to an extent, still is) a favorite of local musicians, journalists, and service industry workers since late founder Jim Monaghan opened it in 1974. It still serves as a starting point and lingering must-stop-hang for the annual Halloween French Quarter/Marigny shenanigans.
One of the French Quarter's bright stars and mainstays is the always-bustling Coop's Place (1109 Decatur St.). Coop's is a no-frills bar and restaurant with an extensive and excellent menu that goes way beyond bar food grub. The hands-down standouts are the seafood gumbo and rabbit and sausage jambalaya (the "supreme" version also has shrimp and tasso). Cajun fried chicken won't steer you wrong either. Popular with the locals and visitors, Coop's can get busy and loud. Please also note that it's 21 and older only, even the restaurant seating area, because of the video poker machines on premises.
Next up, on the corner of Ursulines at 1104 Decatur is a live music and art performance French Quarter mainstay, One Eyed Jacks, in its new home after replacing the southern food/BBQ and live music restaurant and before then, Jimmy Buffett's Margaritaville.
Moving on past the park with the gazebo, the next block, the 1000th, has the Christmas-themed Santa's Quarters (1025 Decatur St.), open all year round and positively magical, especially if you want to wow your kids with lavish decorations and elaborate holiday toys. It's also a great spot to stock up on NOLA-centric ornaments in Mardi Gras colors and every possible take on a fleur de lis.
On the same side, you can't miss the striped awning of The Original French Market Restaurant & Bar (1001). Open since 1803, the restaurant specializes in Cajun/Creole cuisine and seafood in particular. Across the street, two adjacent restaurants also serve Cajun/Creole fare, but the biggest draw of The Market Cafe (1000 Decatur St.) and Gazebo Cafe (1018) are their patios and the constant stream of live music.
The Market Cafe has been around since the early 80s, occupying the building that dates back to 1823, and was part of the French Market (check out the original cypress ceiling and columns). Bloody Marys and baked muffuletta are the restaurant's specialties. Gazebo Cafe's covered patio and courtyard are often packed, the bands mostly play jazz, and the ice cream daiquiris are delicious.
Check out the historic Dutch Alley nearby on N. Peters (home of the one and only radio station, WWOZ, currently looking for a new home) and French Market's Shops at the Colonnade. The strip of shops, some with Decatur and some with N. Peters addresses, is worth a visit if you're shopping for souvenirs or local specialties like pralines. Another Christmas store, Merry Christmas & All That Jazz, has lots of cool ornaments with local flair.
Moving past the gold statue of Joan of Arc, we come to yet another New Orleans landmark — and home of the muffuletta — Central Grocery (923 Decatur St.). This sprawling old-fashioned Italian grocery store is still run by the family of its founder, a Sicilian immigrant named Salvatore Lupo. He was credited for creating the famous sandwich, which now ships worldwide, along with Central Grocery's famous olive salad by the jar. You can eat your made-to-order muffuletta at one of the few tables in the back or take it to go. Also on the block is a novelty store Pop City (940 Decatur St.), which sells collectibles, toys, and clothes.
As we approach the Dumaine Street intersection, you'll go by the French Quarter Visitor Center (419 Decatur St., but temporarily closed and relocated to 916 N. Peters St. due to hurricane Ida damage to the Decatur location) and Magnolia Praline Co. (839 Decatur St.). Next, we come to two city institutions, Cafe Du Monde (800 Decatur St.). The grand dame of cafe au lait and beignets needs no introduction ever since it opened in 1862, so let's just say no visit to New Orleans would be complete without getting powdered sugar all over yourself. Hectic yet charming, Cafe du Monde is open round the clock and is busy at all hours.
Now you've reached Jackson Square! Here, you can have a beer and a po-boy at Monty's on the Square, whose French doors offer a view of the square (casual southern with modern twists, and local craft beer). This is where you'll also come to grab a mule-drawn carriage tour, by the park's gate on the Decatur side.
Then, past The Shops at JAX Brewery (a multi-story historic landmark that holds retail stores, cafes, restaurants, and a small museum dedicated to the brewery), The Fudgery and Walgreens, you'll come to the corner of Toulouse Street, the home of Cafe Maspero (601 Decatur St.). The always-open enormous windows provide a great view of the busy corner, and you might like its heaping seafood platters. The 609 Decatur St. space is now occupied by Pepper Palace, a chain that sells salsa, seasonings, rubs, hot sauce, and so on.
The next two blocks are light on restaurants, represented by the Crescent City Brewhouse (527 Decatur St.). The Brewhouse is a two-story, 17-barrel microbrewery with balcony and courtyard seating, an oyster bar, and lots of live jazz. Get the crab cakes or a pulled pork sandwich, and enjoy the bistro ambiance.
Then there's Tujague's new home (429), sharing the block with Big Easy Daiquiris (409). Tujague's hardly needs an introduction. The second oldest restaurant in the city, it was founded in 1856 and has since been offering traditional, fixed-price Creole menus to many a president and celebrity. Its iconic bar takes credit for inventing the Grasshopper cocktail, and the restaurant may or may not take credit for creating brunch.
Across the street, you'll find the sprawling H&M, Urban Outfitters, Vans, and the most recent addition, Sephora, next to one another. Past the souvenir shops blasting zydeco, French Market Inn, and PJ's coffee shop, you'll come to a historic landmark — the monument to the city's founder, Jean Baptiste Le Moyne de Bienville.
Past Conti Street, Decatur Street becomes quieter, with the exception of the House of Blues which takes up most of the 200th block with its concert venue and the restaurant/bar. The block livens up on most afternoons, with the trucks unloading band gear and people lining up to see the shows. The dimly lit, laid-back Kerry Irish Pub (331 Decatur St.), also features live music, but on a much smaller scale.
Across the street from the House of Blues between Bienville and Iberville, you'll find one of the best bookstores in the city, the bi-level Beckham's Bookshop (228 Decatur St.). It specializes in used, antiquarian, and rare books, as well as CDs and vinyl. A gem of a place, Beckham's has been around since 1979 at this location. It's crammed floor to ceiling, and is beer- and dog-friendly.
On the same block, at number 216, is a funky retro-inspired boutique not unlike Trashy Diva, called Dollz & Dames. It has a sister store in Seattle and sells vintage-inspired clothing, shoes and accessories. You can't miss its eye candy of a storefront on an otherwise sleepy side of the block.
Two restaurants close the journey up to Canal Street. Coterie Restaurant & Oyster Bar at 135 Decatur St. has all the New Orleans classics, from seafood platters to gumbo. Creole House Restaurant & Oyster Bar, located in a historic building on the corner at 509 Canal St., rounds up the tour of Decatur Street with its "casual Creole" menu.
There you have it — lots to see, eat, drink, and buy on the historic yet young-at-heart Decatur Street!
For more, check out our guide to the Famous Streets of the French Quarter.
Also, are you planning to spend some time in New Orleans soon? To stay close to all the action, book a historic boutique hotel in the French Quarter at FrenchQuarter.com/hotels today!
---
Related Articles