Book A French Quarter Hotel
Tremé Creole Gumbo Festival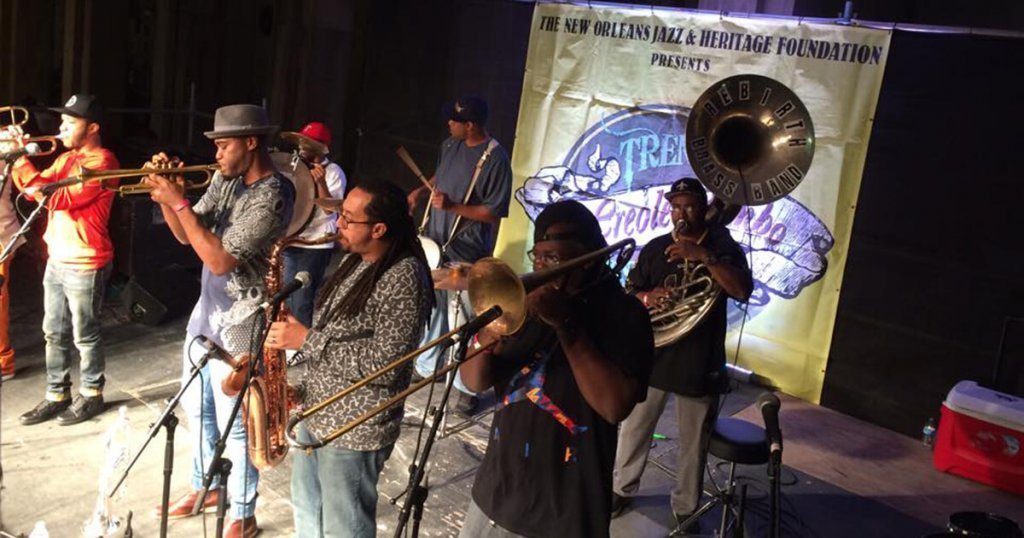 Photo courtesy of Tremé Creole Gumbo Festival on Facebook
New Orleans and her fans know that few combinations are more satisfying than gumbo, brass bands and cooler temps, and that's what the annual Tremé Creole Gumbo festival serves up best, keeping it thematically simple but stellar in terms of its lineup of brass bands and food vendors.
The free festival returns to celebrate a decade of existence at Louis Armstrong Park (701 N. Rampart St.) on Saturday and Sunday, March 25-26, from 10:45 a.m. to 7:00 p.m. on both days. As in past years, the festival will show off New Orleans' staple stew in all its savory varieties (sample-size portions will be available), from gumbo z'herbes and dark roux to vegan-friendly versions. Of course, there will be traditional gumbo — seafood, chicken and andouille, filé — and so on. Once again, the festival will hold cooking demonstrations, if you want to learn how to make that perfect roux. Celebrity chefs from some of the best restaurants in the city will host the demos as usual.
This festival is combined with the also-popular Congo Square Rhythms Festival. This means that there will be two food courts, each offering a mix of classic New Orleans dishes and food in addition to different varieties of gumbo, such as po-boys, crabmeat beignets, red beans and rice, and so on.
The Creole Gumbo Festival is touted as the "New Orleans' Premier Brass Band Showcase" for a good reason. The world-famous, Grammy-winning Rebirth Brass Band along with the many of the local favorites, including the Hot 8, the Pinettes and the Tremé brass bands, have all performed at the festival in the past.
There will be two stages celebrating New Orleans traditions that come from African diaspora: jazz, funk, brass bands, gospel, and blues. The Congo Square Rhythms Festival brings African drumming and dance as usual, plus its popular Mardi Gras Indian battle of the tribes.
And, because you get two festivals in one, there will also be two art markets. The Congo Square Market will feature art, crafts, jewelry, locally produced bath and beauty products, and imported items from Africa, the Caribbean and Latin America. The Tremé Market will be offering original local art, crafts, jewelry, and unique handmade items. The festival's Arts Market is again merged with the Kids Area, featuring interactive creative workshops for the youngest attendees.
Armstrong Park is located along the RTA bus route 91 (Jackson-Esplanade), and the Rampart-St. Claude streetcar line, so using public transportation to get to the festival should be easy. If you're driving to the fest, you can park in the parking lots of the Mahalia Jackson Theatre (enter via Basin Street). Additional parking is available in the lot across from Basin Street Station (501 Basin St.).
No pets and no recording are allowed, but you're welcome to bring blankets and chairs. Check the festival's website for updates on this year's food and art vendor and music lineups.
Are You Eating Enough Gumbo?!
"First you make a roux…" Gumbo is synonymous with New Orleans, and everyone and their mama (especially their mama) will offer an opinion on how to make the best gumbo and who makes it best in the city (it's usually the mama).
Luckily for us, many places in New Orleans make great gumbo. Anyone who lives here or visits can easily rattle off at least a few spots, high and low, where the gumbo is award-winning, and so special and delicious that trying it for the first time could go down forever as a life-changing experience.
Keeping in mind that every "Top Whatever Number of Best Gumbo in New Orleans" will always remain highly personal and incomplete, here are our current picks for best gumbo in the French Quarter.
Are you coming to New Orleans this fall? We're jam-packed with festivals and celebrations, and the temps are perfectly mild! Browse our top recommendations for historic hotels in the French Quarter at FrenchQuarter.com/hotels to find your perfect spot.
---
Related Articles