Book A French Quarter Hotel
Famous New Orleans Ghosts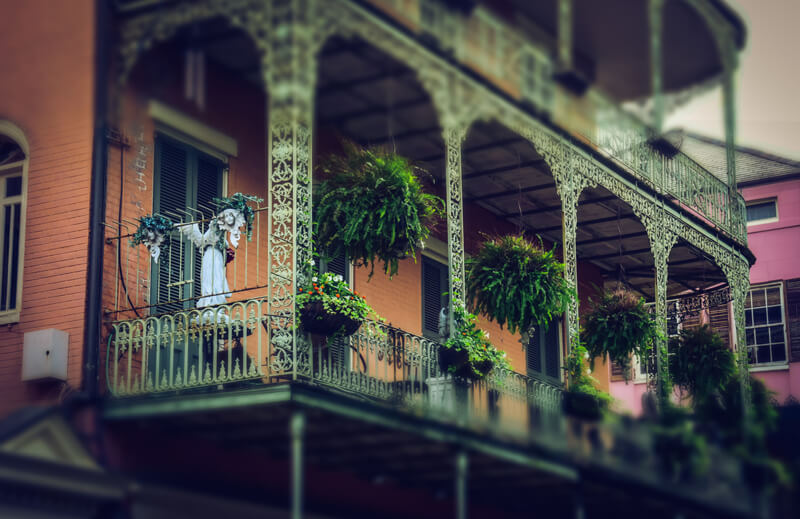 Whether some tour guides intentionally embellish the facts, or legends simply grow grander with time, the fact remains that many ghost stories are just that — stories. But if you believe in ghosts, and if you take into consideration New Orleans' small footprint and long, sometimes dark history, it seems inevitable that many of its buildings and businesses would have a spirit or two hanging around.
Whether or not you believe in an afterlife, many local businesses come with service and a story. As fantastic as these tales may seem, they are rooted in fact. (Besides, is it really so hard to believe that prominent New Orleanians would want to keep partying even after their deaths?)
Arnaud Cazenave, who opened Arnaud's in 1918, seems not to want to leave his own party — and who could blame him? A paranormal research society investigated the restaurant, where the ghost of Cazenave's daughter, clad in a Mardi Gras gown, makes frequent appearances. Though the apparitions may be startling, there's nothing to fear as these ghosts seem very friendly.
The Bourbon Pub is a two-story LGBTQIA+ dance club and a great place to party — for both the living and the dead. "Mam," the club's resident ghost, is a small-statured Creole woman. Dressed in a cotton dress and head wrap, she'll often approach a patron and look them in the eye while muttering to herself before fading into obscurity.
In addition to Mam, regulars and staffers report unusual activity including unexplained footsteps, cups that move on their own, and odd sensations, including the feeling of being struck on the foot. Nobody knows Mam's real identity, and no one knows exactly what the foot slaps are about, but the mystery is part of any good ghost story's appeal.
Opened in 1899, this restaurant's mahogany bar, George Dureau mural and dim lighting give it the heavy, moody ambiance that suggests an otherworldly presence — even to those who don't know the building's history.
Formerly in use as a ship's chandlery (a place that sold supplies for ships), its second floor housed a brothel. One young girl was sold into prostitution to pay her father's debts. She became pregnant, gave birth to a daughter, and hoped to leave once his debt was paid.
However, upon learning that she'd incurred further debts via room and board, she became despondent and drowned her daughter in the fountain before hanging herself. Some say she and her daughter's ghost haunt the property to this day.
Lots of people save for years to travel to New Orleans and eat at Muriel's — but one lucky (or unlucky) being gets a reserved seat every night. A compulsive gambler, Pierre Antoine Lepardi Jourdan purchased the building that would become Muriel's after the Great New Orleans Fire of 1788 and renovated it to become his "dream home," according to Muriel's website.
However, in 1814 he lost the building in a poker game. Devastated, he killed himself on the house's second floor. He continues to make his spectral presence known to employees, moving furniture and smashing the occasional glass.
In tribute to its ghostly former owner, Muriel's maintains not only his special table set with bread and wine but also a designated séance room where Jourdan can hang out.
Muriel's is directly next door to the Place d'Armes, a historic French Quarter hotel with its own ghoulish story. Check it out below.
The Myrtle's Plantation sits on a Tunica Indian burial ground in Saint Francisville, about 85 miles outside New Orleans, but it's well worth the drive. Not only does the circa-1796 plantation house a number of artifacts, including hand-painted stained glass and gold-leafed French antiques, but it's also home to a number of ghosts.
Tour guides say 10 murders took place in the house: among them deaths by gunshot and poisoning. Perhaps the most famous ghost is Chloe, a governess who killed her young charges with poisoned cake after their father ended his affair with her. Chloe was hanged, but people bold enough to sleep overnight at the haunted bed-and-breakfast report seeing the turbaned woman peeking into the bedrooms.
The Pharmacy Museum's medical artifacts — leech jars, hypodermic needles, bloodletting tools — are cringe-worthy on their own. But those who know the museum's violent backstory will find the antique collection of medical equipment even more unsettling.
After Louis Dulfiho Junior, the first licensed pharmacist in the U.S., sold his business to a former employee, Dr. Joseph Dupas, things began to go awry. Suffering from a disease that slowly drove him insane before it killed him in 1867, Dupas began losing many of his patients. He claimed they had returned to France, but after his death, bodies were discovered on the property. Were these his victims? Possibly.
With its wood paneling, live jazz and ice-cold martinis, The Bombay Club couldn't be more refined — but according to Fear Dat New Orleans: A Guide to the Voodoo, Vampires, Graveyards and Ghosts in the Crescent City by Michael Murphy, and Paranormal New Orleans, it's haunted by the ghost of a Storyville madame. The Bombay Club patrons and employees report seeing her curvy figure in the club, where she fits in just fine among the sultry chanteuses and local minxes. What can we say — she's enjoying the high (after)life.
During most of the year, this 1872 grand Victorian mansion hosts events, parties and weddings for local and celebrity clients. But in October, it switches gears to get in touch with its spooky past, operating as a haunted house attraction complete with live snakes and rates and underground crypts.
Surrounded by cemeteries, the former mortuary is one of the most haunted places in the country, according to multiple paranormal investigative units. Their advanced instruments have measured electromagnetic activity, temperature changes, electronic voice phenomena, and other phenomena that indicate the presence of spirits — and guests to the house have seen far more gruesome apparitions, including the ghost of a mortician doing his bloody work.
If you're planning a stay in New Orleans, be sure to check out our resource for French Quarter Hotels.
---
Related Articles