Book A French Quarter Hotel
Jambalaya and a Crawfish Pie and File Gumbo: Louisiana Seafood Festival is Back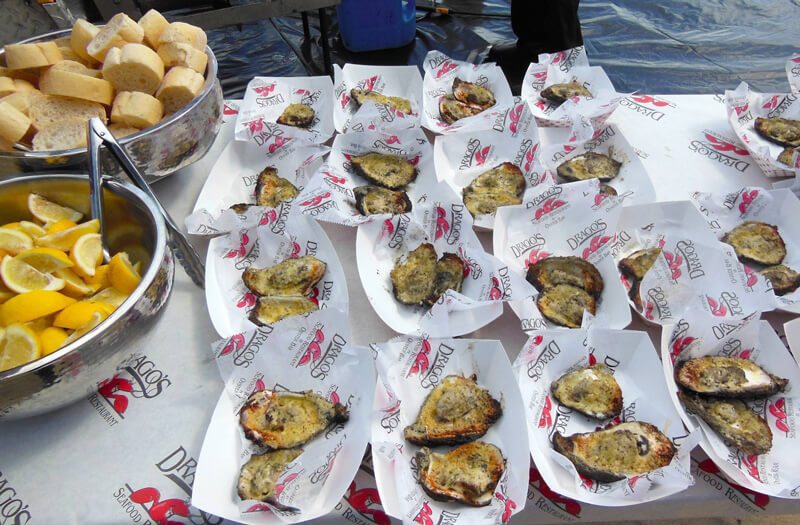 Photo courtesy of Louisiana Seafood Festival on Facebook
Fall in New Orleans means milder temps that are perfect for outdoor events, and that usually means a robust October festival lineup. One of the month's highlights is the annual Louisiana Seafood Festival — three days of food music held Friday through Sunday, October 27-29. The dates this year are new, and so is the location. The festival will be held in Woldenberg Park, from 11 a.m. to 9 p.m. on Friday and Saturday, and from 11 a.m. to 7 p.m. on Sunday. The park is located in downtown New Orleans at 1 Canal Street, along the Mississippi River waterfront.
Louisiana's rich culinary heritage is worth celebrating over and over, and the state's relationship with seafood has been a huge part of it for centuries. It's no wonder that the attendance numbers for this fest had been solid, and some of Louisiana's best restaurants, food popups and catering businesses count themselves among the vendors year after year.
So, skip breakfast and head to the riverfront: Gulf fish, crab, oysters, crawfish, and shrimp await (with some alligator thrown in), prepared in many authentic, mouth-watering ways. Vendors this year include such top local restaurants as Ajun Cajun, Drago's, Galatoire's, Jacques-Imo's, Luke, Mahony's, Superior Seafood, and Tujaque's. The Lafitte, LA-based Voleo's Seafood Restaurant will also be there.
As in previous years, top Louisiana chefs will host cooking demonstrations in the Cooking Pavilion so you could see firsthand how some of the most exquisite authentic Louisiana seafood dishes are prepared. The Kids Pavilion will have seafood-themed activities for the little ones. The Art Village will again feature a variety of local vendors selling art, crafts, jewelry, textiles, and more.
There will be live music starting at 11 a.m. on all three days and ending at 9 p.m. on Friday and Saturday, and 7 p.m. on Sunday. The stellar lineup doesn't get more Louisiana, and includes Tab Benoit, Bucktown All-Stars, Rockin' Dopsie Jr. & The Zydeco Twisters, Bonerama, Soul Rebels, and Gal Holiday & The Honky Tonk Revue.
Admission at the entrance is $10 for each day; admission for children under 12 is free. You can also buy tickets online, including single-day passes and VIP tickets ($65, comes with a T-shirt). VIP access includes VIP tent, open bar, private restroom, and front-of-stage viewing area. Weekend passes are $25 for one day and $190 for the whole weekend.
The festival will be held rain or shine. Please note that no pets and hard-sided ice chest are allowed on festival grounds, but chairs, blankets and soft-sided coolers are welcome. There will be ATMs on site too but you may want to bring cash to the festival to avoid the fees and the lines. Most food and beverage vendors will accept cash only, with few exceptions.
There will be bike racks at the entrance to the grounds. Since there is no public parking for this festival parking options will be limited to paid lots and street parking, so consider biking or taking public transportation. The festival is produced as an annual fundraiser by Louisiana Hospitality Foundation, a nonprofit that supports education, health and social welfare.
---
Related Articles