Book A French Quarter Hotel
Incredible Victory: The Battle of Midway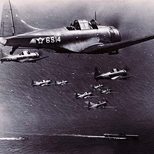 Never-before-heard oral histories highlight American sacrifices in War's turning point.
The National World War II Museum in New Orleans presents a special exhibition on the Battle of Midway, one of the most pivotal – and uncertain – military battles of World War II. Incredible Victory: The Battle of Midway tells the story of the dark days in 1942 after Japan's attack on Pearl Harbor, when the fate of the nation – and the world – hung in the balance.
"The Battle of Midway was intended to be a decisive victory for the Japanese, but because of the unbeatable spirit and determination of the United States military and citizens, it became an incredible victory for the United States," says Gordon H. "Nick" Mueller, Ph.D., Museum President and CEO. "This victory turned the tide for the United States on the War's Pacific front after six months of defeats and displayed for the world the American resolve that would eventually win World War II."
Photographs and artifacts, along with never-before-heard oral histories, will honor the many heroes of Midway, including the shipyard workers who insured that the USS Yorktown – which was badly damaged in the Battle of Coral Sea – was battle ready in only three days; America's code-breakers who enabled the country to turn Japan's surprise attack around; and the 307 Americans who lost their lives fighting valiantly against a seemingly invincible Japanese naval and airpower contingent.
The Museum's Research Department located and interviewed surviving veterans of the battle, whose personal accounts add a personal and emotional layer to an already epic underdog story. Additionally, archival footage from the battle will be juxtaposed against footage of how the island looks today.
The opening of Incredible Victory will be celebrated by a day-long Midway reunion including some of the veterans interviewed for the exhibit. Dusty Kleiss, Harry Ferrier, Lloyd Childers and several other heroes of Midway will be on hand for panel discussions along with prominent Midway historians. For more information, visit www.nationalww2museum.org.
The exhibition will be on display in the Museum's Special Exhibits Gallery of the E.J. Ourso Discovery Hall through October 28.
The National World War II Museum in New Orleans is designated by Congress as "America's National World War II Museum." It interprets the American Experience during World War II years and celebrates the American Spirit, the teamwork, optimism, courage and sacrifice of the men and women who won World War II and promotes the exploration and expression of these values by future generations.
For more information on programs and exhibits at The National World War II Museum, visit www.nationalww2museum.org, or call 504-527-6012. To arrange group visits for schools, churches and synagogues, reunion groups, and other organizations, please call 504.527.6012, ext. 222.
---
Related Articles